Many paid search marketers are familiar with Optmyzr as a great tool for time-saving scripts and one-click optimizations. But do you know that Optmyzr can also help you create better landing pages? It's true. This post will show you three tools you can use within the interface to help you improve your landing pages and convert more customers!
1. Quality Score Tracker
In this view advertisers can get clear, visual snapshots of their account quality scores. The visuals are also color-coded to make it easier to see where you stand. (Red: QS 1-3, Yellow: QS 4-6, Light Green: QS 7-9, Dark Green: QS 10). In the example below, you can see this ad group is getting dinged on having a poor landing page experience. With simple, easy to find visuals, you'll be able to see your faltering landing pages in no time.

You can also drill down to various levels (depending on if which view you start with) to compare changes in quality score data. All of the quality score components, including landing page experience, are included as default columns.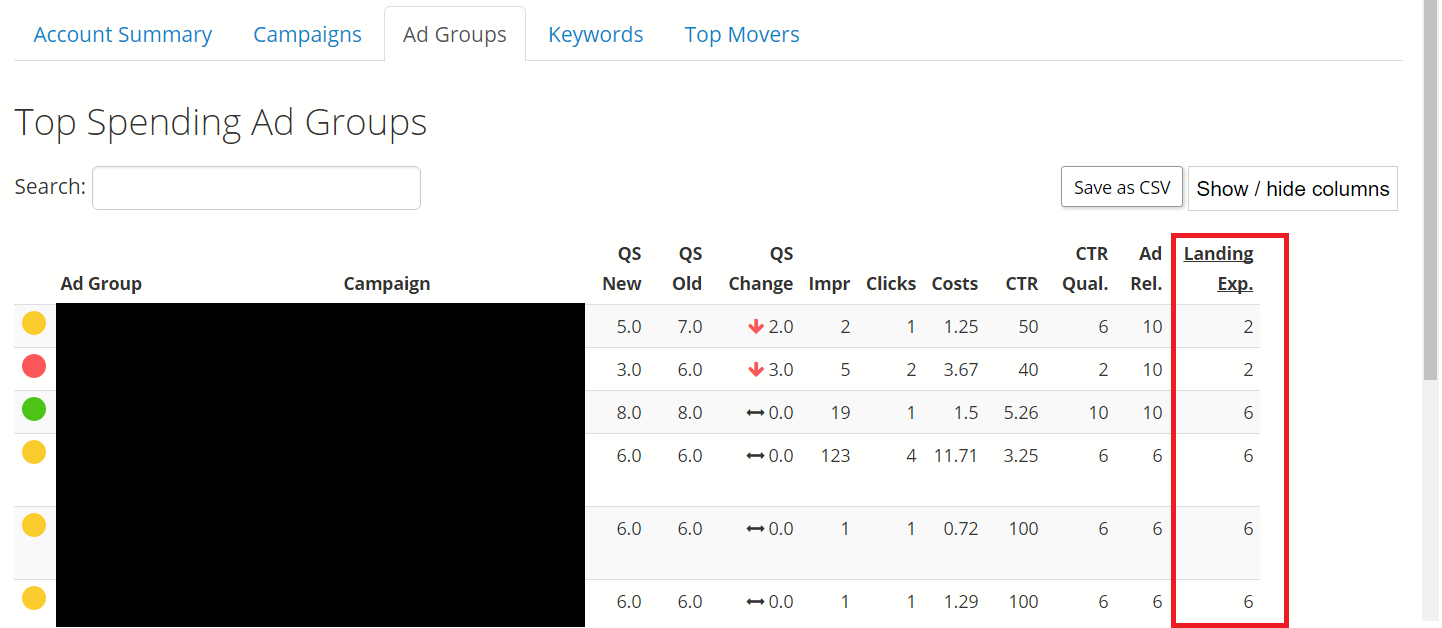 This report is easy to print which will give you the ability to share it with the right people in your teams to start making new landing pages!
2. Landing Page Analysis
The title of this tool is pretty straightforward, but extremely effective. There are three sections to this report…
• High Performer – High Conversion Rate + High CTR
• High Potential – High Conversion Rate + Low CTR
• Expensive (seen below) – Good CTR + Low Conversion Rate

You can see in the Expensive image above that these particular ad groups have ads with fairly good CTRs, but little to no conversions. The destination URLs all had good quality scores because they were relevant to my target keywords as well as my ads. While those URLs were relevant, they still weren't converting and also spending lots of cost. This report will show you which landing pages need conversion rate improvements to get better ROI on the great work you've already done.
3. Non Converting Keywords
The Non Converting Keyword report will show you all of the keywords that had zero conversions in the date range you select. You can view these keywords from the account or campaign levels, and also pause any of the flagged keywords right within the Optmyzr interface.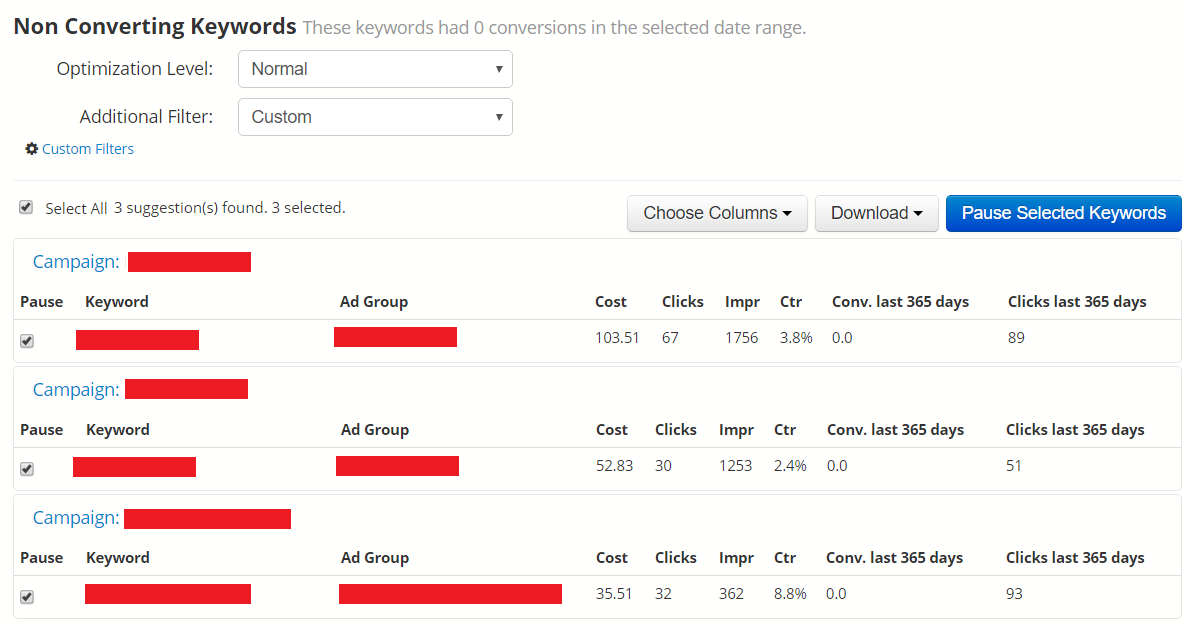 Similar to the destination URLs reported in the Landing Page Analysis tool, you might see certain keywords that have high engagement but poor conversion rate. This data can give you some evidence to go back to your landing pages to see if any improvements can be made before you rule out these keywords completely.
Final Point
Optmyzr is a great tool to help PPC advertisers find and make adjustments within their AdWords and Bing accounts, but that's not all it can do. The three tools we just went over will help you improve your landing page quality scores and performance. Take the time to dig in and make a concerted effort to make improvements to your landing pages. You can thank Optmyzr for the extra conversions later.