As a career creative, I've worked for and with virtually every type of agency — specialist, generalist, design, integrated, mainline, digital, creative, performance.
One thing that's remained constant is the disproportionate relationship between value provided and revenue generated. All but the biggest network agencies are sorely under-compensated for the value they bring to the table — few clients truly recognize this.
This is the position agencies start from in a best-case scenario.
So whether performance marketing is your shop's forte or just one of its many offerings, the ongoing COVID-19 pandemic has likely already impacted both your revenue and your operating plans for the near to distant future.
Clients are already notoriously difficult to impress, so what's an agency to do when spends have been lowered or paused across multiple accounts with little to no notice?
The toughest part of running paid search and other performance marketing campaigns during a crisis isn't the drop in spend itself; being asked to do more with less is something all agencies are accustomed to.
It's the lack of a clear solution or roadmap to recovery.
No one knows exactly when shipping and logistics will return to normal, when flights will start operating again at full capacity, or when hotels will once more be so busy that they double-book guests over Christmas. None of us have ever been here before.
What's evident is that the 'normal' way of doing business doesn't work right now.
Agencies have to pivot while helping clients do the same — and they must do it quickly. This is one of the reasons Optmyzr is hosting weekly PPC Town Halls where the PPC community can come together, talk about the problems we're facing, and learn from each other.
Let's take a look at the value agencies provide and some of the things they can do to survive — maybe even thrive in — the coming months of this pandemic.
1. Shift focus from performance to strategy.
If your clients are slashing ad spends, there's a strong chance your account managers and PPC specialists suddenly have a lot more time on their hands. Use those extra hours to shift from managing campaigns to devising new tactics to build awareness, increase engagement, influence brand perception, and increase conversions.
Are there unexplored (and cost-effective) channels you can use to promote your clients' brands? Would partnerships give their products and services greater visibility? Is lower CPC actually making a client's newly reduced budget viable?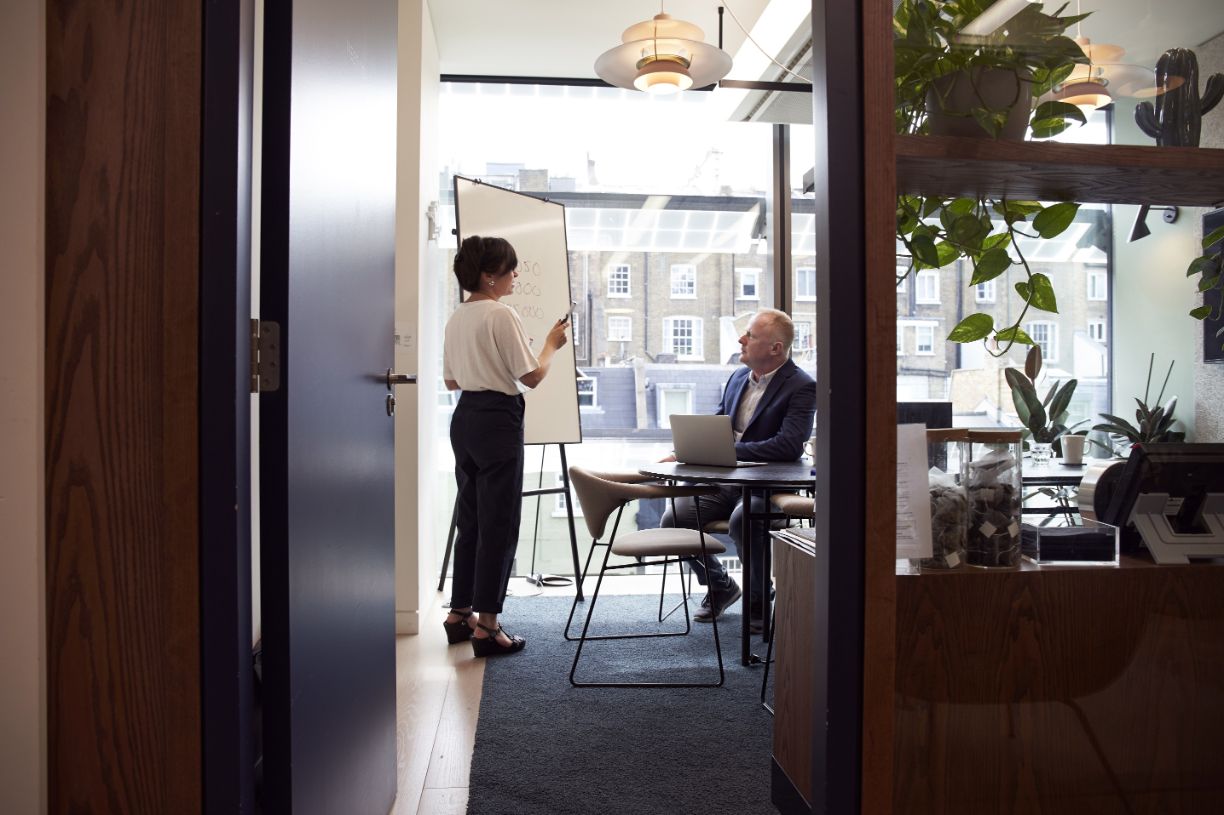 During our April 1 PPC Town Hall, Benu Aggarwal, president of Milestone Internet Marketing which services several hospitality and travel clients, shared her team's approach to providing new value in the interim.
"Within a week of the pandemic, 80% of our clients told us to stop paid search," she said. "We are omnichannel, so what was helpful was developing plans for 'crisis, recovery, and growth'. As part of the crisis plan, we ensured proper messaging. We put a page on every site updating our clients' responses and measures to COVID-19. We also did this for local channels, such as GMB."
We believe Benu and her team are smart to have prioritized helping their clients for the long-term, even if there was uncertainty around their near-term ability to pay the bills. Everyone is feeling the pain from the crisis, and doing what you can to strengthen relationships with your clients will make them value their partnership with your agency once things return closer to normal.
Optmyzr Tip: Above all else, be defensive of your value and service. Make sure your client doesn't get used to a 'new normal' that doesn't include working with you. That may mean getting creative and helping them in new ways, or helping them even while they request grace periods on their invoices.
2. Adjust pricing models to create shared value.
Every agency knows the dangers of scope creep and overextending non-billable hours to unsustainable levels, but having too little to do is a new challenge for many shops.
If you're at the point where client retention is a concern (or will be soon), it might be worth exploring a temporary change in the way your agency bills. Many shops already work with generous credit windows, so this shouldn't be an entirely alien conversation.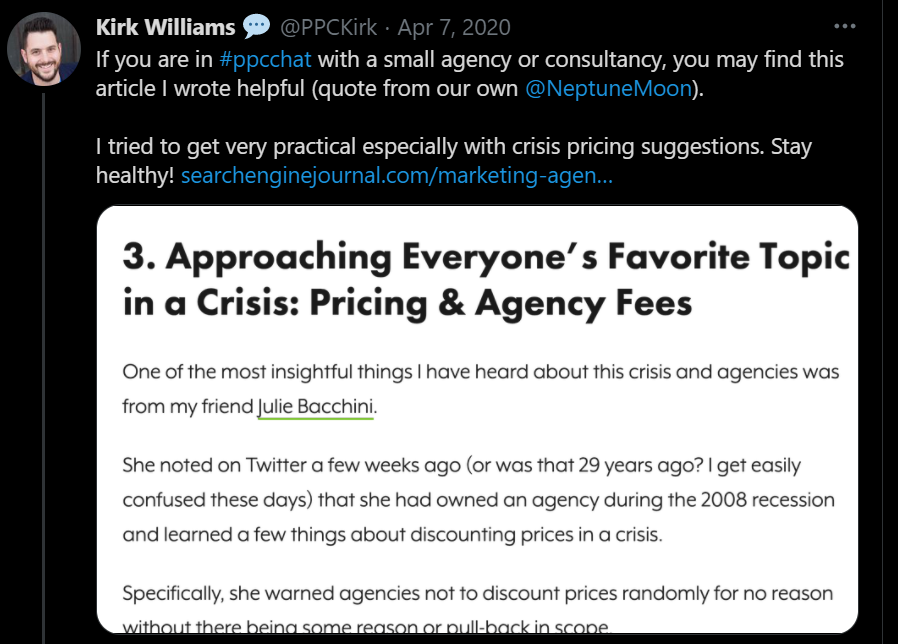 Agencies that bill by percent of ad spend stand to gain the most by switching to hourly, retainer, and la carte pricing models for the foreseeable future. Independent consultants and small agencies should be especially careful about waiving any fees or costs.
In "4 Tips for Running a Small Digital Agency in Times of Crisis" for Search Engine Journal, ZATO founder Kirk Williams (who's slowly becoming a regular on Optmyzr's PPC Town Hall events) shares great insights on managing financials (among other solid advice).
Among his recommendations are providing pricing options that offer "tangible benefit to both parties" rather than "a fire sale of value".
"Discount prices randomly for no reason without there being some reason or pull-back in scope… would only undervalue and undermine [agencies'] abilities to stay alive themselves as profit was decreased in ever difficult times, and would also set a new lower standard for accurate value once the crisis was inevitably over," he writes.
3. Support clients with growing businesses.
If your agency is fortunate enough to see no change in business — or even growth — there are several ways you can support your clients.
For clients who are shifting from brick and mortar to e-commerce for the first time, the current climate can make routine tasks challenging.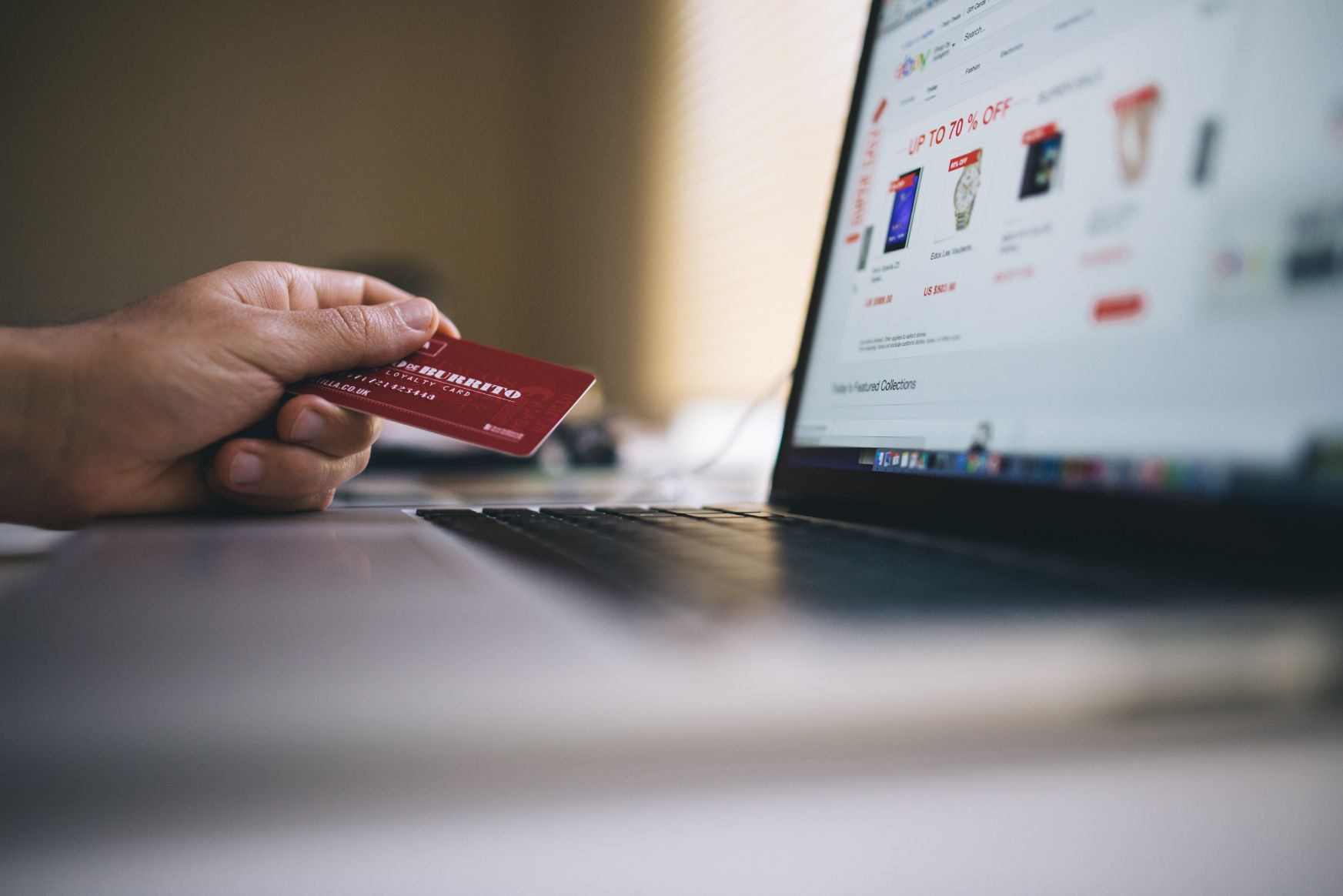 Something as simple as establishing a digital presence might require a lot more thought than usual; setting up fulfillment methods could take significantly longer.
Your greatest asset is the speed that agencies are famous for. Stay nimble and help set up new accounts quickly for clients coming online for the first time — you've done this a thousand times before!
If a client is in a market that's currently benefiting from lower than average CPCs, help them maximize that window of opportunity.
And last but not least, if you happen to find yourself with more than you can realistically handle, spread the joy. Recommend clients you can't service to other agencies in your city or region who could benefit from the opportunity.
Optmyzr Tip: If you need to build out new accounts quickly as traditional brick and mortar retailers try their hand at e-commerce, use the Campaign Builder to quickly create shopping campaigns, ad groups, and product groups that are well-structured and will be well-positioned for successful management in the long run. Our standalone Campaign Automator can also help you create and manage inventory-driven keyword campaigns using business data like a Google Merchant feed.
4. Support clients with contracting budgets.
On the other hand, your shop might be fighting to convince clients to avoid or minimize cuts to their marketing budget — or, in some cases, to retain your services altogether. While the smart thing to do is keep marketing (even if it's for top-of-mind recall), clients in some industries simply can't afford it.
For those brands that can keep spending a certain amount, there's a lot that agencies can do to help.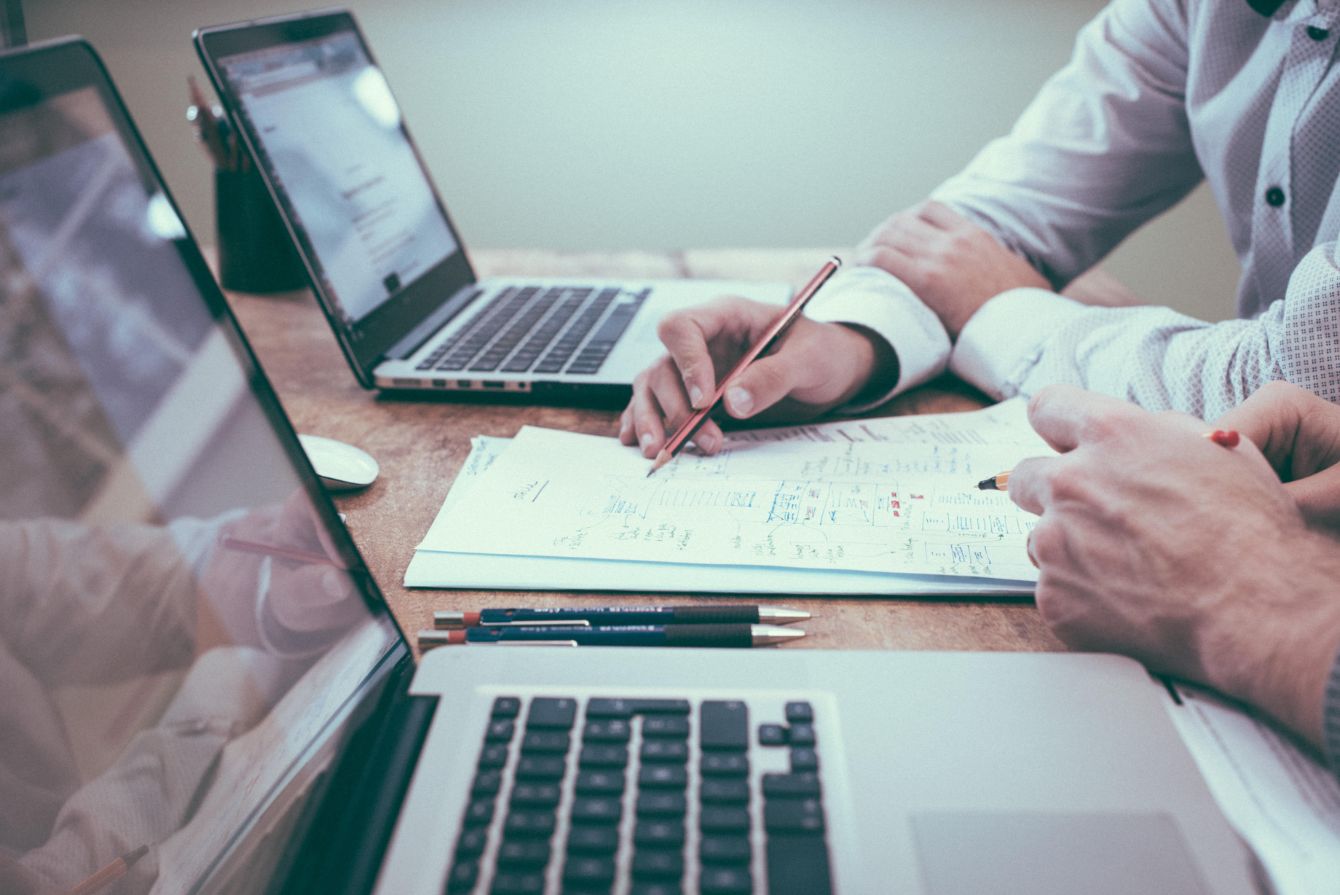 After all, while consumer sentiment is cautious, people are spending up to 30% more shopping online according to this article "COVID-Consumers: Pessimistic, but spending more online" by Search Engine Land.
Performance marketing agencies have a role to play as PPC doctors. Market realities are changing daily — hourly, for some industries — and what ails the patient changes rapidly from day to day.
Unlike machines, humans can determine the context of data and steer campaigns in the right direction.
Check in more frequently. Adjust bids to be in line with prevailing CPC rates. Run hygiene checks on your automations to make sure they're fine-tuned. Review your ad copy and extensions to eliminate tone-deaf or insensitive language.
Optmyzr Tip: Use the Rule Engine to weed out new search terms that are generating clicks but aren't leading to conversions. The Ad Text Optimization tool lets you make bulk copy edits to existing and new ads, to weed out phrases like 'Visit us today' or 'Open 24 hours'.
5. Stay adaptive to changing conditions.
Going outside of your domain expertise or primary offering will give your agency the adaptability it needs to pivot itself while helping clients do the same.
This might mean servicing a new vertical or industry that you have to quickly familiarize yourself with, entering a new segment or market, or bringing a service to the forefront that was earlier simply part of your marketing mix.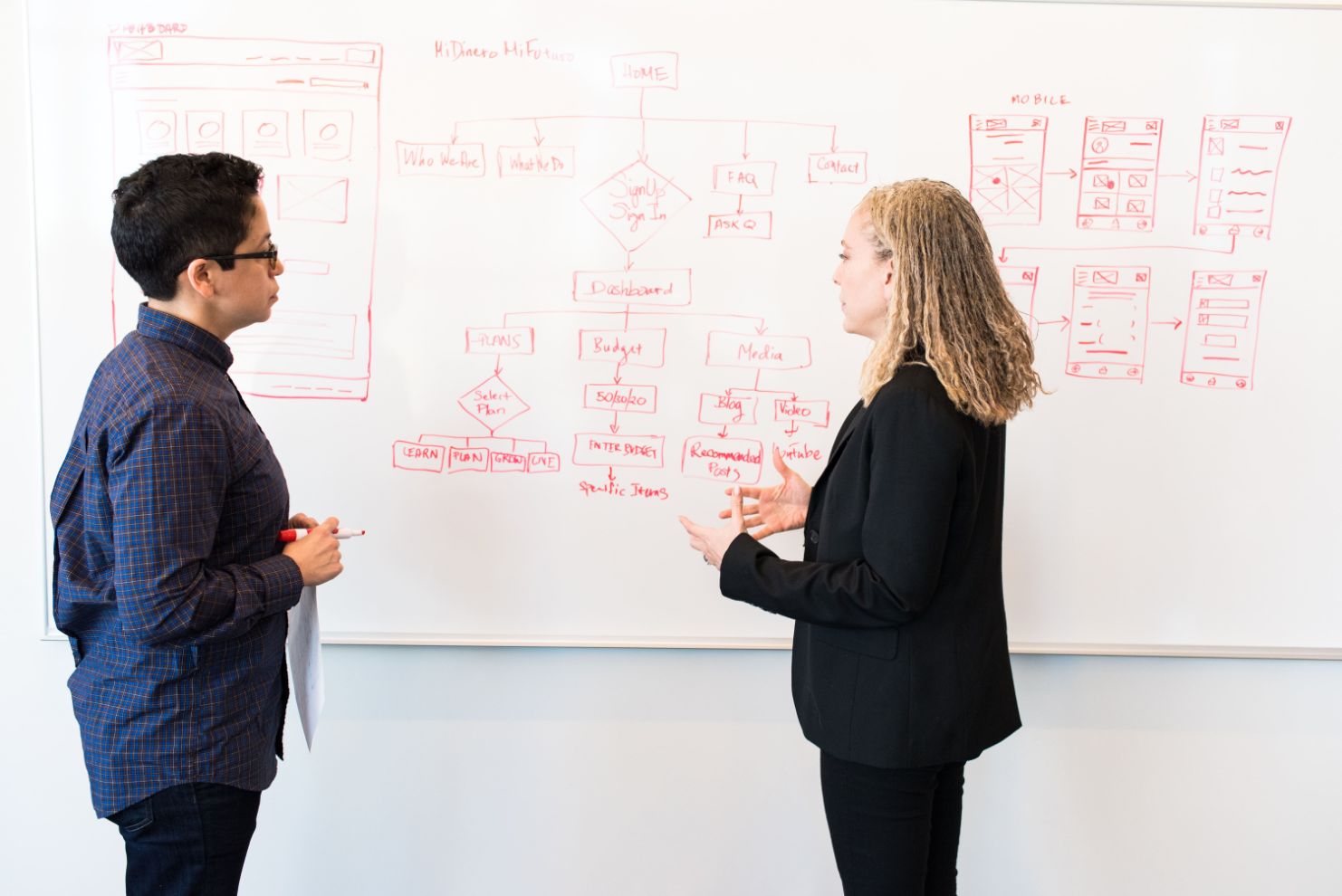 Whatever it is, you'll likely retain the core strengths that made your agency valuable partners in the first place: a higher degree of expertise in SEO, local search, and performance marketing than your client (in most cases).
Neptune Moon founder and PPC Town Hall guest speaker Julie Friedman Bacchini is a vocal proponent of staying fluid and receptive to change.
"Flexibility is the best skill you can cultivate right now, if you don't already have it. If nobody wants to buy what you do, you're going to have a problem," she noted during our April 8 webinar. 


"Agencies should be listening to clients — really, really listening — to discern what's keeping them up at night, what they're worried about, and what it is they feel they're not going to be able to do," Bacchini added. "Are you able to offer a solution in that area? Being able to shift around how you do things and offer things is critical to longevity."
Optmyzr Tip: Watch our social media pages for the details of our PPC Town Halls to gain insights from PPC leaders and influencers. We finish up with a Q&A session, so bring any questions you might have!
What real agencies are doing
Some shops have already put contingency plans into practice, having made the switch from what they used to do to what they're doing now.
Let's take a quick look at what agencies around the world are doing in response to the financial and operational challenges posed by COVID-19.
• Global holding company WPP recently announced a $2.48 billion financial health plan that includes halting its buyback scheme, canceling its dividend, freezing hiring and raises, pausing discretionary spending, reducing capital expenditures, and instituting a 20% pay cut for the board and global executives.
• Minnesota-based Media Bridge Advertising noted that "some advertising agencies are taking advantage of their clients by charging them exorbitant rates to create 'pivot plans' to adjust". In addition to waiving onboarding fees, CEO Tracy Call has decided to provide free media and marketing audits for new clients, and free development and execution of "pivot plans" for existing clients.
• Thrive, an internet marketing agency from Arlington, Texas, published a list of 10 approaches to strategic planning during COVID-19. "A grinding halt with your digital marketing efforts… would be a complete waste of the time and resources you've already poured into your business to gain traction in a crowded online marketplace," the article quotes Thrive founder Matt Bowman as saying. "You would lose ground to your competitors and put your business in a position to fail in the second half of 2020."
As always, Optmyzr is here to provide any help we can. Our team is working with customer agencies and the wider PPC community to provide new tools and scripts, quick and nimble support, and new features to more effectively manage ads and campaigns.