The holiday season is the busiest time for e-commerce and with just days until Thanksgiving, Black Friday, and Cyber Monday, everyone in the search marketing community is knee-deep in last-minute preparations for the sale of the year. Considering what 2020 has been like so far, what else should we expect to be different? We can't predict the unexpected, but we can point out some new trends that you should be prepared for.
More even than in previous years, we have seen a bigger rise in the number of online shoppers. Owing to health restrictions and lockdowns, people have turned online to look for products and services. We need to look at audience behavior, pay close attention to logistics, and keep a close eye on our messaging. And because we are living in such an 'unprecedented' year, we are bound to see some 'unexpected' things in the upcoming weeks.
Here's my take on 7 such things that we need to be prepared for this Holiday season.
1. Holiday shopping will start sooner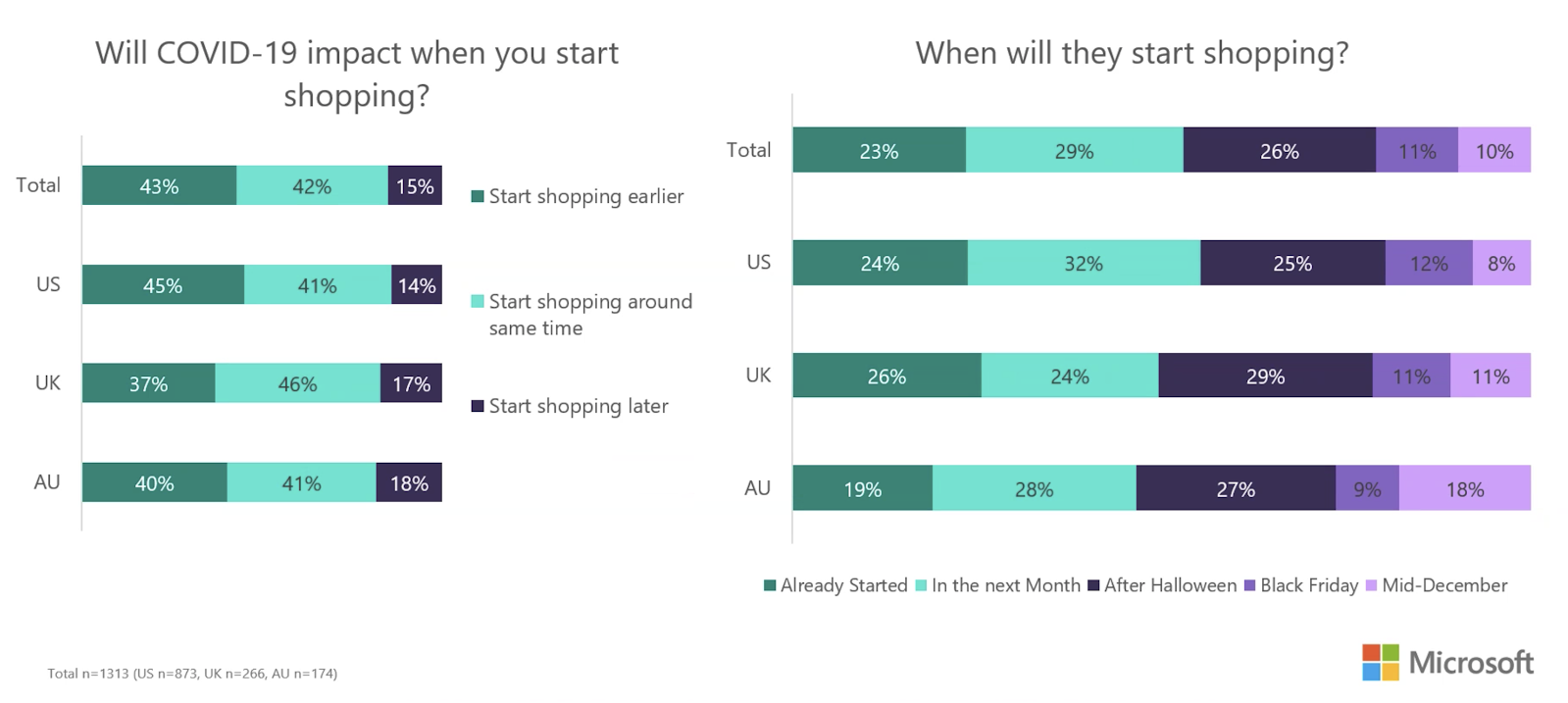 Holiday shopping started early this year and that's backed up by Microsoft research showing that over 40% of shoppers intend to start earlier this year. Due to the pandemic, a lot of retailers have been very aggressive with deals throughout this year and that may have reset some expectations with consumers. We may now see deals lasting longer and pop up more frequently than before.
While Black Friday is usually the unofficial start to the Holiday shopping season, this year shoppers won't be waiting that long. Counting the fact that there are around 50 days between Amazon's Prime Day (Oct 13) and Cyber Week, shoppers will have begun planning and purchasing for the Holiday season from early October. Moreover, considering the current health regulations, social distancing, and movement restrictions, shoppers might be looking towards a safer way to continue their shopping. This will prompt them to be less spontaneous and instead better plan their in-store visits, and even space them out over a few months to lessen the stress related to the circumstances of this unusual year.
2. Most shopping will be done online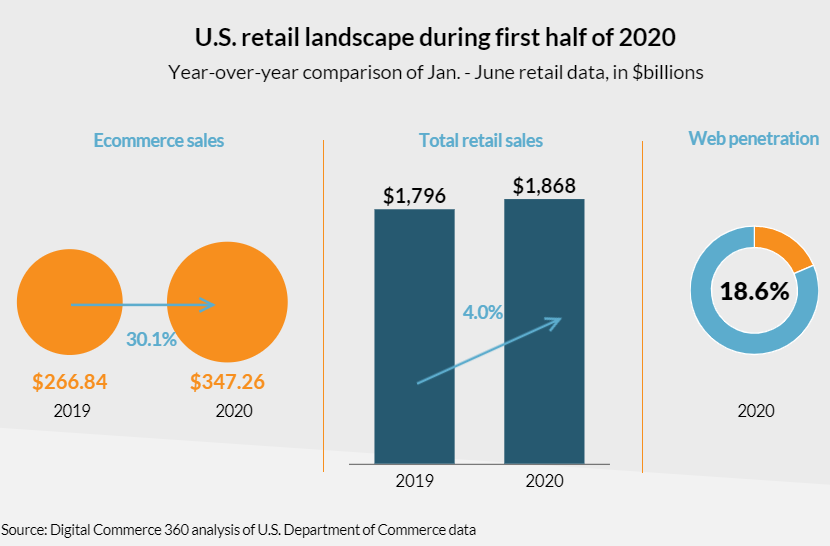 E-commerce is going to be huge in the upcoming months. Even in Q1 & Q2, we saw an unprecedented push towards digital shopping and e-commerce. So the same wave is expected to follow through till the end of the year. According to a report published by Statista Research Department (Aug 10, 2020), titled United States: retail e-commerce sales 2017-2024, US online retail sales are projected to reach 476.5 billion US dollars by 2024.
E-commerce has accelerated ahead of where everyone expected it to be. For example, the Snacks Daily podcast reported that the Disney+ streaming service has reached its 5-year goal for subscriptions just 7 months after launch, more than 4 years ahead of schedule!
Another thing we are expecting to see is a constant rise in the number of online shoppers post-pandemic, relying on e-commerce stores for their purchases. Data from IBM's US Retail Index supports this and shows that the pandemic has quickened the transfer from physical to digital stores by 5 years!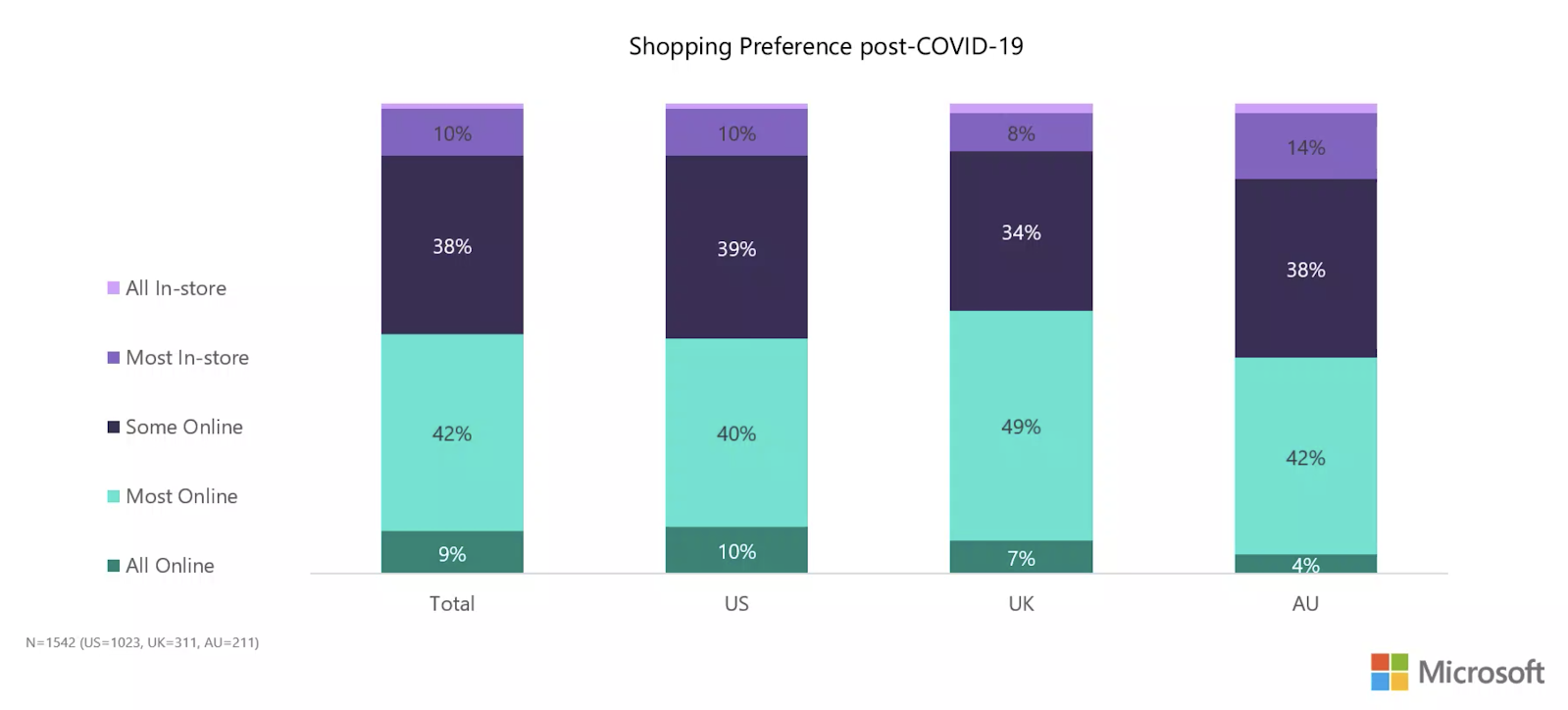 3. BOPIS will be popular with customers
BOPIS (Buy Online, Pick Up In-Store) is going to be a huge hit. People who never dreamed of buying online may now use this hybrid approach. But for retailers, this brings a shift in the competitive landscape. Earlier, brick-and-mortar stores were just competing against pure-play e-commerce shops where consumers liked their convenience and low prices. Now they also have to compete against hybrid players with a strong BOPIS model, like Target and Walmart instead of just Amazon.
While it's true that physical stores were already competing with brands like Target and Walmart, that was based more on local convenience and low prices. But with consumers relying on the added convenience of shopping in apps and opting for BOPIS, things may get even tougher for old-school brick-and-mortar stores with no digital capabilities.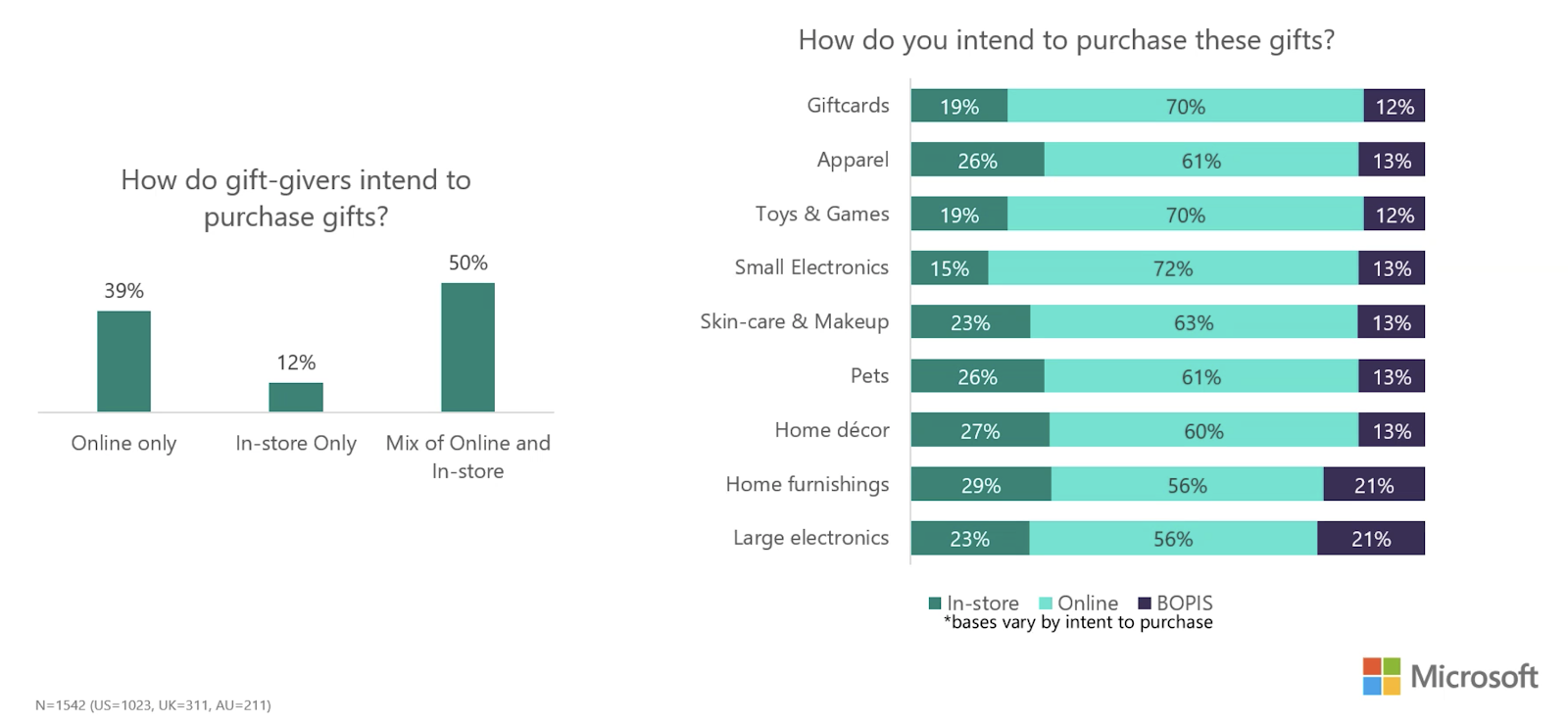 4. Holiday 2020 will be celebrated differently
Microsoft's research data indicates that people will be celebrating differently than before.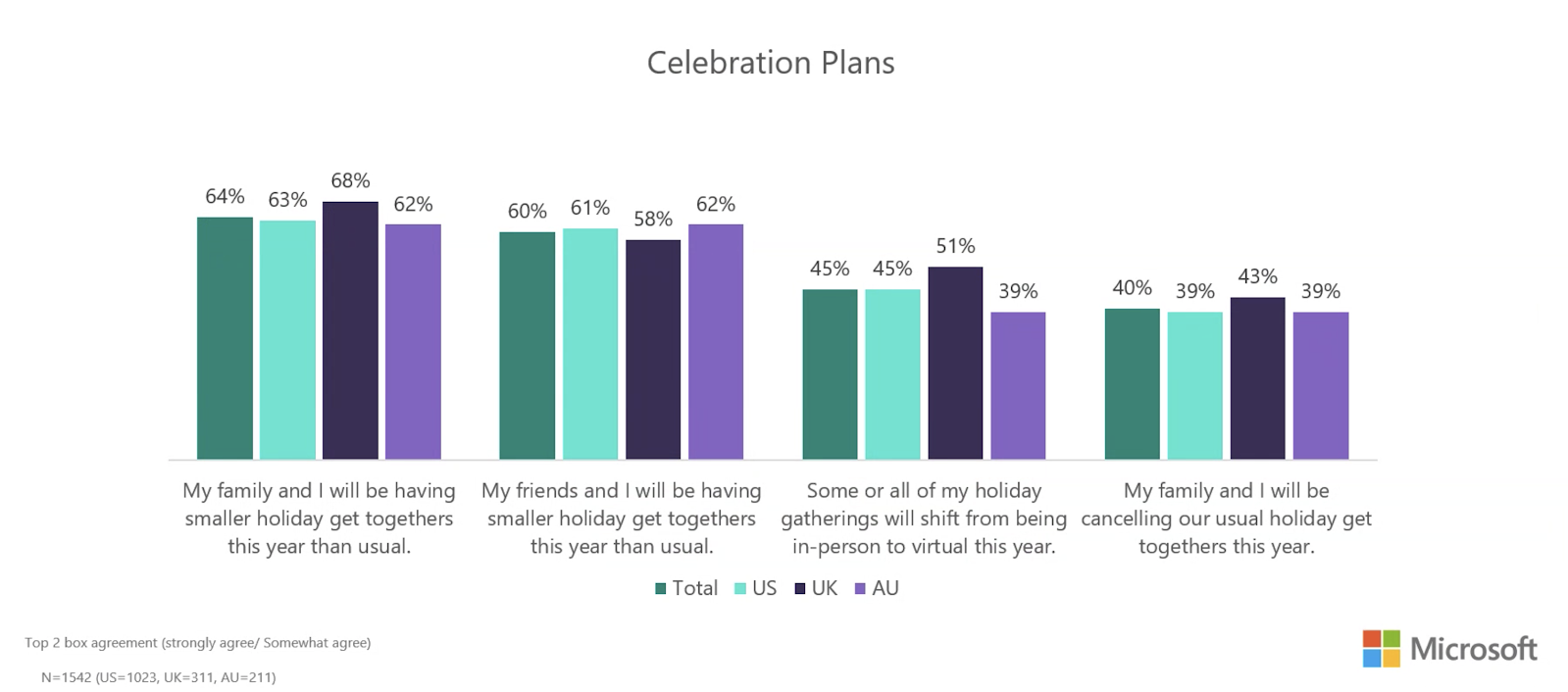 More people will celebrate at home (40% will change usual holiday plans according to Microsoft's data), with smaller groups. Which means less travel but more first-time chefs cooking their first-holiday meal. This in turn is a big boon for food delivery services like DoorDash which, driven by the pandemic, turned a profit for the first time and will have its IPO soon.
Moreover, with people deciding to stay home, they might be more inclined to invest in self-pampering products like fitness equipment, beauty products, or even streaming subscriptions. So those industries will continue to see an increase in sales as the holidays roll around.
5. Figuring out shipping & delivery
Free shipping, which has long been a staple of e-commerce deals, is likely to take on a new meaning. With higher e-commerce sales, shipping logistics are more strained than ever and that's on top of pandemic-driven supply-chain issues that have created empty shelves and shortages of a variety of products over the past months. According to a Salesforce report — traditional delivery providers (like FedEx, UPS, DHL) might face issues with capacity (by 5%) between the week before Cyber Week and Boxing Day. Consumers may be surprised when they have to order much earlier than before to get their gifts on time for their celebrations.
And in turn, retailers and service providers will have to keep a lookout for unanticipated delivery delays of inbound and outbound goods, shipping surcharges imposed by carriers, and potentially higher than usual returns from consumers who are panic buying.
6. Sale events will be game-changers
Contrary to previous years, Black Friday 2020 might not be able to get much in-store action, courtesy of the pandemic. And while Black Friday has been associated with big-item sales which require a lot of planning and intent, Cyber Monday has always been about online-shopping.
In-person Black Friday shopping used to appeal to consumers for 3 primary reasons:
• Great deals and discounts
• Multiple gifts can be bought in one shopping trip
• Chance to discover new gift ideas
But things are different this year and despite the usual appeal of Black Friday, according to Microsoft, Cyber Monday is the sales event to be on the lookout for this year. If your Black Friday follows the trend and is lower than expected, it's not too late to shift that budget to Cyber Monday over the weekend.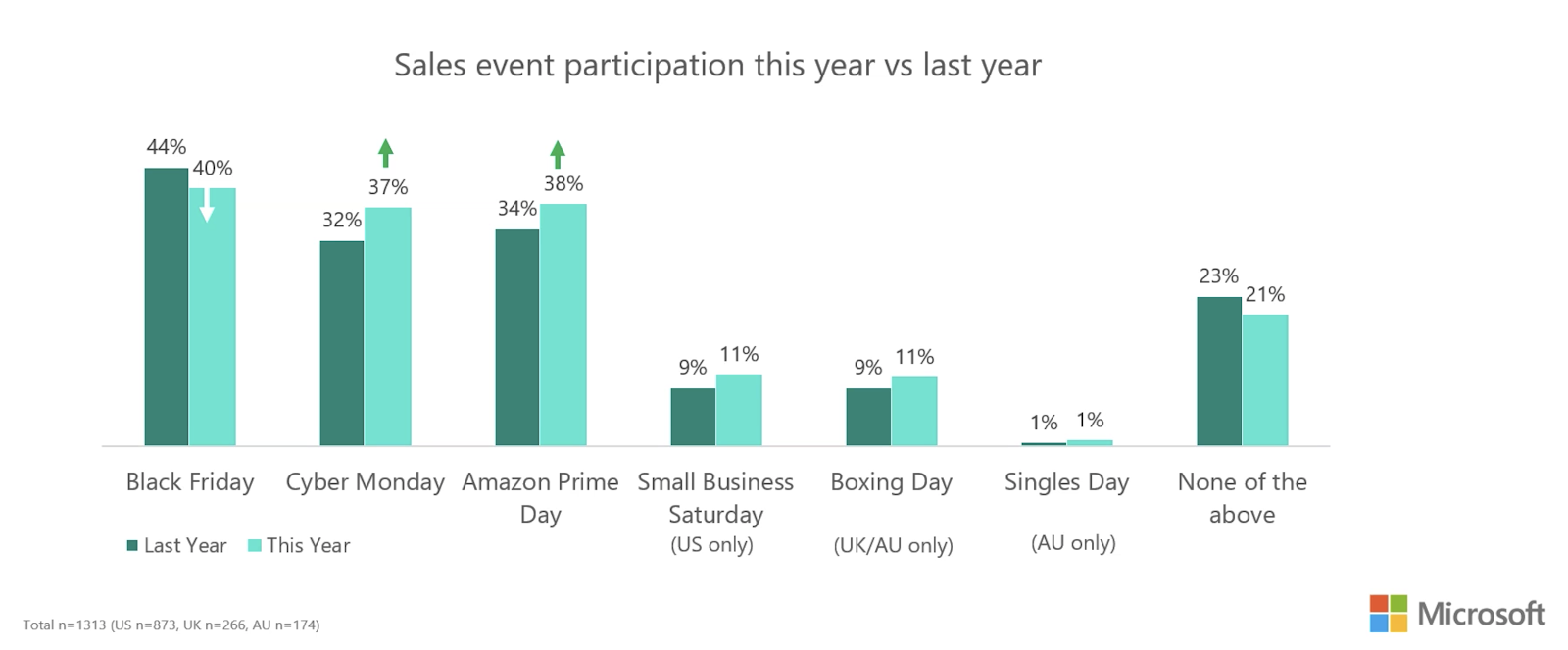 And for international marketers, the following data might be much insightful. In the US, these sale events might bring in consumers, UK & AU report lower numbers of shoppers attending them.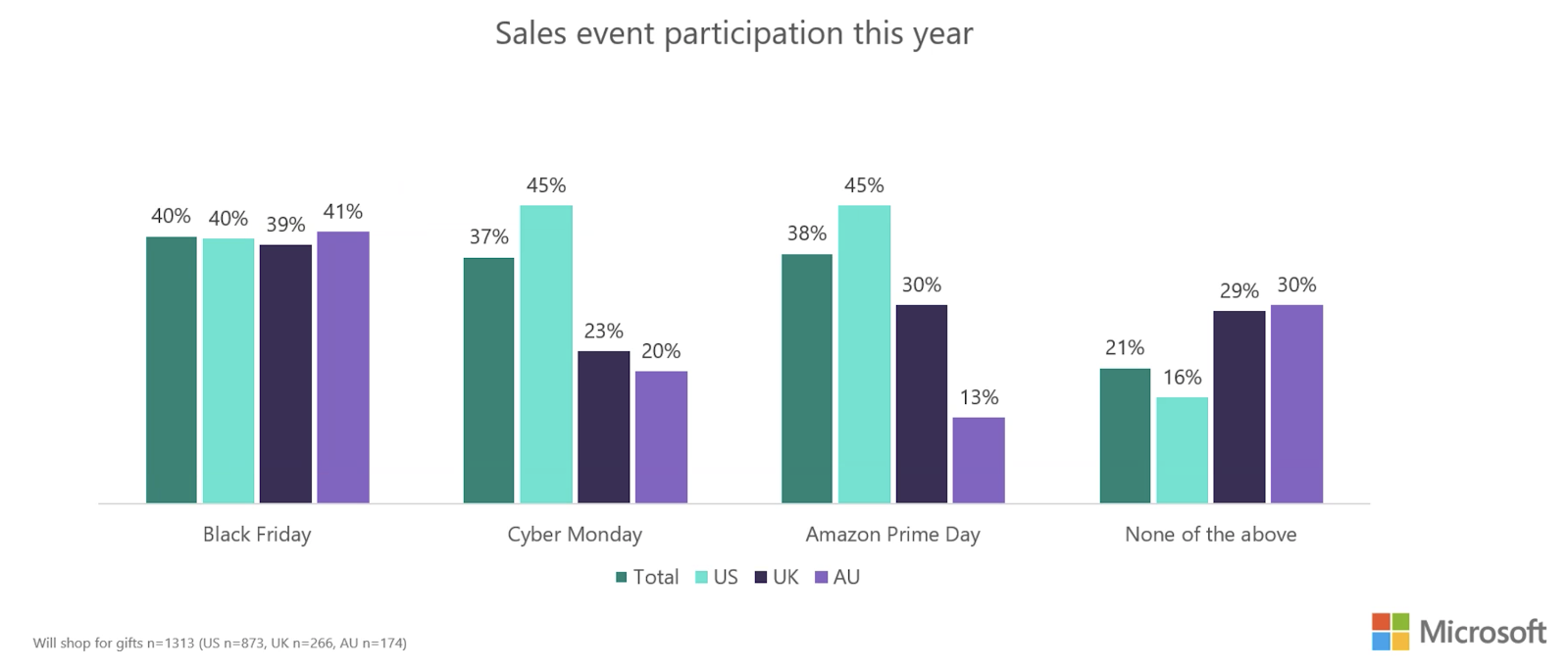 7. Rise of the gift cards
Microsoft says gift cards are growing faster than other categories this year. They are an ingenious solution to a big Holiday problem for consumers – choosing a gift and delivering it on time, even for procrastinators who waited too long! They can even help small businesses market their products and gain stability in the Holiday season by bringing in steady revenue with minimal investment. Consumers have been buying gift cards to support their local businesses in the pandemic.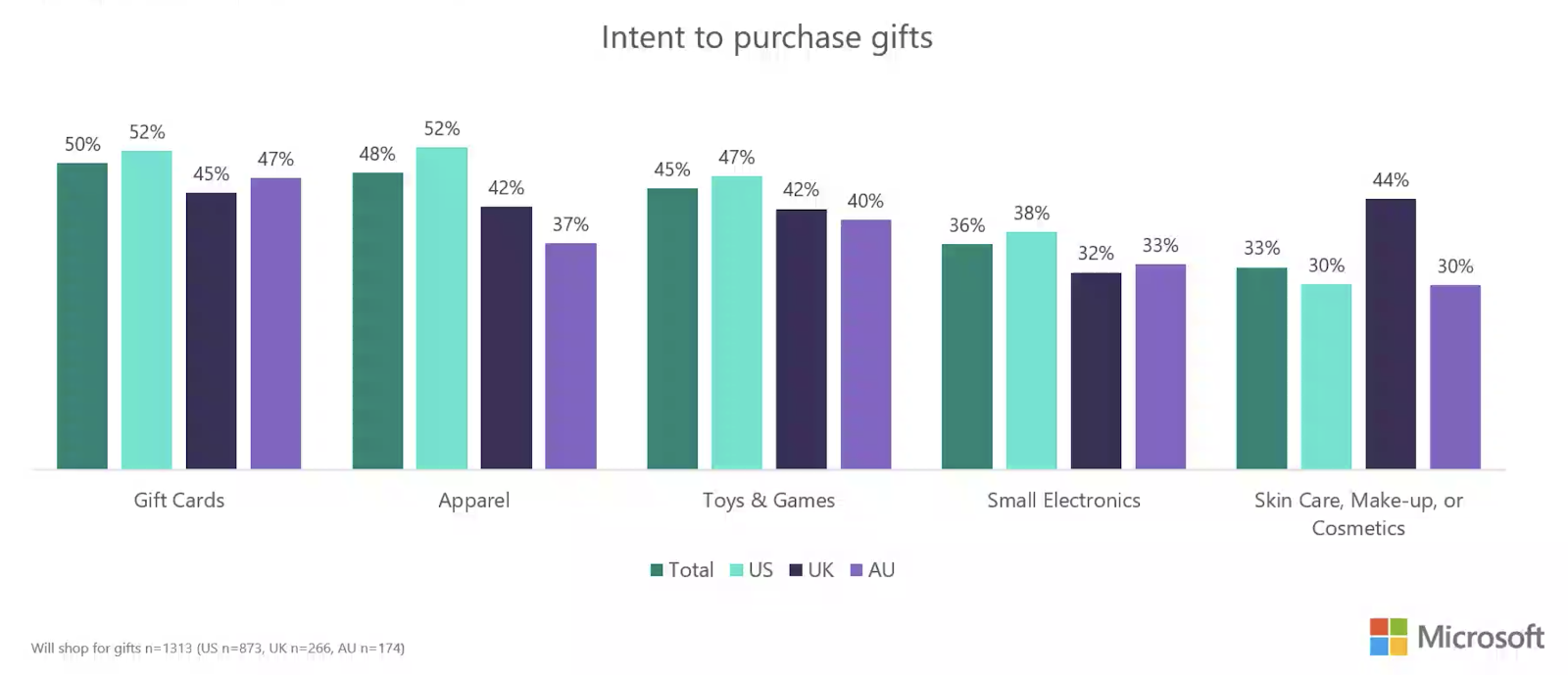 As gift cards are traditionally excluded from sales events like Black Friday, that may explain why some people don't intend to participate in the event this year (as explained in the point above).
The other items that are on shoppers' lists are apparel, toys, electronics, and self-care products.
Conclusion
2020 has been a year with many ups and downs. Unlike earlier years, this year consumers won't be crowding aisles for Black Friday sales, but rely on purchasing from the comforts of their homes. Since we only have a week to Black Friday, most marketers would have already put their plans and strategies in place.
While you might not be up for making major changes directly to your ads right now, you can still create last-minute monitors and alerts so that you get some help staying on top of things during your busiest time of the year. If you don't have these set up, do so now! Also, check out the tips we shared from speaking to 14 PPC experts about their advice on navigating Holiday 2020 and winning e-commerce sales.