2021 was an eventful year for Optmyzr. From launching new capabilities and tools to improving existing ones, we've been doing everything we can to help make advertisers' lives easier.
We're thankful to everybody that has been a part of this journey, and we hope that you continue to choose us to improve your PPC management experience.
Here are the major updates across 12 months.
New tools/features -
Segment Explorer
In the Google Analytics interface, it is difficult to view performance data for multiple segments at a time - say number of sessions coming from California from Males using a mobile device.
The Segment Explorer lets you view performance metrics for all your connected Google Analytics accounts for multiple dimensions combined at once.
Learn more about Segment Explorer.
Score segments to get Value Rules suggestions
The new Segment Scorer allows you to score your segments based on how well they perform once you get a conversion from them. You can assign a number between 1 (lowest) and 5 (highest).
Once we get enough scores from your team, we'll use that data to suggest Conversion Value Rules that will help optimize your account's performance by teaching Google's automations (like those that handle bidding) more about what's valuable to your business.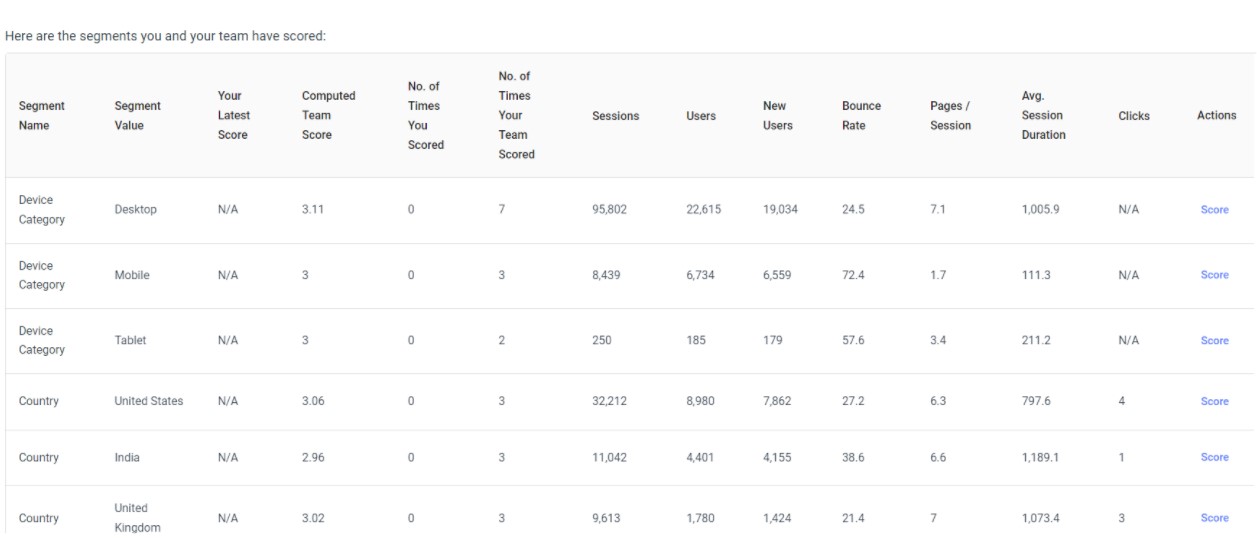 Campaign Experiments tool
With Campaign Experiments, you can analyze the performance of active experiments across all your Google Ads accounts in one place. Find winning and losing experiments, and apply or end them in a single click.
Optmyzr compares your experiment and its original campaign based on statistically significant data to highlight whether the experiment is winning.
Utility Tools: New Auctions Insights Visualizer
The new Auction Insights Visualizer enables you to generate charts using the Google Ads auction insights data. As Auction Insights data is currently not available via the API, you can drop data files into the tool and use the data.
We've also added a chart visualization of the auction insights to help users understand how their competitors are performing.
Our senior Engineer, Shashank Tiwari, who built the tool, was also featured in a Search Engine Journal article highlighting the utility of the tool.
Read more about the tool here.
Create well-structured Shopping campaigns and get more control over how they re-sync.
You can now create Standard or Smart shopping campaigns based on ROAS or Price points using the Shopping Builder. The system will also help you keep them up to date by moving the products from one campaign to another, depending on their ROAS/Price points, every time the Refresher is run. Read more about this feature here
Here's how to build a perfectly structured campaign and how the Shopping Campaign Refresher works.
Facebook on MCC dashboard
You will now be able to view Facebook data along with other platforms supported by Optmyzr. You can:
1. See live data for all platforms in one place.
2. Mark as favorite, add notes, tags, and calculated metrics to help you monitor the performance of your Facebook accounts on the MCC Dashboard.
Campaign Projected Gain in AB Testing tool for Google & Microsoft
The Campaign Projected Gain feature gives you the projected gain for a selected metric, using the 'Find winners by' filter. This is Optmyzr's estimation if an ad copy is optimized as per the suggestions shown in the tool. For example, if you are searching for winner ads by CTR, Optmyzr will show you how many clicks you can gain by pausing the loser ads.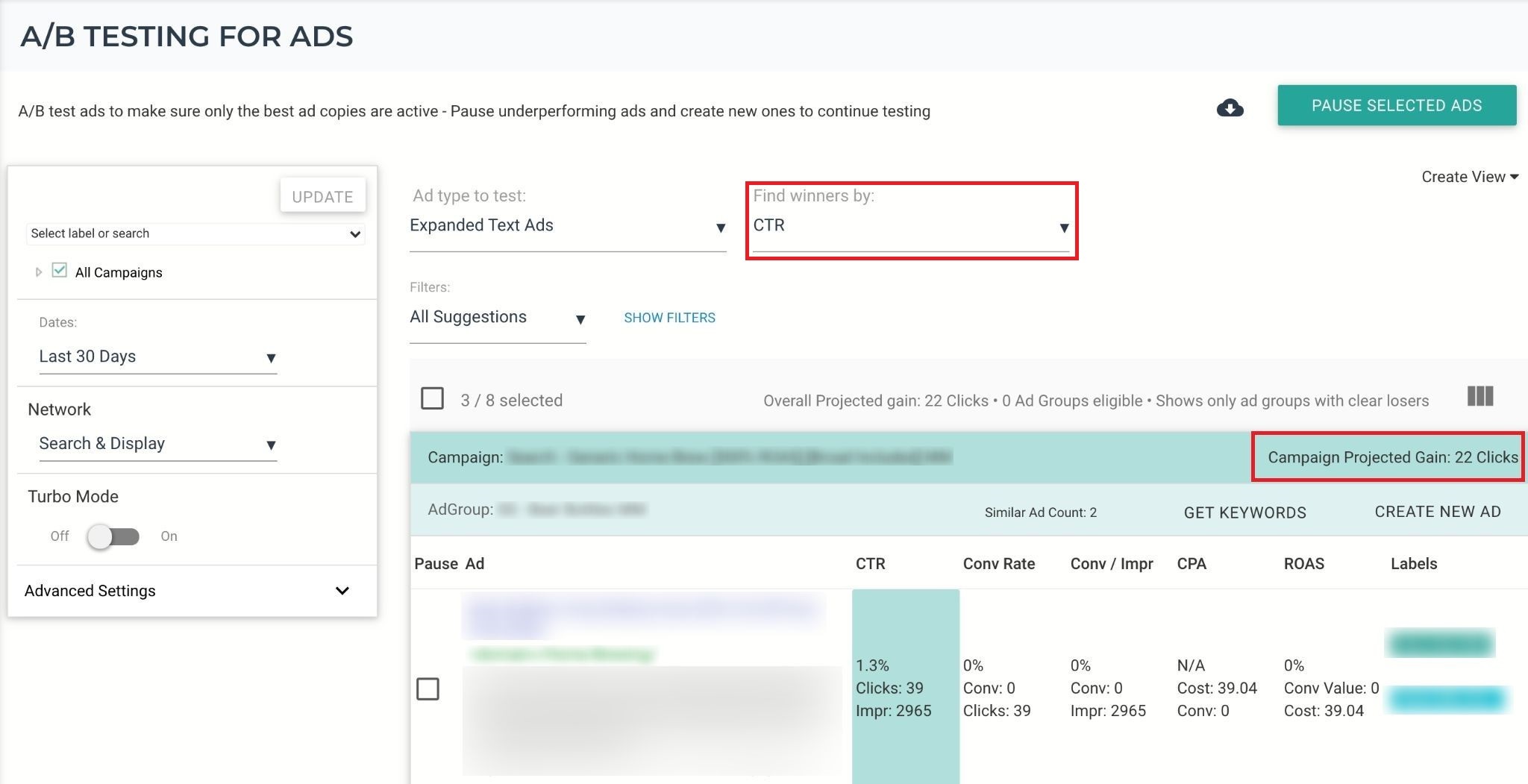 Rule Engine updates
Account Level Placement Exclusion in one click
One-click optimization for Account Level Placement Exclusion is now available under the Placements section.
If you're running smart campaigns, this update is especially useful as these campaigns respect only account-level placement exclusions. You can identify non-converting placements and exclude them from your account in one click.
You can also create your customized strategies in Rule Engine to get a report of or exclude placements at the account level.
Bid adjustment changes - ad group and campaign level
At the ad group level, users can create customized rules to analyze performance at the device, demographic, and audience level and change bid adjustments based on performance. Read on for more details.
At the campaign level, you can apply bid adjustments by devices. Adjust Bids by Device.
SA360 conversion data supported in the Rule Engine
Search Ads 360 actions and transactions are available in the Rule Engine for linked Google Ads accounts. Use this to gain extra insight from SA360 actions/transactions to make informed decisions.
Learn more about it here.
Budgets
More control to limit multi-platform overspending
Optimize Budgets Across Platforms now pauses the campaigns of a budget group if their shared monthly target is reached, and re-enable them on the 1st of the next month.
This helps make sure your accounts do not overspend across Facebook, Google, and Microsoft Ads.
New Budget management Features for Microsoft Ads
Spend Projection: We've added a new tool to help you see spend projections for your accounts. The system analyzes spend data, historical seasonality, and recent performance to predict how much an account is likely to spend within a selected time period.
Optimize Budget: Another new tool added for Microsoft Ads is Optimize Budgets. Use this to analyze spend data and reallocate budgets to campaigns based on performance, impression share, or to reach a monthly target.
New UI
New UI for Campaign Automator
Campaign Automator is a standalone Optmyzr product that lets you build scalable, automated, and inventory-driven PPC campaigns.
Watch this webinar to know more about Campaign Automator capabilities.
Users can also create Responsive display ads for Display campaigns using Campaign Automator. Here's how.
New UI for Account Dashboard Google ads:
Including new widgets and functionalities
Easy access to Pre Built Templates
View Quality Score data
Analyze PPC Investigator Chart
See your Audit Score and access full PPC audit report
Review your tasks due and overdue
Workflows
More control over Account Blueprints
We now support both scheduled (paused or active) and on-demand Account Blueprints. You can create a Blueprint without scheduling tasks and run them on demand. Also, now you can choose to pause a scheduled Blueprint to not create new task alerts.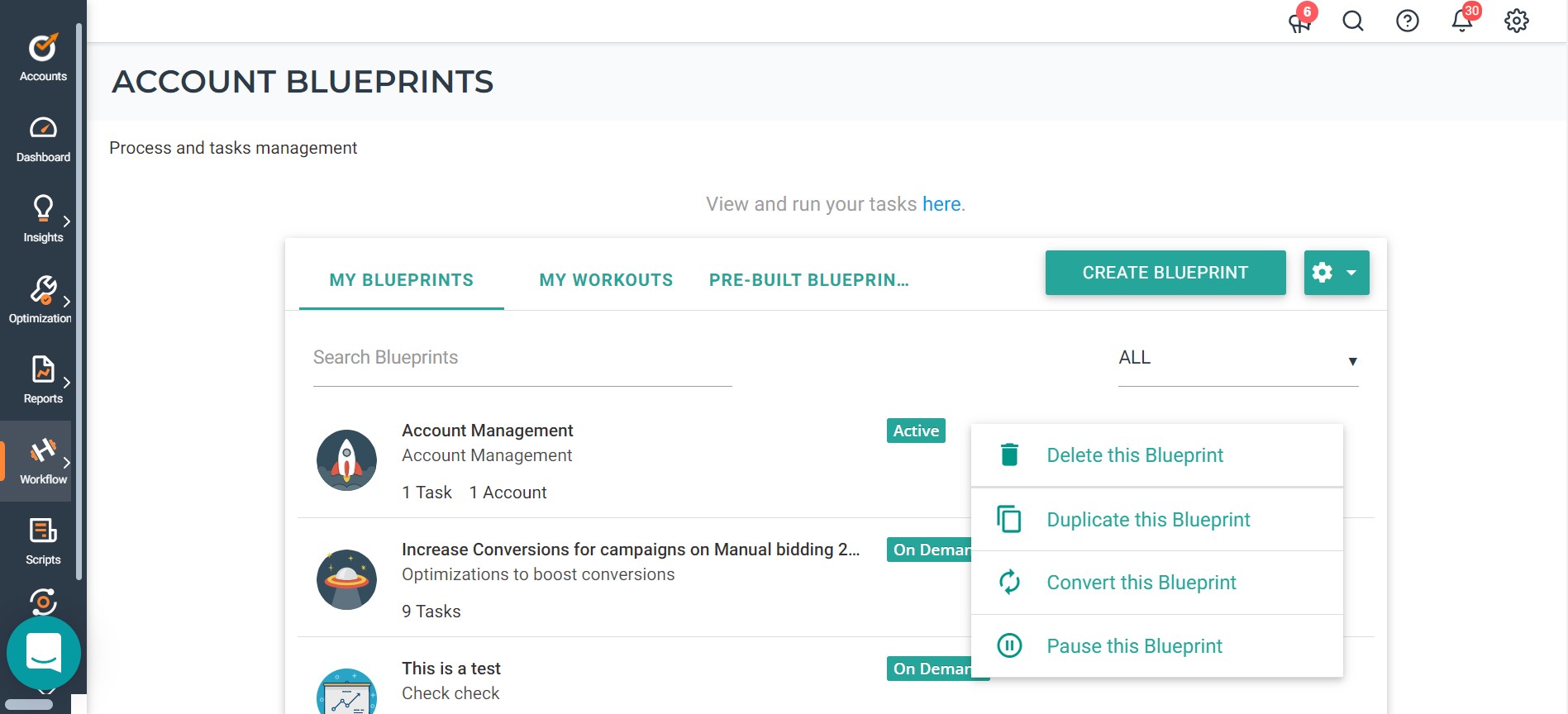 Zapier Integration: Send blueprint tasks or alerts to your project management system
With Zapier you can integrate Optmyzr with almost anything. For example: You can now send tasks created by blueprints to your own CRM or project management system (like Salesforce, Asana, Basecamp, Trello, etc.).
Learn how you can integrate Blueprints or Alerts with Zapier. You can also watch one of our YouTube tutorials.
Alerts
New alerts for Facebook, Amazon, Quality Score
New alert types for additional platforms, functionalities, and metrics. These include:
Alerts for Amazon and Facebook
Alerts for Quality Score in Google Ads
Alerts for custom calculated metrics available via your MCC Dashboard
Receive alerts on Slack
Learn how to connect Slack and Optmyzr.
Support to get Rule Engine alerts on the Triggered alerts page on all platforms
You can now get alerts on the Triggered Alerts page based on Rule Engine suggestions, allowing you to see all alerts in one place.
Get alert notifications directly in Microsoft Teams
Apart from Slack, your team can now be notified directly in their Microsoft team account. Whenever an alert is triggered, your team will be notified on Microsoft Teams as part of the chat for the Optmyzr app.
Connect Optmyzr to Microsoft Teams
Amazon Ads updates
Product Targeting and Negative Product Targeting
Search terms (specifically ASINs) can now be added as Product Targets or Negative Product Targets using the Search Terms scope of Rule Engine for Amazon.
This new action allows for more granular filtering based on performance and lets you add ASIN search terms as positive or negative product targets accordingly.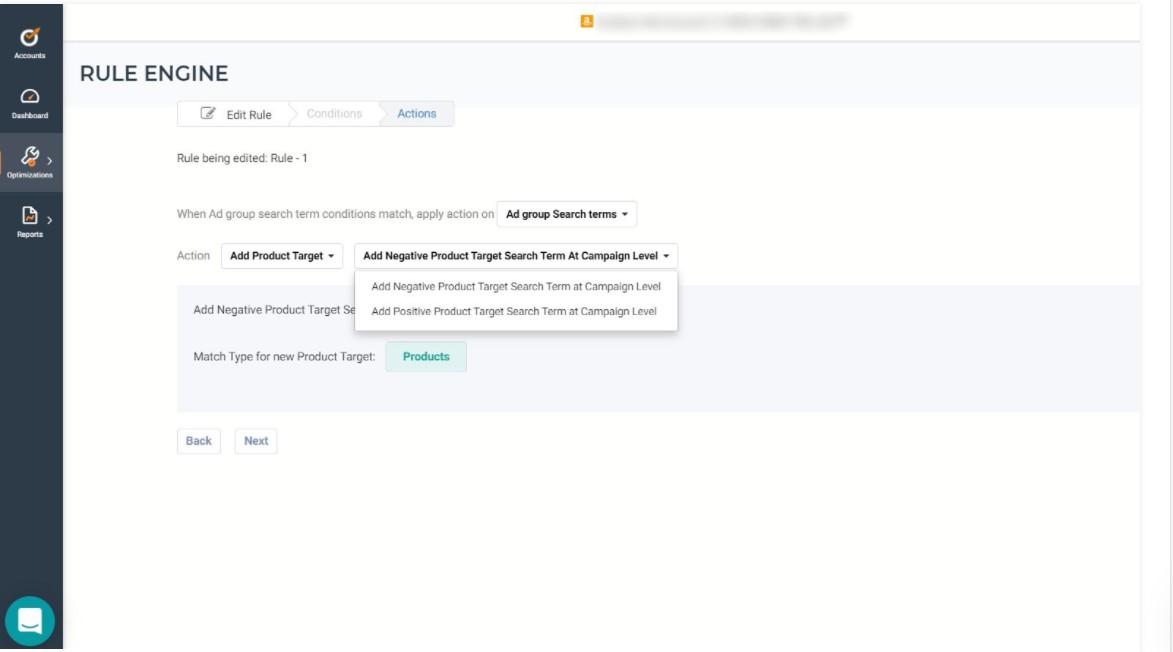 Optmyzr Express for Amazon
Optmyzr Express is designed to work as a to-do list and lets you breeze through multiple optimization tasks in minutes! It shows you optimization suggestions across accounts based on predefined algorithms.
For Amazon, users can see suggestions to:
1. Add Negative Keywords
2. Add New Keywords
3. Pause Non-Converting Keywords
Campaign placement optimization for Amazon Ads
A new scope, Campaign Placements has been added in Rule Engine for Amazon Ads. It allows you to see your Amazon Ads performance based on campaign placements and adjust bids (by %) for the corresponding placements.
This improvement helps you adjust bids by placements in a more granular way than the Amazon Ads interface, as our Rule Engine lets you filter by any condition that suits your needs.
Yahoo! Japan
We have added support for Yahoo! Japan Ads across multiple tools:
Rule Engine (scopes - keywords, campaigns, ad groups, and device bid adjustments)
Hour of Week Bid Adjustments
Pause Non-Converting keywords
Negative Keyword Finder
Keyword lasso
URL Checker
Optmyzr also has its very own roadmap now, where users can view upcoming updates and suggest feature requests of their own.
View the Optmyzr product roadmap & make feature requests
Optmyzr now has our own Roadmap page where users can:
View our product roadmap
Make feature requests
View other people's requests
Vote and comment on items