We're a small agency in Milwaukee with big PPC experience. That experience comes from working for a combined 8 agencies, multiple in-house marketing teams (including Best Buy and Kohl's), and even hiring a few agencies ourselves in our "previous lives". With all of that comes a ton of hands-on experience and exposure to every PPC management tool under the sun. When we were looking at additional tools to add to our roster at Granular, Optmyzr came up multiple times during our search.
We approached Optmyzr with a high level of curiosity but also with a good amount of doubt. We've read plenty of feature lists before, we've seen "PPC celebrities" endorse products before, being around so many SEOs we knew what snake oil looked like (kidding guys!). You get it, we entered with caution.
Much to our delight, Optmyzr blew us away within 15 minutes of the free trial. We knew it was the real deal and could immediately tell that it was built by a true PPC expert. The features that it had were inherently different and it was as if someone built this by looking over our shoulders and watching us work for a year…then figuring out how to make our lives easier.
Check out some of our favorite features below:
White Label Reports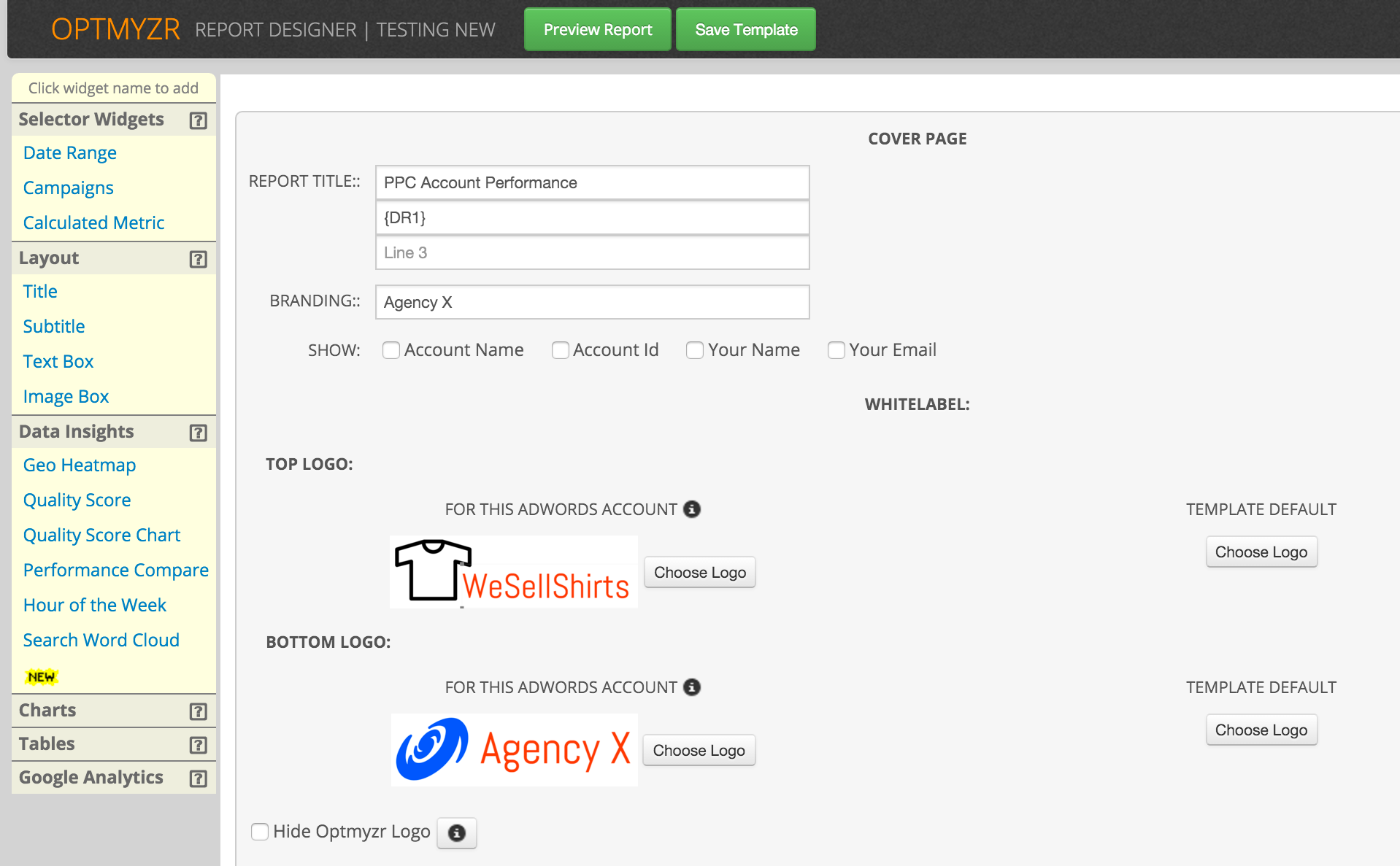 It's refreshing to have true white label reporting. They don't sneak in their logo or website address like some others on the market. It can take as little as 2 minutes to build and save a PDF or web-sharable report.
• No logo or watermarks
• Insert Agency and Client Logos on cover page – looks custom
• Insert custom data with screenshots
• Include other channels from GA reports
• Easily customize, Save and Schedule reports for each client
Quality Score Tracking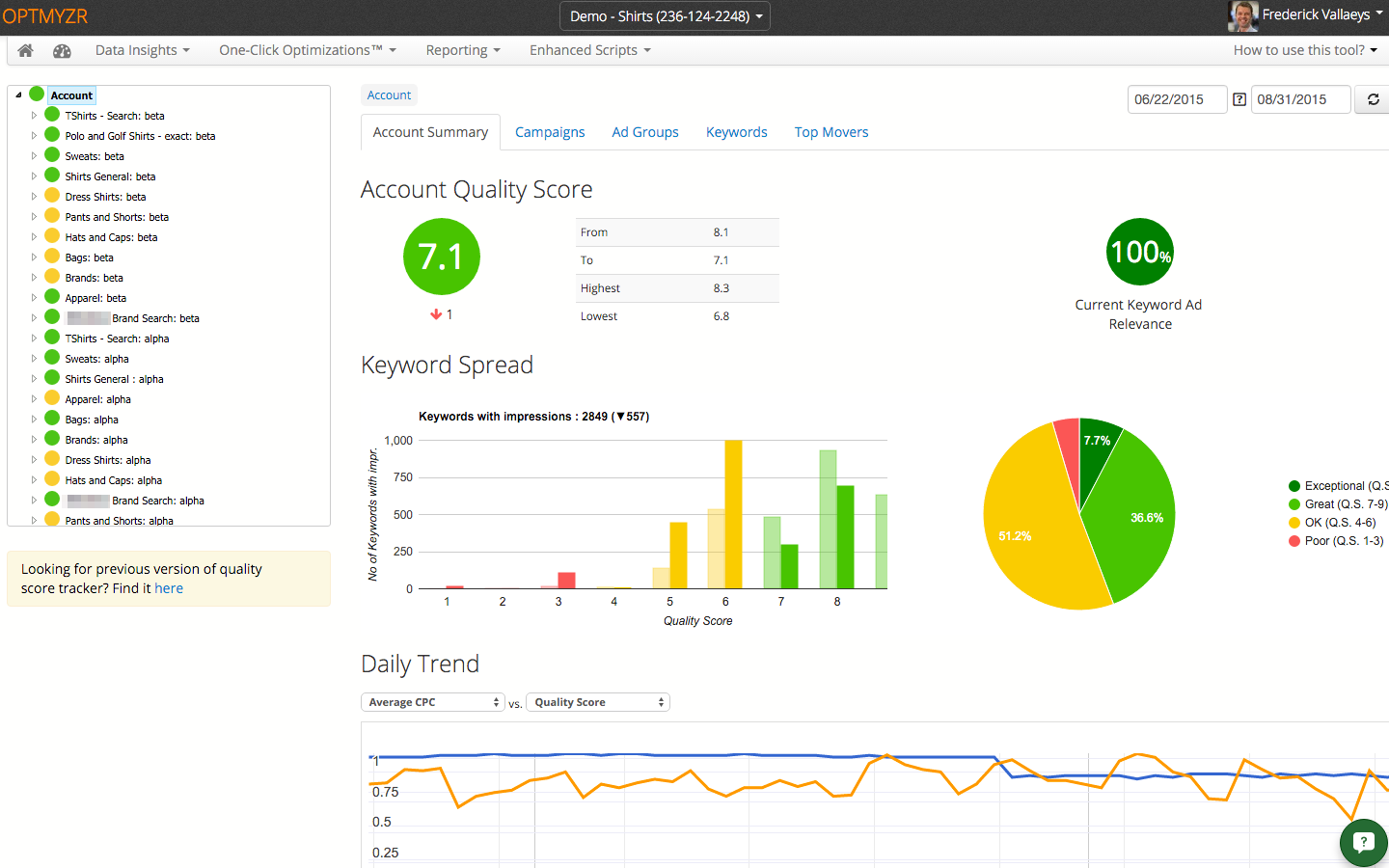 Who wouldn't love this? We do, that's for sure. With aggregate views and daily trended score tracking, it's everything you need to thoroughly keep an eye on your quality scores.
• Overall QS gauge for your account, Campaign, or AdGroup level
• Google doesn't even have this feature in AdWords
• Clients know about QS, so you should include it in reporting and conversations with them
Hour of week analysis and bidding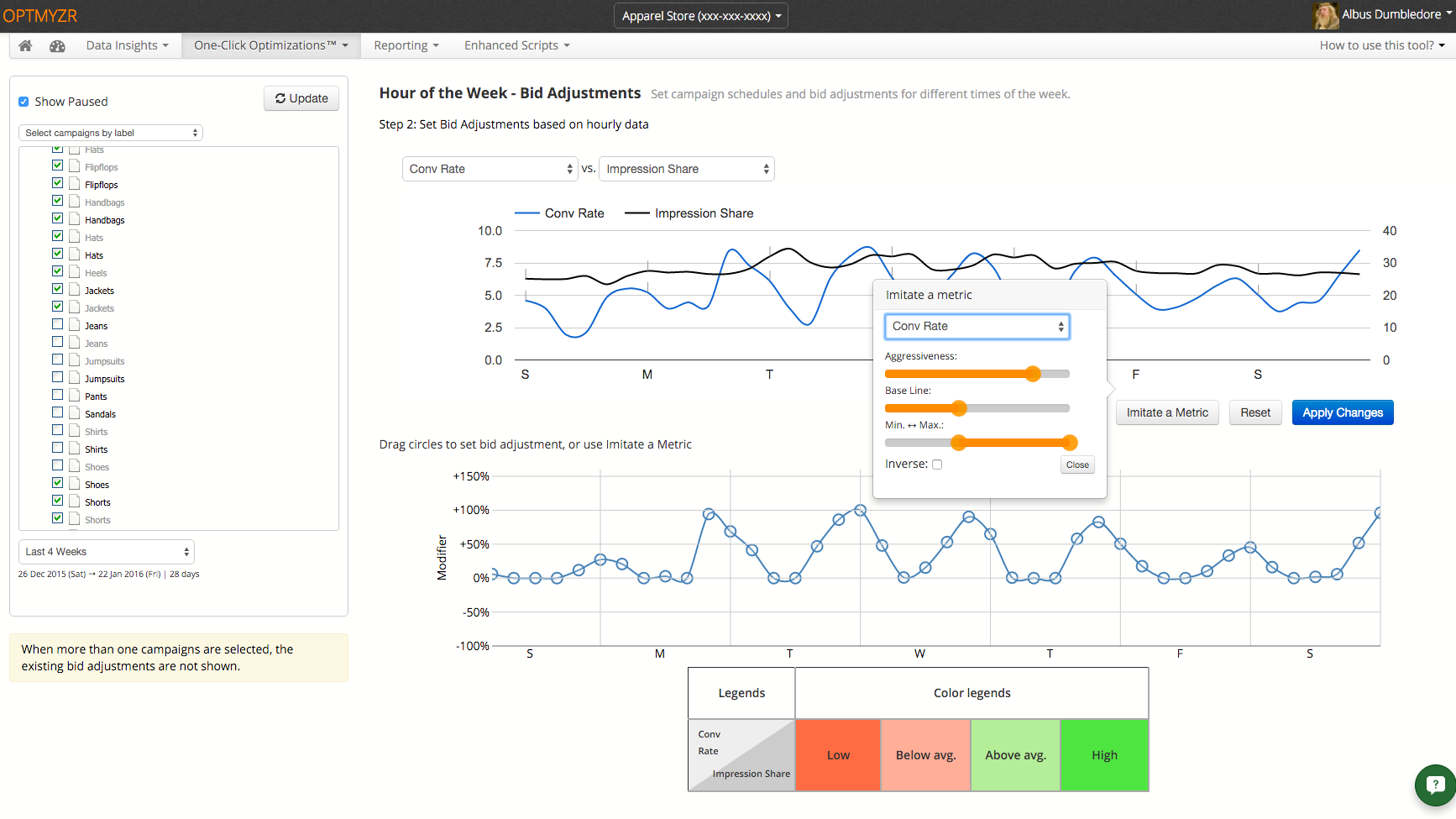 Want to look like an all-star to your clients or internal marketing team? Want to stop wasting money during off hours or want to capture more opportunity during profitable times? Then bid by hour of the week.
• It helps us "live our name", Granular
• Another feature hard to match with AdWords out of the box
• Ultimate customization and tracking for your accounts
• Find "waste hours" and move their budget towards "profit hours"
Automated…but not too automated
We don't like full automation; most senior-level PPCers feel the same way. We want to get our hands dirty and execute certain optimizations after closely analyzing the data ourselves.
• We've used Marin, Acquisio, Kenshoo and Adobe which all serve their purpose for large accounts, but are still a little too hands-off for us
• Optmyzr found a nice middle-ground where we can automate general tasks, yet remain hands on for the more in-depth stuff.
Landing Page Analysis
Nice and quick insight into how well your PPC landing pages are working, based on search performance data.
• We find the "Good CTR but Low Conversion Rate" numbers helpful in identifying destination URLs that need improvement. It shows us when our ads in the ad group are engaging but not converting the relevant user.
• The High Performer section shows us pages with high conversion rate and high CTR. That allows us to apply what's working for one page to other landing pages needing help.
Geo Heat Map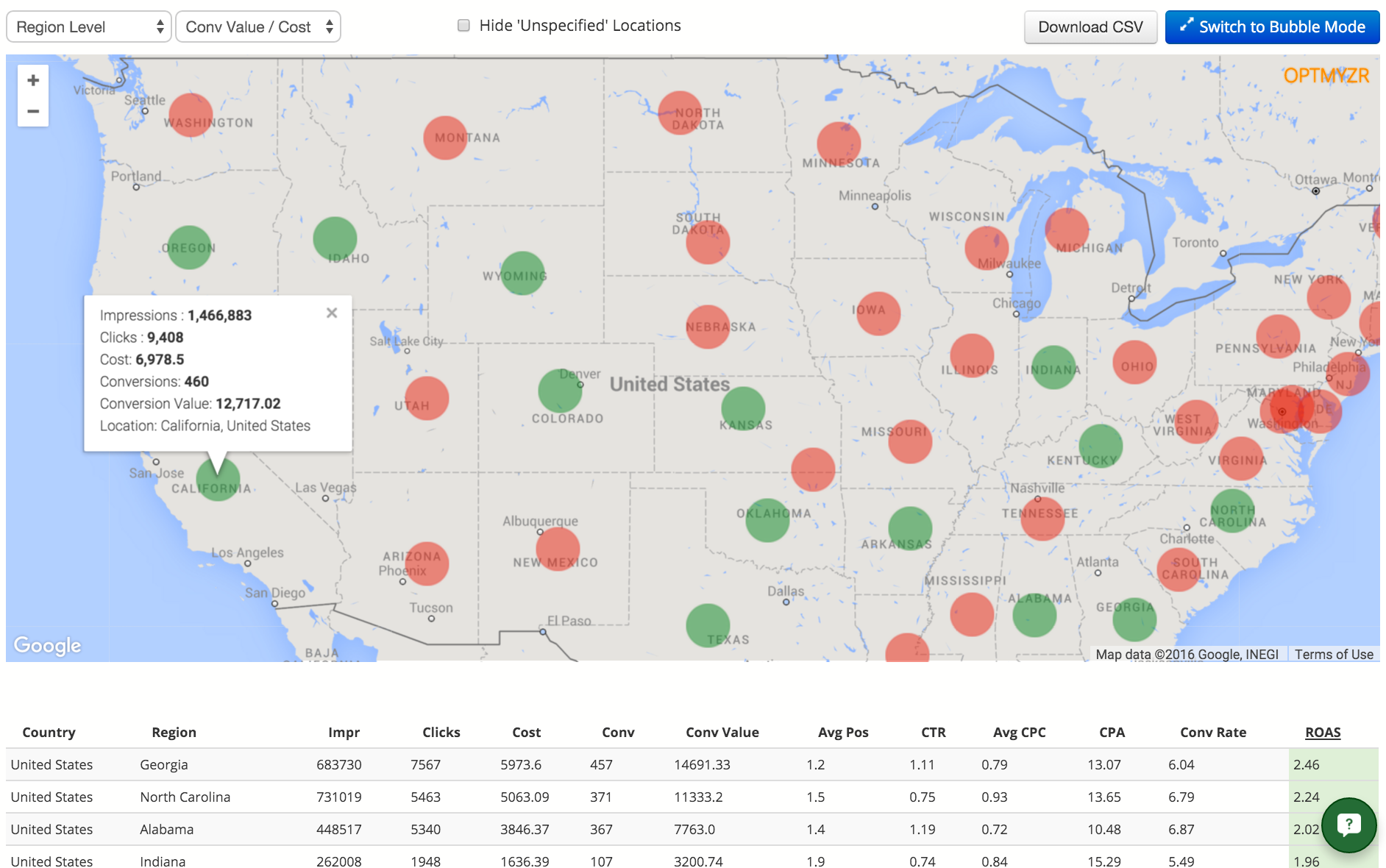 Everyone likes a good visual heat map. Optmyzr hit another triple with this feature which takes your geo data and visualizes it in a way that C-Level folks can digest during their morning elevator ride.
• Makes viewing location performance super easy
• Region, city or country level
• Lots of metric options to change views and get better insights
• Quick way to set location bid adjustments, with visual reference
• Sort and view by aggregate, campaign, or even by device and network breakout
Spend Projections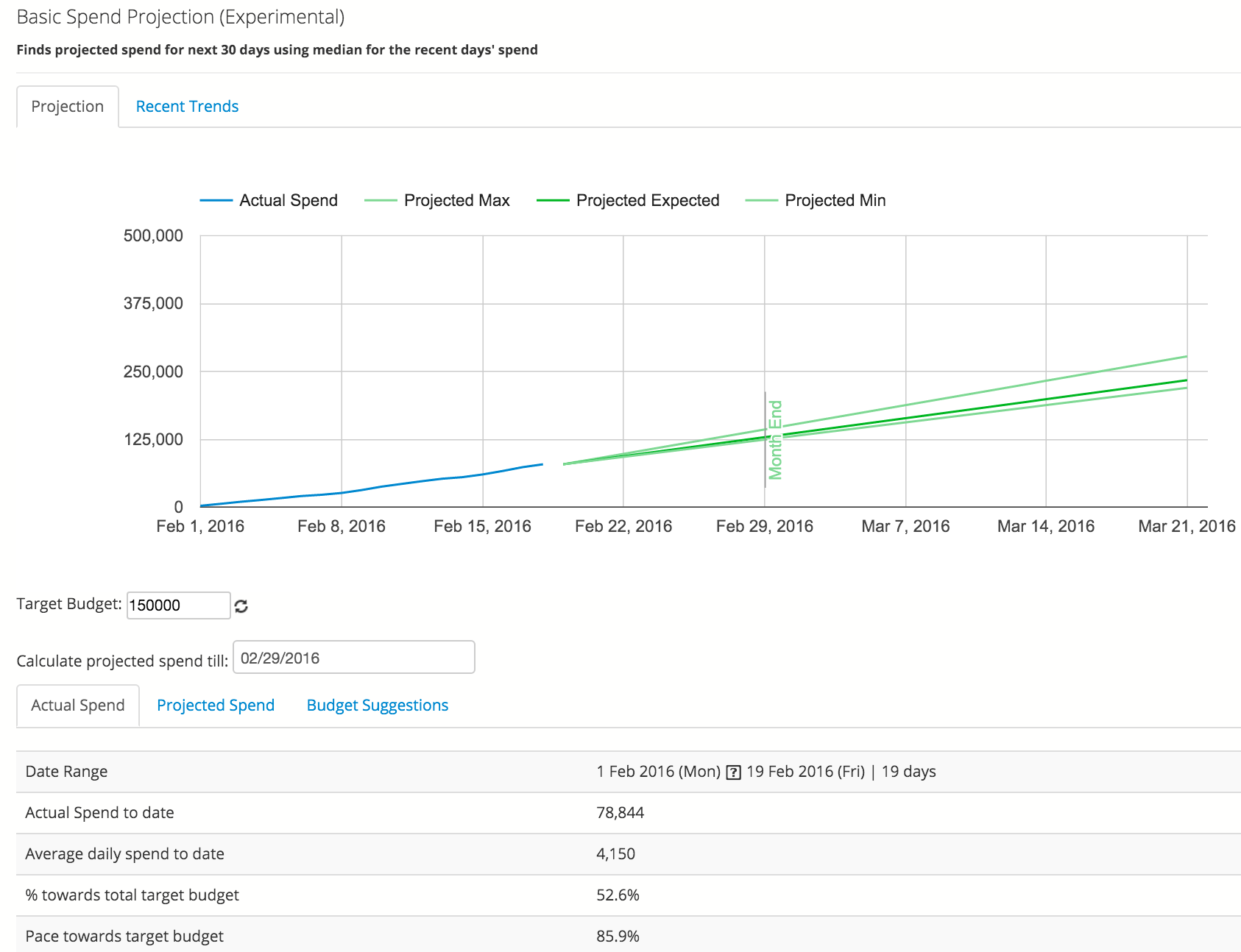 Have you ever gone over or under budget for a client with strict budget guidelines? It's not fun. If you do it internally, it may be even worse because you can't blame the agency. Here's an easy solution for you.
• Quick, easy, and accurate way to stay on track for monthly budgets
• Gives budget suggestions and handles the math for you
• Saves you enough time to be a significant help
NEW PPC Investigator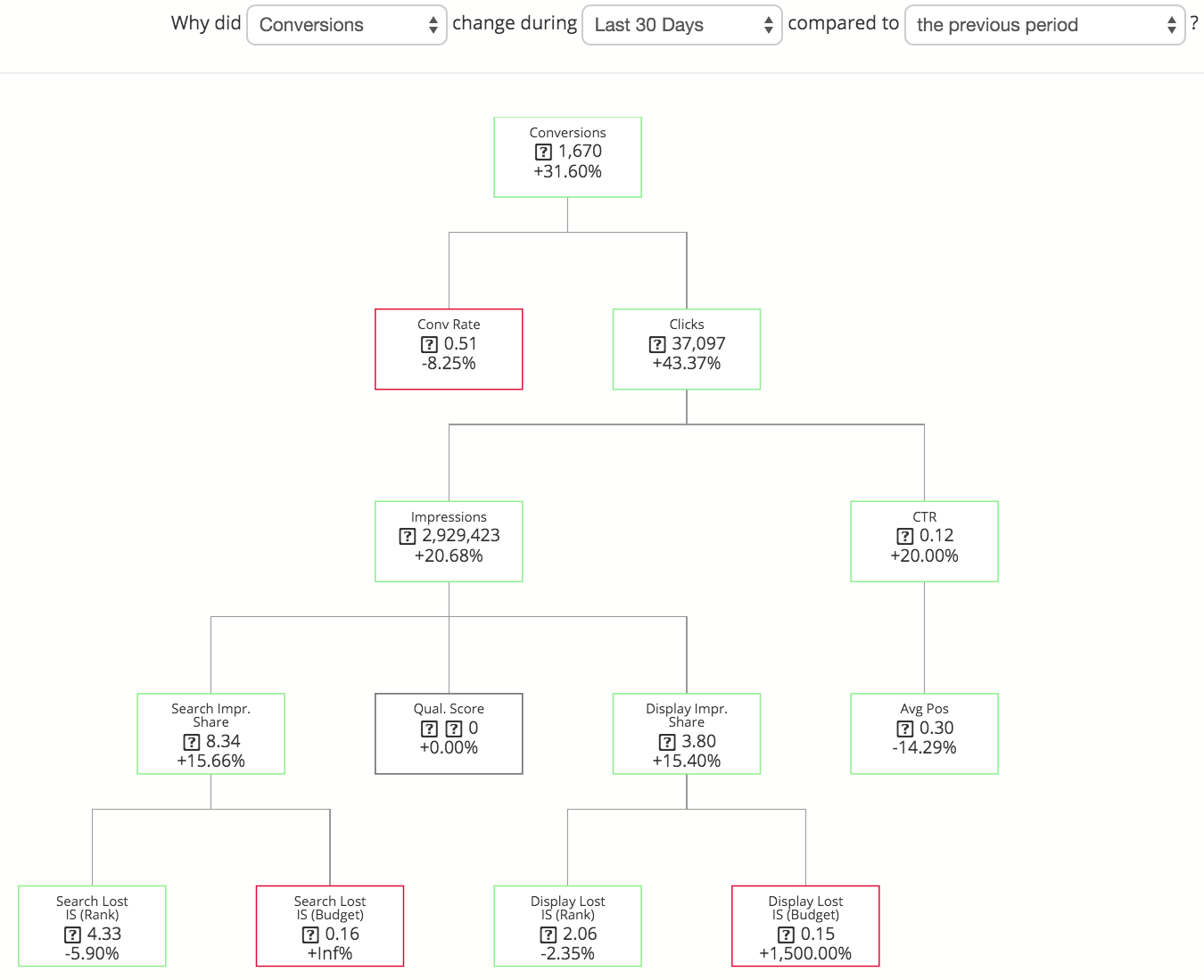 This just mimicked what any good PPCer does on a daily basis when investigating why and how performance changed in a campaign or account. It's truly amazing but simple at the same time.
• Example: Why did conversions drop over the last 7 days versus the previous period?
• Look into impressions (less demand?) and CTR (is my ad less compelling?)
• Ok, impressions were down. How is my impression share in search and display?
• Ok, I lost a bunch of display share. Let's look at what was changed and see if I can fix it.
• This all happens with a few clicks and is displayed in a nice mind map or "cause chart"
Bonus
Almost all of the amazing reports and data insights can be exported in a CSV with a click of a button. This allows us to dive in even deeper and also blend it into some of our custom reports.