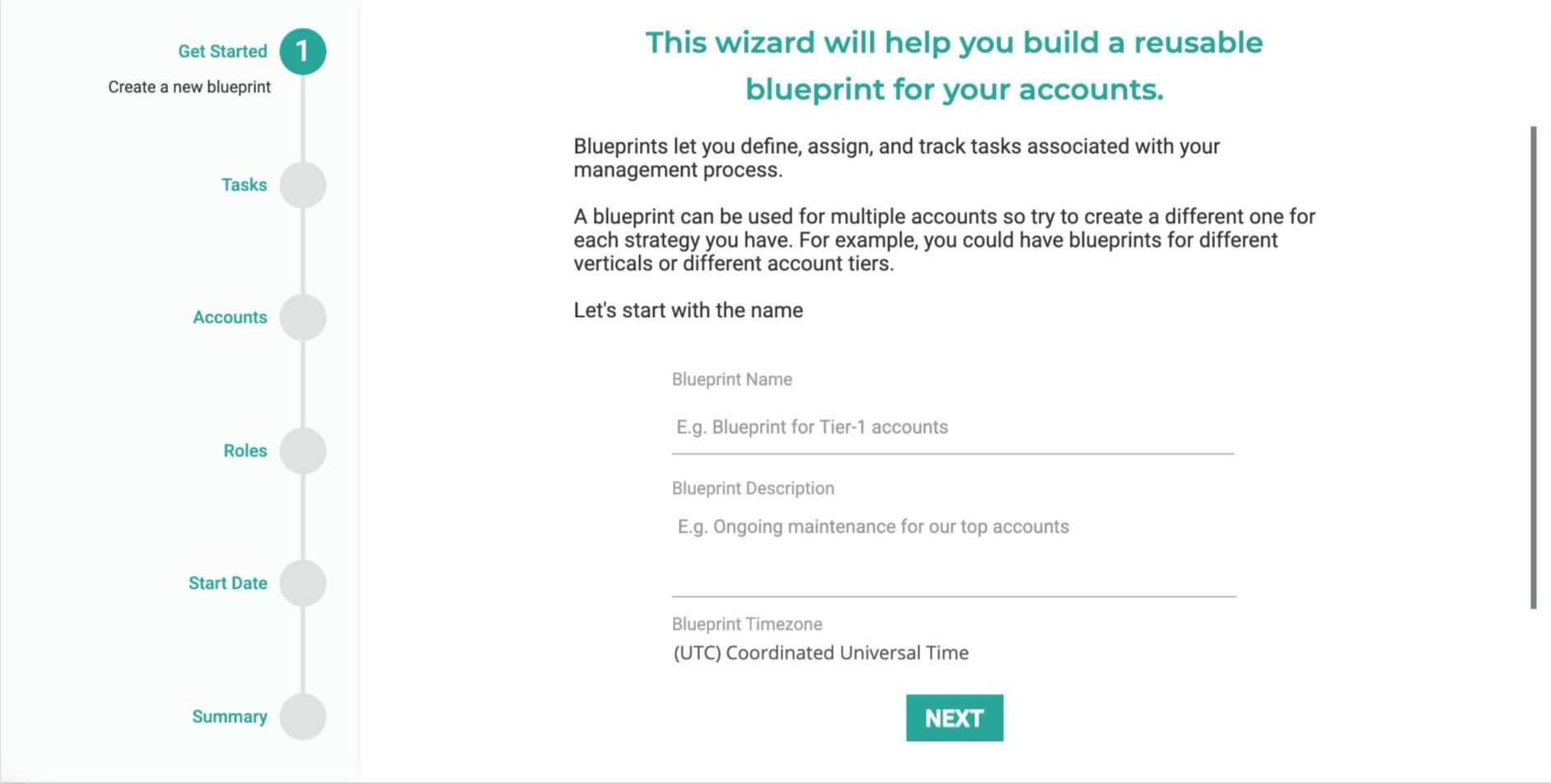 As one of the cornerstones of digital marketing, PPC has become important to all businesses.
But executing complex tactics calls for multi-taskers who are organized and quick. PPC marketers constantly need to track, optimize, and scale their work. And the first step of any strategy: understanding its scope.
At Optmyzr, we realized that PPC marketers were lacking a purpose-built workflow management tool; one that understood their pain and experiences.
Today, we're proud to introduce Account Blueprints, a new feature designed to help you plan, standardize, and scale workflows across your accounts.
About Account Blueprints
Blueprints allows you to organize and track your team's tasks as a scheduled workflow. It helps you design entire PPC plans with a high degree of customizability, from setting frequencies to task owners.
You can schedule both one-time or recurring events, and assign them to your teammates to clarify who's responsible for what. Optmyzr alerts teammates when they get new assignments or when an existing one is nearly due.
Now you can easily standardize processes for any and all accounts, right on the same platform that helps you optimize those very accounts.
Blueprints lets you schedule and assign specific optimizations within Optmyzr, but you can also include tasks outside of the Optmyzr environment, such as client meetings or designing creative assets.
Best of all, setting up a Blueprint is a one-time process. We'll keep track of your preferences until you change them, though depending on your goals, you'll likely need to create separate Blueprints for different processes or accounts.
Business Impact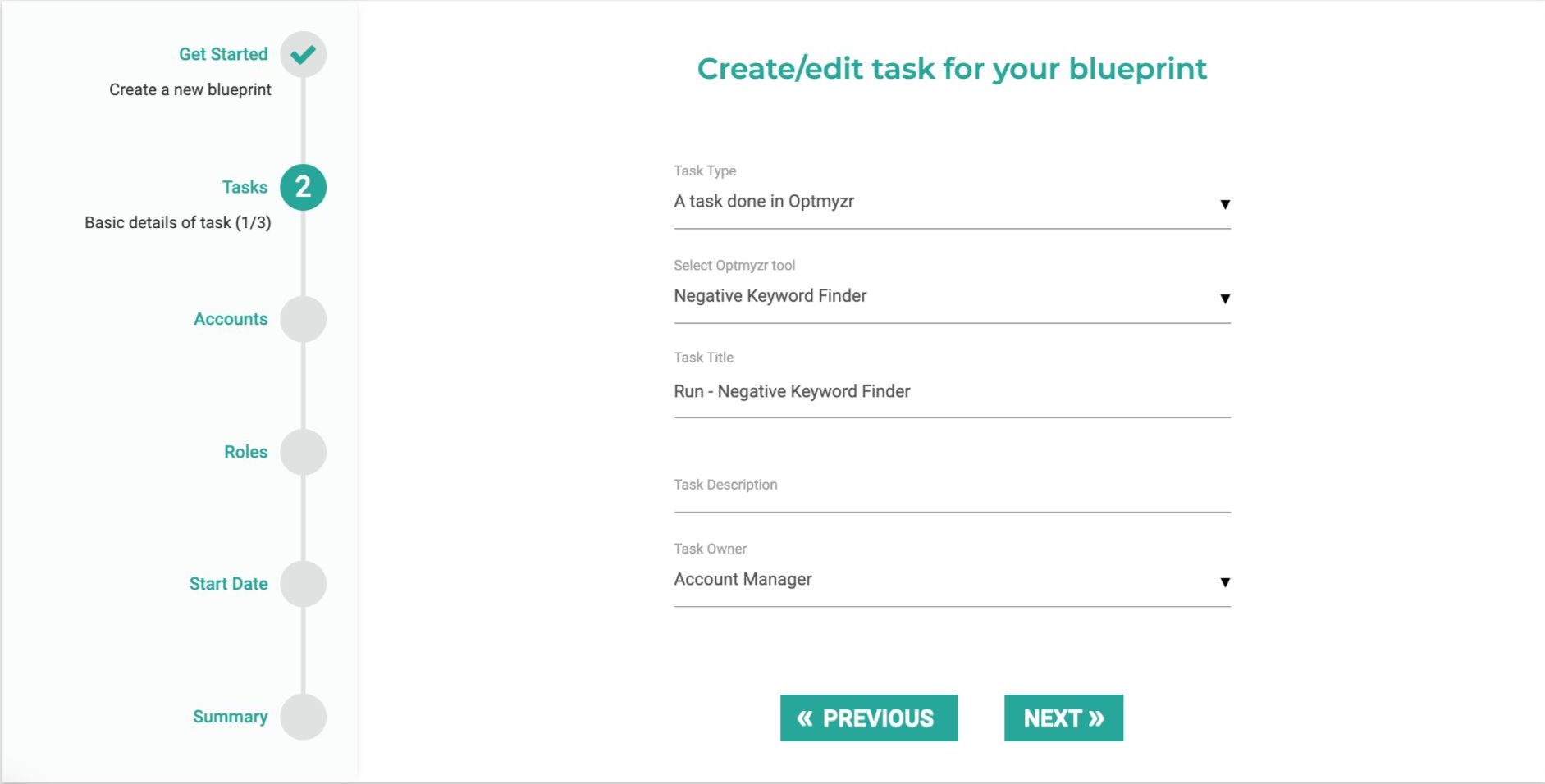 Step 2: Set up your first task
With Blueprints, you can architect more powerful PPC programs. Avoid overrun deadlines and missed tasks by streamlining your project management, and focusing on testing and refinement.
For accounts with multiple stakeholders, it can be tough to know where responsibilities are demarcated. Now you can help individual team members track their own group of tasks. Blueprints offers a flexible, way to keep entire teams on track without anyone feeling like their toes have been stepped on.
Additionally, Blueprints lets you create multiple templates, so you can create plans specific to an industry or vertical, a client tier or type, a specific strategy or outcome, and even for contingencies like needing to quickly onboard a new hire.
Blueprints by Optmyzr also makes it easy to manage and re-assign tasks to help ensure all bases are covered when an employee is out sick, on vacation, leaves a team, or changes roles within your organization.
3 Blueprints Ideas to get you started
1. By industry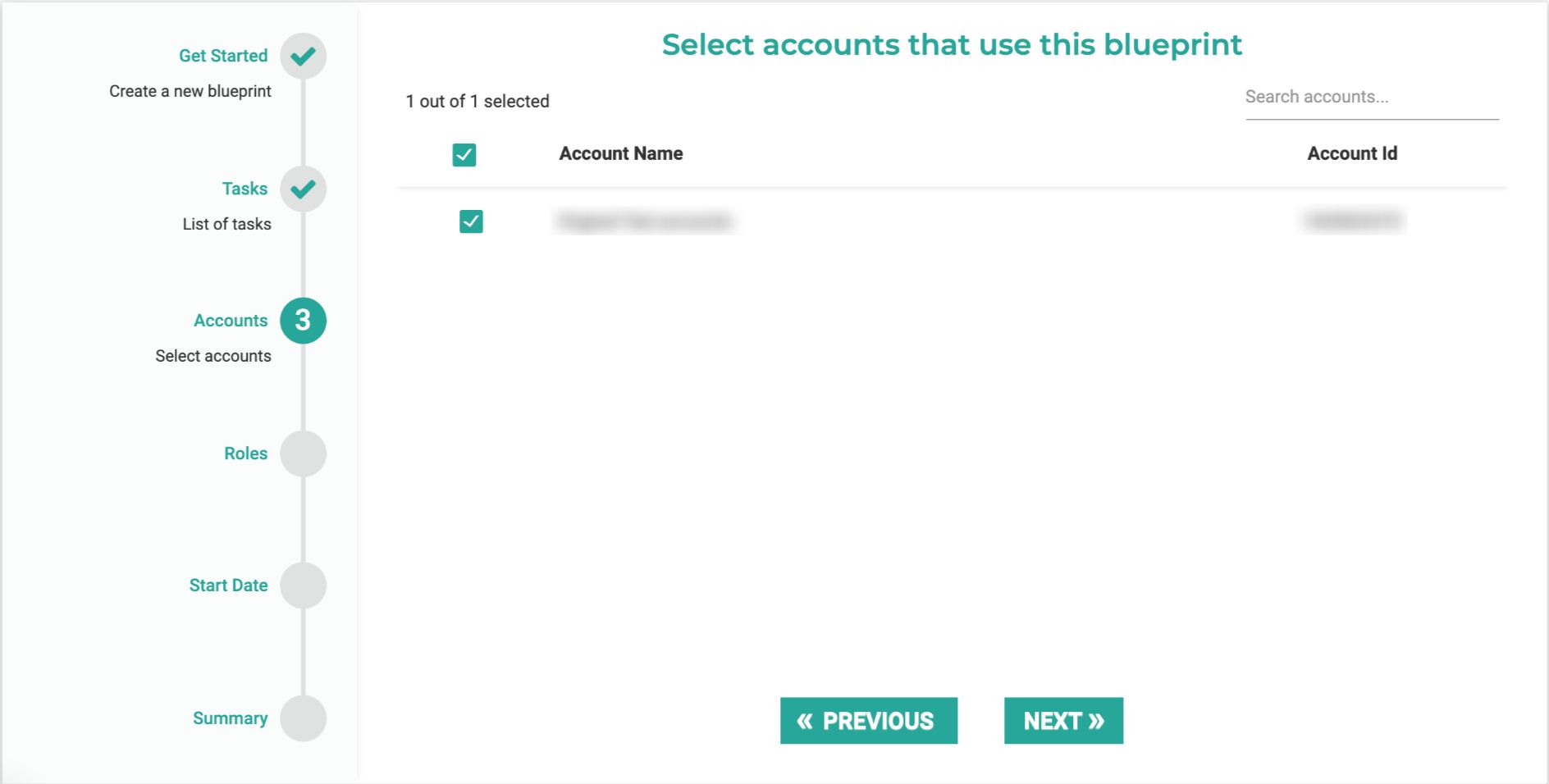 Step 3: Apply your Blueprint to one or more accounts
If your business only covers one account or caters to a specific client vertical, there's a chance you perform many of the same tasks on a regular basis.
An example is an in-house team that only does PPC for their own sports apparel products, or an agency that specializes in e-commerce or hospitality. In this scenario, you can build Blueprints specific to different stages or exercises, including:
• New product launches
• First 30 days for a new client
• Seasonal bid adjustments
But this is not an indication of any limit; even an agency that caters to clients from all walks of business can leverage Blueprints to build specific plans for industry types. You could build one Blueprint to optimize the feeds of new e-commerce clients, and another to deliver on seasonal bid adjustments for hospitality clients.
2. By client tier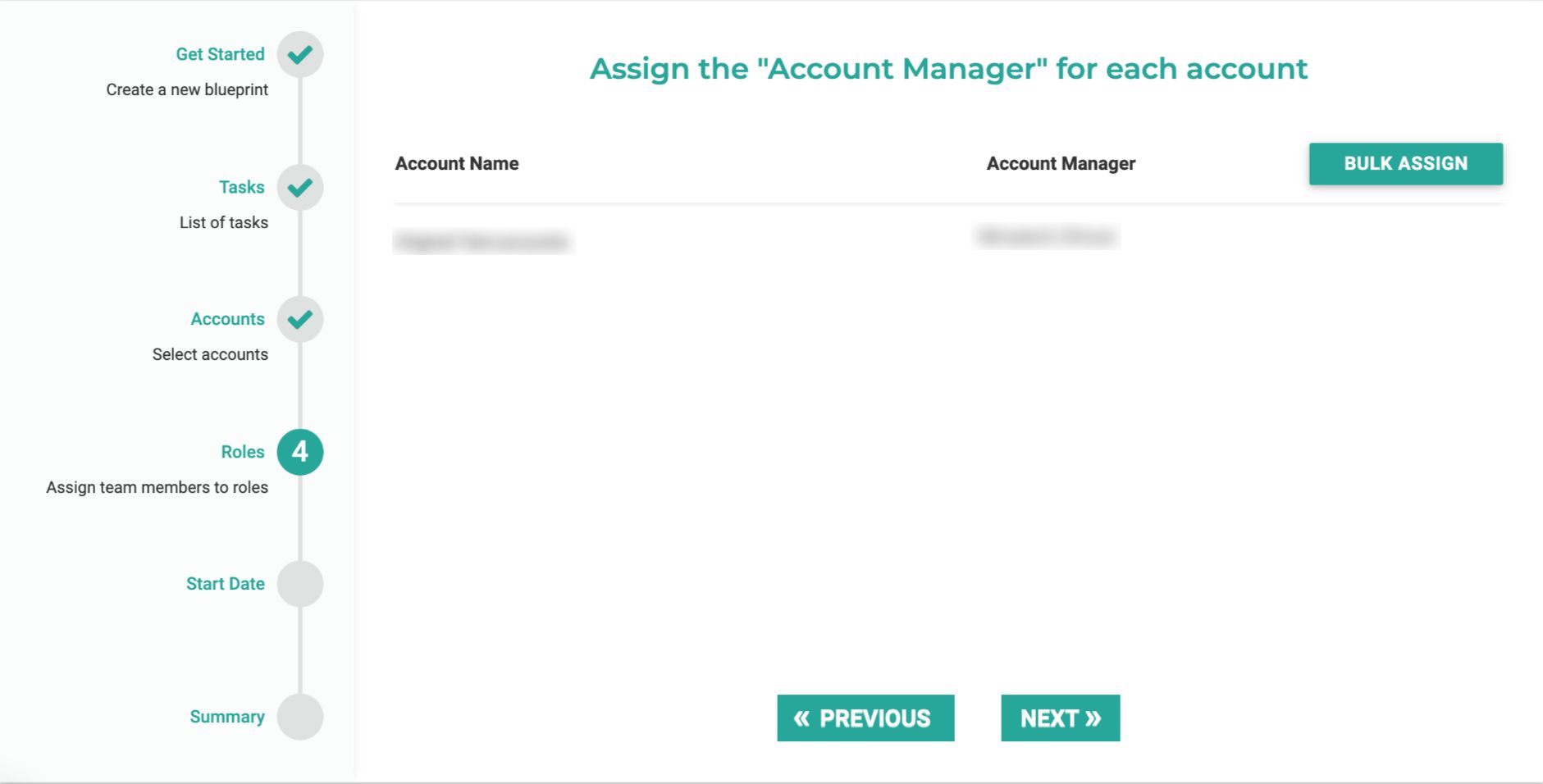 Step 4: Assign owners for each task and account
If you have multiple clients, there's a high chance that many of them pay at different scales. This might correlate to their spend, or it might be based on the level of service you provide. Whatever the case, no agency wants to be accused of preferential treatment that isn't justified by billables.
Blueprints can help you prevent that. Use Blueprints to keep track of value-added tasks that your top-tier clients pay for, while also delivering a baseline level of service to those on lower billing plans.
3. For new hires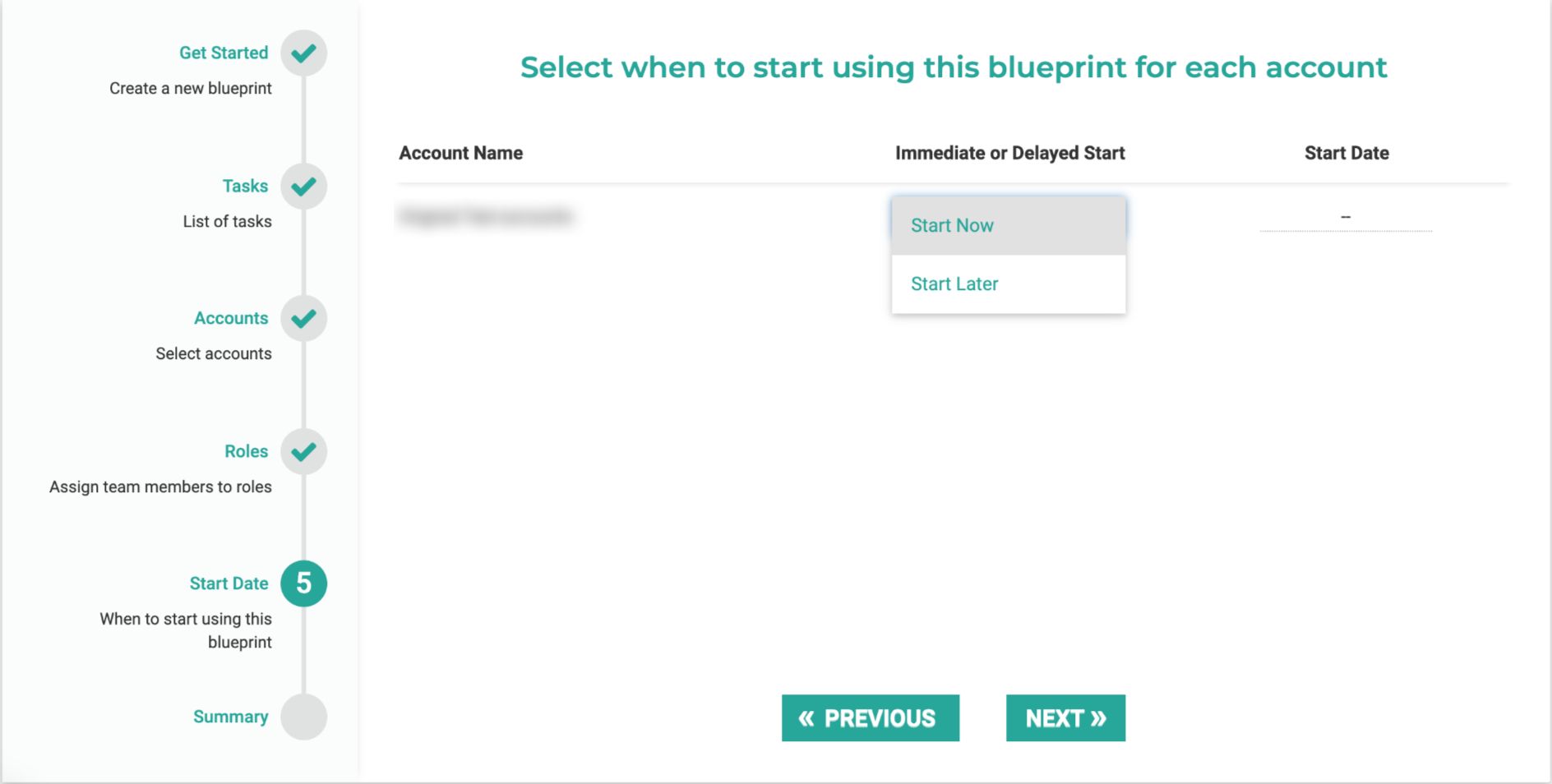 Step 5: Apply changes immediately or set a start date
Onboarding new employees can be challenging, but it can make or break the success of your business like few other things. The whole process takes time, and the path to happy new hires is always dotted with mistakes and setbacks. In the midst of introducing your team and work culture, it's easy to miss out on the day-to-day — or vice versa.
With Blueprints, you can create a single plan for any new employee in a specific position (we still recommend separate plans for different positions). Your new hires can follow these tasks to quickly get accustomed to the way you conduct business, and your current team can lend support in their own areas of expertise.
Conclusion
Even in a normal business landscape, Blueprints is the answer if you need (or simply want) a workflow management tool that dovetails with the actual software you use to study PPC insights and apply optimization changes.
But given the importance of remote teams for the foreseeable future, Blueprints can be your ticket to helping your people win a very big part of the 'work from home' battle: staying on top of their responsibilities.
Set up your first Blueprint using our wizard to keep your team on top of things — and at the top of their game. If you don't see or cannot access Blueprints, please write to support@optmyzr.com.