Google just revealed some exciting changes to be announced at its annual AdWords event, the Global Performance Summit, held at the Fairmont hotel in San Francisco. Here are the changes I am most excited about…
Text Ads are getting longer
Jerry Dischler, Vice President of AdWords Product Management said that text ads have fundamentally not changed since the introduction of AdWords but in a mobile-first world, his team thought they should rethink that. The result of this work is the first exciting update for advertisers: Expanded Text Ads will offer nearly 50% more space to write ads than before!
In the coming months, ads will have 2 headlines of 30 characters each and a single description line of 80 characters. That's a whopping 45% more characters than before and because the description will be consolidated in one line vs two, it means we can finally start to write in a more natural way without needing to find a short enough word to bring description line 1 as close as possible to its old 35 character limit.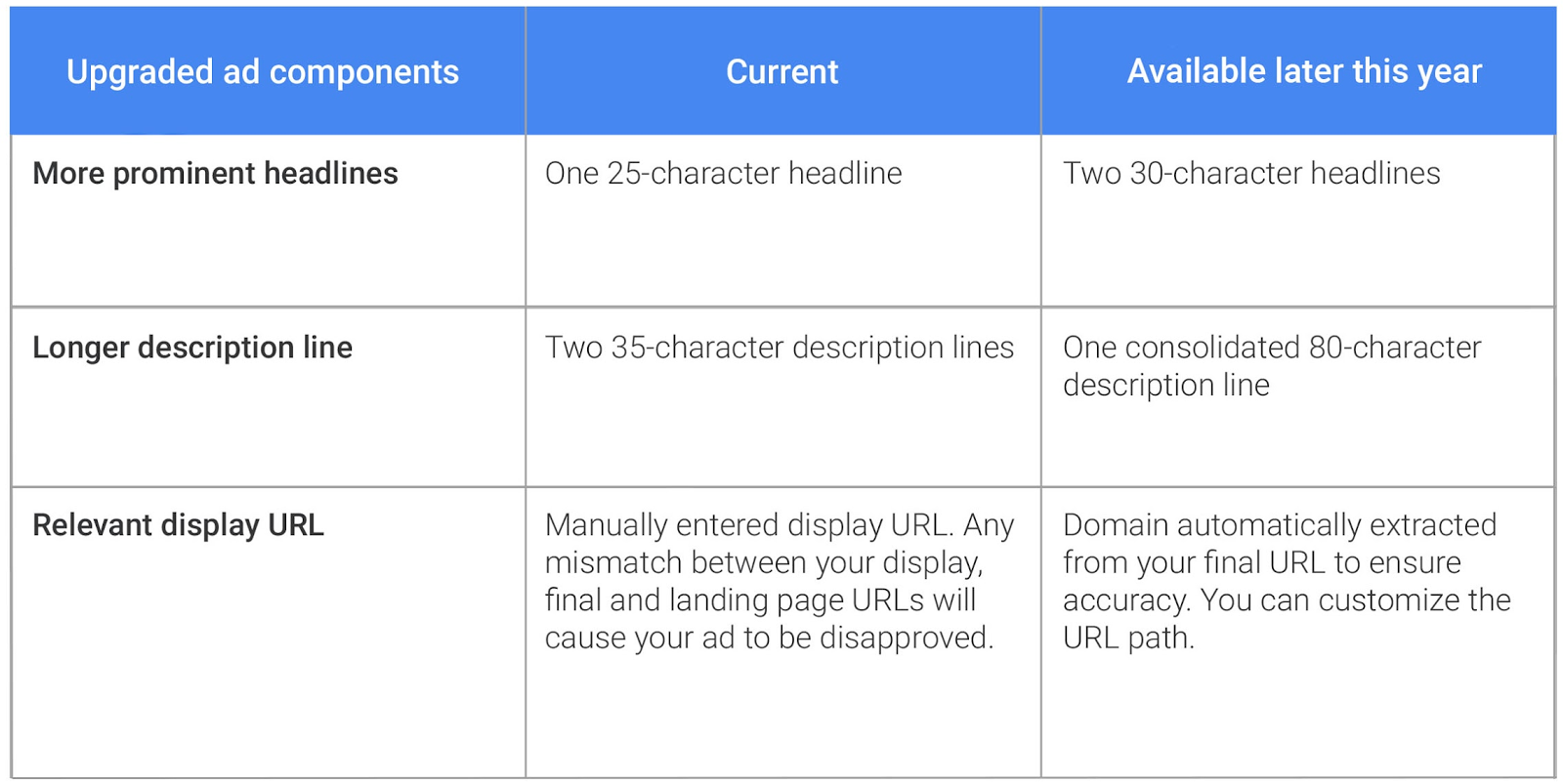 So what's the impact of this? According to Google's measurements, the CTRs of expanded text ads were up 20% compared to regular text ads. Seems normal given that they occupy more space. I'm curious to see how this normalizes once every advertiser can take advantage of the new format and once it becomes the new normal for users looking at ads.
Set bid adjustments for tablets
Ever since the introduction of Enhanced Campaigns, advertisers have been clamoring for more control over bids on different devices. While we've been able to control the mobile bid adjustments between -100% and +300%, tablet traffic was grouped with the same bids as computers.
AdWords will be rolling out tablet bid adjustments to give advertisers the additional control they asked for but the bid adjustments will still only be available down to the ad group level. Advertisers won't be able to set keyword-level device bid adjustments unless they create single keyword ad groups (SKAGs). Speaking of which, did you know we recently introduced support for automatically adding good queries to single keyword ad groups in the updated version of our Keyword Lasso One-Click Optimization™? Try it out if you haven't already.
According to Jerry Dischler, some advertisers have seen more value from mobile traffic and as a result they will increase the limit for bid increases from 300% to 900%.
In a more subtle but equally important change, bids will no longer be anchored to computer traffic. You'll be able to set a bid based on the device you choose and then set adjustments for the remaining 2 device types. This opens up the intriguing capability to easily run mobile-only campaigns by setting computer bids to -100%.
Here's why all this matters… In this hypothetical example from Optmyzr, you can see a case where tablet (and mobile) cost outweighs conversion value from those devices.

A smart advertiser would optimize this to bring value in line with cost. With mobile, they already could, but tablet traffic simply came along with computer traffic so it was either a money-pit because it was too expensive and couldn't be scaled down, or it was a lost opportunity because it outperformed desktops and the bids couldn't be raised without impacting desktop traffic.
Other announcements
In addition to my 2 favorite announced product updates, there were a few other announcements from Google:
• Responsive display ads based on an advertiser-provided headline, image, description, and URL.
• New customizable local business pages with data from inventory feeds and promotion feeds.
• New promoted pins on Maps
• Enhancements to how Google measures store-visits that result from an interaction with an ad, possibly with the use of a beacon based technology.