Has the world of PPC as we knew it come to an end?
The short answer, my friend, is not yet and, if you continue reading this article, you'll understand what I mean :-)
I've avidly read all articles and reports by Frederick Vallaeys and several of the top most important Google Ads professionals in the world. I've also performed a lot of experiments myself and I am sure that there still is a wide scope for manual selective targeting to perform better than machine learning.
But then the real question becomes: how to do it (without losing the immense possibilities provided by AI)? And, under what circumstances is it worth it?
The answer as often is the case in the digital marketing industry, is not easy and has to be applied on a case-by-case basis, after an evaluation of running campaigns.
When is automation worth it?
My almost 20 years in PPC have taught me that there is not a right or wrong way of doing Google Ads, but several more or less effective ways to target your ideal prospects or customers.
I've literally seen things in Google Ads campaigns (that you wouldn't believe) working well, and technically perfect structures failing to meet even the minimal goal they were built for.
This is why I've always tried to reach my ideal target audience in the most complete (& simplest) ways the platform allows me to do. This way of doing campaigns will never fail.
But it also means you cannot use a fixed model or structure to promote everything. You always have to try almost completely different approaches to meet your campaign's goals.
Anyway, after having tested several different ad structures I come to elaborate on a general wireframe, which I hope can help you too.
What is 'Agile Target Layering' and how does it work?
I named it "agile" because it is not built on a fixed structure. You have to change it as soon as you see it does not achieve results or if you find better ways to effectively address your audience.
I used the words "target layering" because to get the most out of your campaigns you have to be sure that machine learning perfectly understands which are your ideal audiences and covers them completely.
If it doesn't, you have to pair it with some manual target "layers" to be sure to cover what you know performs best at the lowest cost possible.
Presently the only way to achieve this goal is to add some "old school" campaigns to the PPC AI, which we are only slowly starting to taste these days.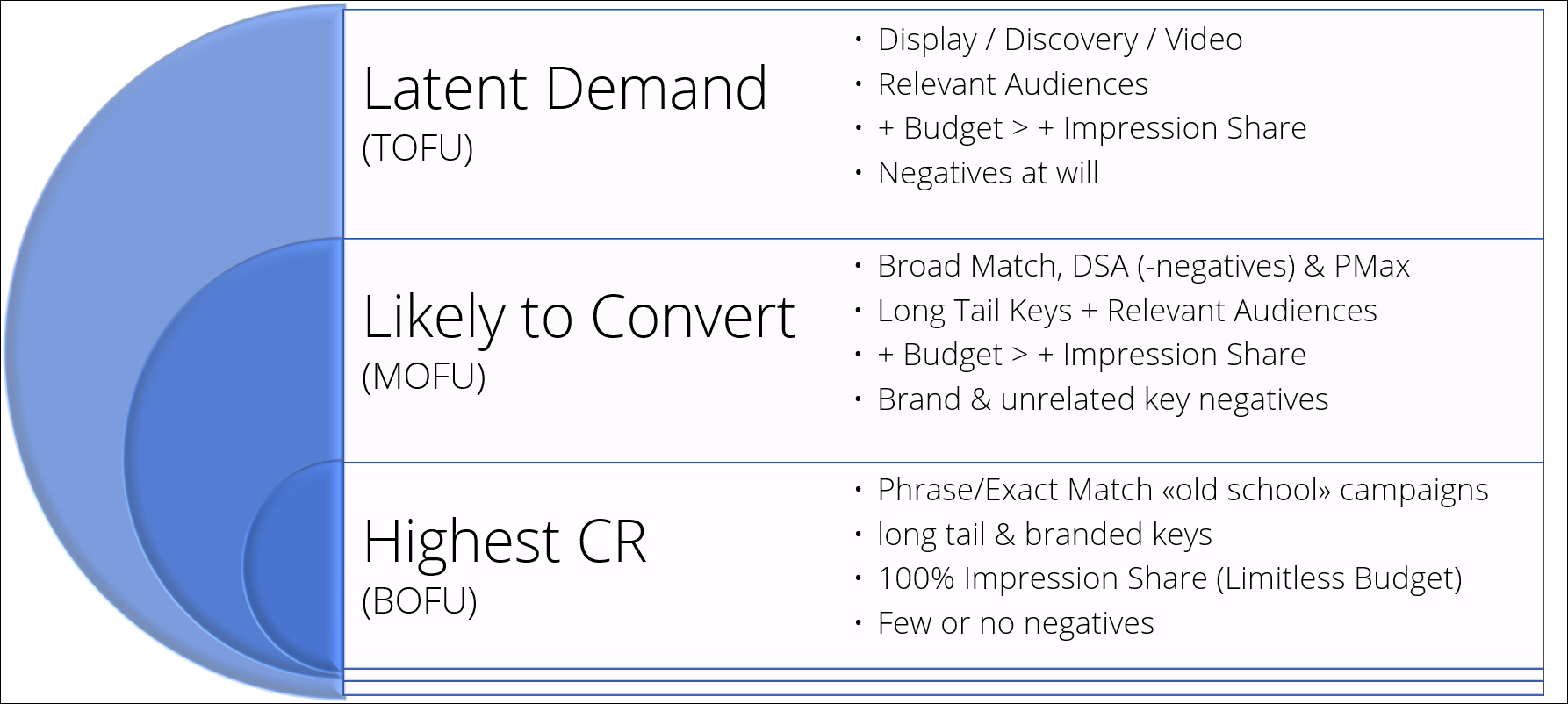 The Agile Target Layering framework by Gianpaolo Lorusso
To explain it in a simple way, you should address the top of the iceberg's best-converting search intent of your audiences with a phrase or exact match campaign (starting from branded keywords, for instance).
Then leave the conversion stars scouting to machine learning (ML), sculpting these campaigns out with negatives for irrelevant terms and what already is performing well in your "old school" campaigns.
Once ML finds something that converts, you can loop again into the process, and build a new manual target layer upon it, or simply enjoy all the benefits of ML and spend your saved time thinking of other approaches you could use to your target users (or even better spending time with your family 😊).
Agile Target Layering applied to a hyper-competitive industry
Imagine you have to sell luxury home rentals in Sorrento (one of the best seaside spots in Italy) on a global scale.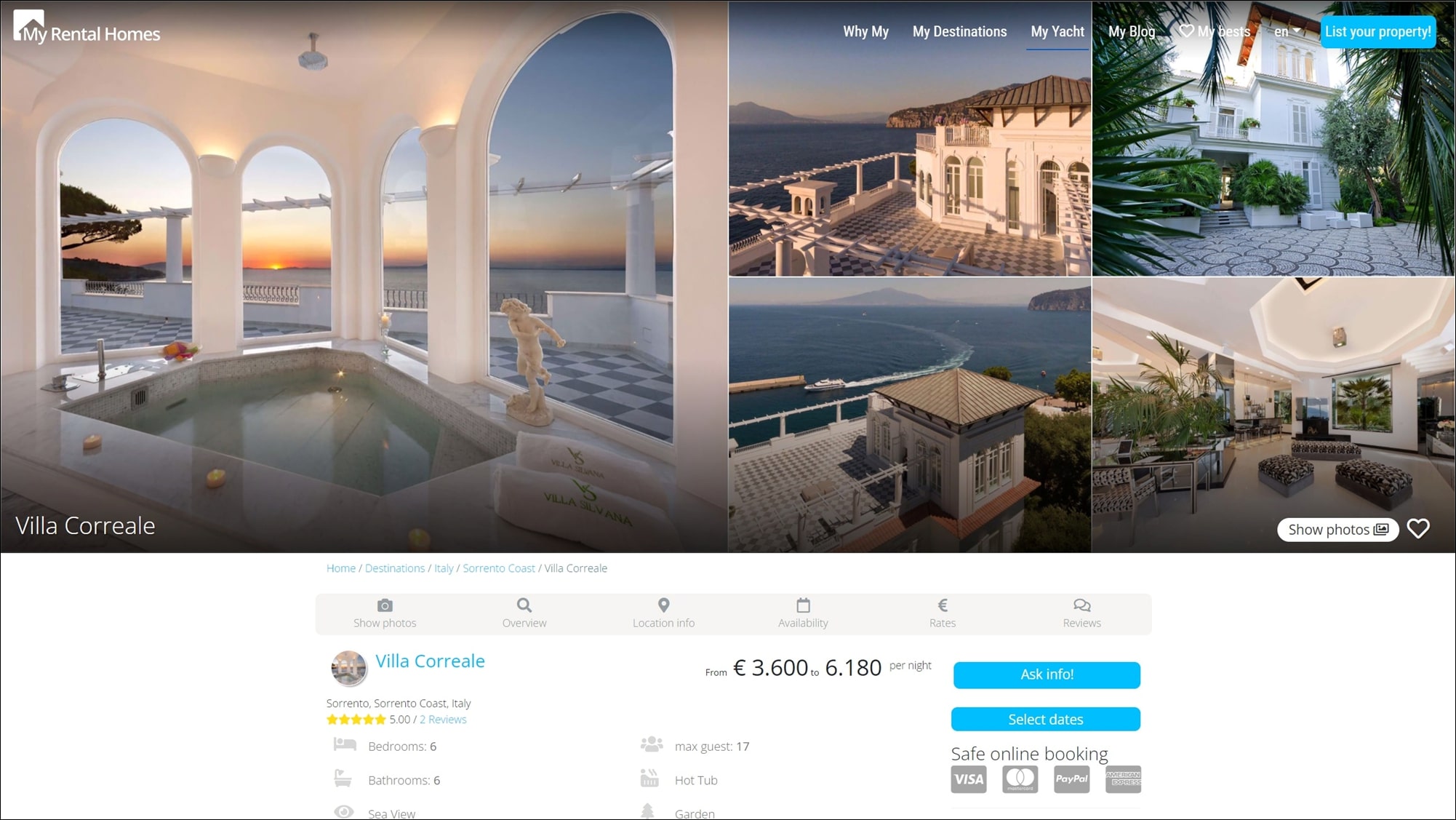 Source: Sorrento Home Rentals
Your Bottom of the Funnel (BOFU) keywords to build specific phrase or exact match search campaigns could then be: "Sorrento luxury villas", "Sorrento luxury rentals", "Sorrento villas with private pool", "Sorrento luxury apartments" etc. That is "specific location + a luxury related term + home rental term".
Nothing, except branded terms with the name of the villa or website, will ever attract more in-target users to your site.
If your budget allows it, you could then add some broad match MOFU campaigns with keywords like: "Sorrento villas", "holiday rentals Sorrento", "Sorrento home rentals," etc., and see if machine learning can do the magic of finding juicy audiences for you.
Then again you could add a final layer with totally machine-learning-driven campaigns like Performance Max or Discovery/Display to address TOFU audiences to see if you can convince someone who isn't even aware of the existence of so a beautiful place like Sorrento and only wants a place to literally "spend" their time (and money, of course).
After an initial training period (the lower the budget, the longer the period) you will be able to check what needs adjustments, what has to be stopped, and what deserves more push and optimization.
Final takeaways
I firmly believe that our mission as PPC professionals in this time of great change in our industry is to instruct machine learning on what it doesn't or cannot know (marginality of sales, seasonality, competitor brands with our same exact positioning in the market, best audiences to start from, etc.) and to be sure that our budget is spent first on what has the maximum chance to convert and then, if profit margins allow it, on what might convert.
This is a guest post by Gianpaolo Lorusso, a PPC & CRO consultant.
About the author: Gianpaolo Lorusso is a PPC & CRO consultant for several medium & large companies. He also founded ADworld Experience, the largest Pay Per Click & Conversion Rate Optimization event in Europe and the largest in the World based on real PPC Cases.