A good account structure is still one of the most important aspects of managing an AdWords account. It makes it easy to manage different types of bid adjustments and track performance.
Keyword grouping is essential to a good account structure because it affects ad relevance and in turn Quality Score. Over the years account managers have come up with different methodologies to structure AdWords accounts. All these methodologies target a stronger keyword-ad relevance and a higher Quality Score. One such methodology is SKAG or Single Keyword Ad Group that is probably the utopia of keyword grouping. As the name suggests, each keyword has it's own ad group which makes it possible to achieve a very high keyword-ad relevance. However, this is not always easy to do.
Optmyzr has automated routine processes like adding new keywords, pausing non-converting keywords as well as adding negatives through One-Click Optimizations™. One such optimization is the Keyword Lasso where our system recommends adding high performing search terms as keywords. This enables users to manage them better by setting bids and writing relevant ad text. Suggestions from the search terms report also bring out new keyword themes that require keywords to be put in individual ad groups.
New Keyword Lasso – With SKAG support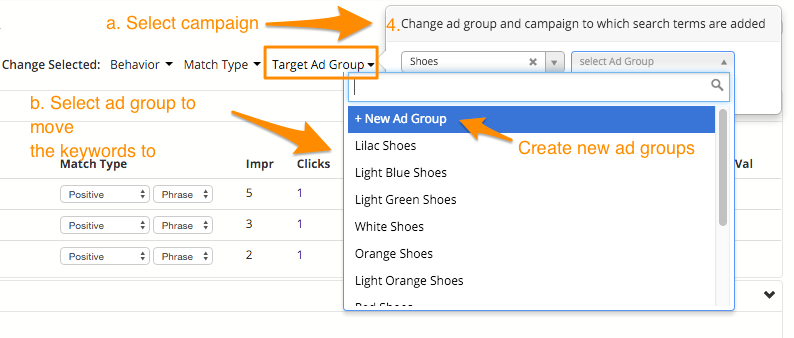 In the new version of the Keyword Lasso One-Click Optimization™ we've added a feature that lets you create new ad groups from within Optmyzr. This feature can create ad groups using a template which enables automating methodologies like SKAG. It's as easy as selecting a list of search terms and clicking a button to move them into individual ad groups.

Also, the tool automatically copies over all the ads from the ad group that triggered the search term. If search terms across multiple ad groups are being combined, it selects all the ads from the best performing ad group and uploads them to the new ad groups. It also sets bids for the search terms that are being added to be the same as the keywords they matched to. You can read more about the new Keyword Lasso and SKAG feature here.
Try the new version of the Keyword Lasso One-Click Optimization™!