As a leader in search advertising, Google is constantly innovating and developing new ways for advertisers to showcase their products and services. One long-standing feature, Showcase Shopping Ads are core to retail advertising and have helped businesses target top-of-funnel audiences.
Similar to product ads, Showcase ads appear at the top of a search engine results page (SERP) above any search ads. Clicking them shows products matching the broad search query, with an expanded catalog of products that matches search terms. Active since 2017, Showcase ads are almost like a virtual storefront for retailers.
Let's take a look at a few recent changes to Showcase ads to see what they mean for the search marketing community.
1. Redesigned Showcase format
In order to provide more engagement from users and drive better performance, Showcase Ads are getting a total redesign. The new format has been expected to fully roll out by August.
With this restructuring, brand names have become clickable, which means that users can easily switch between retailers to view their group. Google has also added a description input space for the advertiser in the ad creation process.
The new update will also help users see a carousel of retailer offers that are most relevant to the query. Marketers can also input the Category Page URL during the ad creation process.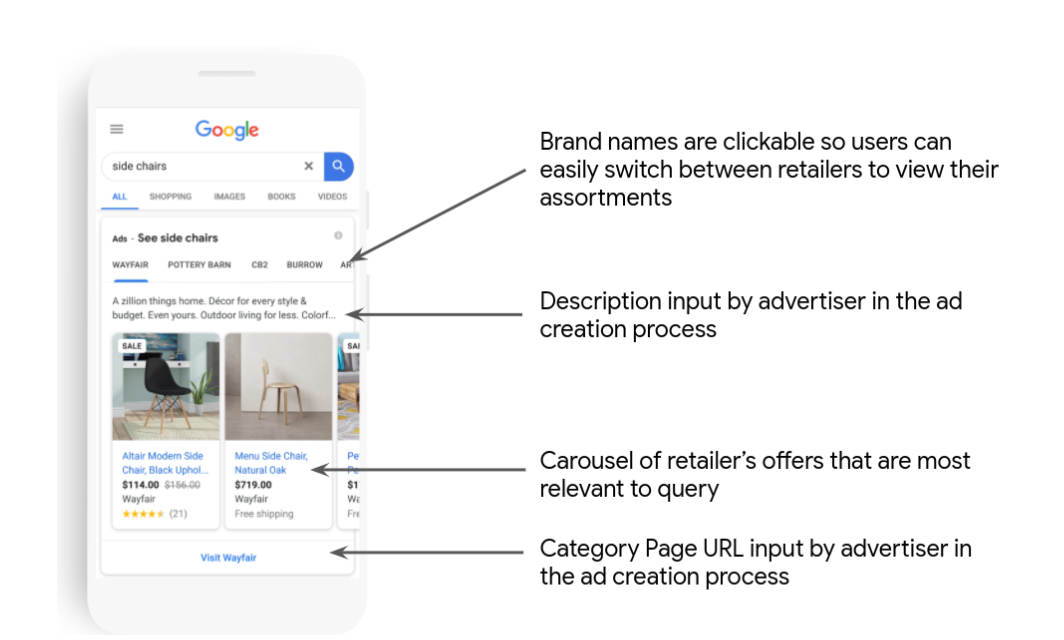 Image courtesy Google.com
2. Dynamic Showcase Ads: Ad variation reporting no longer available
In July, Google stopped providing the monthly reports on ad text variation metrics. To report on the performance of Dynamic Showcase ads, advertisers can measure pre/post-pilot activation. You can also reference the Google Ads landing page report to measure traffic to dynamically populated URLs in the whitelisted ad group.
3. Showcase Ads fully launched in Sweden & Netherlands
Showcase ads have been fully available to advertisers in Sweden & Netherlands since this past summer. Existing advertisers in these markets should expect a 2-3x increase in volume with this introduction.
Optmyzr's take on the updates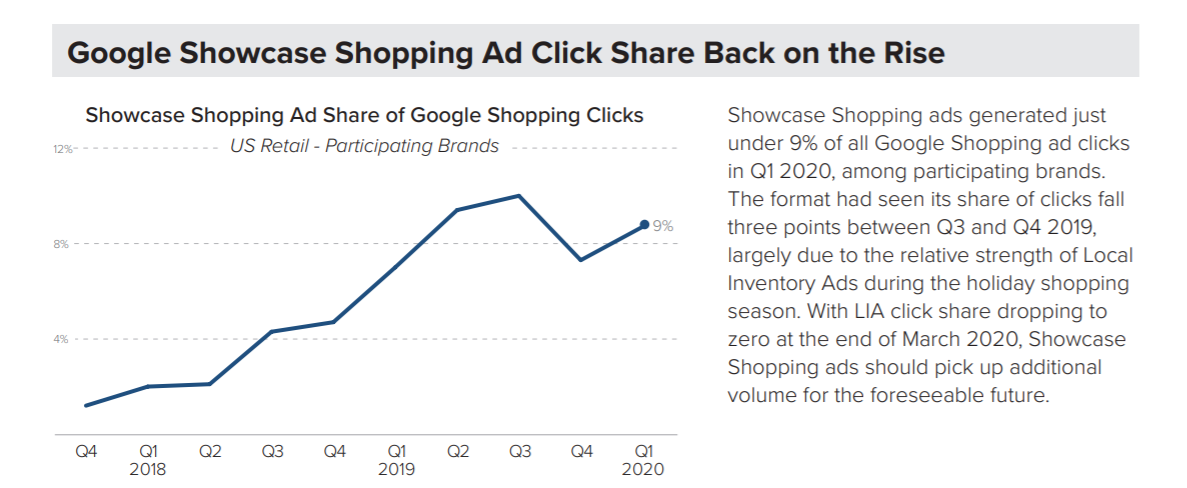 Shopping ads are one of the main sources of search clicks for e-commerce. And while they're great to connect consumers with merchants when they're looking for a specific product, they've been less useful for consumers who are at the beginning of their buying journey. Showcase ads help with this by letting advertisers display a variety of their products when the user's query is still fairly generic.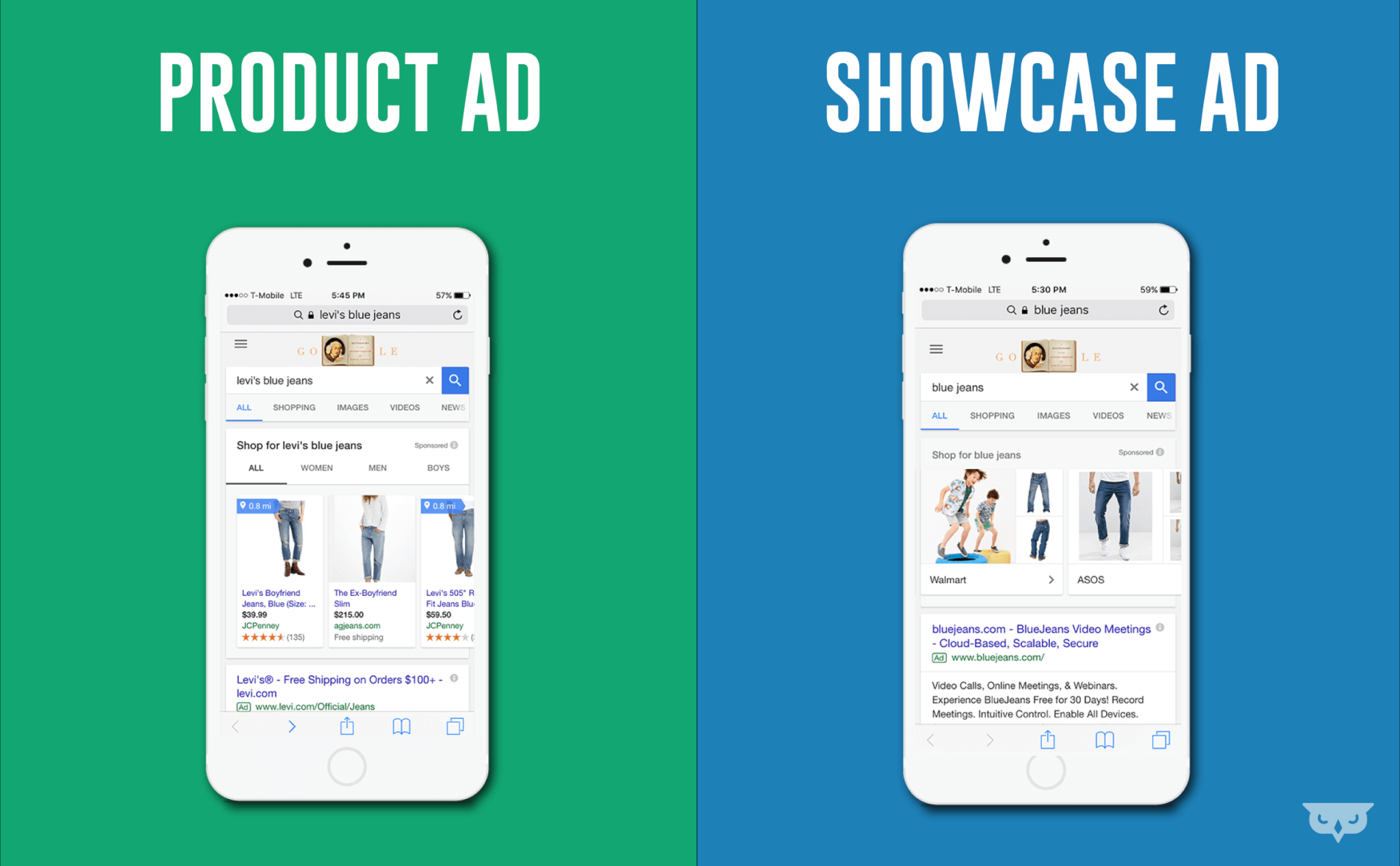 Source: AdHawk
On the topic of ad variation reports going away, we can say this is another example of a move towards hands-off automation where Google wants to automate the whole process and avoid interference from humans. You could say that this reminds us of Smart Shopping Ads where there is very little to manage.
At Optmyzr, however, we see better results when advertisers create multiple Smart Shopping campaigns with different ROAS goals that are based on profitability targets and margins. We also see that with our Shopping Analysis tool, we can still help advertisers get insights on things like which product mix is most effective.
This insight can then be turned into an optimization where underperforming products are excluded from the Smart Shopping campaign. So even when it seems like there is little left to manage, the best advertisers will still find ways to use tools like Optmyzr to eke another bit of efficiency out of their campaigns, thereby allowing them to stay ahead of the competition.