SPECIAL INVITATION: OPTMYZR WEEKLY WEBINAR TO FIND A NEW NORMAL
Post updated April 6, 2020 with details about the next PPC Town Hall.
PPC pros, we'd like to share a critical call-to-action during this time of global crisis. It's time to roll up our sleeves together and help one another and our clients navigate very challenging times. Perhaps more than ever, your role as strategic marketers is essential for your business and clients to thrive. 
Twice over the past two weeks, we have gathered several hundred marketers from all types of companies for somewhat impromptu webcasts. We conducted these events as Open Town Hall gatherings. Initially, we hoped to connect peers, many of whom now work in relative isolation. Great industry leaders have offered their time as panelists, including Mike Rhodes, Susan Wenograd, Kirk Williams, John Lee, Christi Olson, Andrew Goodman, Benu Aggarwal, and Jeff Allen. We've also had attendees chime in with  their experiences, including Dan Perach from James Allen, and UK-based Google Account Strategist Amit Shah. 
Our audiences have been quick to move past emotion and fear, shifting instead to very practical, solutions-oriented questions and ideas. These town hall sessions have made it clear that PPC pros are eager to navigate challenges in practical, proactive ways. 
We will host our third installment of the virtual Town Hall this coming Wednesday, April 8 at noon Eastern Time. Kirk Williams and Julie Bacchini will be joining as panelists.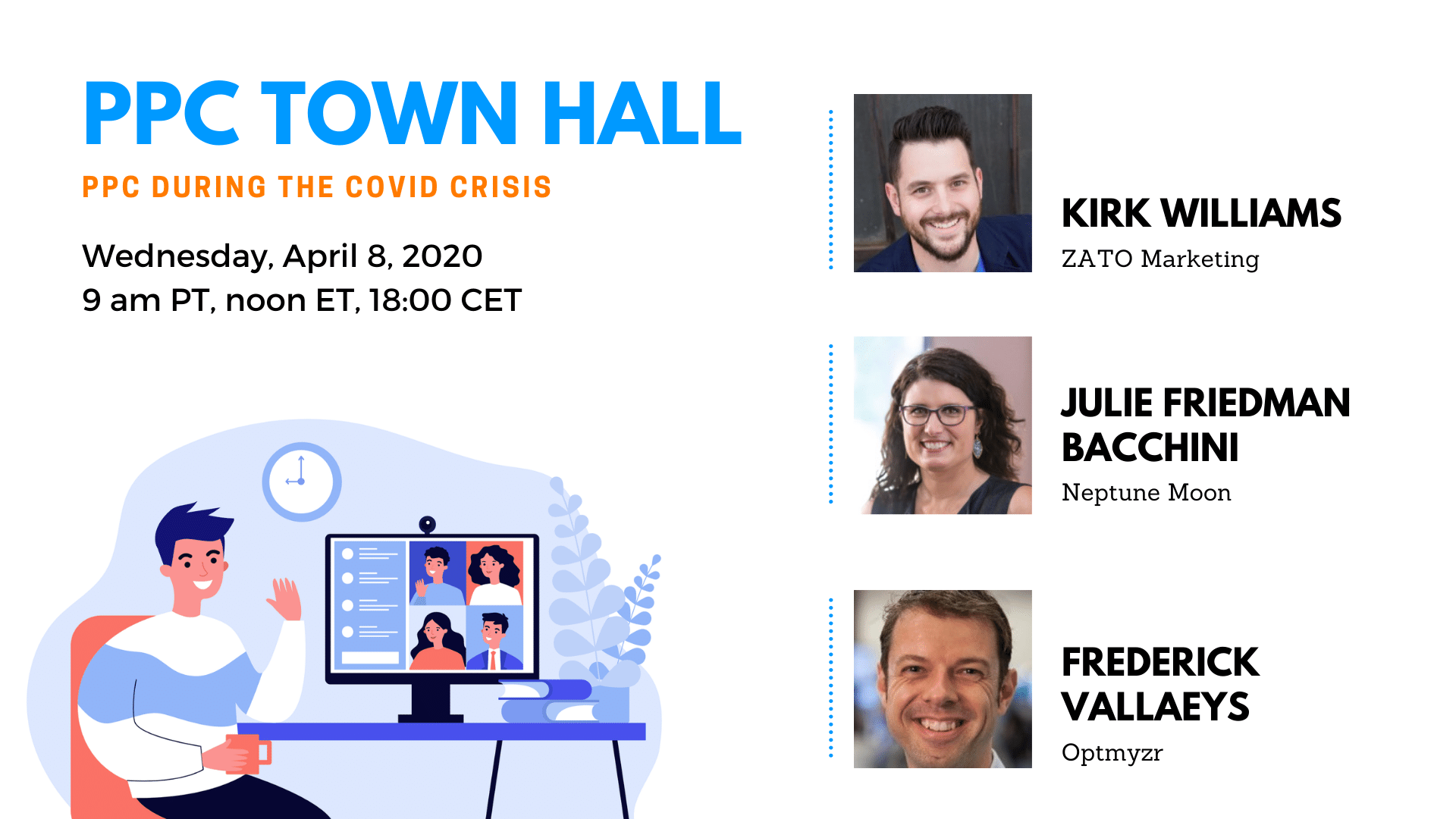 Let's solve problems together and remove some of the social distance between us all and engage as peers and friends. 
Broader Thoughts: PPC During the Crisis
Expanding on thoughts shared in our debut Town Hall sessions, there will be positive outcomes after we all navigate this current global pandemic. It will be tough getting there, but good will come of this situation. In fact, from week-1 to week-2, we already see a shift in some of the discussions being even more solutions focused. Discussion hit on what we can do now, six weeks from now, six months from now – along with other solutions-oriented considerations.
In society overall, we're witnessing innovative thinking and collaboration to solve extraordinary societal, safety, and business needs. Field hospitals are being spun up seemingly overnight. Manufacturers are shifting production to personal protective equipment. Traditional brick-and-mortar businesses are finding new ways to engage with customers.
Innovation and working together always delivers our society from the worst of situations.

Beyond immediate fears over health and safety, unforeseen business challenges and new questions are bombarding everyone by the minute. There are concerns about supply chain viability, fears about safety of products imported from China (or even items delivered to our homes), and vast unknowns about how consumer behavior will shift near- and long-term, just to name a few.  
Rest assured, though, COVID-19 is today's surmountable challenge. 
Optmyzr's leadership team, our developers, and product teams come from some of the most innovative organizations in the world, not the least of which is our deep heritage in Google. We've been continuously digging deep into the data and working closely with clients to apply technology and brain power to adjust to changing dynamics and help clients navigate troubled times. 
Bringing Clarity Amid The Noise
The world is literally searching for answers right now. Web searches go beyond seeking info about the pandemic. Search patterns also show that people crave information as consumers, business owners, and even marketing experts. As PPC pros, we're at the epicenter of that sometimes-desperate searching. Over the coming weeks, we'll offer ongoing insight into the trends we are seeing. We are watching performance data, campaign strategies, and campaign outcomes.  
This week, among high level trends we are seeing beyond the noise and static, are some notable shifts: 
Some consumer products brands are spending less (but not abandoning) PPC. Sometimes it's the result of reduced budgets because of supply chain issues (closed warehouses unable to fulfill orders) and other times it's due to a drop-off in searches for their products.
Hospitality industry players are cutting back extensively, particularly smaller players. Some PPC budgets are being cut 80-100%. From restaurants to travel industry providers, this sector is seeing some of the most immediate (and forced) shifts in business. 
People in demographics prone to buying online are still buying, but the nature of immediate purchases is more necessity-based. Vitamins, for example, are selling better than usual.
The competitive landscape is shifting, based on different impacts to players due to the restrictions in their locales. For example, some locations forced to close stores started offering curbside pickup. This is driving an increase in BOPIS (buy online, pick up in store).
Some takeaways to consider: 
With brick and mortar retail functioning at a percentage of normal, eCommerce is rapidly becoming the critical connection between brands and customers. 
Depending on product type, it's essential to reconsider near-term objectives. Time lag to conversion is changing from the typical norm, forcing a new analysis of attribution models. 
Sales of luxury goods and non-necessities is slowing as consumers preserve cash for an uncertain future. Impulse buying, for example, will slow for most people. The "last-click" trap can make a marketer miss the opportunity to focus on getting people into the funnel. Instead of last-click attribution, consider a position-based model and attribute half to the first click (funnel fillers) and half to the last-click. Long-game thinking is essential. 
Don't assume people are going to stop buying your products. We've seen some campaigns running on automation where both sales and average order values increased while manual campaigns were losing search volume and sales.
Brand Building During the Storm
As odd as it may sound, there is another important strategy to consider in the near term. As noted earlier, rapidly shifting changes in supply and demand, and the corresponding changes in demand for search ads creates a more dynamic environment than ever with some significant reductions in click costs across a wide range of client types. 
What does this mean for businesses? Established big-name consumer brands still need to stay out in front of audiences and maintain brand mindshare, even if not driving immediate conversion. Maintaining brand presence conveys stability, viability, and it can foster the notion of "when this crisis passes, I want to purchase that" among audiences. 
For upstart brands trying to gain a foothold, particularly in cluttered spaces, relatively small investment today can yield precious brand visibility. Remember, more people are spending more time online and searching topics on desktops and mobile as we go deeper into social distancing. The more we see stay-at-home orders, the more we will see people seeking information, entertainment, emotional breaks, and some semblance of normalcy. 
Think through the whole user experience related to search ads and not just the mechanics and metrics of PPC the way we thought of it a month ago. Think holistically like a strategic marketer. For example, going for the hard sell or showing display ad images that depict people in close contact will almost certainly be off-putting to audiences. Be aware of your content and avoid being tone-deaf to current concerns of the audience. 
Many brands that ARE investing marketing dollars for brand purposes right now are doing smart things showcasing notions of community commitment, appreciating first responders and medical personnel, resolving immediate challenges together, crediting employees or stakeholders for being part of the solution. Perhaps now more than ever, it's essential to think like a human being and apply common sense to the display ads, images, words, phrases, landing pages, blog posts, and every interaction. Marketers have an important role in the weeks ahead to protect brands and position for the recovery that will ultimately happen. 
There is also an important opportunity for marketers to use unplanned downtime to get campaigns in order. Fix structural problems. Assess reporting and look at the tools you use to find better, smarter ways to do your job when spend levels begin to return to normal. 
Challenging times often come with great opportunities. We hope to be there for our customers and the PPC industry as a whole to soften the challenges and help you prepare for the post COVID-19 world.
We hope you join us for next week's third Town Hall Session. In the meantime, you can watch replays of the first two sessions: