When the decisions you make impact thousands of people and businesses, you have to take them seriously – no matter how seemingly minor. Our choices at Optmyzr play a considerable role in our customers' success with Google Ads and other platforms, so we're always looking for new ways to make PPC life easier and less stressful.
An example of this is value-based bid strategies – one of the techniques rising in popularity with both end advertisers and performance agency marketers. After all, who doesn't want to maximize the value of their conversions?
Sadly, too many "solutions" simply repackage what you can do in Google Ads which, for us, isn't good enough. We don't think advertisers should pay for a re-skinned interface or marginally better experience.
In our last article on the subject, we detailed everything you need to know about value-based bidding in Google Ads – what it is, how it works, how to get started, and what not to do. And now, we're going to show you the capabilities in Optmyzr that let you take advantage of value-based bid strategies.
Our product design philosophy is centered around three principles: relevance, scale, and control. Each of these is about giving you the tools to improve the performance of your ad campaigns, your team, and your business.
Relevance: Complement, enhance, and speed up what Google already lets your team do.
Scale: Deliver capabilities that work for businesses and advertisers of all shapes, sizes, and goals.
Control: Give you the last word on how your accounts behave and perform, whether by automation or manual intervention
Here are some of the ways we apply that thinking to value-based bid strategies and Smart Bidding.
Mine insights with Segment Explorer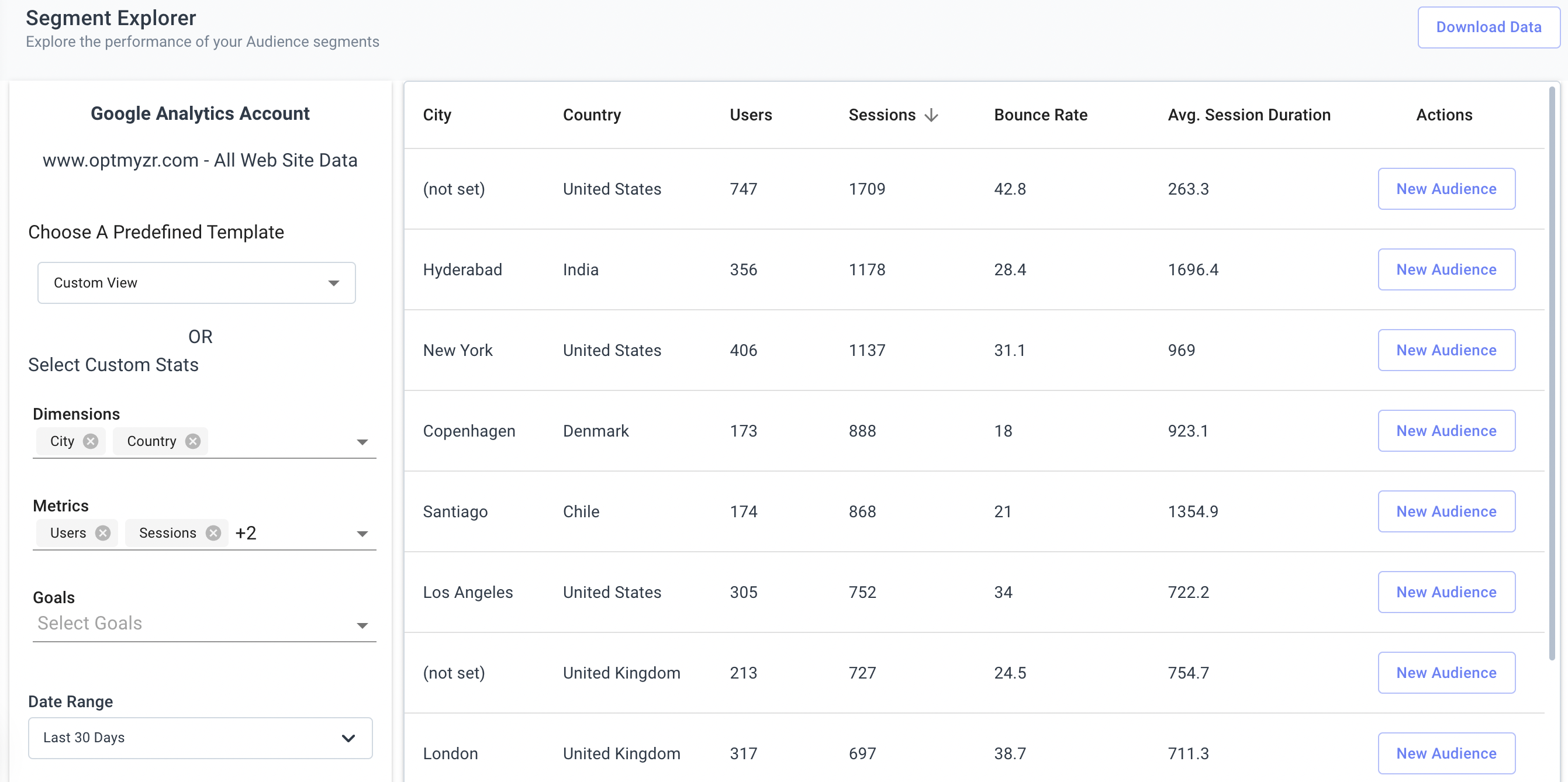 What it does: Segment Explorer lets you view the performance metrics of any connected Google Analytics account for multiple dimensions combined at once.
What it solves: In the Google Analytics interface, it's difficult to see performance data for multiple audience segments at once. Segment Explorer makes it simple to add different audience segments to a view. Please note that not all segment combinations (dimensions) are allowed through the API; selecting an invalid combination will render an error message.
How to use it: See performance data for a group of dimensions – demographics, geographies, Interests, technology, etc – to reveal which combinations tend to perform better.
Optmyzr customer? Go there now.
Assign values with Segment Scorer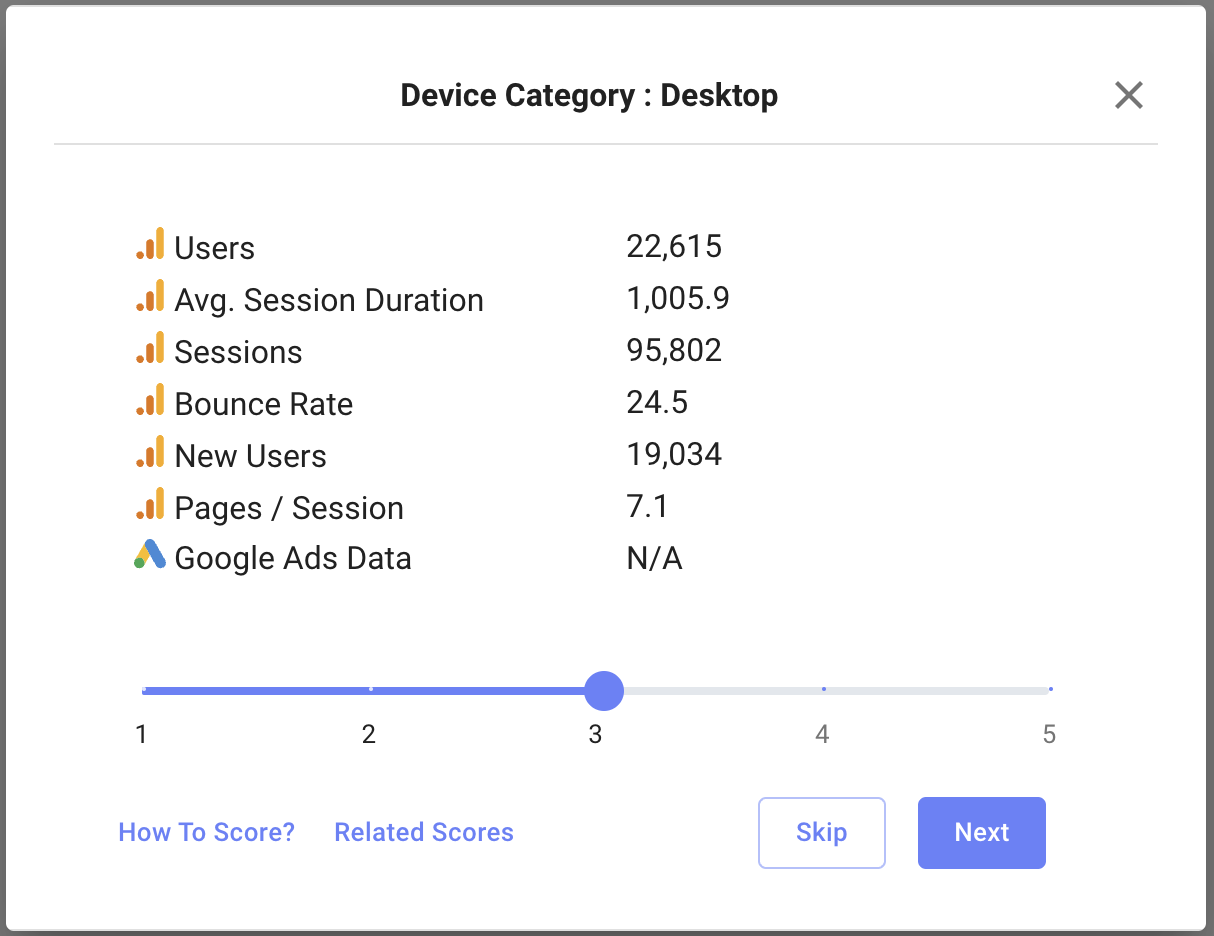 What it does: Segment Scorer lets you rate segments by different geography, device, or audiences – for example, males aged 21-35 in the US or visitors spending $100 or more – based on how valuable they are to your business versus the average conversion.
How it helps: By scoring segments aligned with the business values of your conversions, you can feed data into Google via Conversion Value Rules to further optimize Smart Bidding performance. It's important that these values be based on context not observed or captured in Google Ads e.g. margin of a shopping transaction, deal size of a commercial business lead, or customer lifetime value.
How to use it: You need to have a Google Ads account connected, and while an associated Google Analytics account isn't necessary, it certainly helps. We'll show you different segments, and you rate them from 1-5 based on their value to your business compared to the average conversion. Your entire team can rate segments.
Optmyzr customer? Go there now.
Adjust bids using Optimize Value Rules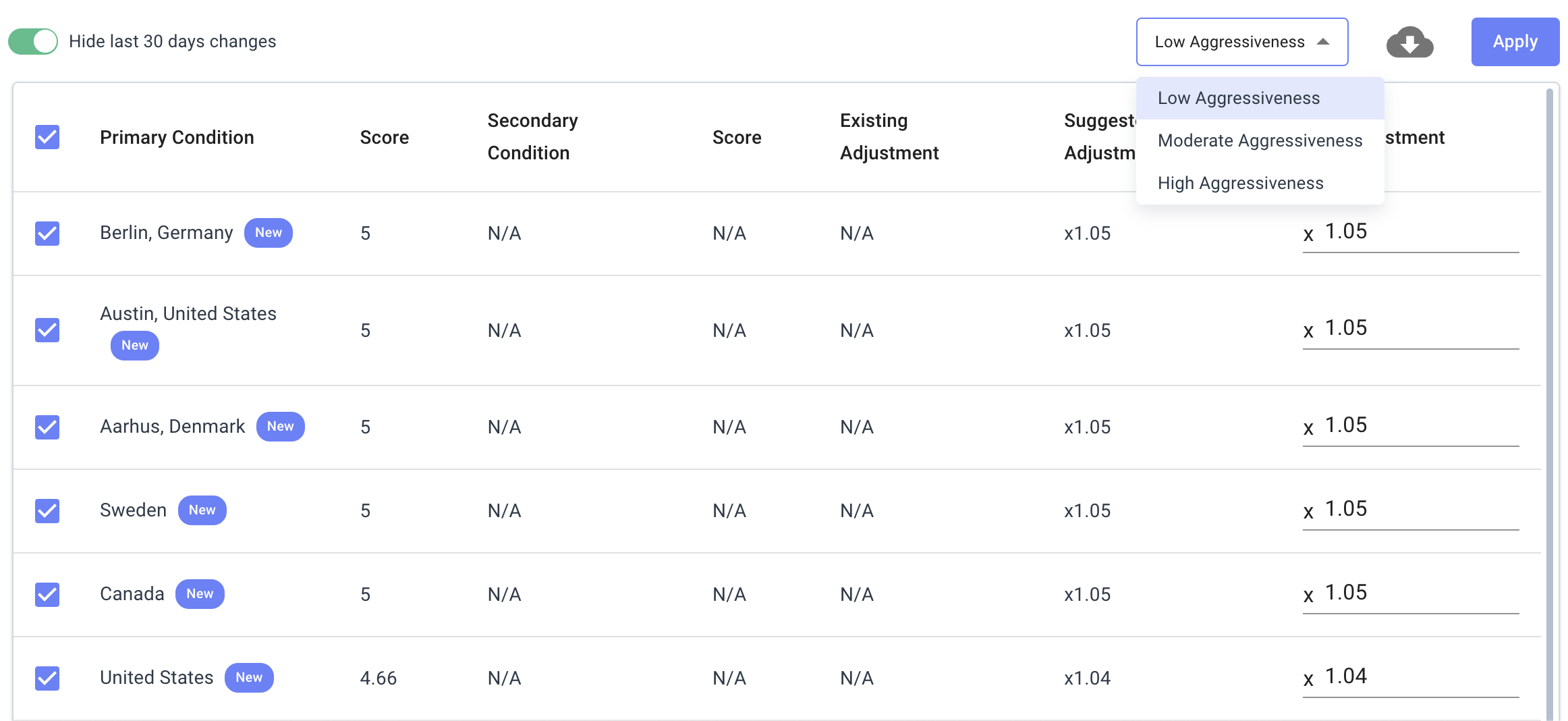 What it does: This tool recommends and adjusts the magnitude of bids for Conversion Value Rules based on your ratings from Segment Scorer. Conversion Value Rules let you better express the value of conversions as they relate to your business. Smart Bidding uses these to adjust auction-time bids for leads based on geography, device, or audience (first-party or Google) in real time, and uses the resulting performance data to further improve the quality of your leads and conversions.
What it solves: Optimize Value Rules bridges the gap between your business knowledge and Google's ability to put that knowledge to use maximizing the value of your conversions. Our tool lets you adjust the value of your bids based on Segment Scorer-assigned values, depending one how aggressively you want to bid on these differences.
How to use it: Rating your segments in Segment Scorer is a prerequisite to getting adjustment recommendations in Optimize Value Rules. Once you apply them, avoid the most common pitfalls as your monitor performance. Be sure to set your bidding strategy to Maximize Conversion Value (with or without a target ROAS) so that Smart Bidding can take the values into account.
Optmyzr customer? Go there now.
Customize anything with the Rule Engine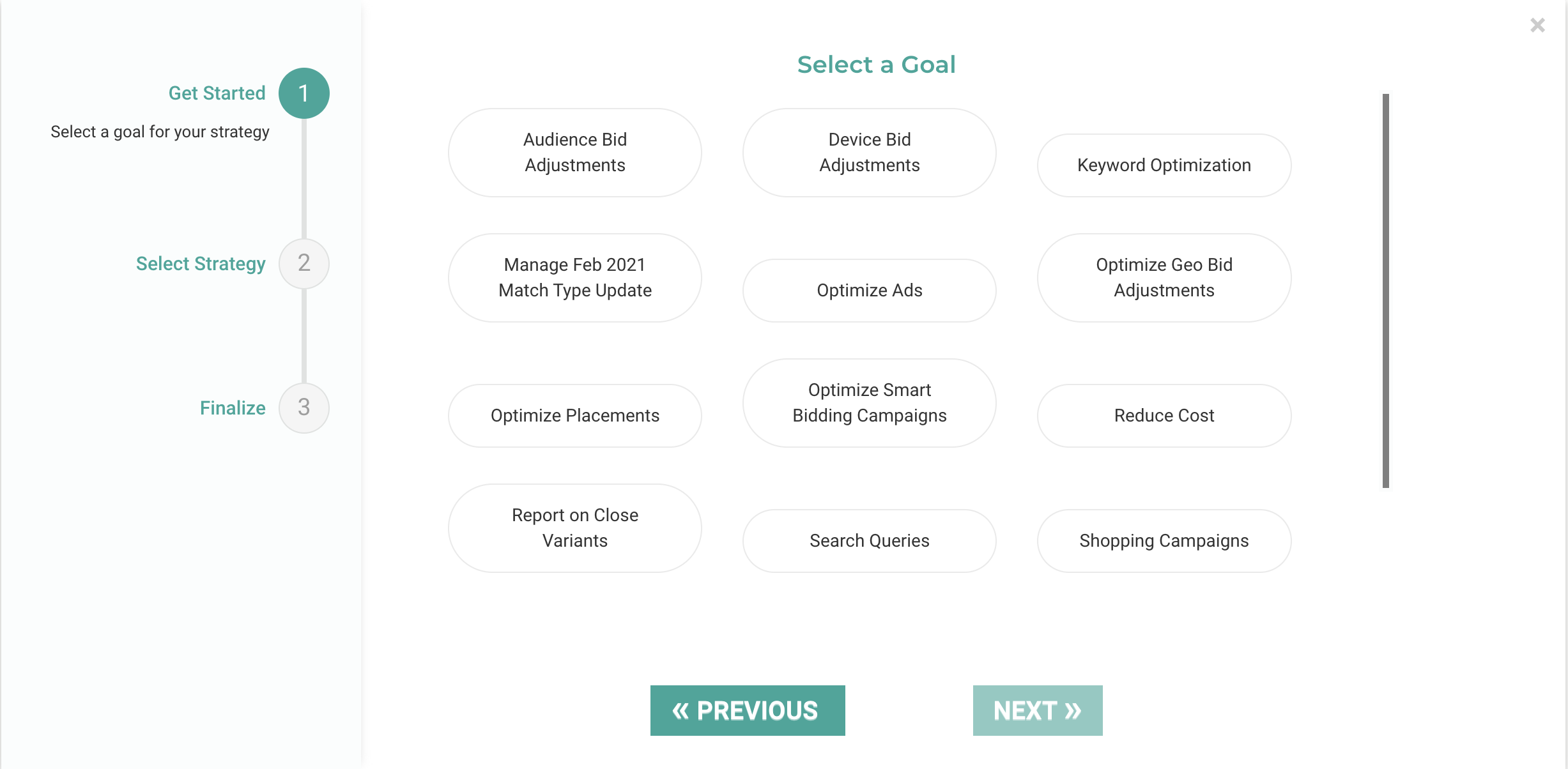 What it does: The Rule Engine lets you build and automate custom workflows in Google Ads, making it one of our most popular tools. Optmyzr customers use the Rule Engine to achieve a variety of standard PPC goals – for example, cutting out wasted ad spend or excluding certain components – improve the efficiency of their current processes, and apply creative solutions like adjusting bids based on the weather.
What it solves: Bidding is just one component of the advertising ecosystem. Even if you hand this responsibility to Smart Bidding (with oversight), you still have plenty of other opportunities for optimization. With the Rule Engine, you can automate any monitoring or optimization process that goes with your bid strategy.
How to use it: The Rule Engine is built on conditional logic – if x happens, then perform y action. Even in our pre-built strategies, you have complete control over the triggers and resulting actions.
Optmyzr customer? Go there now.
Disclaimer: Our Rule Engine is different from Google's Conversion Value Rules, even though both use conditional logic (if x, then y). Rule Engine lets you build and automate rules for any process or workflow. Google's Conversion Value Rules allows you to better express the value of different customers based on geography, device, or audience.
Test faster and better with Campaign Experiments

What it does: Campaign Experiments is a powerful dashboard in Optmyzr that shows you every single experiment you're running in search of the perfectly optimized campaign.
What it solves: Running multiple simultaneous tests on your campaigns is often necessary in order to find the conditions that lead to the highest conversion value for your budget. But it can be difficult to keep track of them, leading to overextended experiments and lost optimization opportunities.
How to use it: Pick an account and date range, and the Campaign Experiments tool will show you all the active tests currently running across all campaigns. You can see start dates, traffic splits, and key metric data from a single screen.
Optmyzr customer? Go there now.
Learn, study, and prepare
Things are changing fast in advertising land. You don't want to be caught by surprise when the platforms make new changes, so use our content library to navigate these new changes. Here's some select reading and viewing:
Offline Conversion Tracking Just Got a Whole Lot Easier with Enhanced Conversions from Google
3 Ways to Improve Smart Bidding Performance on Google Ads
How to Win Quality Leads with Google Ads Smart Bidding and Offline Conversions
Automation Layering: The PPC Expert's New Secret Sauce
Optmyzr's Guide to Google Ads Performance Max Campaigns
Put it to the test with our free trial
Thousands of advertisers and PPC marketers use Optmyzr to manage over $4 billion in ad spend every year. From boutique and network agencies to some of the most recognized brands in the world, our platform scales well across all types of business models and client verticals.
See what else Optmyzr can enable for your PPC team or business and, when you're ready, get started with our 14-day free trial (includes everything except automation).
Not only will you get the resources you need to start testing these tools and more, our team will be on hand to answer questions and provide any support we can.