Google Ads deprecated the creation and editing of Expanded Text Ads on June 30, 2022. It has been a little more than three quarters since Responsive Search Ads (RSAs) became Google's new default ad type for search campaigns. 
RSAs are better known for their automation capabilities, where Google only requires the advertisers to feed the system with a list of calls to action, unique value propositions, and brand headlines. And Voila!! Google's machine-learning algorithms will automatically optimize your ads to show the most appropriate ad combination to the right audience at the right time.
So should PPC advertisers stop analyzing, testing, and reviewing the performance of their ad copies? And just feed the machine-learning model with business-specific assets and let Google handle your business outcomes? No, certainly not! With more automation, the need to constantly monitor and make relevant modifications only increases. Needless to say, you are always better at reviewing your business outcomes than Google.
At Optmyzr, we have a comprehensive set of tools built to help you easily manage the entire life cycle of your RSAs - from creation to analysis to optimization. Let's look at the different tools and how they can help you build a foolproof RSA workflow.
Check for ad groups with few/no RSAs and quickly create them
Our study on RSAs found that RSAs drive 4x of the impressions of a typical Expanded Text Ad (ETA) and thus lead to considerable incremental conversions.
Some of your active ad groups that were created some time back (when ETAs could still be created) might still miss having an RSA in them. Or, some of the existing ad groups might have just one RSA, and it might be a good idea to check in and see if more RSAs with further relevant assets need to be created to help optimize the campaign's performance.
The PPC Audits and the RSA Builder tool in Optmyzr help you do that exactly in a matter of minutes. The Audit checks for ad groups with too few RSAs, and from the Audit Result page, you can go ahead and quickly create more RSAs. The system also gives you recommendations from your existing top text ads, a wide range of OpenAI suggestions, and the top keywords and search terms of your ad group.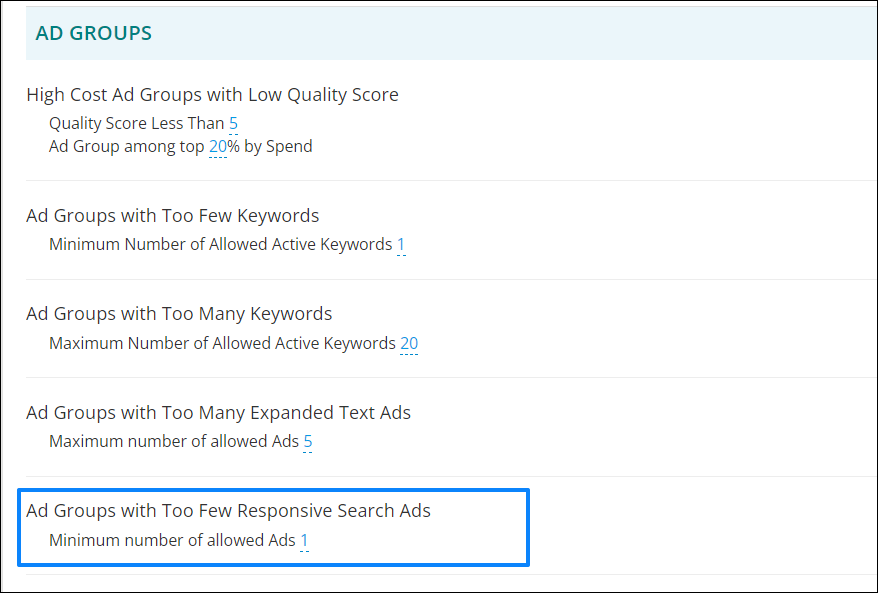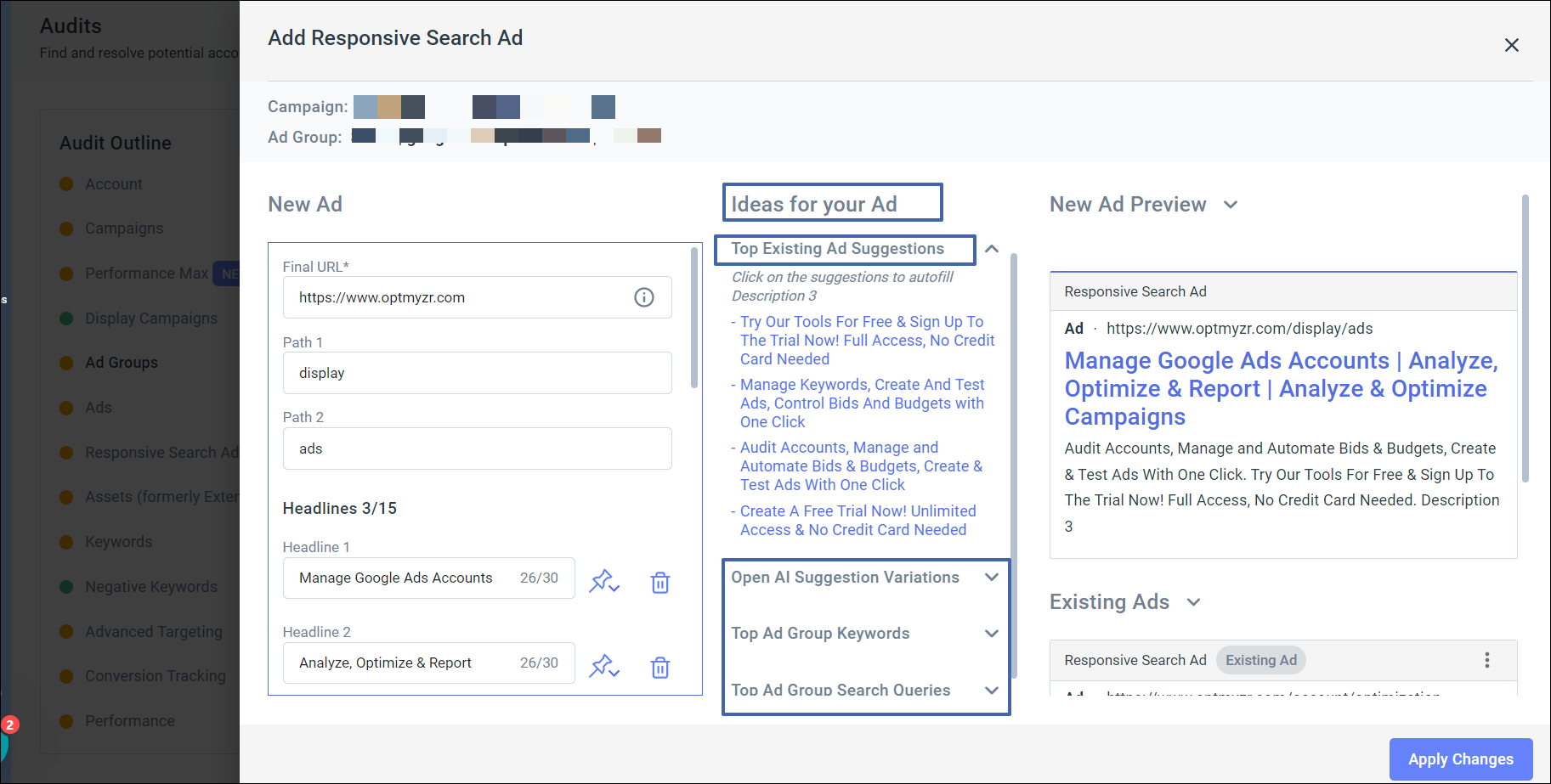 Additionally, the RSA Builder tool gives you a comprehensive list of all the active ad groups with no RSAs in the Google Ads account and helps you bulk create and upload them to the account.
Get an automated report of how well your RSAs are structured and performing
Once you have created the RSAs and they start gathering performance data, it is required to regularly check if they are optimized for their structure and performance. This will help you make necessary changes to them as soon as their performance sees any dip.
Optmyzr's PPC Audits tool offers a range of audits for RSAs that are structured around industry-level best practices to help get the best out of your RSAs.
Find RSAs with too few and too short headline and description assets. 
Every RSA can contain up to 15 headlines with 30 characters each and up to 4 descriptions with 90 characters each. It's in your best interest to maximize both field and character counts to ensure explicit messaging goes across your target audience.
Find RSAs with duplicate headline and description assets.
The more unique content you provide for your ad copy, the more opportunities Google Ads has to create winning ad combinations. That is why it is a good idea to make them distinct from one another while ensuring they still make sense when randomly picked up by Google and put together.
Find RSA headline and description assets that are pinned to a single position.
Google recommends pinning multiple headline/description assets to a single position as that gives more flexibility to choose the most relevant asset, matching more closely with the search query intent. Say, pin three of your different calls to action to the third headline position. This helps keep the essence of automation while giving back advertiser control, as you are now sure that Google will show your most relevant CTA as the third headline and no other assets.
Find RSA Assets with 'Low' Performance Labels. 
It is a good idea to take a closer look at the assets that are not performing well relative to other assets of the same type within your RSAs. This may involve rewriting headlines or descriptions to make them more compelling, relevant, or aligned with your target audience's preferences. Alternatively, you may choose to replace them with entirely new assets that you believe will perform better.
Find RSAs with 'Poor' Ad Strength.
A lower Ad Strength score indicates that your RSA can be more well-optimized, adhering to Google's recommendations for better ad creatives and overall campaign success. It might be a good idea to look into this list of RSAs to figure out if they can be further crafted to their best potential.
You can choose to automate receiving this report with all this information in your inbox regularly, at a desired frequency.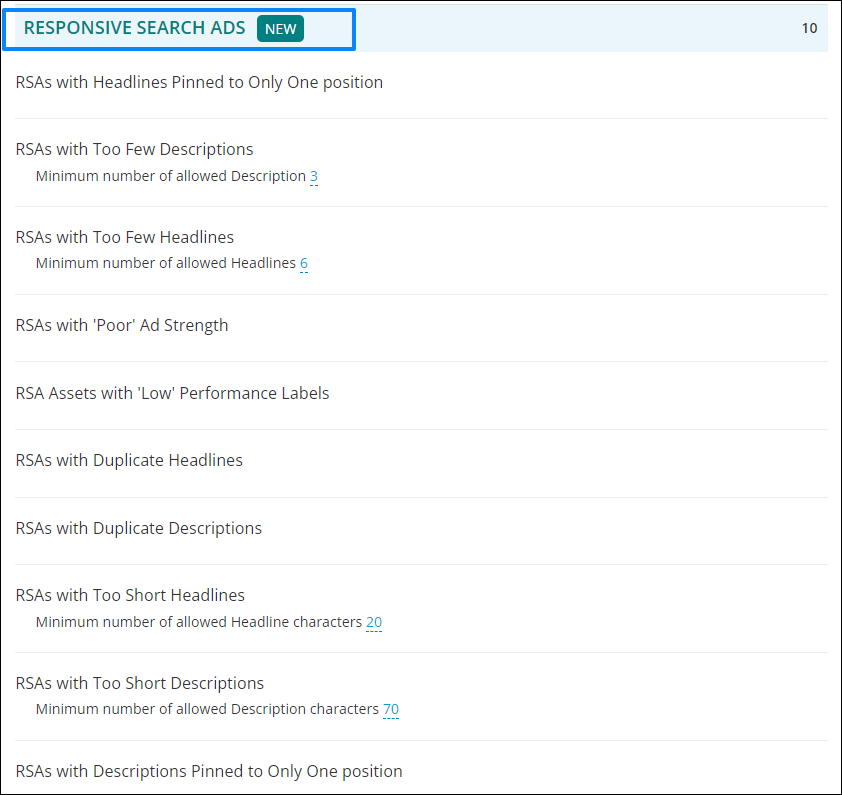 Optimize RSAs for better performance - Filter, Find and Replace, Spell Check
Constantly monitoring RSAs' performance and modifying them simultaneously is the key to ensuring your ad's overall effectiveness.
The Ad Text Optimization (RSA) tool in Optmyzr is a one-stop shop for helping you make single/bulk changes to your RSAs based on well-crafted filters. You can also build more customized filters to identify a specific subset of RSAs or RSA assets based on your own optimization strategy.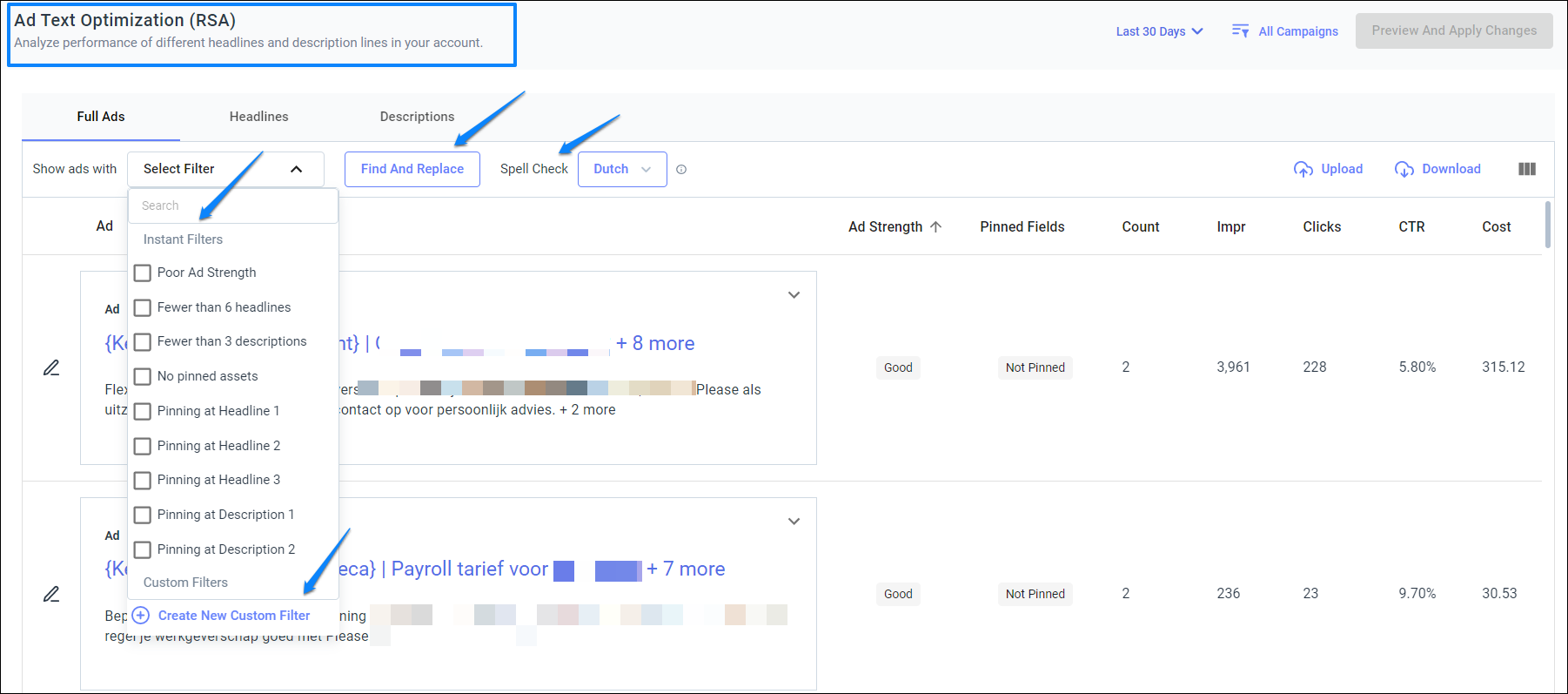 Instant/Custom Filters
A set of instant filters around the most important checkpoints (Poor Ad Strength, Fewer than 'n' headlines/description assets, Pinned at 'nth' position, 'Low' performance assets) are available. A wide range of options is also available to help create your own custom filters. Say, look into those RSAs with 'Poor' ad strength and no pinned assets in decreasing order of Conversion Value.
Find and Replace
This is an incredibly useful resource for making bulk changes to your RSA assets. For example, if you wanted to modify all the RSAs which still have "AdWords" and replace that text with "Google Ads" or change 2022 offers for 2023. 
You can choose to make the changes in your existing RSAs, create new RSAs while pausing the existing ones, or even create new assets without having to replace any existing assets. 
Say, just add the messaging of a current sale you are running to all the existing RSA headlines and pin them to a particular position.
Spell Check
A range of languages can be selected from the 'Spell Check' option while editing the RSA or its assets. Any misspelled words are underlined in red and gives you the option to accept the system-generated suggestions or add the original word to the dictionary.
Optmyzr Tip: Use Optmyzr's Rule Engine to automate the process of finding and replacing RSA assets. This will help ensure any mandatory text asset always exists in all your RSAs.
Test the performance of RSAs and the assets to identify the winning ad combinations
With the RSAs, the traditional A/B/C/D/… test might not be as popular as with ETAs (given only 3 RSAs can be created per ad group). But since RSAs are the only text ad type that can be created now, it is a good idea to create more than one RSA per ad group and keep a check on how they have performed compared to each other. Ad copy testing can be a legacy strategy but never quite loses its relevance!
Use Optmyzr's AB Testing for Ads tool to find RSAs that meet your business goals or contribute to the success of your advertising campaign, pause underperforming RSAs and create new ones to continue testing. The tool recommends high-performing headlines, description lines, and display URLs (from your best-performing text ads) to create new RSAs in the ad groups where you are pausing ads with a lower performance.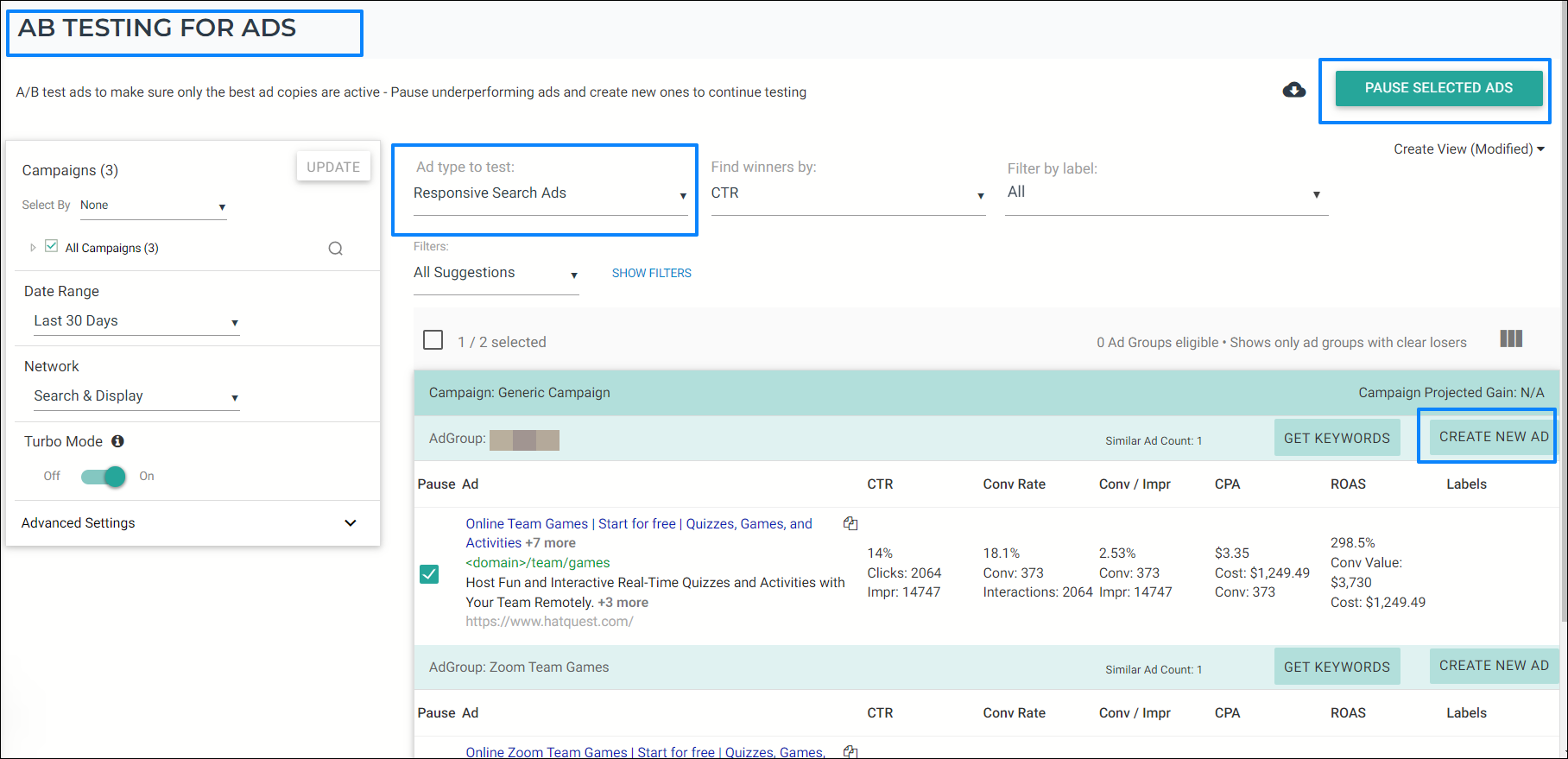 It is also a good idea to use the Ad Variations (under Experiments) in Google Ads to do an A/B testing of the RSA assets. These asset-level experiments allow testing of how three different actions affect the RSA performance: adding assets, pinning assets, and swapping assets.
Read more on this in the SEJ blog post written by Optmyzr CEO, Frederick Vallaeys.
Optmyzr Tip: Once you've created these experiments, use Optmyzr's Campaign Experiments tool to see how your experiments have been performing across accounts in one place and choose to keep the campaign experiment(s) or end them.
Ensure that your RSAs are rightly leading searchers to the desired landing page
Keeping a check on the seamless loading of the landing pages connected with your RSAs is of utmost importance. Getting reported on any issues with your landing pages that are related to your serving RSAs as soon as possible helps take the required action early on. This saves the advertiser's wasted spending and a bad user experience caused by broken landing pages.
Use Optmyzr's URL Checker tool to schedule a URLs check of all your RSAs. It checks for broken landing pages with 404 errors or with any piece of text you want it to find (say, that indicates a product is out of stock or hints at a service error). It automatically pauses those ads with such dysfunctional URLs and, on its next automated run, takes care of resuming those RSAs if the issue with that landing page is fixed by then.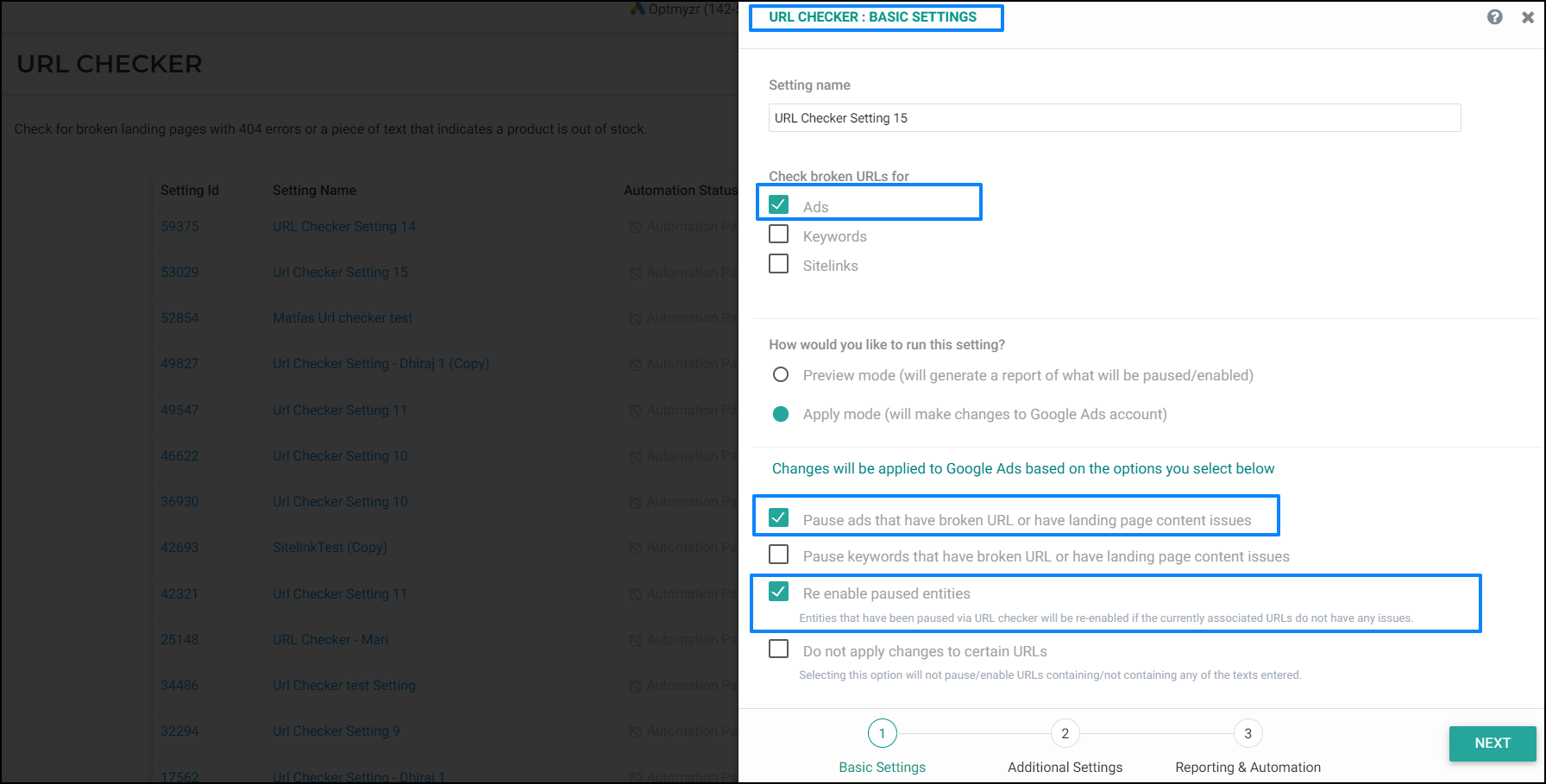 Thread the strategies together into a well-defined workflow
If Search campaigns consume a considerable portion of your Google Ads advertising budget, ensuring your RSAs perform to their fullest potential is a continual process. That is why performing all the above-mentioned health checks regularly is imperative.
Use Account Blueprints to schedule a series of recurring tasks in Optmyzr. You can also include tasks outside of our product (like meetings within your team, setting up experiments, etc.) and assign owners to each one. Once you define a desired frequency, it runs periodically according to those settings.
If you want to start optimizing your RSAs now and don't have access to our tools yet, consider signing up for our 14-day free trial. You'll get access to all our tools, and our team would be happy to show you how to best use Optmyzr to achieve your goals.
For any other questions and product support (or to learn how our tools work first), write to our team at support@optmyzr.com.