Sending reports of AdWords results to clients is one of the more time-consuming tasks agencies deal with so it's not surprising that our scheduled reports are one of the more popular tools in Optmyzr. So for everyone using our scheduled reports, here's a big mistake to avoid: don't send your reports before the data is locked in!
The mistake we see is that agencies report too soon after the month ends which may lead some metrics to be incomplete for the simple reason that it takes time for AdWords and Analytics (GA) to publish all the data to advertisers' accounts.
For example, did you know that Impression Share data won't be ready until 13 hours after the day ends! Even click and impression data can take 3 hours to be completely posted to your account. AdWords sheds some light on reporting delays here. When it comes to conversion data from GA that is imported to AdWords, this can take up to 3 days.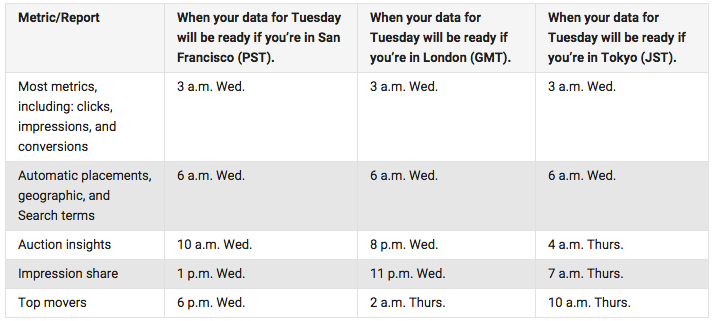 Source: Google.com, May 2015
Because you don't want to report incomplete data to your clients, we recommend sending monthly reports no sooner than the 2nd of the month, and no sooner than the 4th if you include goals from GA.
Weekly reports (for weeks ending Sunday) should be sent no sooner than Tuesday morning or Thursday morning if you include GA data.
You get the picture… it takes time for AdWords and GA to get the data ready so keep this in mind when deciding when to send your reports to clients or stakeholders. Review and edit all your own scheduled reports in Optmyzr.