We are living in strange times. 
Just a couple of short weeks ago, we had packed sports arenas, sold-out concerts, major industry conferences, crowded malls, and a secondary worry of "what is this Coronavirus thing all about?" Today, the best we can enjoy for TV sports are reruns of classic games on ESPN, restaurants (ones that are open) have a lot of open tables, and music & theater venues have gone dark. Above all, we can't seem to escape the topic of Coronavirus on TV, social media, or in our dwindling person-to-person contact. 
Search marketing in the "Social Distancing" era
It's impossible to tell at this point how long brands and social marketers will have to navigate these uncharted COVID-19 waters. PPC pros are trying to sift through a brand new set of challenges and questions, while still being expected to drive conversions and return on investment.
Perhaps more than ever, PPC pros must make sure brands and organizations are present when people are searching. And let's face it…we'll undoubtedly have a LOT more searching going on via Google and Bing" in the coming weeks as consumers adjust their lives. And as people go deeper into social distancing, we'll see even more searching on Amazon to further replace brick-and-mortar shopping. 
It's clear we are experiencing an unprecedented event in the internet age. But good management and solid automation layering tools can help you get through this in the best possible shape, and hopefully reduce some of the tremendous stress everyone's dealing with. 
In this post I want to share a few techniques to deploy today to help your business or that of your clients make the most of an uncertain situation.
Near-term/Long-Term – The Impact is Not Clear
Online is the place to be with COVID-19 casting its shadow. Colleges and universities around the country are moving courses online. Even K-12 schools are closing and moving to virtual classes for at least a couple of weeks. Distance learning providers are benefiting from the crisis. Likewise, companies are quickly figuring out how to expand remote work opportunities through video conferencing providers like Zoom who are also seeing their stock value rise. The outbreak has also been driving huge demand for cleaning products, boosting companies with domestic manufacturing such as Clorox and Purel.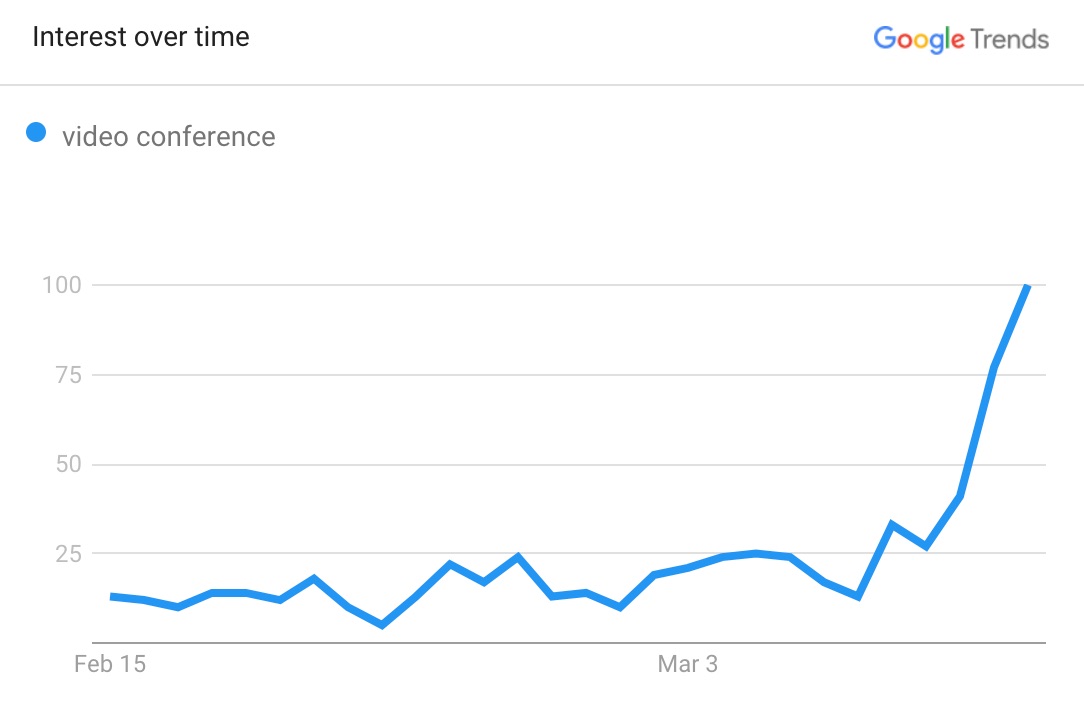 When consumer behavior shifts dramatically, in this case due to external events none of us can control, opportunities arise for nimble companies. With many people at home with little to do, it seems every streaming service should be making moves like Disney+. They quickly shifted gears and announced streaming of Frozen 2 will start a few months earlier than planned.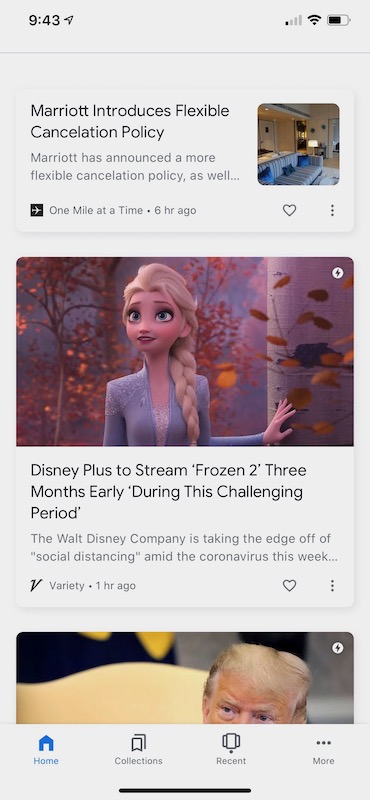 Other industries are facing a crisis. Hospitality providers are scrambling to serve near-term needs with reduced staffing but they must also remain ready for the day people can and WANT to travel again. SAS airlines have cut 90% of capacity, American is grounding all its widebody aircraft, and if they survive this economic turmoil, they will need a game plan to capture customer demand when it returns.
Small business is also hard-hit. When local companies must close, or have no more foot traffic, they may not be ready or able to provide a digital alternative (think gyms for example). Despite evaporating sales, they still have to pay rent and possibly staff. When business reopens they may need to win back all the customers they once already had and digital marketing may become a make-or-break proposition for them.
Whether your business or that of your client (if you're an agency) falls in the category of positively or negatively impacted, the good news is that as a digital marketer, you are in a position to help them. And even better news is that tried-and-true methods and best practices from non-crisis times also apply here.
Optmyzr Tip #1
Use the PPC Investigator to quickly see how external factors like changes in queries and changes due to what your competitors are doing are impacting your top line numbers for sales and conversions.
Use the PPC Investigator to monitor changes in year-over-year performance. Pay close attention to how query volume and Lost Impression Share are responsible for the overall change in account performance as these are driven by changes in consumer behavior and changes in competitor behavior. In uncertain times, these two factors can have a dramatic impact on account performance, even when you have made no changes to the account.
Managing PPC budgets in a time of crisis 
While businesses often knee-jerk their budgets down in times of uncertainty, now may very well be the best time to up the spend on PPC. Social distancing means more people will buy online. It's essential and responsible to be sure to capture the surge in online shopping. 
Optmyzr Tip #2
Set up a budget script. You may be spending money much faster than usual if you sell sanitizer online. You can use a script to set account-level monthly limits. Or if you see the opposite because you sell flights and fewer consumers are booking, a script can set more aggressive budgets to quickly capture consumers when they start to fly again – and they WILL fly again.
Automated Bidding algorithms have never seen this before
Automated bidding relies on historical patterns to predict future behavior. But just like it's not great at figuring out what's happening when you have a short weekend sale (because the duration is too short and too unexpected to learn from), what we're seeing now is drastic and unexpected and not something we can fully trust the machines to understand.
Unlike machines, we have context about the situation and we can use judgment to steer things the right way. 
An example is that we may see a lot more search volume for toilet paper (not sure what it's like in most of the world but it's sold out everywhere in the US) and hand sanitizer. Machine learning may think it's wise to boost bids a lot. But have you considered your margins and profitability goals for these products? At some point, the machine may increase bids so much that sales volume spikes but does so at the cost of profits. Or what if sales continue to be counted but your supply runs out and you have to cancel orders. Is machine learning looking at your REAL conversion data or making bad decisions because you gave it incomplete data?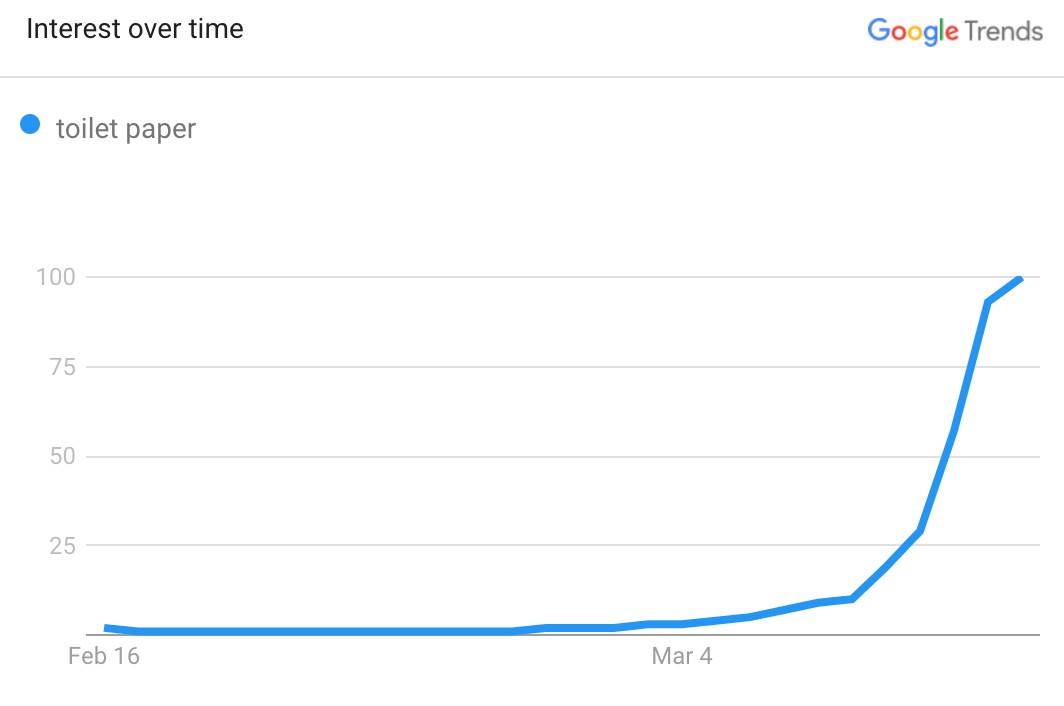 Google Trends data for March 2020 show searches for toilet paper have inexplicably skyrocketed as a result of the COVID-19 situation in the US.
Optmyzr Tip #3
Learn how to add external data, like product margins, to Rule Engine to make sure your target ROAS is set correctly for every product based on its margin. This will help ensure profitable sales and only running ads when it makes financial sense.
Another example, we can expect even MORE time spent on mobile devices and less on desktops because that's the trend we see on weekends when people are home. But now a lot of people are going to be home all week to work remotely. This can potentially impact behavior for devices and days of week. Those weekend-specific strategies you've used to capture heavier mobile time may well have to be deployed all week long for a while. And when things return to normal, you may need to guide the machines to understand we're back to business-as-usual.
Optmyzr Tip #4
If you're using automated bidding, use automation layering in the form of alerts and monitoring to ensure any changes in behavior are acted upon by machine learning algorithms. For example, with an expected change in device type usage on different days of the week, set up an automation that tells you if there are shifts and if those could be responsible for performance changes in automated bidding.
Don't pay for news queries that don't drive conversions
We're seeing a lot of searches related to coronavirus updates for airline policies. If you don't want to spend your PPC budget on those types of clicks you need to add negatives quickly. A simple automation that looks for high volume new queries with low conversion rates can automatically help you with this, now with coronavirus, but also for whatever unexpected disruptive event will happen in the future.
Optmyzr Tip #5
The Rule Engine lets you customize date ranges and compare the performance of several date ranges against one another. This lets you execute a strategy where you monitor for new queries that have significant volume in a more recent period of time (e.g. this week) compared to a previous period (e.g. last week). 
Don't accidentally run ads for stuff you can't provide
Toilet paper is sold out, yet shopping ads galore for toilet paper. With a tool like Campaign Automator you could automatically update keywords, ads and more to reflect that some products are sold out, or that others (like last minute flights to get back home before the borders close down) are more expensive.
In addition to our core PPC management and reporting software, Optmyzr sells a product called Campaign Automator that makes inventory driven ad automation easy to set up and automated to maintain.
Conclusion
The tips above are simply smart business practices that PPC pros can and must deploy quickly to help the brands they represent weather a really tough storm. Sure, there are charlatans out there seeking to profit unethically from a crisis. That's the opposite of what we are talking about. 
Commerce can, and must, go on. In fact, it's perhaps more important than ever that PPC pros lead the charge in facilitating commerce and being sure to help the brands we represent meet these extraordinary circumstances. 
The team at Optmyzr is proud to be working with you, side-by-side, with powerful PPC tools that can layer the automations you need to do great work and keep the economic engine running well until we find our new normal.