When we think about bid management of our keywords and product groups, there are key areas that every marketer concentrates on. For example, targeting the right ROAS/CPA, ensuring that impression share is not lost, not losing the top spots to your competitors, giving lower bids to expensive or non-converting keywords, and so on.
While it's right to focus on optimizations for setting the bids correctly, marketers should not forget other areas that need their attention as well.
Here are some areas where marketers shouldn't be limiting themselves to bid management to tackle common problems:
• My conversions are best in the middle of the day. So, I want to increase my bids during that time and put them back to normal for the rest of the day.
• On some days, costs for clicks are much higher than expected from some locations. Can we monitor Avg. CPC each hour for some locations and reduce bids when these clicks become expensive?
• I'm overspending my budget for the day, so I would like to reduce my bids during the second half of the day.
• My bids are on the higher side, which exhausts my budget by the middle of the day and I end up overspending each day every month. And, if I reduce my bids, my clicks and conversions drop.
It's important to know the right thing to do for each of the above use-cases. Let's wrap these pain points with the right solutions.
1. Spread out your budget throughout the day.
Keep your bids as it is and implement hourly bid adjustments. Analyze historical data and find the times in the day which spend more and which perform better as well. So, you need to apply bid adjustments for different times of the day based on your goal. 

One way to get started would be to look at the times of the day when your conversion rate is high and check the impression share during those specific times. If you have a low impression share, it means that you aren't able to drive as much traffic as you could for high-performing hours.
To fix this, increase the bid adjustments to grab more traffic. At the same time, for the time slots which don't convert – apply negative bid adjustments or disable those time slots to not serve ads at all. This is like load-shedding – wipe out budgets during some time slots of the day and keeping it for the times of the day when you expect better performance.
2. Don't overspend your daily budget.
Use a budget tracker – to have a way to not exceed a given budget amount each day even if Google allows spending 200% of your daily budget. You can use solutions like Flexible Budget script at Optmyzr. The script runs automatically every hour to check the cost you've spent until the hour of the day and pause the account/campaign when the target budget is spent. Learn more.
3. Analyze the lost impression share.
Before dropping the ball, it is very important to identify if it was the budget or ad rank (bid) that limited the performance of your account/campaign. Sometime back, a Digital Marketer shared with me that they've been increasing bids for high performing keywords to improve their impression share to 85% from current ~60% Impression share – but with no success.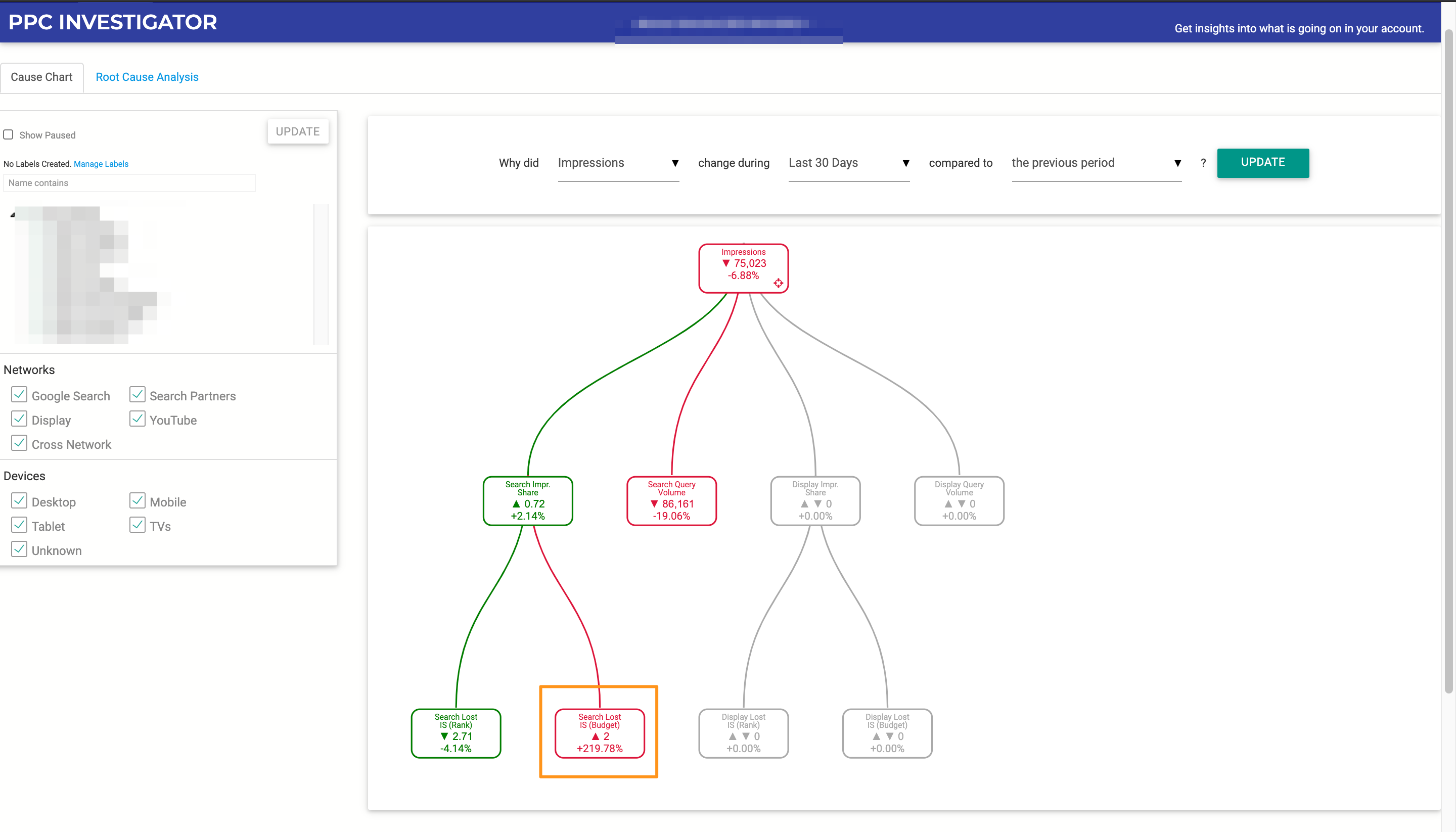 On analyzing their account's performance with PPC Investigator, we found that increasing the bids didn't help because they were losing impressions due to budget constraints and not the bid. Learning from this? While you increase the bids – don't forget to check if you're losing impression share because of insufficient budget allotment.
4. Go granular – manage bids for each keyword.
Don't limit yourself to set bids only at the ad group or campaign level. While you find high-performing keywords that perform better, it's equally important to find keywords that are bleeding money.
If you can identify the underperforming keywords and reduce bids on them, it will allow you to provide more budget towards better-performing keywords which will last for a longer period of the day and get you better results at the same time.
Conclusion
What advertisers forget is that each time that a new bid is set, Google takes time to test it and bring you results based on the changes. So, if you change the bids too frequently, you might very well be hampering the learning cycle and eventually the results.
The solution? You need to give your bids room to breathe and check out the other factors which you need to be concerned about apart from just setting your bids again and again.