Performance Max campaigns are a new campaign type in Google Ads in which advertisers can create one campaign and get their ads wherever users are interacting with Google's services, whether that's on Search, Display, YouTube, Maps, Discover, or Gmail.
It promises to simplify advertising in a world where user behavior has become more fragmented. It's an especially appealing promise for new advertisers who may have not known where to start with Google Ads.
But for existing advertisers, the introduction of yet another campaign type may be confusing. So here I'll shed some light on how to think about Performance Max.
I also got a chance to speak to Google about it where they shared some best practices and even answered several FAQs from the PPC community. You can watch the full episode below:
Get actionable PPC tips, strategies, and tactics from industry experts twice a month.
Is Performance Max Replacing Other Campaigns?
For now, Performance Max will ONLY replace Smart Shopping, Gmail, and Local campaigns. Other campaign types will continue to exist until further notice. Google has announced a timeline that includes the transition from Smart Shopping and Local to Performance Max by the end of September 2022.
Starting in April 2022, you can begin upgrading your Smart Shopping and Local campaigns to Performance Max to access additional inventory and Google will offer a 1-click upgrade tool to make the transition easier.
Gmail campaigns haven't been editable since July 2021 but now Google has clarified its intention to deprecate stand-alone Gmail campaigns by June 28, 2022. Advertisers can access this inventory with a stand-alone Discovery campaign or the new Performance Max campaign.
Where Do Performance Max Campaigns Run?
Performance Max provides the equivalent of running the following current Google Ads campaign types: Search, Display, Shopping (or Smart Shopping), Video, Local, and Discovery. It can then place ads across Google's vast number of pages and properties as shown below.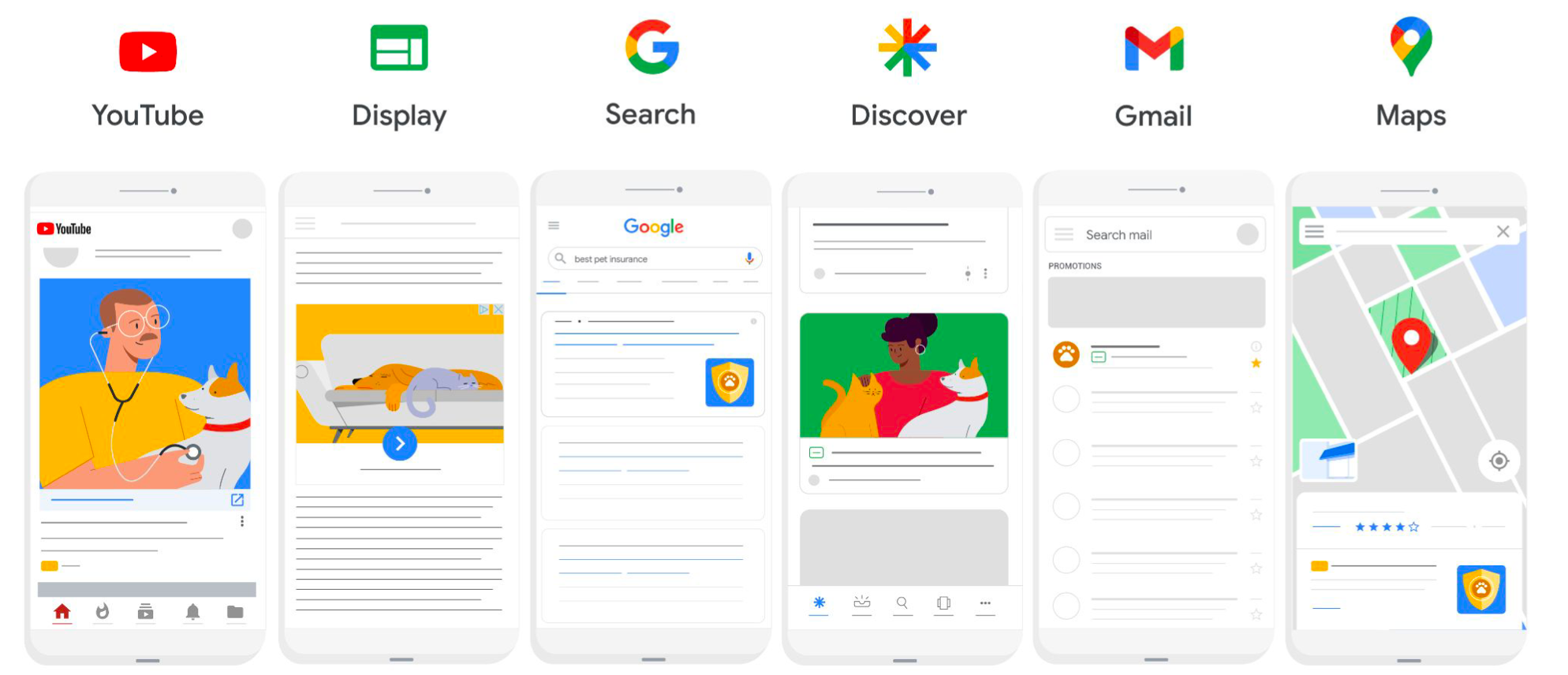 Should I Run Performance Max Instead of Other Campaigns?
According to Google's data, Performance Max campaigns drive 13% more conversions at the same or lower cost per conversion when run alongside the current campaign types.
That means that Performance Max is best thought of as an incrementality play, and should be enabled in addition to your current set of campaigns. Unless you have a Smart Shopping or Local campaign, there is no need to turn off those campaigns.
It is recommended you keep your existing campaigns in addition to a Performance Max campaign.
If you are a new advertiser and are starting with a Performance Max campaign, Google's guidance is to add Video, Search, Display and Discovery campaigns to further enhance the performance of your account.
Optmyzr also recommends maintaining a traditional Shopping campaign in addition to a Performance Max campaign. Check out this excellent post by Kirk Williams for more insights on shopping ads and Performance Max.
What Inputs Do I Have With Performance Max Campaigns?
When setting up a Performance Max campaign, Google will ask you to provide the following inputs to help their artificial intelligence get started with good ads:
Your marketing objectives and goals
Budget
Creative assets including text, images, and video (optional, since this will auto-generate)
Geo-targets
Optional Feeds such as Google My Business, Google Merchant Center, Dynamic Ads Feed, and Business Data Feeds
Optional Audience Signals such as First-Party Audiences (including Remarketing Lists) and Google Audiences (including Custom Audiences)
With that information, automation is off to the races and will try to show your ad where it expects it may lead to a conversion.
Expert Tips From the Top Performance Max Practitioners
We spoke to 4 of the top PPC experts — Andrew Lolk, Brooke Osmundson, Duane Brown, and Antonia Vasile — in the industry in April 2022 on the 54th episode of PPC Town Hall. They shared their experiences, and some great tips for running Performance Max campaigns during the discussion.
You can watch the full episode below:
Get actionable PPC tips, strategies, and tactics from industry experts twice a month.
Performance Max Campaigns: Frequently Asked Questions
Google answered several common questions asked by the PPC community in our PPC Town Hall 53. Here are a few of them:
Can I pick and choose the channels to run my Performance Max campaigns?
No. According to Google, Performance Max campaigns are goal-oriented campaigns. However, Google says that if you express the goals that matter to your business correctly, its bidding system will prioritize the channels that help reach those goals and ignore the channels that don't.
Will Performance Max cannibalize traffic from my Search, Display, or other campaigns?
Google says when you're running a Performance Max campaign alongside a shopping or a smart shopping campaign for a product, the ads from the Performance Max campaign will be prioritized or shown to users instead of the ads from the Smart Shopping Campaign.
This is similar to how Google prioritizes smart shopping campaigns over standard shopping campaigns when they're run parallelly.
And, when Performance Max replaces smart shopping & local campaigns by the end of Q3 in 2022, it will be given priority over standard shopping campaigns.
How does Google prioritize conversions in the lower funnel versus the upper funnel?
According to Google, Performance Max is primarily a performance-driven campaign that relies on conversion goals as the target which are usually in the lower funnel.
So for KPIs that are outside performance like driving awareness or consideration, Performance Max is not really a good choice.
How can I prioritize getting new customers?
To optimize towards getting new customers, you'll have to ensure that you're either indicating how you value these customers so that your campaigns can bring you more of those or specifying directly that you're interested in new customers only.
What budget settings can I optimize? In other words, can I set different monthly budgets by different channels?
No, you cannot allocate specific budgets to channels. But Google's machine learning systems take care of your budgets dynamically in real-time across all channels. They optimize for your goals and prioritize the channels that best help it achieve those goals.
How many conversions do I need for a Performance Max campaign to be effective and provide new insights?
There is no specific number to how many conversions a Performance Max campaign needs to be effective or provide insights.
Does Google plan to show more metrics or richer data in Performance Max campaigns?
Yes, Google said it does plan on showing more data in the future to advertisers running Performance Max campaigns.
How do I make sure results from my Performance Max campaigns lead to real results in my business?
Make sure your Performance Max campaign is targeting the right conversion goals that drive results for your business. If that is a store visit or an online sale or lead generation, then make sure you're targeting those conversion goals with Performance Max.
Plus it's good to use values with conversion goals so that you can tell Google's automation how important each goal is to your business and that automation can prioritize driving those high-value conversion goals over less important goals.
For lead generation advertisers, Google advises using the offline conversion upload feature to tell its automation which sort of leads are resulting in sales and generating revenue for their business. And for retailers, it advises uploading your Google Merchant Center feed to Performance Max campaigns.
When to not use Performance Max campaigns?
Google suggests not using Performance Max if your primary goal is to drive awareness or increase reach. It recommends Performance Max for campaigns that have specific conversion goals to achieve.
What is the downside to not using Performance Max campaigns?
Google's general recommendation is to start testing this campaign type because it says there's value to be had here in terms of delivering more conversions for your business. It generally says that you might miss out on some really valuable features that improve business value if you don't get on board with Performance Max campaigns.
How Can I Use Optmyzr to Optimize Performance Max Campaigns?
1. Optimize Your Goals
Since Performance Max's results are so closely tied to your stated goals, one of the best ways to optimize this new campaign type is by refining your conversion actions and goals. For example, when you tell Google you want leads, is that really what you want? Or do you want leads that turn into loyal customers?
Suppose you aren't yet communicating the true value of conversions to Google. In that case, you can now score audience segments in order to create value rules that help steer Google automation to find better quality conversions.
2. Optimize Your Structured Data and Feeds.
You can join the alpha of our feed optimization tool. With this tool, you can do things like ensuring the terminology you use in product titles is closely aligned with how consumers talk about your products. That way they will be more likely to recognize the relevance of your ads to their searches.
If you're interested in trying this out, contact our team at support@optmyzr.com to request an invite.
3. Leverage Insights From Campaigns You Already Run
Chances are you already have data about poorly performing placements from other campaigns you've run. Use Optmyzr's Rule Engine to automate finding these types of money-wasting placements and automatically add them to your account-level negative placement list.
That way even a Performance Max campaign won't be able to show your ads in places that don't work for you.
4. Write Better Ads
Use our Ad Text Optimization tool to get aggregated metrics for ad text phrases and then use the best-performing ones as the basis for the ad assets you provide to Performance Max campaigns.
Again, this is an example of using your existing data to help the Google machines bypass some of the initial learning phases during which they may spend a lot of money for very little results.
Will Optmyzr Add More Support for Performance Max Campaigns?
We work hard to provide advertisers with modern PPC tools that align with both old and new best practices in PPC. And we've built some Optmyzr tools so far to optimize Performance Max campaigns that a lot of our users loved. However, we're working to add more support for it in the future.
You can follow our roadmap, suggest new features, or upvote capabilities that are on the roadmap.
And if you want to start optimizing your Performance Max campaigns right away, take a 14-day free trial now.
Get actionable PPC tips, strategies, and tactics from industry experts to your inbox once a month.