Last quarter, we ran a test with Discovery Ads and "regular" Display campaigns to promote ADworld Experience event registrations. We spent the same budget for about 30 days using the same copy & targeting options. Here's what we found.
As some of you may already know, ADworld Experience is the largest all-PPC event in Europe. The event's main target audience is seasoned PPC professionals, who have been operating for some years in Google Ads, Meta Ads, Linkedin, Microsoft, Amazon, TikTok, and other online advertising platforms.
The experiment
The first key question to start the test was: how to effectively target experienced PPC professionals via Google Display channels? 
An expressed interest in any advanced PPC tool could be one way to target them.
Creating audiences
So we made a list of the most renowned tools (in alphabetical order): Adalysis, Adspresso, Adroll, Adstage, Adthena, Adzooma, Channable, Clickcease, Clickguard, Clixtell, Datafeedwatch, Feedoptimise, Feedspark, Fraudblocker,  Godatafeed, Opteo, Optmyzr, Outbrain, PPCprotect, Producthero, Qwaya, Revealbot, Spyfu, Squared, and Taboola.
Using this list we were able to set up 3 different audiences based on:
1. The PPC tool name searches in Google
2. The PPC tool's interested users and
3. The users who've shown interest in a PPC tool's website URLs in SERPs.
Campaign setup
Then we created a Discovery campaign and a regular Display campaign, with 3 ad groups each, based on one of the above audiences.
In both campaigns, we excluded optimized targeting (to avoid unwanted overlapping) and limited demographics for users aged between 25 and 55 (the main age range of ADworld Experience participants) + unknown (not to limit too much of the audience).
Campaign goals
The goals were:
Getting registrations for the 2023 event that happened on October 5 & 6,
Sales of past edition video recordings, and
Navigating 5 or more pages in one session (to grant Google's smart bidding enough conversion data)
Geotargeting was limited to the home countries of the majority of ADworld Experience's past participants (a selection of EU countries + UK, Serbia, Bosnia, Svizzera, Montenegro, Norway, and Finland). We targeted all languages and scheduled ads to appear every day from 8:00 CET to 20:00 CET.
In Discovery, we accepted Google's default filter for moderate and highly sensible content. In display campaigns, we excluded all non-classified content, fit for families (= mainly videos for kids on YouTube), all sensible content, and parked domains.
Bid strategy
The bidding strategy was set for both campaigns on Maximize Conversions, not setting (at least initially) any target CPA.
The text and images were almost exactly the same, even if placements were different (GDN for Display and YouTube, Gmail and Discover newsfeed on Android devices for Discovery). We were forced to shorten some headings in display campaigns, but descriptions and images (mainly 2023 speakers' photos) were exactly the same. In the Display campaign, we were able to select some videos and let auto-optimized ad formats turn on.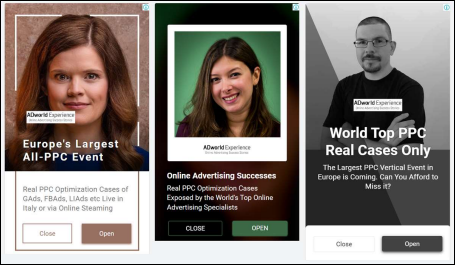 The landing page was the same in both campaigns (the event's website home page)
Budgeting
The daily budget was 20€ for each campaign (in Discovery the suggested budget was 40€/day, but we launched it and then later lowered it to 20€/day).
In a previous test with Discovery Ads, we found that URL-based ad group/audience was definitely predominant in terms of traffic, so we decided to exclude in that campaign all the tools not directly related to campaign management in the most widespread platforms (Adroll, Adstage, Godatafeed, Outbrain, Qwaya, and Taboola).
Besides that, in both campaigns, we were soon forced to set different target CPAs to grant all different groups/audiences a more uniform distribution of ads, lowering it where traffic spiked and making it higher where it languished.
Both in Discovery and regular Display we had to closely monitor the geographical distribution of the ads to have a more uniform coverage, lowering Max Bids up to -90% in some areas and pushing up to +50% in some other ones (it looks like Romania, Serbia and Bulgaria have a lot of "spammy" placements, while central EU countries offer much more refined and expensive spots, with no relevant differences between the two campaigns).
In regular Display ads, we could exclude low-quality sites and apps, ending up with almost 500 exclusions. We decided not to apply a pre-existing list of spammy/off-topic placements we built from previous campaigns to avoid giving regular Display campaigns an advantage over Discovery since the beginning.
The results
Here are the numbers we had after about 5 weeks and 1,500€ of total expenditure:

Exposed target CPA are the final ones (reached after several progressive adjustments)
If we look at global conversion numbers, it might seem that Google's AI-powered placements still have a long way to go before competing with a professionally set Display Ad campaign.
Another interesting thing is the radically different performance of the same audiences in the two campaigns. The audience of past searchers of PPC tools and URL-based targeting have been respectively the best and the worst performers in GDN and… exactly the opposite in Discovery Ads!
You will find another interesting "surprise" when you isolate the same numbers for the last week of both campaigns.


The first and most evident general conclusion is that Discovery AI-powered placements need more data (time/money) to really start auto-optimizing.
The second most obvious conclusion is that if you know exactly what you are doing and need your campaigns to perform soon and to be laser-targeted, old-school display campaigns are still very likely to be your best choice.
The third important consideration is that if your goal is not only to convert but to drive low-cost traffic to your properties, then you should have few doubts about pushing for Discovery Ads.
Drilling a little down into the data, I was really surprised to see how different we're performing with the same audiences within the two campaigns. We can only suppose that topic searchers' targeting fits better to lower automation-level campaigns (being the most focused targeting option you may use in Display Network), while probably URL matching gives the Google Machine Learning algorithm more space for auto-optimizing (when a good amount of data becomes available).
We are all looking now towards Discovery campaigns upgrading to Demand Gen campaigns. You may bet your budgets that we will run a similar test with this new toy as soon as we can after ADworld 2023 Edition.
If you are curious about specific aspects of the test, let me know, and we'll be happy to drill down the data to answer you if we can.