Last updated: August 24, 2021
A major point about shopping campaigns that we hear from our customers — and performance marketers in general — is setting up the right Google Ads Shopping campaign structure to manage bids and (eventually) optimize them with ease.
While there are several great reasons for businesses to implement Shopping Campaigns and promote all the inventory they can, it can be daunting to get started.
Here are our recommendations on how to approach campaign structures for a Google Shopping campaign.
Campaign Creation Strategy
Planning a campaign creation strategy typically depends on how many products your feed contains, as well as how you'd like to segregate the traffic you're driving to your account. Multiple campaigns are the best setup for larger feeds (tens of thousands of products) and to better manage search queries.
Here are some key strategies to build the right campaign structure:
Use Inventory Filters
Use this feature to direct traffic to campaigns based on criteria such as product condition, size, or color.

Example:
If you're selling laptops, then 'refurbished' and 'New' are two possible conditions for your inventory that you'll want to take into consideration. This ensures that you don't advertise new laptops to potential customers who are searching for refurbished ones.
You can segregate your campaigns using this logic by implementing inventory filters for each condition type.
Leverage Campaign Priorities
If you have multiple Google Shopping campaigns that promote the same product, you can prioritize showing ads for search terms that matter — ones that are more relevant to your goal from a specific campaign.
Campaign priorities have three tiers: low, medium, and high.
Priority levels outweigh the bid amount at auction time. So if a campaign on high priority has a lower bid than a campaign on medium priority, the high priority campaign's bid will be used. When multiple campaigns have the same priority, the one with the highest bid will count during the auction.
This feature was created by Martin Röttgerding, head of search engine advertising at Bloofusion, and a panelist on episode 4 of PPC Town Hall.
You can read more on how you can leverage Campaign Priorities in our detailed blog post.
Ad Group Creation Strategy
Selecting your creation strategy at the ad group level depends on multiple factors:
Managing Negatives
Ad group creation strategy helps align the right traffic to the right ad groups.
Example:
For users searching for a Macbook Pro, it's better to show available configurations for the same model rather than ads that promote the Macbook Air. To achieve this, you can build a campaign for each brand and ad group in both categories: Macbook Pro and Macbook Air.
This will help you add negative search terms — 'Macbook Air' to the Macbook Pro ad group and vice versa.
Size of your feed
If your inventory consists of more than 20,000 SKUs (or if you expect to cross this number in the near future), you won't be able to fit all of these products into a single ad group.
Instead, you'll need to set up multiple ad groups to bypass the ad group limits established by Google.
Product Group Hierarchy
Selecting your product group hierarchy will depend on how you want to manage bids.
Example:
If you're selling shoes and you know that the Adidas Black Alphabounce+ is your best-selling product, you're probably going to want to bid higher on it. Going one layer deeper, you realize that just size 11 constitutes 70% of your sales for this product.
If you have a structure that also includes the size, you'll be able to bid especially high for the size 11 Adidas Black Alphabounce+.
A high degree of granularity can help you make sure only the right products get a higher bid.
If you'd like to manage bids for each item in your feed, you can choose to build product groups at the item ID level and structure it by incorporating all the important attributes into the campaign structure.
But when choosing your hierarchy, you also need to analyze the attributes defined for products in your feed to select a split where the fewest products end up in the 'Everything Else' product group so that you can manage bids to an optimal degree.
Real-world examples
Let's take a look at a couple of real-world scenarios and how they translate over to Google Shopping campaigns:
Laptops
We're revisiting this product category, this time to prioritize display. To do that, you'll need to figure out which products have the highest profit margin or which ones sell the most units. Consider the placement of your different laptops similar to the bids you're going to place.
As the store manager, you know the different factors that influence buyers looking to purchase a laptop — screen size, processor, operating system, graphics card, etc.
In order to arrange your products, you need to decide the order for the product arrangement to deliver the best possible customer experience: helping people find what they want quickly and easily.
Naturally, products that sell faster and ones with higher profit margins take priority in the lineup.
Assigning degrees of importance to all of these features helps you select which products need to be most visible i.e., which ads you need to bid highest on.
Apparel
Let's consider that a brand like H&M or Zara is running a seasonal sale.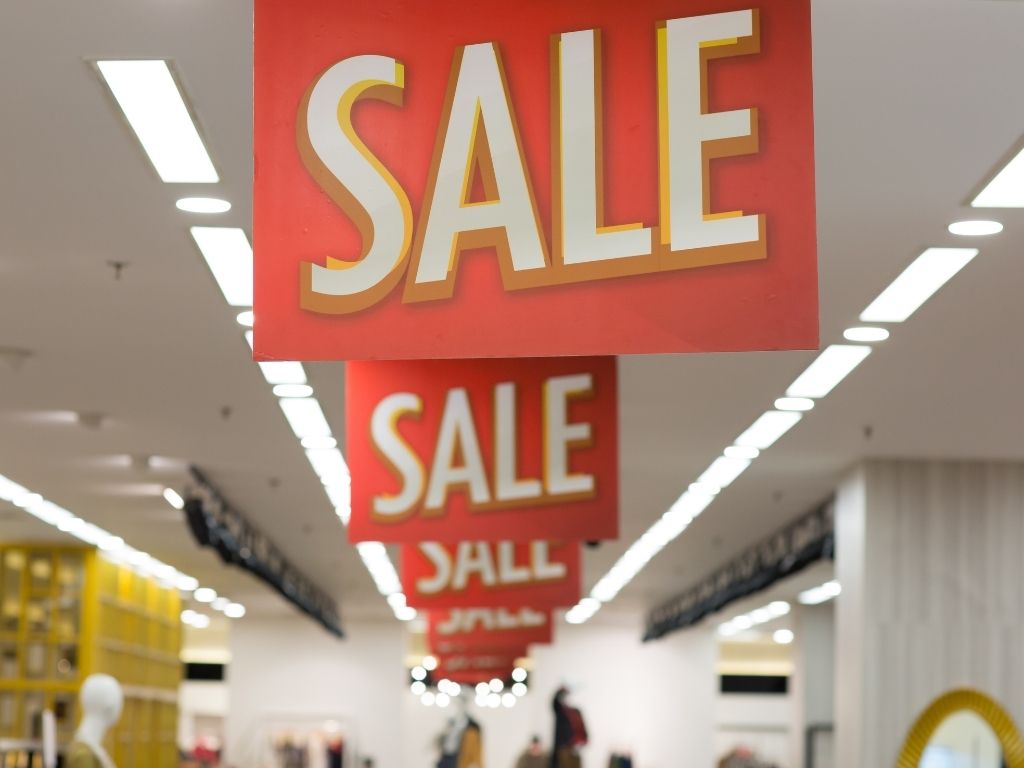 While the storeboard at the entrance will highlight this, it's also important for store managers to promote all the products being sold. The idea is that before a prospective buyer gets to the discount rack, they go through all the new arrivals and are tempted to buy something because it's trending.
Overall, the sale value for the buyer would be higher — a combination of discount purchases and the excitement of owning something on the edge of what's trending. For the store, it means a better profit margin.
In this case, the higher bids are placed on new arrivals that have better margins than on-sale products, which might receive lower bids or be advertised on a landing page for the new arrivals.
Conclusion
Like deciding the order to present your products in a brick and mortar store, Google Shopping campaign success requires businesses to identify the right products by attributes.
You'll want to bank on this priority list to create your Google Shopping campaigns so that you're able to draw the right audience and receive the best profit return on ad spend.
Though each business and industry is different, there are some common parameters for choosing the right structure for your Google Shopping campaigns:
What's new.
What's selling well.
What's in demand.
What's easy to procure.
What's easiest to ship.
Together, they can help you identify where your marketing dollars will yield the best results.