The Keyword Lasso one-click optimization is one of the most used optimizations in our suite of tools. It analyzes the AdWords search terms report and makes recommendations on which search terms should be added as keywords based on performance. We've added a lot of new features to this optimization to make it even more powerful. Details below:
Adding search terms as negative or positive keywords
Now you can add search terms from the Keyword Lasso as either negative or positive keywords to your AdWords account. If you find a search term that you don't want to show on, add it as a negative. When the match type for a keyword is set to negative, the row is highlighted in red to help you separate the negative keywords from the positive keywords visually. When you click on 'Add Selected Keywords to Account' the system adds both the negative and positive keywords together.

Broad Match Modifier as a match type
In AdWords, to add a keyword as a broad match modifier (BMM) you need to manually type in the '+' symbol in front of each word. In the Keyword Lasso it is present as a different match type and selecting it will automaticaly insert '+' symbols in the keyword. You can see and edit the keyword before adding it as well.

In-line editing of search terms
Sometimes you want to edit search terms before adding them to your AdWords account. This is especially true when you're adding negative keywords. Now when you click on the search term in Keyword Lasso, it becomes an editable text box. Also, you can see all edited keywords highlighted in Yellow in the Optmyzr interface.

Add search terms to different campaigns and ad groups
When you're following a specific account structure you may not want to add the suggested search terms in the ad group they were triggered in. The 'Advanced Mode' in Keyword Lasso lets you do this. You can switch to the advanced mode by clicking the 'Toggle Advanced Mode' button at the top right corner in Keyword Lasso. This will show you additional options to pick the campaign and ad group you want to add the search terms to and clicking 'Move' will show you the search term under the new campaign and ad group in the interface. When you click 'Add selected keywords to account' it will add them to your AdWords account.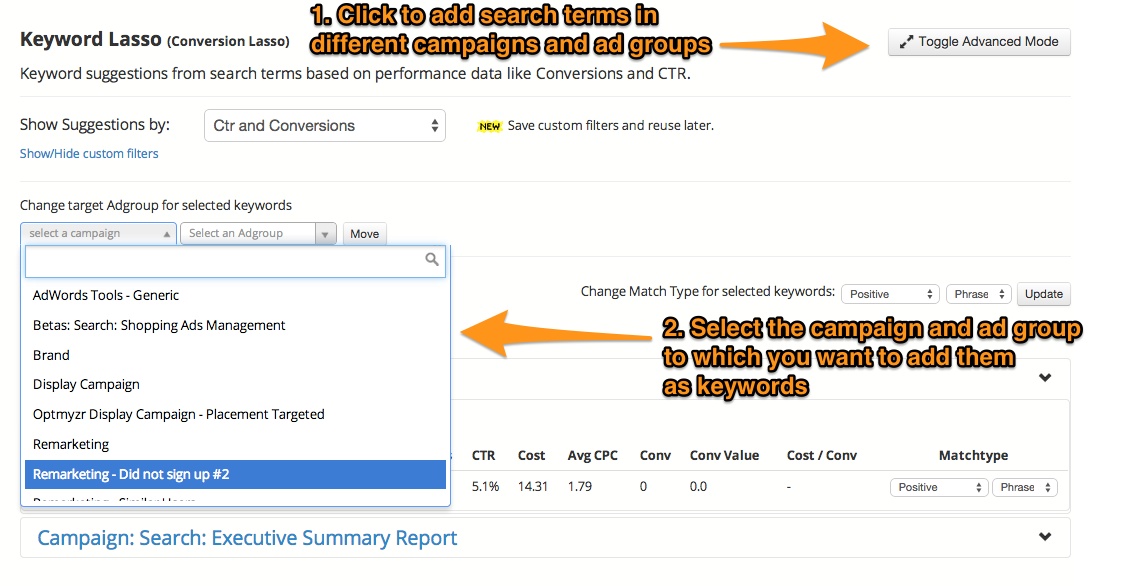 Keyword Notes
The search terms report also gives you ideas for new ad group themes and negative keywords. Now you can make a note of search terms that can be themes for new ad groups or negative keywords by clicking on the icon displayed when you hover over the search term. After you're done, export the list as a csv.