In the dynamic world of Google Ads, ensuring the smooth functioning of your landing pages is paramount. Broken landing pages not only frustrate potential customers, but can also lead to wasted Google Ads budget. This is where Optmyzr's Landing Page URL Checker comes to the rescue. This powerful tool is designed to meticulously scan and verify the integrity of all landing pages within your Google Ads account, helping you maintain a healthy online presence while optimizing your advertising budget.
About the tool
The Landing Page URL Checker is your dedicated ally in the battle against broken landing pages. It scrutinizes landing pages for dreaded 404 errors or any indicators of products being out of stock. Designed as an in-house solution, it ensures you never hit script timeouts or get bogged down by the limitations of external systems or services.
Getting started
Getting started with the Landing Page URL Checker is a breeze. Simply navigate to the 'Monitoring' tab in the Optmyzr interface, and you'll find 'Landing Page URL Checker' listed under the 'LANDING PAGE MONITORING' section. The dashboard offers a clear view of your existing settings, complete with IDs, names, scope, and action buttons for editing, duplicating, or deleting them.
Creating a new setting is straightforward. Click the '+ADD SETTING' button, and a side tray will open, guiding you through the basic settings.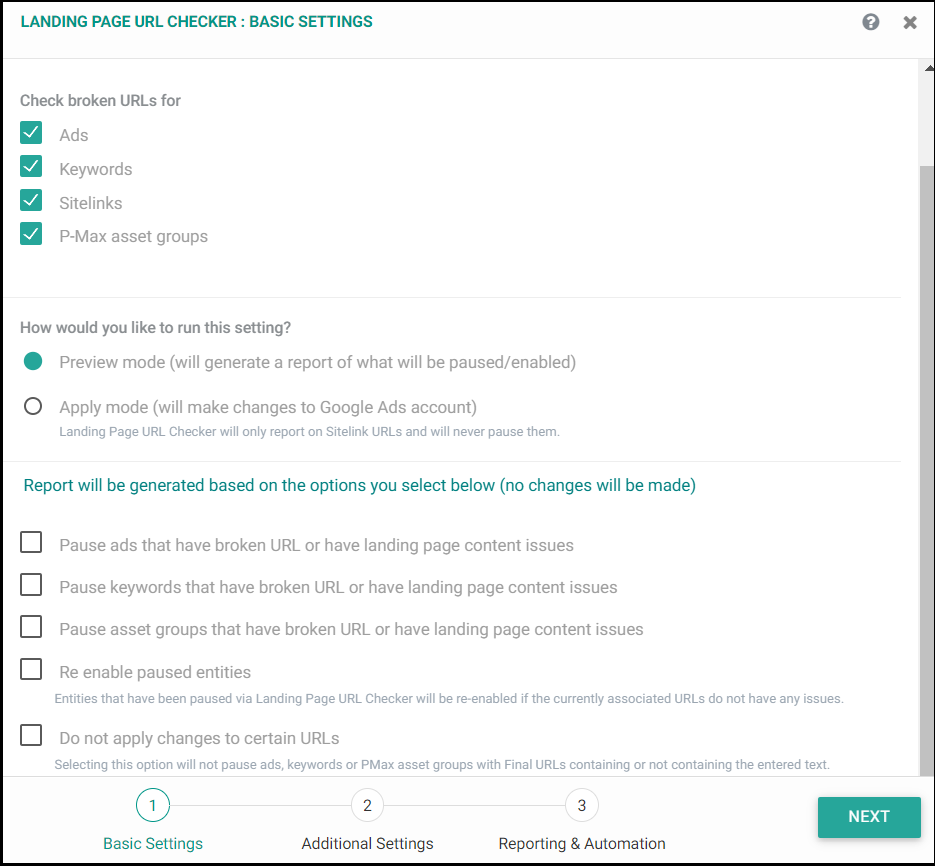 Basic settings
In the initial settings window, you can assign a name to your setting and specify whether you want the tool to inspect URLs associated with ads, keywords, sitelinks, and/or PMax asset groups. This flexibility allows you to tailor the tool's focus to your specific needs.
You also have the choice of running the tool in 'Preview mode' to generate a report or in 'Apply mode' to enable automatic changes within your Google Ads account based on your selected criteria.
In 'Apply mode,' the tool can pause ads, keywords, or asset groups in your account, as determined by the chosen options. Conversely, in 'Preview mode,' the tool generates a comprehensive report highlighting entities with broken URLs but refrains from making any changes.
Additional settings
The Landing Page URL Checker doesn't stop at the basics; it offers a range of additional settings to fine-tune your URL monitoring:
Campaign Name Includes/Excludes: Easily filter campaigns by including or excluding specific keywords (not case-sensitive). For instance, you can focus on brand campaigns by including your brand name in this field.
Minimum Clicks Required for Keywords and Ads: Set a threshold for the number of clicks required before the tool checks URLs associated with ads and keywords.
Text to Monitor: Monitor specific text on landing pages and receive notifications when landing pages contain particular phrases, such as "not found" or "product not available."
Check Special Response Codes: Monitor response codes other than 404, allowing for a more comprehensive analysis of landing page health.
The tool also offers options to check entities with zero impressions, mobile URLs, wrapped URLs, and more.
Reporting and Automation
The final step in harnessing the power of the Landing Page URL Checker is setting up reporting and automation. You can schedule the tool to run at your convenience and specify your notification preferences.
Spreadsheet URL: Receive reports on a new spreadsheet with each automation run by entering "NEW" in this field. Share the spreadsheet results with specified email addresses, including the user who set up the setting.
Email Notifications: Stay informed with email notifications. Configure the tool to notify you and your team members every time it runs or only when specific errors are encountered. This flexibility ensures you're always in control of the information flow.
Conclusion
In a fast-paced digital advertising landscape, broken landing pages can be a costly setback. This tool empowers advertisers to proactively manage their landing pages, ensuring a seamless user experience and maximizing the return on advertising investment. With its user-friendly interface and powerful features, it's an indispensable tool for any Google Ads account holder looking to optimize their campaigns and boost their performance. Don't let broken landing pages drain your budget - take control with Optmyzr's Landing Page URL Checker today.
Note: This feature is part of Optmyzr Core. Not an Optmyzr customer yet? Sign up for a free trial now.