Managing PPC budgets can be a challenging and time-consuming task for advertisers. But that's why we're here for. In this article, we'll show you how to simplify managing your ad budgets to make your life easier. 
We'll explore all the solutions offered by Optmyzr for budget management, learn about their use cases, and identify which tools best suit your specific goals.
1. Use Historical Data to Predict Future Spend.
The Spend Projection tool provides valuable insights into projected spending. By analyzing recent and historical performance and trends, they calculate a projected spend range. This way, you can monitor spending throughout the month, proactively identify potential overspending or underspending and ensure that you stay within your desired budget limits.
The data is available in three different places:
1. All accounts Dashboard: Set monthly budget targets for your connected ad accounts, receive email notifications when accounts overpace or underpace, and get an overview of all your accounts' budget pacing in one place.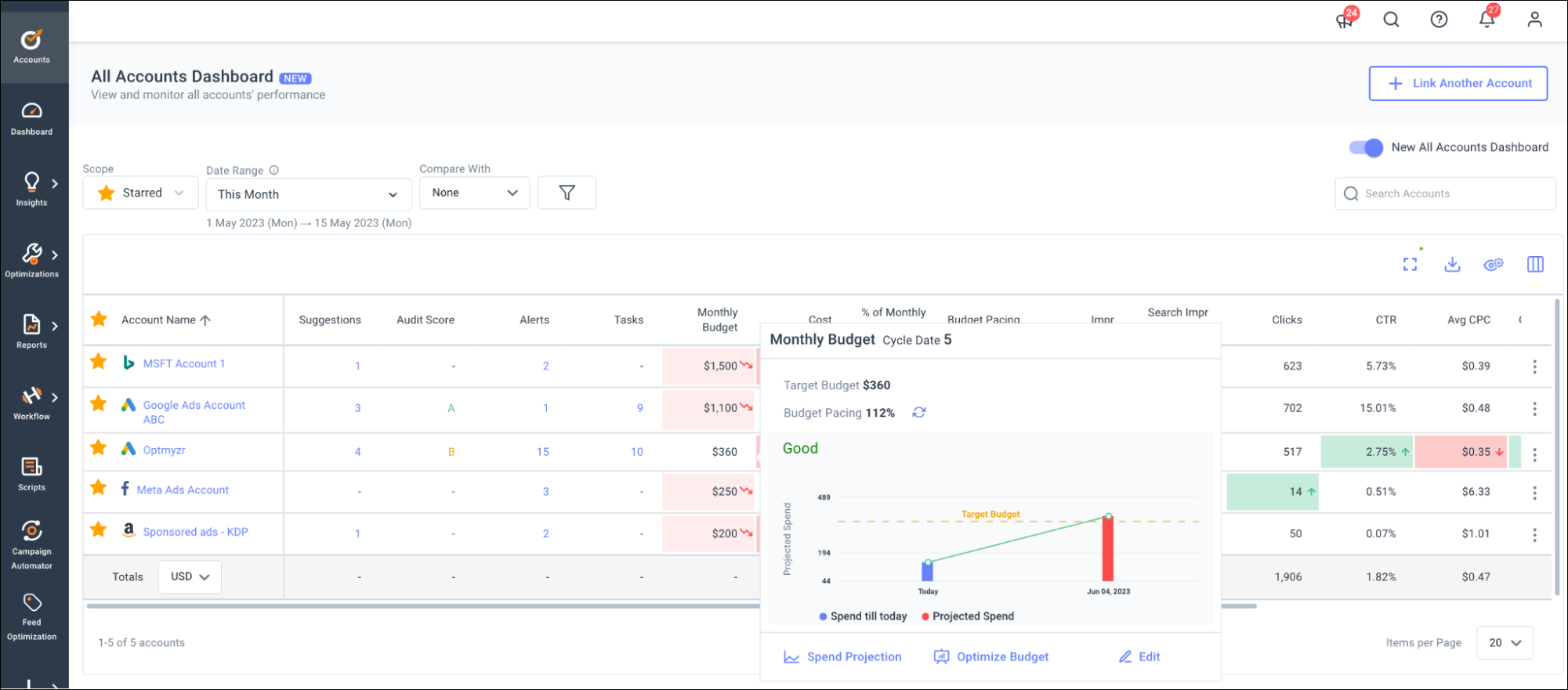 2. Spend Projection tool: If you've specified a target budget for the account on the All Accounts Dashboard, we'll use the same amount as the simulation budget to show you some further insights in this tool. Based on your actual performance we can tell you how you are pacing against your target.
For example, if you should have spent $100 by today but your actual cost is only $90, then you are pacing at 90%, slightly behind where you should be.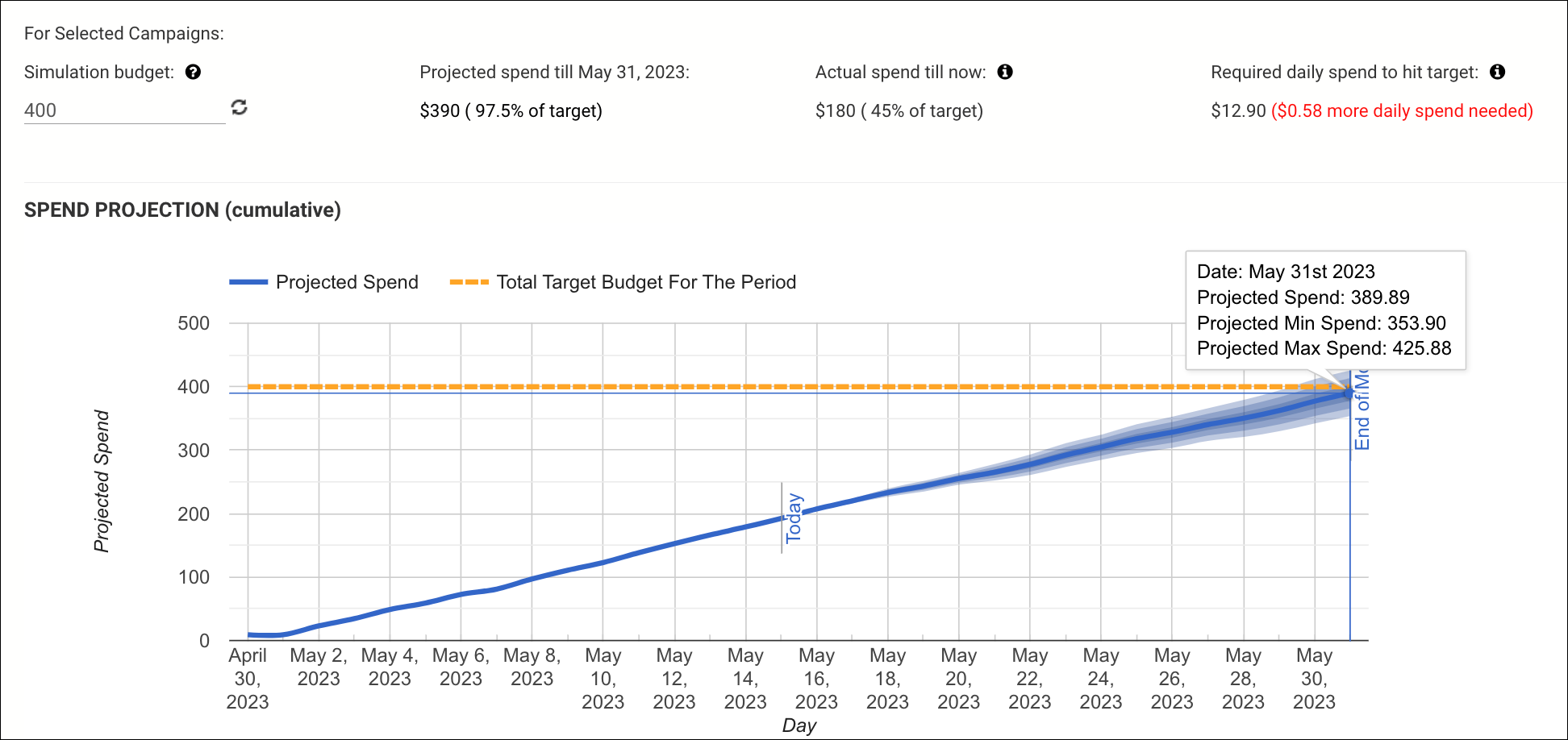 3. Performance Reports: Whether you want to share a projection with stakeholders or simply stay informed about your spend, scheduling a report with the Spend Projection widget ensures that the data is consistently delivered to the appropriate people at the right time. Include visualizations of cumulative and daily spending trends against your spend target.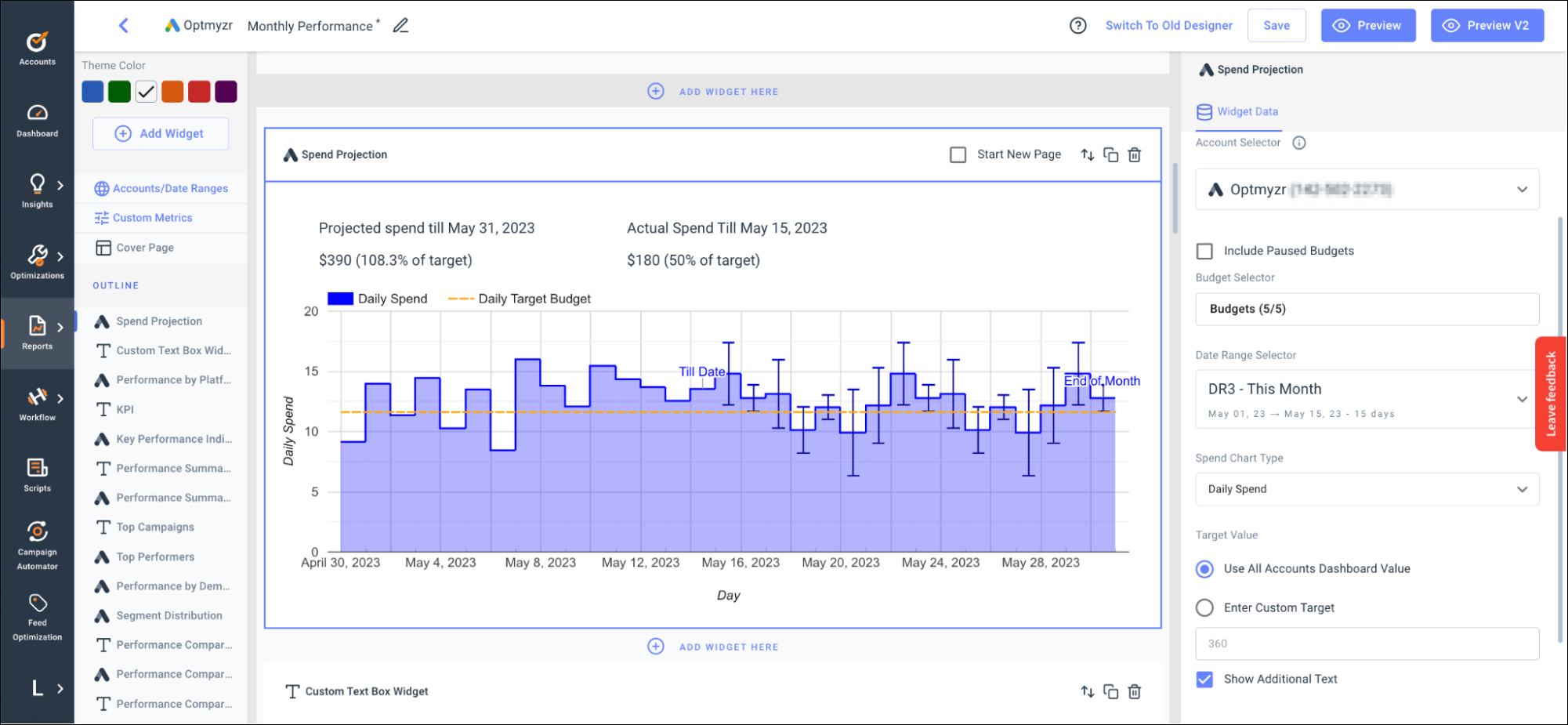 2. Allocate Budget Efficiently for Enhanced Performance.
Optmyzr offers two powerful budget optimization tools: Optimize Budgets (single platform) and Optimize Budgets Across Platforms. Here are the key differences between the two:
| | |
| --- | --- |
| Optimize Budgets (single platform) | Optimize Budgets Across Platforms |
| Easily optimize budgets for one Google Ads or Microsoft Advertising account | Combine budgets from multiple advertising platforms (Google, Microsoft, Meta, Yahoo Japan) |
| Fine-tune daily budgets and find reallocation suggestions to maximize clicks, conversions, or conversion value | Consolidate and manage budgets across platforms, efficiently allocate funds, and pause or enable campaigns as needed |
Translate Monthly Budget Targets into Daily Budgets.
It's important to note that Google Ads and other ad platforms typically operate with daily budgets at the campaign or ad set level, as well as shared budgets that encompass multiple campaigns. Use these optimization tools to bridge the gap between monthly budget targets commonly used by companies and the daily budgets required by ad platforms.
Let's take a couple of examples:
Example 1: Avoid overspending.
In the below example, it becomes evident that the account is at risk of exceeding the allocated monthly budget of $11,000. To address this issue and effectively manage costs, you have the option to select specific performance metrics for analysis and experiment with different daily budgets. This enables you to observe the changes in the Projected Spend column and make necessary adjustments to ensure optimal budget allocation.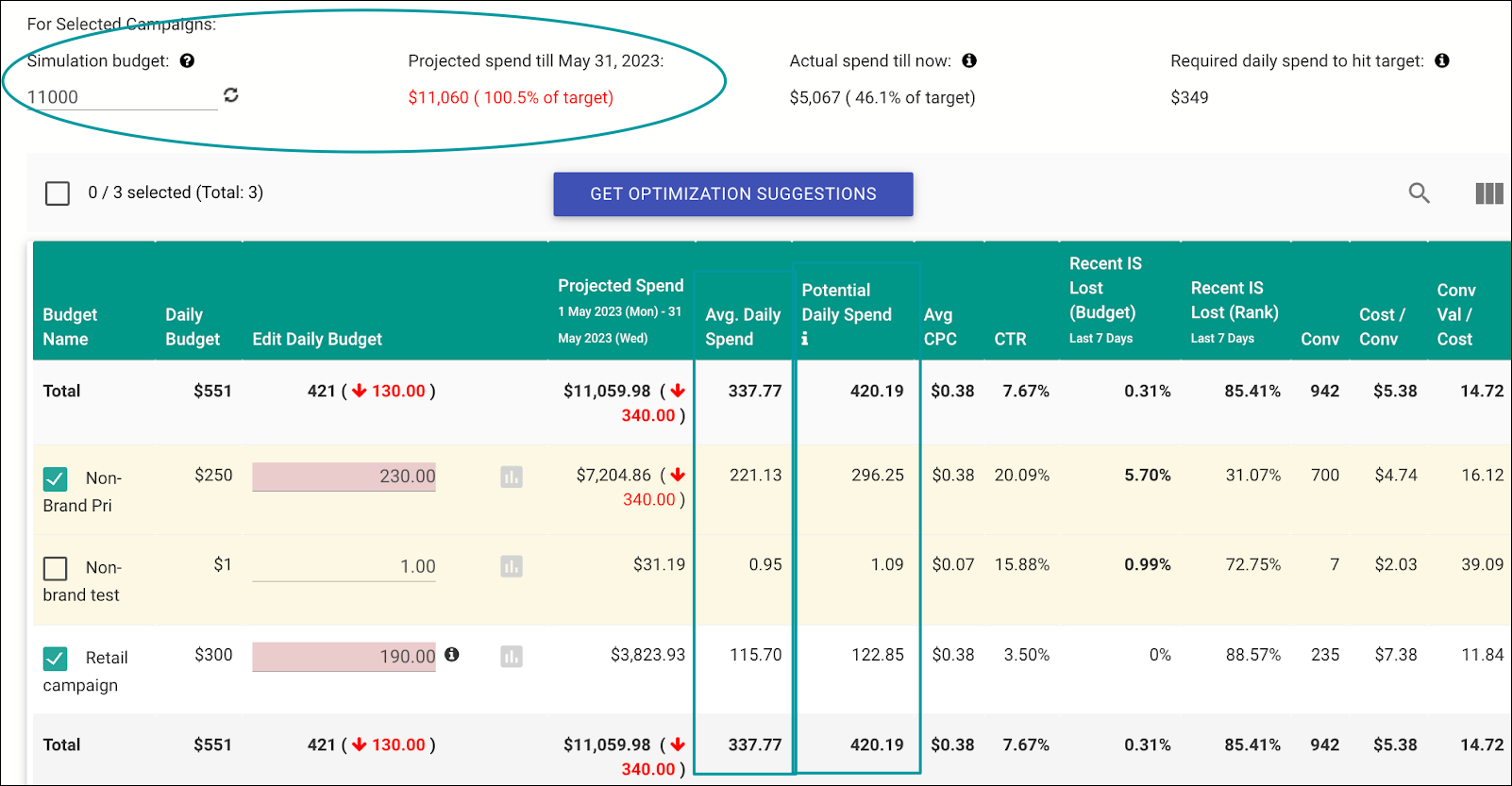 To optimize costs without compromising conversions, consider reducing the daily budget for the Retail Campaign, which has lower potential and average daily spend compared to the budget amount. Meanwhile, note that the Non-Brand Pri campaign is currently the highest spender. By prioritizing budget reductions on the Retail Campaign, you can effectively control costs while minimizing the impact on conversions.
Example 2: Avoid underspending.
In our second example, we have clicked on the 'Get Optimization Suggestions' button, which provides us with various spend scenarios to consider. By analyzing these scenarios, we can evaluate the impact of reallocating budgets on campaign performance. Use this feature to explore different budget allocations and assess how they would influence KPIs.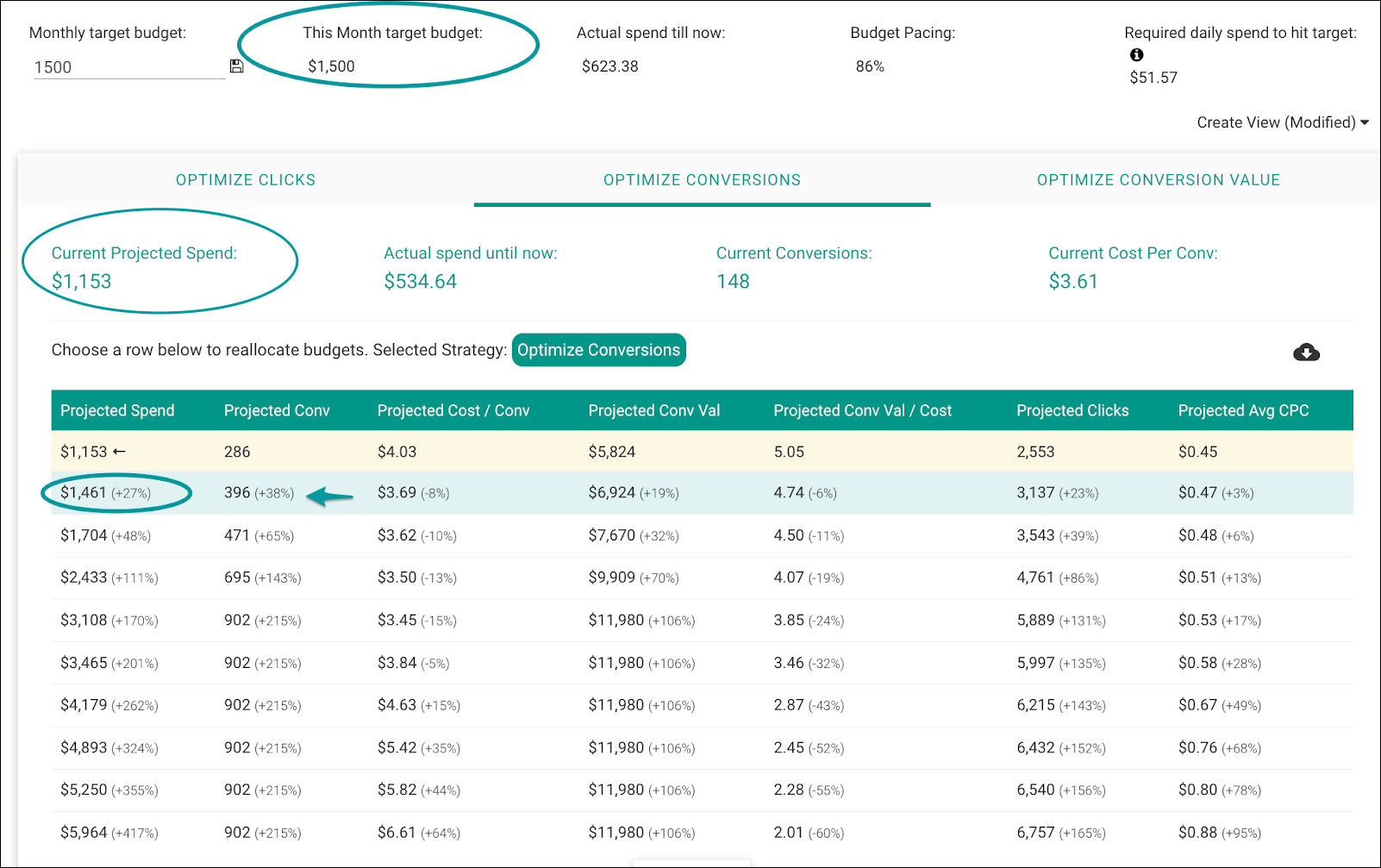 In this scenario, the budget group is unlikely to reach the $1,500 monthly target. To optimize budget allocation and maximize conversions, we must identify campaigns where excess budget can be effectively utilized. By selecting the second row, we can explore suggestions for new daily budgets in specific campaigns that can potentially generate 110 additional conversions by month-end. Implementing these suggestions would increase overall spend by 27% and bring us closer to our monthly target.

This approach allows us to strategically allocate the excess budget where it can generate the most value and help us achieve our desired goals.
Try Optimize Budgets (Single platform) now.
Try Optimize Budgets Across Platforms now.
3. Identify and fix lost impression share across accounts quickly.
Optmyzr Express shows you bite-sized suggestions for all of the most important aspects of your ads for continual account improvement.
The Fix Impression Share Lost Due To Budget - Campaign Budget express optimization focuses on boosting the budget for campaigns experiencing impression share loss due to budget constraints. By increasing the budget, you can capture a greater number of impressions and improve visibility. The tool provides initial suggestions and allows for further adjustments, giving you flexibility in optimizing your campaign's budget allocation.

You can breeze through the suggestions across accounts in a matter of minutes. And make sure to check out the other Express optimizations available for your favorite accounts while you're at it.
4. Automated Budget Control to Prevent Overspending.
Flexible Budgets is an Enhanced Script™ for Google Ads that provides automation for budget management. If you've been spending time manually checking budgets on a daily, weekly or monthly basis to make sure you're not overshooting the target, this script will automatically do this for you every single hour. 
By setting up this script, you can automate the process of pausing campaigns, ad groups and keywords and labeling them when the cost exceeds the specified maximum. You can also have the script re-enable the same entities when your budget resets.
Let's take a couple of examples:
Example 1: Pause campaigns when weekly spend cap is reached.
Here's how you'd set this one up to prevent an account from spending significantly more than $5,000 per week: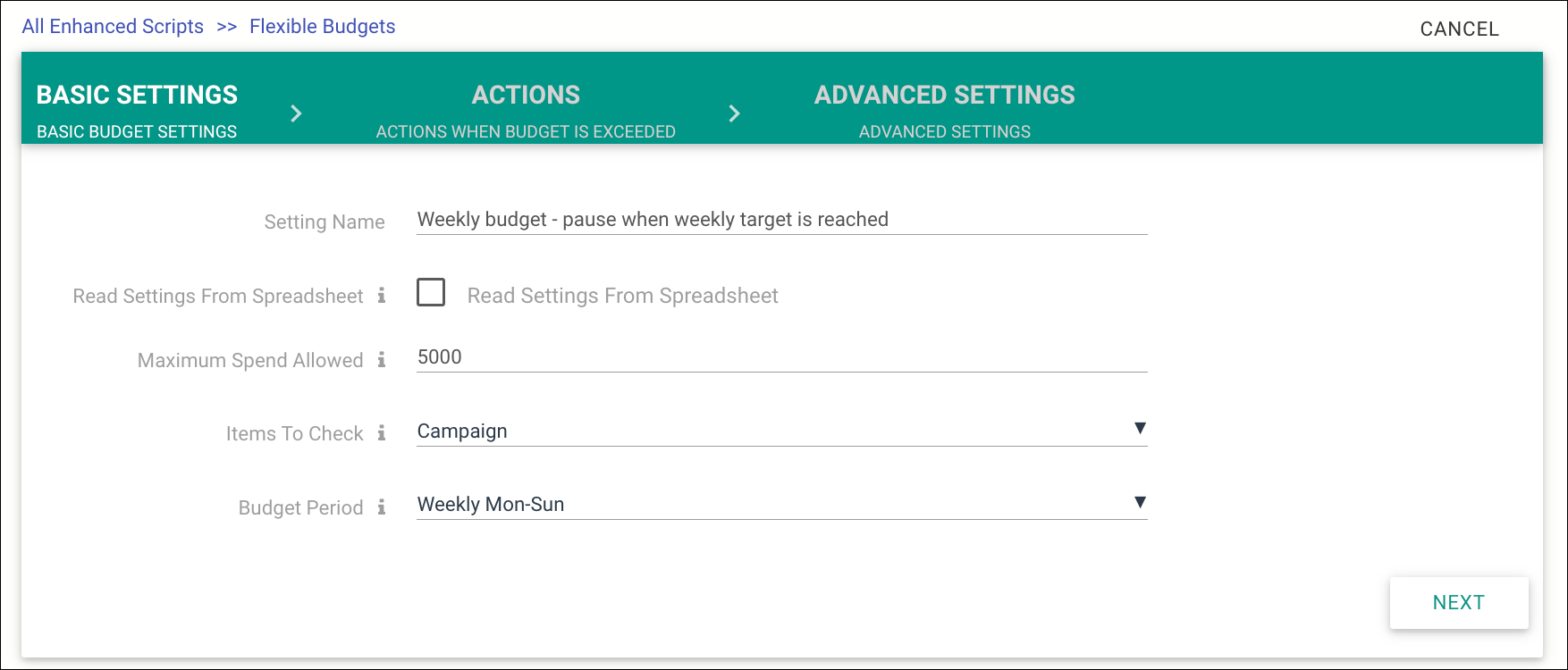 This script can be copied-and-pasted into Google Ads (either at the Manager/MCC or individual account level) and scheduled to run automatically every hour. 
Example 2: Test new keywords without exhausting too much budget.
While this script is very useful for monthly budget management, it can do a lot more. For example, you can apply budgets at any level of the Google Ads hierarchy: account, campaign, ad group, keyword, or ad. You can set budgets to be monthly, weekly or daily.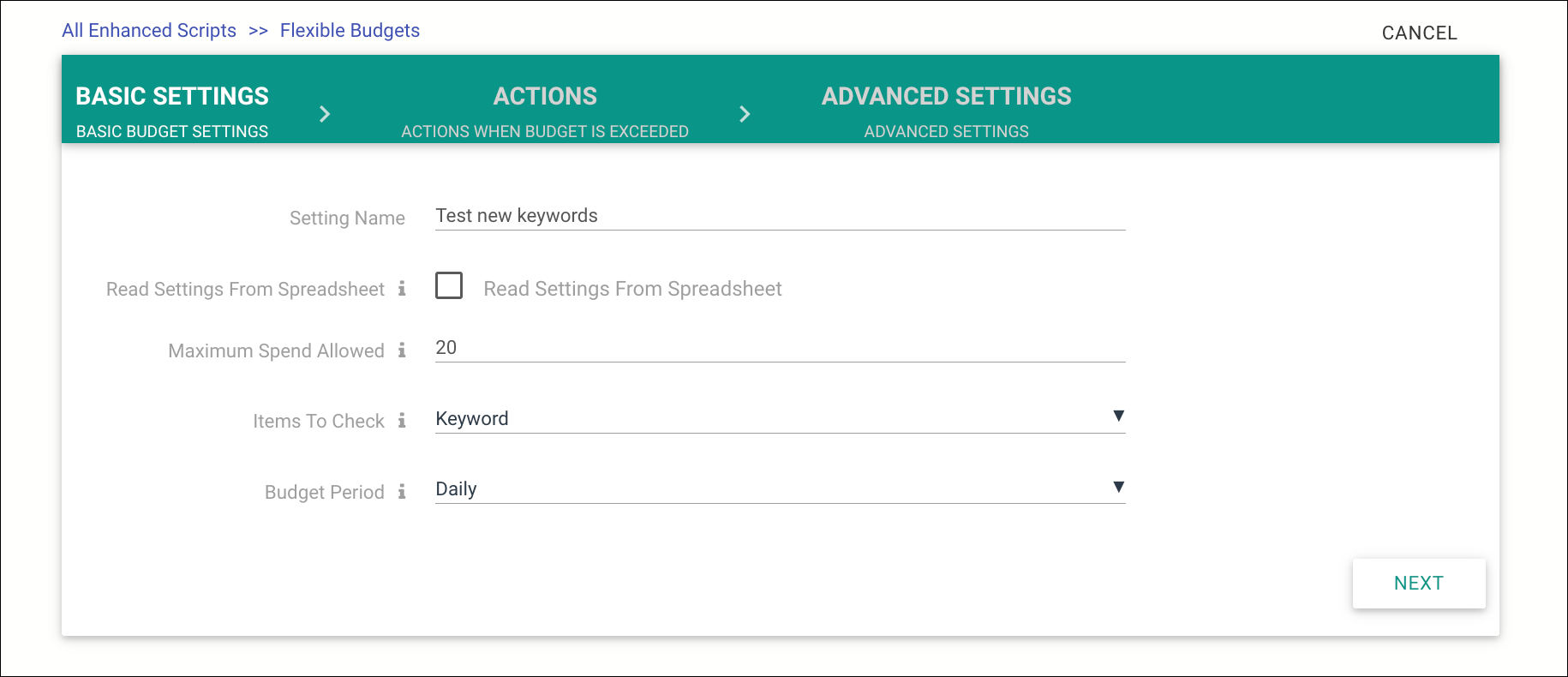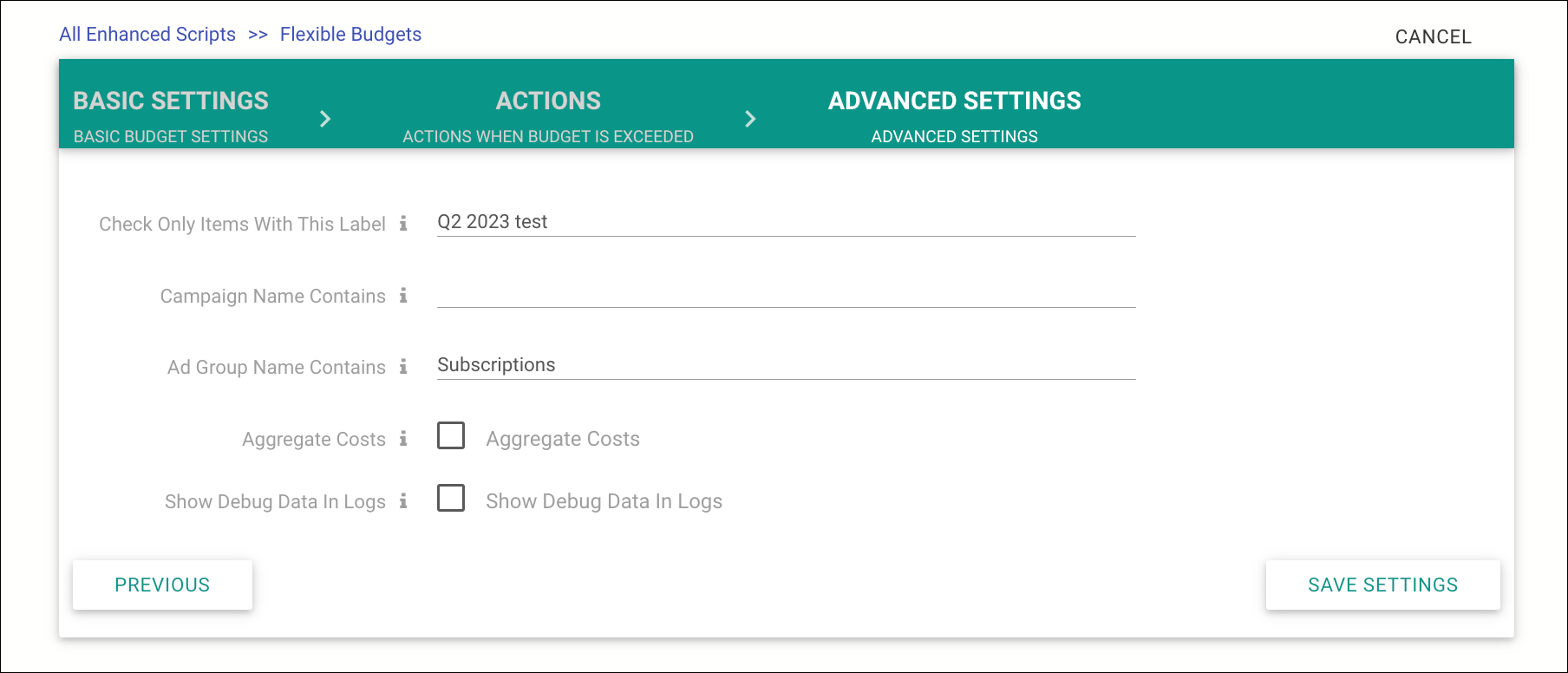 An example use case is to enforce a daily budget for a set of experimental keywords (which you have labeled) so that they are not taking up too much budget from old keywords you already know to be performing well.
5. Avoid Underspending with Smart Adjustments.
With the second budget management Enhanced Script™, you can effortlessly stay on track with your clients' budget targets and ensure optimal spending without the hassle of constant monitoring and manual adjustments. By combining this script with Optmyzr's solutions to stop budgets from overspending, you gain better control over your monthly spend.
Distribute the remaining budget intelligently.
One of the standout features of this script is its ability to intelligently distribute the remaining budget across the days left in the month, whether you're working with campaign or shared budgets. You can choose from different allocation methods like our advanced approach that leverages historical data to allocate higher budgets on days with greater potential for clicks.
For example, if Mondays typically see higher search volumes and engagement, the script can allocate a larger budget for that day.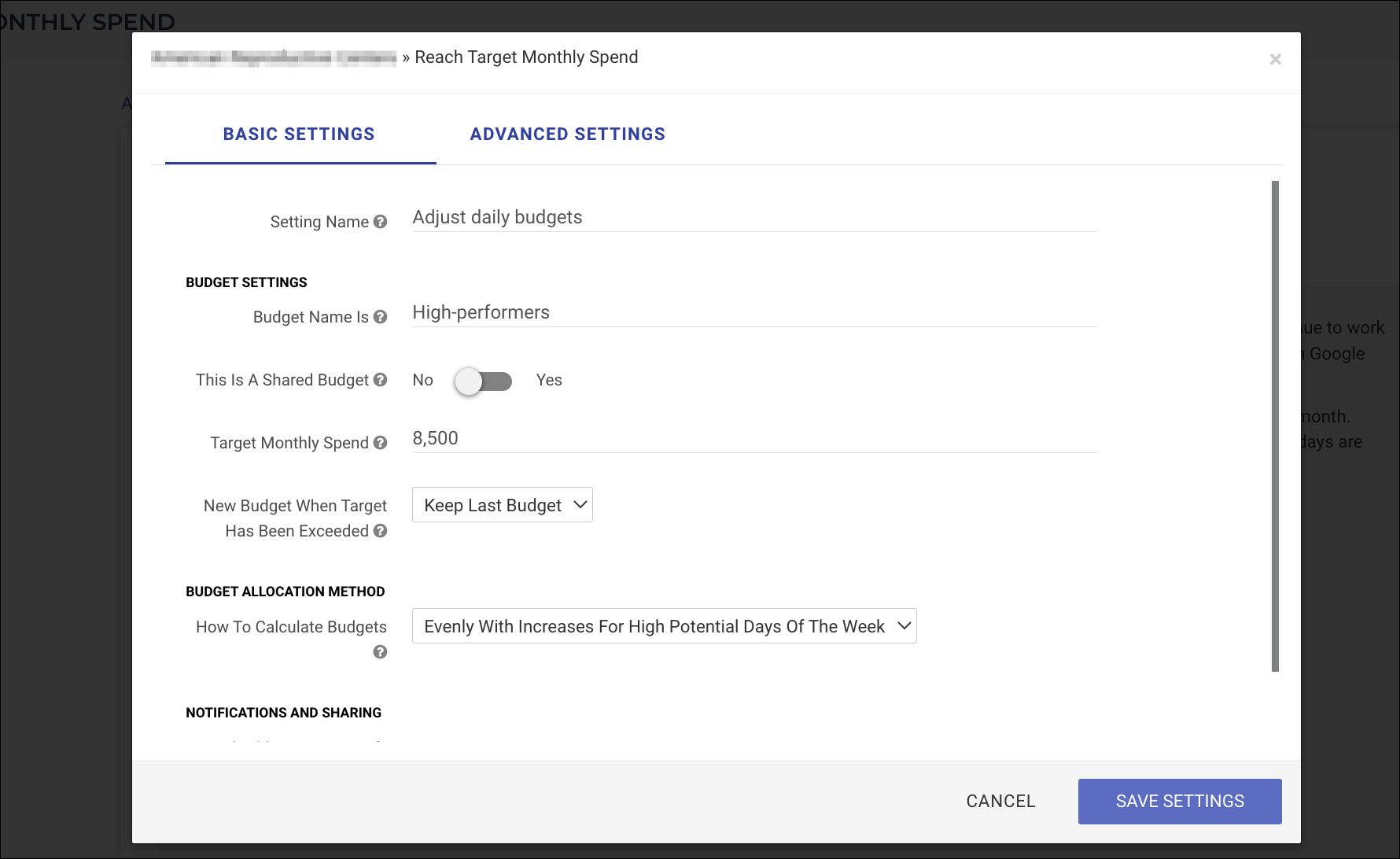 To fine-tune the script's behavior, you can adjust settings such as the number of weeks of data to consider for determining day-of-week spend. Additionally, you have the option to carry over any unused budget from the previous month, ensuring efficient budget utilization.
With the Enhanced Scripts™, you can focus on delivering exceptional results for your clients while staying within their budgetary constraints. It's a user-friendly solution that empowers you to optimize budget allocation and drive engagement.
Allocate different budgets for different days of the week (and other rule-based optimizations).
With the Rule Engine, you have the power to tailor your daily budgets to align with performance metrics and even external factors like the day of the week.
Imagine having the ability to fine-tune your budget allocation with precision. The Rule Engine empowers you to do just that; you can set logical rules that automatically adjust your daily budgets based on specific criteria and schedule your strategies to run on partial or full automation. 
Here are a couple of examples.
Example 1: Lower budget for weekends and holidays.
Depending on your business, you may see lower conversion rates or potential customer activity on specific days - e.g. on public holidays or certain days of the week.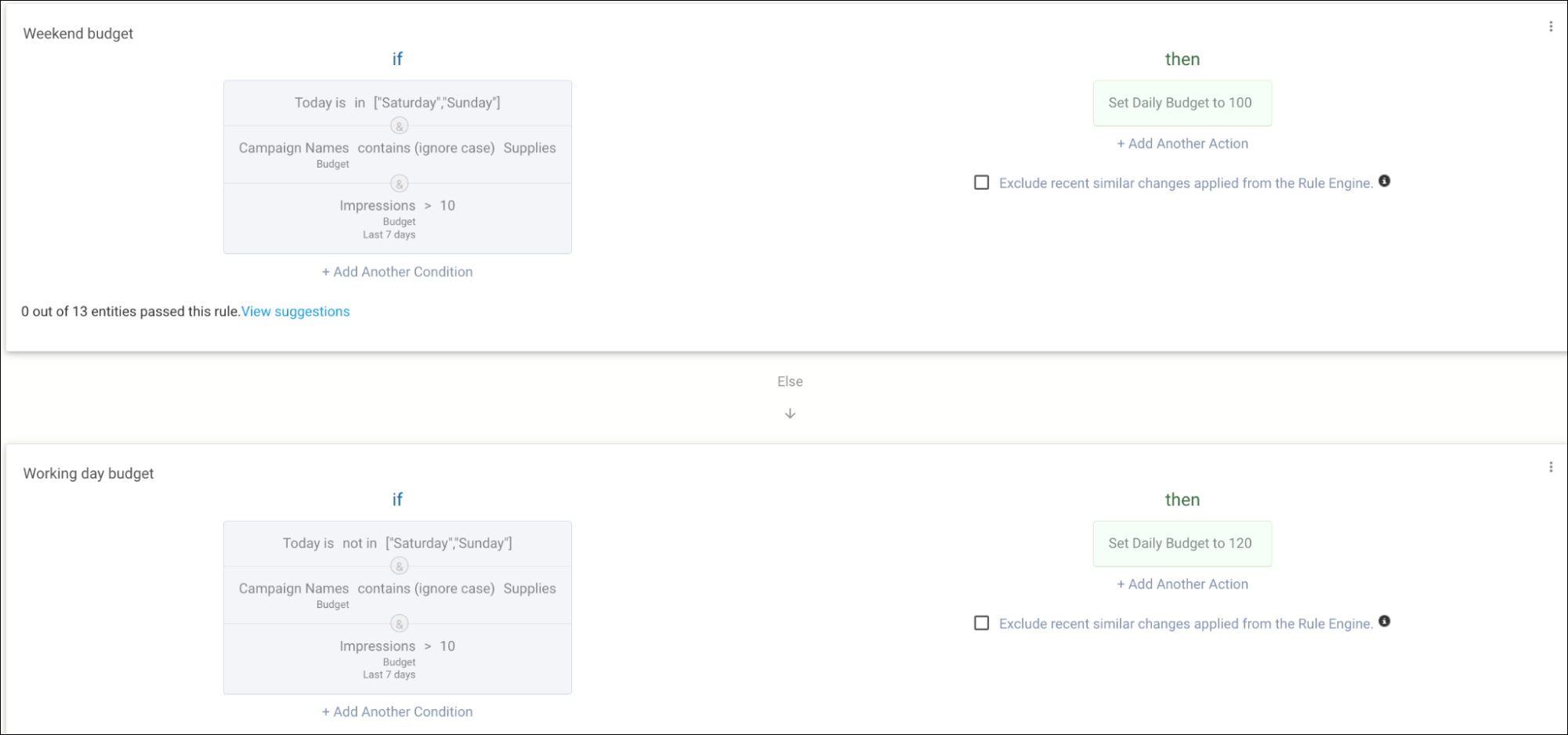 To maintain a consistent ad presence throughout the week while prioritizing higher budgets for weekdays, you can easily implement a rule similar to the example provided above: "Allocate a daily budget of $100 if today is Saturday or Sunday. For all other days, set the daily budget to $120."
By employing this rule, you gain precise control over your budget allocation, tailoring it to specific days of the week. This approach enables you to maintain visibility and engagement over the weekend while strategically allocating higher budgets to weekdays.
Example 2: Increase budget for high-return, low-CPC campaigns.
Using the if-then-else statements, you can increase your daily budget on days when the cost-per-click (CPC) is low and the return on ad spend (ROAS) exceeds a certain threshold.

In this scenario, the objective is to identify all the campaign-level budgets that meet specific criteria in order to optimize their performance. With a rule like this, you can increase the daily budget by 10% for any campaign budget that has exhibited the listed characteristics within the last 14 days: 
ROAS exceeding 500%
an average CPC lower than $1.10
a daily budget below $330
currently underperforming (underpacing) with a spend utilization of less than 70%. 
Additionally, as you have full control over the conditions and actions, it's easy to define limits within which the budget changes need to happen.
By implementing this rule, we can effectively identify campaigns that demonstrate strong ROAS and cost efficiency while having room for improvement in terms of spend utilization. This allows us to focus on optimizing these campaigns to increase their performance and maximize the return on investment.
Budget management doesn't have to be daunting
From tracking spending across multiple accounts to optimizing budgets for maximum performance, these tools offer automation, insights, and control.
We hope you'll give them a try. We built these based on our customer feedback and we'd love to hear more feedback from you about how else we can make these more useful, or what completely new methodologies you wish Optmyzr would build next.
If you're not an Optmyzr user yet, consider signing up for our 14-day free trial to try all these tools and check how they fit your needs.
Related reading: Optmyzr Spend Projection vs. Google Budget Reports: More Than Just Visualization