Today you will see some new tools for managing Shopping Ads in Optmyzr's One-Click Optimizations™ menu. These new and updated tools help e-commerce advertisers manage every aspect of advertising an e-commerce business on Google AdWords. Both the setup and management of shopping ads are made more efficient so that you can get better results with less effort.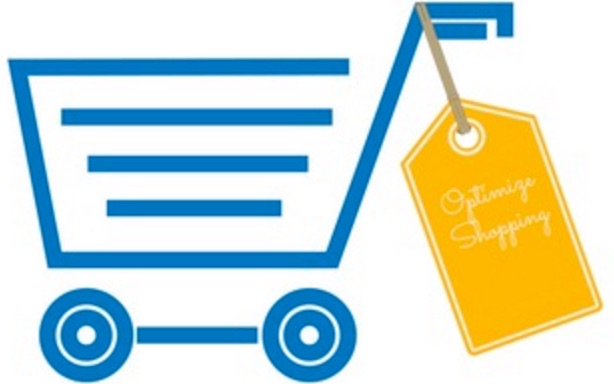 The following tools are part of our updated Shopping Ads management suite:
Shopping Campaign Builder
You specify how you want your products to be segmented in AdWords. Our tool automatically builds out the associated structure, handling the creation of thousands of very granular ad groups and product groups.
This tool speeds up the creation of well-structured shopping campaigns, making it possible to conduct A/B tests and experiment with different structures. Without the Campaign Builder tool, a merchant selling ten brands, and products in ten categories and ten subcategories would have to load 1,000 pages in AdWords to create the same structure that can be set up with Optmyzr in just six clicks.
Video Tutorial | Try now | Read more
Shopping Campaign Refresher
To achieve the best return-on-ad-spend (ROAS), you have to set the right bids for all products you advertise with Google Shopping ads. This level of bid control requires that product groups in AdWords correctly reflect the range of goods you sell. Because ad groups in AdWords don't automatically get updated based on changes in the merchant feed, Optmyzr has created this tool to make it easier for you to sync a store's inventory with AdWords.
In AdWords, product groups are created based on a snapshot of the data in a product feed. Because this data changes dynamically based on inventory, the AdWords structure can quickly become out of sync. Catching mismatches between what is sold and what is managed in AdWords is time-consuming, manual, and often overlooked by advertisers. Accounts whose bids are poorly managed due to the complexity of maintaining a correct structure can suffer from decreases in ROAS.
Optmyzr's Shopping Campaign Refresher analyzes the AdWords Shopping campaign to determine its structure and compares this with the data in the Merchant Center feed to provide an automated optimization proposal that corrects any mismatches.
Video Tutorial |Try Now | Read more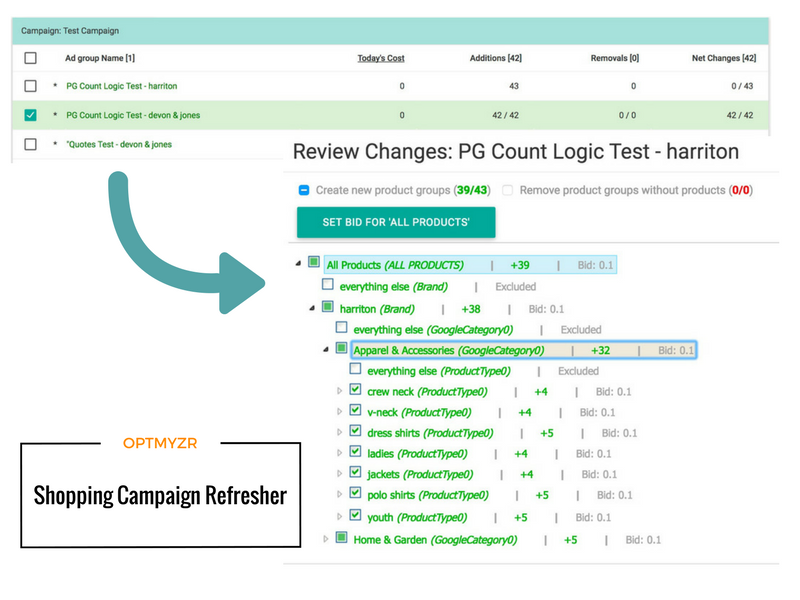 Bid Management for Shopping Ads
Optmyzr now provides three ways to manage CPC bids for product groups.
Bid by Rules (Rule Engine)
Complex bidding logic can be automated with our Rule Engine. The Rule Engine can combine data from different entities, and date ranges with data maintained in Google Sheets. The data can be used to create a series of if-then-else statements, giving you the complete flexibility to create advanced bidding logic.
We have provided default rules for managing bids based on ROAS and CPA, and you can enhance these rules with your own insights about your company and industry.
Video tutorial | Try now | Read more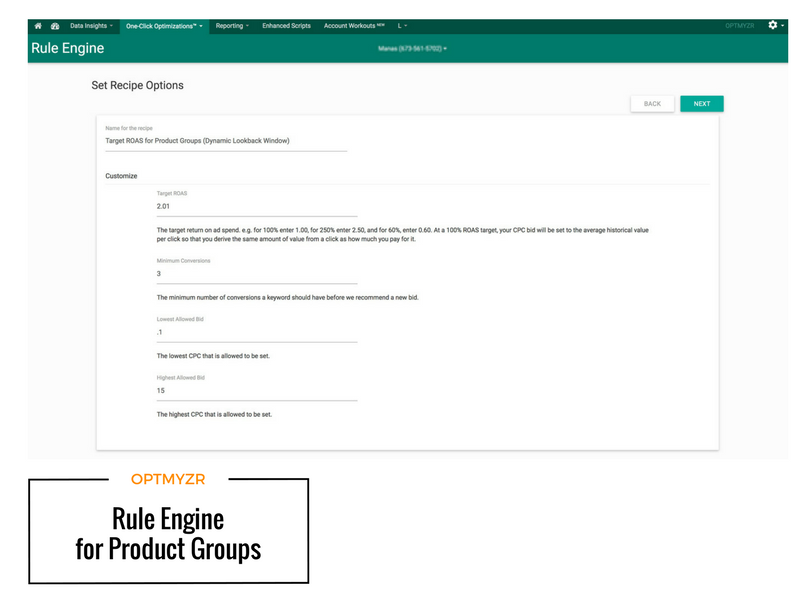 Bid by Product Group (Shopping Bidder)
Quickly identify product groups that meet basic profitability criteria and apply bid changes in bulk with this tool. When there isn't enough data to make bid management decisions, the tool can help reach the required data levels by aggregating metrics based on commonalities between products. For example, advertisers who have structured product groups by brand could use brand-level metrics to make bid changes for items where data sparsity is an issue.
Video tutorial | Try now | Read more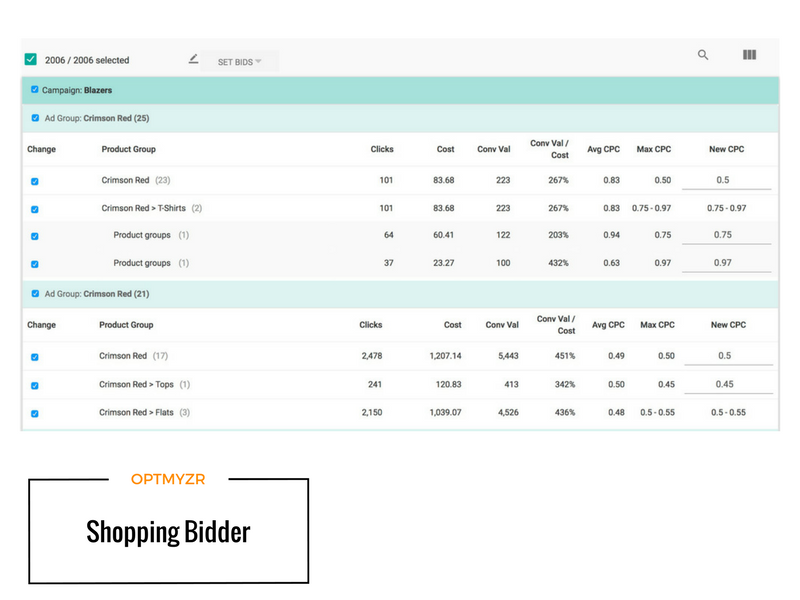 Bid by Attribute (Shopping Attribute Bidder)
The most powerful way to bid for Shopping Ads is with the new Shopping Attribute Bidder. Regardless of the structure in AdWords, you can view shopping performance by any attribute of your merchant center feed (even by color or size). If product groups are divided by item id, you can act on insights by updating bids from the same page where you got the insight.
For example, a shoe retailer can get instant insights into what size shoe has the best ROI. They could further refine their analysis by analyzing a combination of multiple attributes, like shoe size and color.
What makes Optmyzr's tool unique is that insights can be turned into intelligent optimizations unlike in AdWords where the analysis and bid changes happen in separate places, and where they are limited by the way an account is structured.
Video Tutorial | Try Now | Read more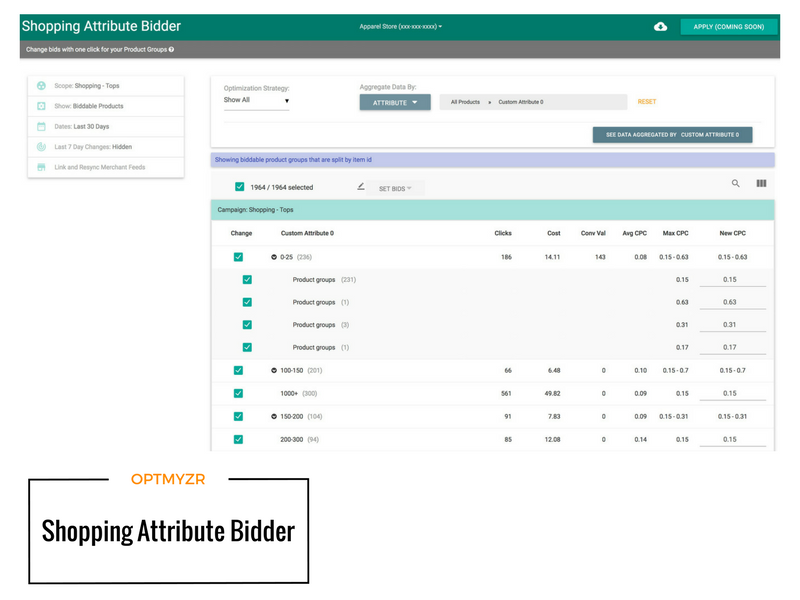 Bid Adjustments
Optmyzr's tools for optimizing bid adjustments for dayparting, device, and geography are all compatible with Shopping Campaigns.
Budget Pacing
Our Enhanced Scripts™ for reaching a target budget without exceeding it are compatible with Shopping campaigns as well as many other campaign types.
The lifecycle of a Shopping Ad
We covered the three stages of managing Shopping ads in a recent blog post. Whether you need to build, update, or optimize shopping ads, Optmyzr now makes that easier than ever.
If you're relatively new to managing shopping ads, you might enjoy our 3-part series on SearchEngineLand. Part 1, part 2, part 3. Many of the concepts have evolved but this series of articles lays out many of the basics you should understand before you can become proficient in managing shopping ads.
We hope you'll try out our new and updated tools and let us know how we can help make your shopping ads even more successful.