Anyone who has worked with Optmyzr knows our innovative platform has greatly streamlined and automated Pay-Per-Click campaign management for Google AdWords. Many marketers who work with our innovative PPC Management Software have seen significant improvements in campaign performance and agency profitability.
We now offer much of that same automation to support Bing Ads management for agency and in-house marketers alike. PPC pros can tap the power of machine learning and artificial intelligence to help make Bing Ads accounts more effective and profitable – much the same way they use Optmyzr for AdWords.
Specific features rolled out for Bing Ad management include an intuitive UI that brings together key PPC management tools in one package:
Budget and KPI monitoring: Marketers have access to powerful visualizations and alerts to track and manage against key metrics, such as conversions, return on ad spend (ROAS) and cost per conversion.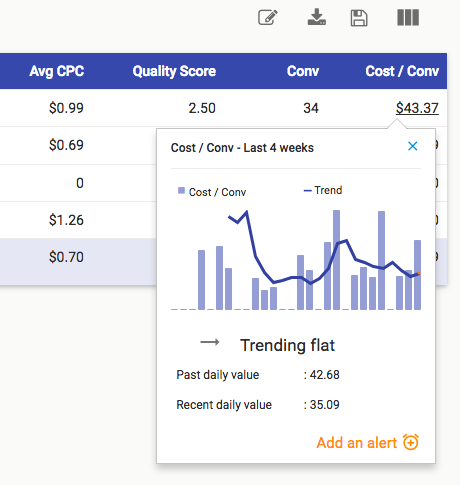 Ability to find new keywords and create single keyword ad groups (SKAGS): Optmyzr's intuitive Keyword Lasso tool allows One-Click Optimization™
, which automates analysis of search terms and identifies higher performing search queries. Previously only available to support AdWords accounts, the Keyword Lasso now allows the same ability to identify optimal keywords and create new ad groups that support SKAG ad group structures.
New ad creation in A/B testing: Optmyzr now extends ad creation and A/B testing for Bing Ads management. Marketers benefit from automated suggestions for ad content based on what has worked in campaigns.
Hour-of-week performance optimization: A new Hour of Week Bidder for Bing gives PPC pros recommended hourly bid adjustments, based on conversion and cost goals as well as other variables. Ad schedules can be changed in bulk, giving marketers greater ability to turn off ads when they are not needed.

Search term N-grams for Bing: This tool allows marketers to gain quick insight into long-tail search behaviors, helping to minimize wasted spend and improve results by unearthing words (N-grams) that lead to wasted spend.
Landing page analysis: PPC pros can now benefit from aggregated performance data for landing pages across Bing campaigns. This helps understand which pages perform well and gives insight into improvements that can be made to landing pages that have low conversion rates.
Geo HeatMap analysis: Optmyzr now brings powerful visualizations of Bing Ads geo data via an interactive heatmap. Marketers can tap this information to analyze traffic and conversions based on location, allowing more strategic budget allocation right down to the city level.
The above mentioned features are available to try out in Optmyzr. Use this link to access tools for Bing Ads accounts.
Our developers have enhanced marketers' abilities to optimize Google AdWords campaigns over the last several years. Of course, Google still dominates the PPC landscape, but Bing has gained market share for six consecutive years. As a result, many marketers now manage similar campaigns across both platforms. Our objective is to help marketers improve efficiency and profitability of their overall PPC initiatives.
Stay tuned for additional Bing-specific functionality as we move through 2018. We are working on additional ways marketers can extend instant optimizations and gain quick insights into their PPC programs.