Hands down, Google AdWords is one of the most complete advertising platforms available today. From the day it was released (October 23, 2000) to this day, the Google team has worked remarkably hard to offer the perfect experience to both the user and the advertiser.
But nothing is perfect, is it?
Despite the effectiveness of the tool and its superior ROI, many of us still struggle to unleash the real potential of AdWords PPC. One of the primary culprits is the lack of understanding about the different features and tools available.
In 2016 alone, Google added 56 new features to AdWords. Add to this the fact that many updates are not publicly announced, and you'll understand why so many advertisers find it tough to take full advantage of the platform.
But what if I tell you there's a way to never miss on a new AdWords feature again? A simple process to find even the most obscure features and beat your competition as a result?
Well, that's what this post contains.
1. Use Feedly to track major publications
It's not a big secret that major publications—like Search Engine Land, Search Engine Journal, or PPC Hero—tend to be the first on publishing the latest news in the industry. Some of the most influential people in the PPC field (including former Google employees) write for such websites, so it's to be expected.
If you want to be up-to-date with the newest AdWords features and trends, keeping a close eye on this kind of websites is not a bad idea.
The thing is, top-tier sites produce a lot of content. Search Engine Land alone publishes between 4 and 5 new articles per day, excluding weekends. That's 80 to 100 new articles per month, from just one site.
Sure, you don't have to read all those articles, right? You are only interested in AdWords related news. But assume you're tracking three or four of these sites. In this case, you'd have to search through hundreds and hundreds of articles per month to find the true gems. It doesn't matter how efficient you are, you wouldn't keep up.
Here's where Feedly comes in handy. In short, this tool helps you do three things:
• Track and organize websites
• Filter content based on popularity
• Discover sites in your industry
This means that you can find all the news, updates, trends and guides from your favorite websites in one single place. And since you can sort content based on popularity and date of publication, this is an excellent way to separate the wheat from the chaff and focus on the topic that really matters to you: Google AdWords.
How to use Feedly to find relevant AdWords news
Setting up Feedly is simple, first add some sources to follow: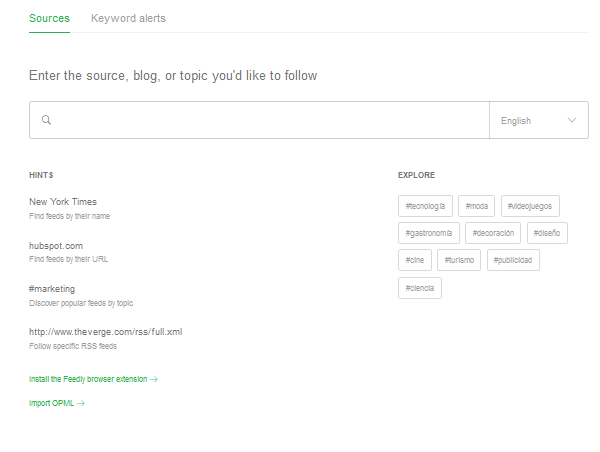 In the search bar, enter the URL of the website you want to track. If you'd like to follow Search Engine Journal, for example, you'd enter "www.searchenginejournal.com."

If the website you're searching for covers more than one topic—say social media, paid marketing, and SEO—Feedly will display each topic separately, as if they were completely different websites. Make sure to follow all the categories that you're interested in. To do it, click the "Follow" button located at the right side of each category.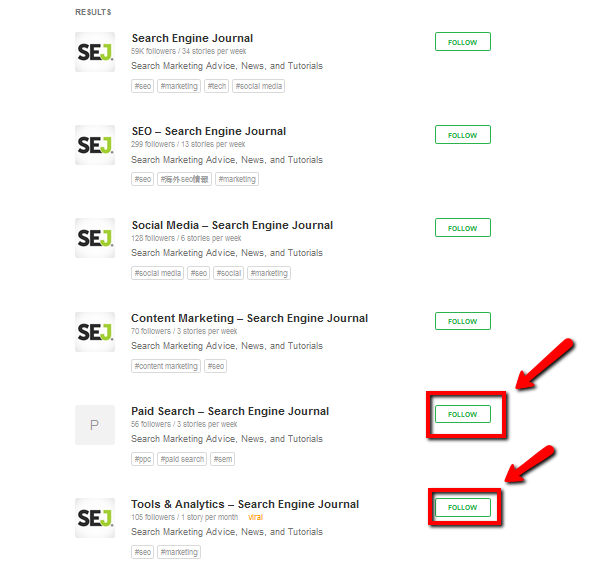 Since this is a new account and you have no collections, Feedly will ask you to create one. Collections are an excellent way to stay organized and never miss on the important news from the websites you're following.
Name your first collection accordingly and then click "Create."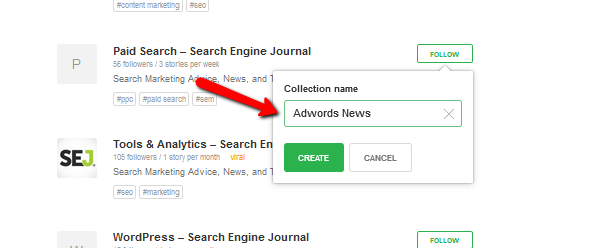 Note: To add more websites to any of your collections, just click the "Follow" button and select your desired collection.
Now, in case you don't know what sites to follow, some examples of publications that post relevant AdWords news are:
• Search Engine Land
• Search Engine Journal
• PPC Hero
• Entrepreneur (Google AdWords News & Topics Section)
• Search Engine Watch
• Huffington Post (Google AdWords Section)
• Marketing Land
• The Search Herald
• The SEM Post
To find even more sites, visit sem.alltop.com.
So now you're following the cream of the crop of PPC blogs, and I'm sure you'll find some gold nuggets. However, sometimes you need to dig a little bit deeper to find the entire gold mine.
The fact that you are tracking top-tier websites doesn't guarantee you won't miss out on a relevant AdWords story. Over 2 million blog posts are published every day, some of which could be of great value to your business. Without the right tool, you couldn't possibly find them.
That's the reason I want to introduce you to ContentGems, a content discovery tool I recently invested in.
ContentGems works similarly to Feedly, but instead of tracking websites, you track keywords, and the tool shows you the most popular content related to such keywords. This ensures you never miss an important story.
How to use ContentGems
First, start a free ContentGems account and set up a new interest to help you organize your keywords based on topics.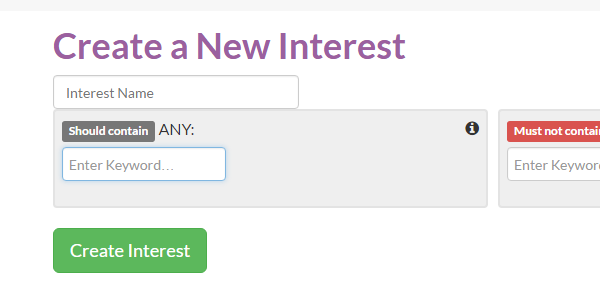 One of the things I love most about this tool is that you can filter your results with three different keyword filters:
• Should Contain ANY — results can contain any of the keywords you enter in this filter
• Must NOT Contain ANY — results can't contain any of the keywords you enter in this filter
• Must Contain ALL — results must contain all of the keywords you enter in this filter
These filters will help ContentGems find the most accurate results for your search query. Take a look at this screenshot: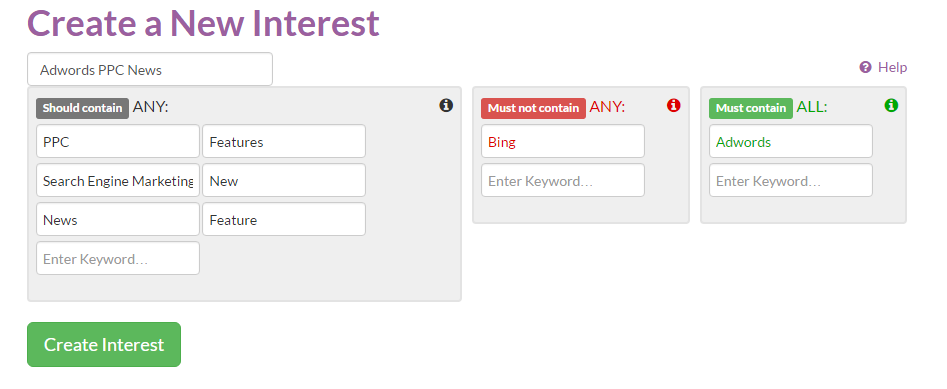 In "Must contain" filter, I added the keyword "AdWords" because I'm only interested in content that's directly related to AdWords marketing.
Also, at this moment, I don't want to find anything related to Bing advertising, so I added the word "Bing" in the negative keywords filter.
Finally, in the "Should Contain" filter, I added six keywords that will give ContentGems a hint of the kind of content I'm looking for: "PPC", "Features", "Feature","News", "New," and "Search Engine Marketing."
Now, if you will, you can use the same keywords I used for this example, but I recommend that you play with the tool and experiment.
Once you have filled each keyword filter, click "Create Interest," and voila!… you've created an automated engine to discover AdWords news on demand. Now, ContentGems will process your query and will show you a bunch of articles that match your selected keywords: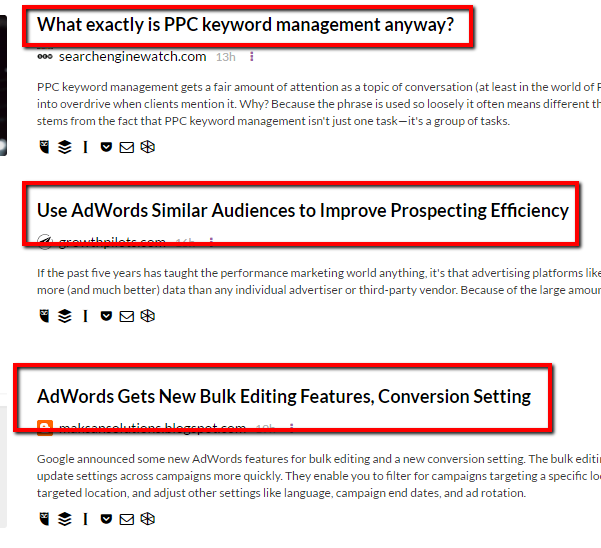 3. Read these 4 Google official resource pages
You may think this tip is obvious or simple, but it's staggering how many of us overlook the marvelous information Google itself provides through its different resource pages and blogs, yet these are some of the few places online where you can find accurate, to-the-point, and up-to-date information about AdWords.
Whether you're a beginner, intermediate, or advanced PPC advertiser, these four pages will put you on the right path to a more profitable AdWords campaign:
1. AdWords Help (New AdWords Features Section)—in this page, you'll find a timeline of all the new features added to AdWords in the last 12 months. You can also learn about upcoming updates and tools. It's the fastest way to keep up with what's new on the platform.
2. AdWords API Blog—whether you want to increase the efficiency of your large campaigns or just integrate AdWords with other apps, this blog will unveil some of the "top secret" AdWords features and help you get the results that you want.
3. AdWords Scripts Blog—practically speaking, this blog will show you how to automate AdWords; make tedious tasks simpler and quicker, which is super helpful if you manage many AdWords campaigns. They also have a "What's New" section where you can find new scripts and tools.
4. Inside AdWords—this is Google's official blog for news, tips, and information on AdWords. It's a must-read for anyone trying to take their AdWords skills to the next level.
4. Embrace curiosity
If you can adopt only one quality from any of the greatest marketers and entrepreneurs of all time — Jeff Bezos, Steve Jobs, Seth Godin, or Mary Kay Ash, to name a few — it should be curiosity. But, sadly, most advertisers seem to be afraid of experimenting and trying out new things.
The truth is until you embrace curiosity and start questioning stuff and exploring, you'll never get ahead. That's a fact in business, life, and AdWords PPC.
You might be surprised by the number of features you probably have never used in any of your campaigns. Did you know that you can distribute video ads to blogs? Have you ever used the Display Ad Builder to design your ad creatives? How many ad-extensions have you tried? Have you ever checked your competition through the Auction Insights Report? There are so many things you can do to improve your ROI.
Marketing writer Tania Hoque put it well on Brilliant AdWords Features You Didn't Know Existed._ She adds, "In a bid to catch the #1 spot on Google, many advertisers are missing the brilliant AdWords features that provide incredible opportunities to target potential customers."
The bottom line? Explore the AdWords platform. Try to pinpoint features you haven't yet used. Look for tools you may have overlooked in the past, and most importantly, don't be afraid of experimenting with them.
5. Attend #PPCchat Every Tuesday
Wouldn't it be wonderful to see inside the mind of some of the smartest people in the industry and "steal" their secrets?
Well, that's exactly what #PPCchat is all about. Every Tuesday at 9:00am PST, leaders and industry insiders meet on Twitter to discuss news and trends on PPC marketing. This is a unique opportunity to get your questions answered by people with tons of experience in the field.
So next Tuesday, grab a pen and a notebook and get ready to learn from some of the world's best.
In the meantime, you can read guides and archives from previous chats here.
6. Make friends with Optmyzr
At Optmyzr, we're advocates of all things PPC, and we want to see your results improve. That's the reason we continually update our channels with some of the most relevant news, articles, guides, and videos in the industry.
If you're in a rush or simply want a quick and easy way to improve your advertising skills, this is a good place to start:
• Follow us on Twitter (@Optmyzr) — we're looking forward to having a good conversation. Whether you have a specific question or just want to say hello, Twitter is a great way to connect with us.
• Read our Blog—every month, we publish new tutorials, guides or scripts to help you get the most out of your AdWords campaigns. So to make sure you never miss our content, I recommend that you subscribe to our blog.
• Watch our videos— If you're more into videos, our YouTube channel is full of interviews with industry insiders, advanced webinars, and detailed tutorials on everything PPC, AdWords, and Search Engine Marketing.
• Check out the news we're reading—we've put together a page to share all the news and trends we're currently reading. Take a look through them and see what content we think is worth sharing.
Over to You
Did I leave out any of your own tricks to find secret AdWords features? If so, make sure to drop them in the comments.