As we close towards the end of this rather unusual year, changes are being made to prepare for 2021 in what could be an even bigger opportunity for e-commerce. We've seen many businesses adapting their main source of income to online platforms and consumers changing their spending habits in tandem. The market is full of amazing potential, these new features help us capitalize on that.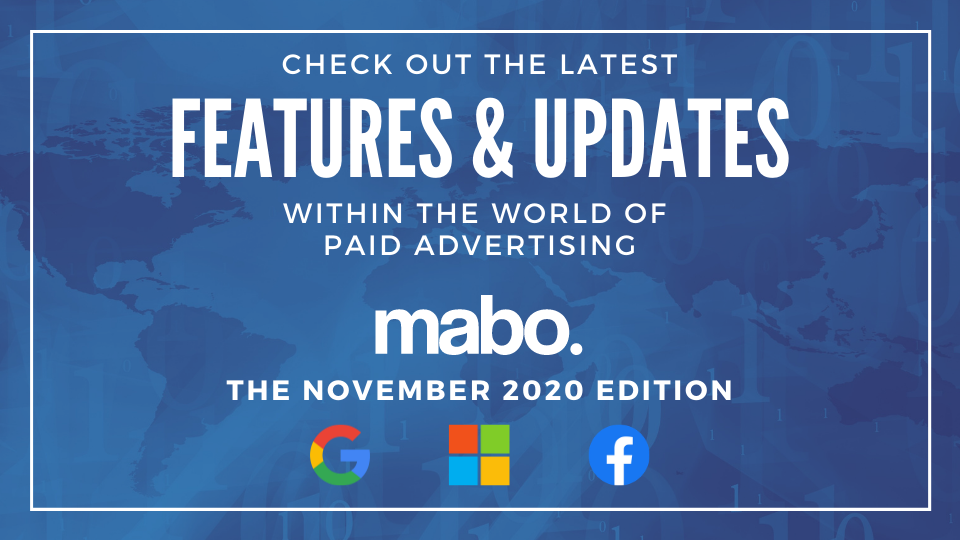 1. Google Ads
1.1 – Enhanced Tools For Campaign Creation
Expansion is something we all do within Google Ads and campaign creation is a big part of that. Whilst we all have checks to ensure that the right settings are there, it helps to have a system there to keep you informed of any tips or potential errors. That's why Google have introduced new tools for creating campaigns, allowing you to do so in confidence.
1.2 – Auction Insights Now Available For Report Editor
The report editor is something many of us utilize as it's a handy way of compiling metrics, segmenting by desired dimensions. You can now access auction insights to these reports, although the number of metrics you can attach to them is limited, similar to accessing auction insights data within Data Studio. Still, the additional layout options that report editor provides is a handy way of analyzing competition within the Google Ads platform.
1.3 – Simulated Insights For Smart Bidding
We've recently seen in some of our accounts a new feature for simulating budgets, Target CPA & Target ROAS changes. You can now see the effect changing these targets will have on your account for up to the next 90 days with some incredibly powerful forecasting that also, quite handily, caters for seasonality. We're hoping this update gets rolled out across all accounts as it's a great tool for future strategy.
On top of that, there are improvements to the platform, such as the ability to view recommendations within the bid strategy report, or view average target CPA/ROAS in the campaigns tab. Also, for search campaigns, you can hover over conversions to get an estimate of future conversions, after taking into account time lag. Little quality of life improvements like these are handy for efficiently navigating through the busy platform.
2. Microsoft Advertising
2.1 – Promotion Extensions For Microsoft Advertising
As Microsoft Ads continues to bring its platform up to date with the competition, the newest & more welcome addition is the ability to create promotion extensions to go alongside your ads. These extensions, much like Google's, allow you to set defined promotions between a date range and even select the occasion. These are invaluable for seasonal periods such as Black Friday & Christmas, adding hugely beneficial information to your ads, increasing the likelihood of someone engaging.
2.2 – Recommendations, Keyword Planner & More
Continuing with their platform improvements, Microsoft announced a range of new features starting with updates to the Keyword Planner, giving more effective keyword suggestions and even allowing the opportunity to scrape URLs for more keyword opportunities. This has the core of dynamic search ads but built for a very proactive approach towards search campaigns. It will be interesting to see how these suggestions turn out.
What was a major update for Google Ads has now made its way to Microsoft, that being recommendations. Whether you have agreed or disagreed with some of the strategy tips recommendations have made in the past (more budget please), there's always valuable information to give and insights to report on. Having the ability to access that in Microsoft Ads is a huge boost to the platform and one many advertisers will take advantage of.
3. Facebook & Instagram
3.1 – Branded Content For Instagram Reels
Recently, we talked about Instagram's Reels, how they're fighting Tiktok for competition, and the potential this format could have for advertisers. Well, it's just got even better. You can use branded content tags to promote your business through Reels, with Live on the horizon. In a world where social media influencers are plenty, this brings about more options at your disposal.
In addition, there's a more streamlined process for brands to incorporate their ads into creator content. No longer do you have to rely on an organic post, now using the new Creation Flow, advertisers can initialize the setup with the creator accepting the terms and posting to their feed. It's a lovely bit of synergy that brings collaboration together in a much smoother fashion.
An Insightful November
The further we go down the path of smart bidding, the more insights we are rewarded with. This month Google & Microsoft have brought us more reporting options, proactive tools, and forecasting models to help strategize accounts towards a better future. Finally, we have Instagram providing tools to help advertisers and content creators work together for a seamless branding experience that benefits all parties.
For more information on Mabo and their paid advertising management services, please visit Mabo.co.uk.