Artificial intelligence is bringing about a golden age of technological divination, opening up insights that predict futures and trends that shape the market. Advanced machine learning models change the way we work, always learning and adapting, providing us with an accurate array of digestible data. The latest features from this month include new tools to give advertisers the ability to tap into that unrelenting power.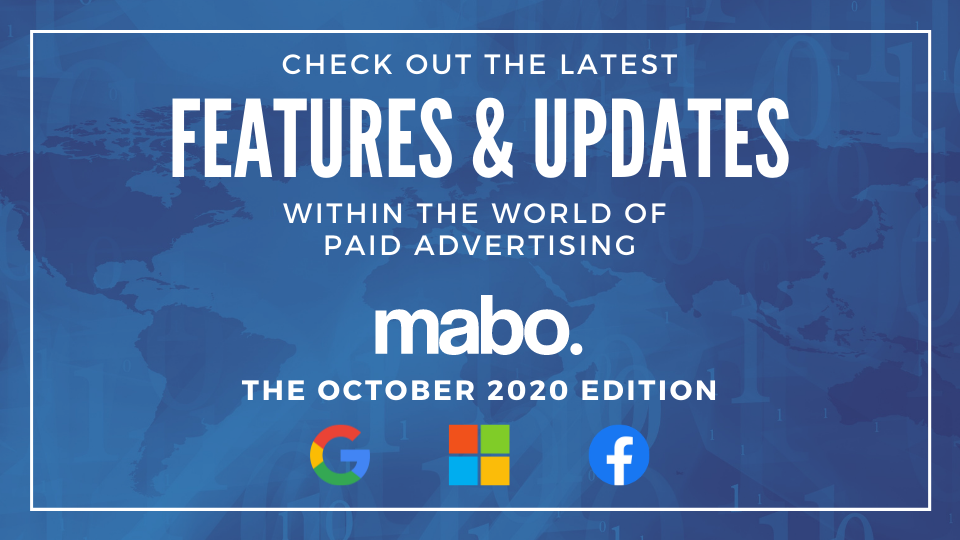 1. Google Ads
1.1 – Google Insights Page & Performance Max Bidding
Google's announced two additions to the Ads platform in their recent Advertising Week roundup. The Insights page, which initially will be available as a beta, will prove key trends and account information to help accounts push in those areas. It may show an interest in a certain product range, or forecast future growth opportunities which you will be able to optimize towards. It goes without saying just how incredibly useful this feature will be, allowing you to catch the latest trends in time and build your strategy around them.
Performance Max campaigns will serve as an addition to Search campaigns, helping find the signals that ultimately lead to a conversion. They will allow you to focus on several goals such as new customer acquisitions which will give the option to assign additional conversion value, calculated from the potential future revenue. However you intend to choose your goals and accompanying value, we're receiving yet another tool to expand our already diverse toolkit.
1.2 – Data-Driven Attribution Changes
Attribution modeling has always been a hugely important part of accounts, and getting the right model can play a huge role in an account's performance. The Data-Driven model is excellent as it's unique to each account, using advanced learning to find the ads which had the highest impact for each conversion.
Fortunately, the data requirements for an account to be eligible for data-driven attribution have reduced to a minimum of 3,000 ad interactions and at least 300 conversions in the past 30 days; that's down from 15,000 ad interactions and 600 conversion events in the past 30 days. Google have updated their support article with these changes.
In addition to this change, Youtube metrics have now been included in attribution reports so that you can see how much video metrics play a part in conversions, further expanding opportunities for advertisers. This is currently in beta so you'll have to opt in to take advantage and to put the cherry on top, Google have mentioned that they've got plans to include Display ads in the upcoming months.
1.3 – Google Local Services Ads Now Available In Europe
Google introduced Google Local Services Ads a while ago, allowing users to find local businesses, book appointments & more. These ads initially came to US & Canadian audiences however they've recently expanded to include a host of European countries including the UK, France & Germany. With a focus on home service industries, such as plumbing or electricians, these unique ads are ideal for lead generation with the added 'Google Guaranteed' bonus.
1.4 – Google Analytics 4
The new update for Google Analytics utilizes the same machine learning, which has successfully powered the Ads platform, provides smarter data insights to push for success. Similar to the Insights page for Ads, these new insights can give access to current trends and user demand, alongside predictive metrics that can project the amount of revenue a group of customers can bring, producing new opportunities for custom audiences. It will also give deeper access to a customer's journey, how they discovered your brand and how they engage with your content. It's safe to say these new features, which require you need to create a new view to access, will be pivotal to anyone wanting to analyze their traffic.
2. Facebook & Instagram
2.1 – Facebook Attribution Window Changes
Due to changes in digital privacy, Facebook will be removing the 28-day attribution window option and will instead offer a 7-day window, which they claim is a more sustainable measurement strategy. We can't stress just how necessary data is for advertising so it's disheartening news to hear. These changes came into effect from the 12th of October; however, any historical account data will remain. During this transition, you may find your reports showing a downturn in performance, although it's important to note that this may likely be down to how results are measured.
2.2 – Facebook's New Language Model
The team behind Facebook's incredible AI have announced significant changes to the way language is processed, moving forward to their multilingual machine translation model (MMT). Whereas before, the translation model used English as the connective language due to the extent of English data that's available. The new model, named M2M-100, cuts out the English connection allowing for 2,200 language directions improving how the meaning of the original text is conveyed. This change brings for more accurate translations with a model that's continually improving in a world that's getting closer every day.
October's Attribution To Success
This month's changes seem to be heavily focused on attribution changes with Google now including Youtube into attribution reports and reducing the limitations for accounts to take on the data-driven model. To contrast that, Facebook have reduced their attribution window from 28 to 7 days but have at least updated their ad policies allowing for more lenient creatives. Finally, Google Analytics has seen a new update to bring in advanced machine learning features, a massive benefit to all platforms.
For more information on Mabo and their paid advertising management services, please visit Mabo.co.uk.