A few days ago, we introduced a new tool/feature to check your change history and see if Google has made any automatic changes. This tool also lets you set up alerts to be notified when there is a budget change to a premium brand campaign.
I have been using it to track changes made to my account by my team members. I now receive one Slack alert in the morning and one in the evening to ensure that we are not making any unwanted changes or changes that could violate Google's policies. This helps me to keep an eye on my account and prevent it from being suspended or underperforming.
If you are not familiar with this feature, you can read about it here: How to Easily Monitor Any Changes Made to Your Google Ads Account
Here are some ways this feature helps you stay on top:
Automate analyzing your change history for the last 30 days.
Filter your change history by type of change, user, or tool that made the change.
Set up alerts to be notified when there are changes to your account.
Export your change history to a CSV file.
In our continued effort to bring transparency and make it easier for you to identify what is happening in your Google Ads account, we have launched a change history widget on the Account Dashboard. This widget comes with improved visualization and analysis capabilities.
Where can you find the Change history widget?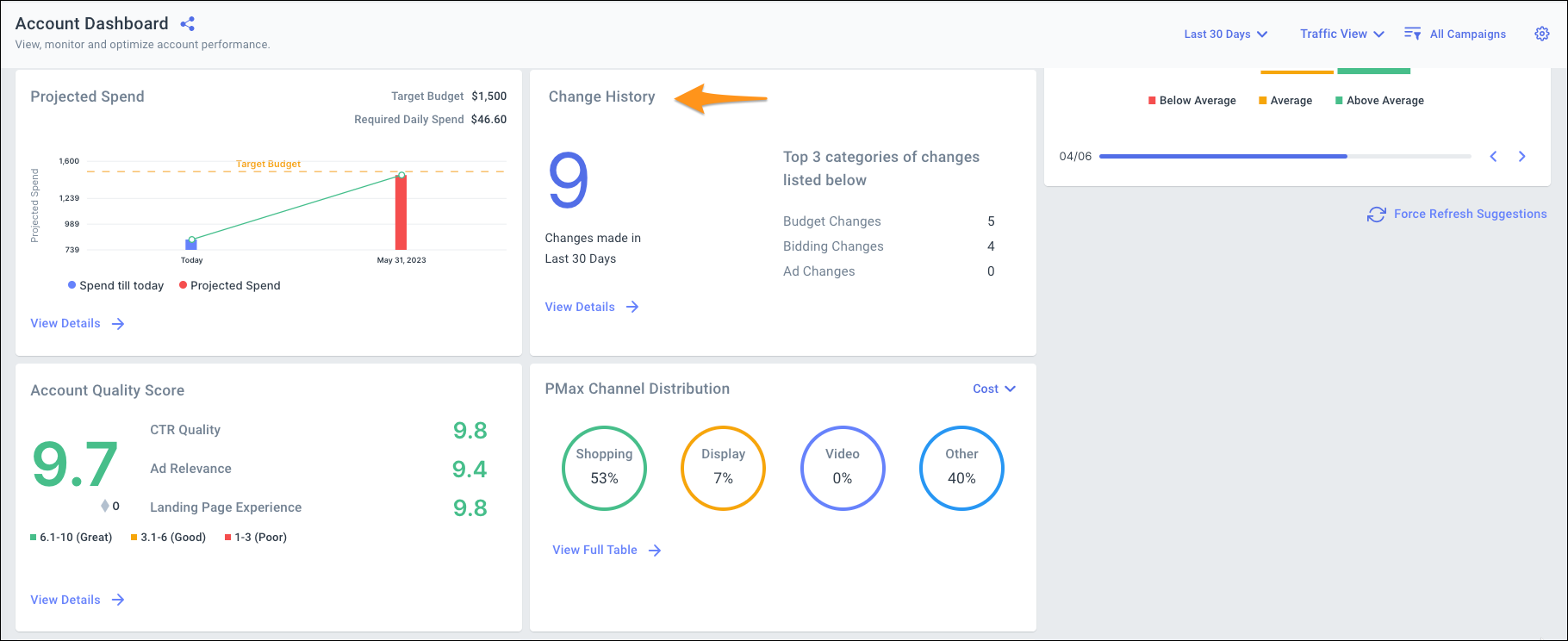 You can find it just above one of our most-used widgets: Performance Max Channel Distribution. (This widget classifies your Performance Max campaign performance by channels. Read more here.)
What kind of insights can you get from the Change history widget?
Here are some of the things you can do with the change history widget:
​​​​​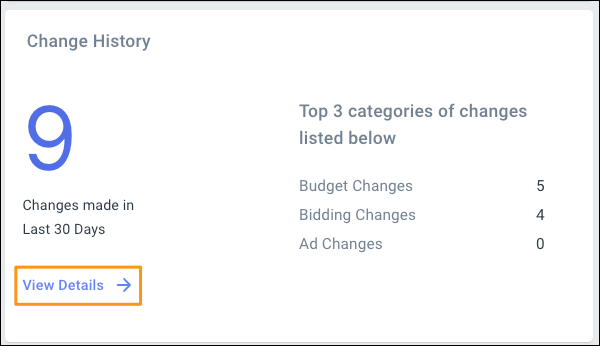 ​​
Insights from the Change history widget:
View the changes made to your Google Ads account in the last 30 days.
See the top three types of changes made to your account at a glance.
Click on "View Details" and check out the line chart that plots the types of changes against the performance change in your account. (This is my personal favorite!)
Segment by campaign and ad group to see the breakdown (and impact on performance) by campaign and ad group. This can help you understand subtle shifts in performance and identify entities in your account that need extra attention.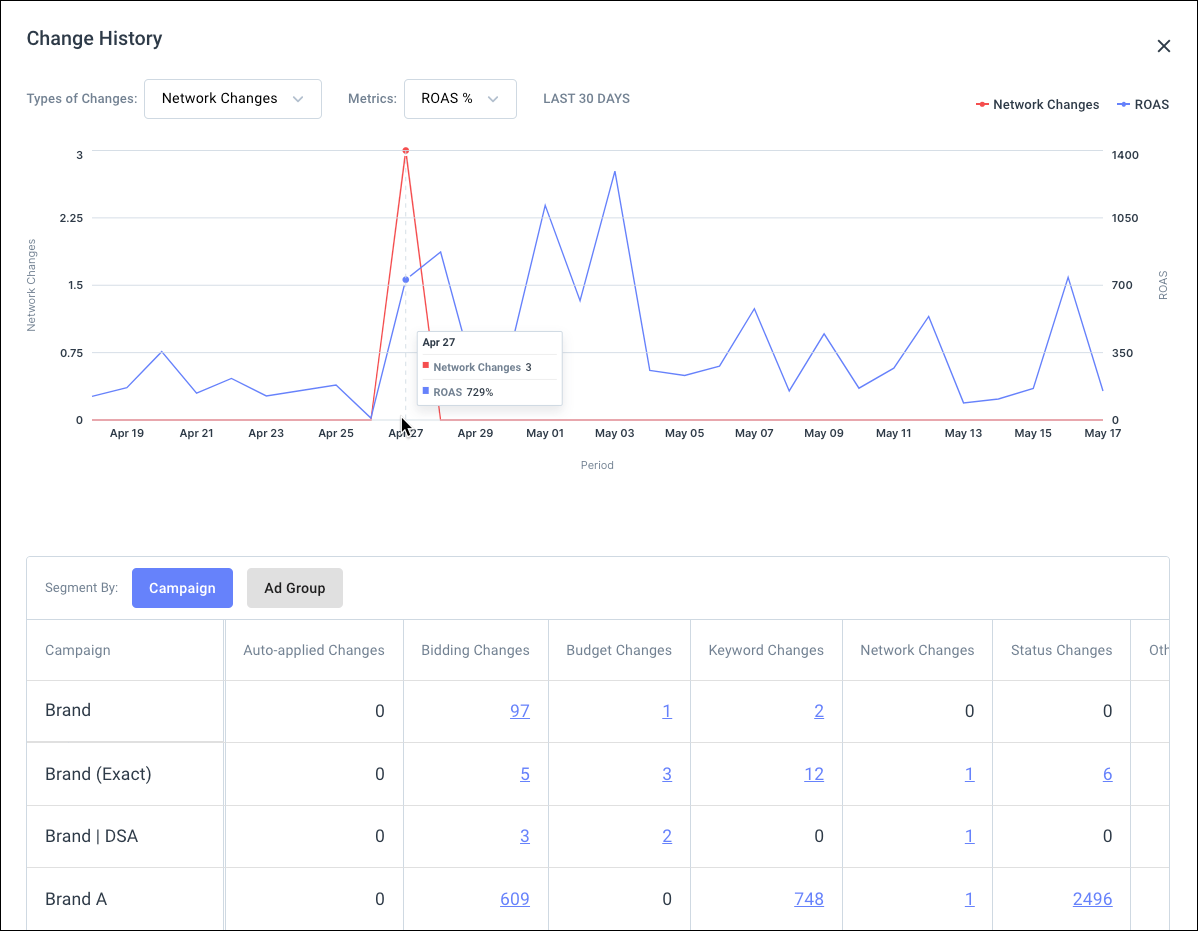 The Change History widget offers multiple ways to optimize your Google Ads account. Here are a few to help you get started:
1. Gain instant insights.
The widget provides a comprehensive overview of the most frequent changes made in the past 30 days. For instance, if budget changes dominate, it suggests either there are new campaigns added or someone swayed by new ideas or information is making frequent changes to the account. In such cases, you might notice account performance fluctuating as and when budget changes. 
Additionally, if you observe frequent budget and bidding changes together, it may indicate ongoing bidding strategy testing that requires further investigation to ensure it aligns with your objectives.
2. Analyze performance impact.
Utilize the line chart feature to visualize how changes have influenced your account's performance. For example, if stopping targeting on the Search Partners network results in decreased impressions but an increased return on ad spend (ROAS), it signifies a positive direction toward more profitable traffic.
3. Analyze changes in detail.
Explore the widget to delve into campaign and ad group changes, including information on the user who applied the change and the application method (such as auto-apply by Google or changes made through the API). This eliminates the need to navigate to the Google Ads interface for a comprehensive list, allowing you to focus on the most relevant information.
4. Evaluate account strategy.
If the number of changes appears substantial, evaluate whether they are reactive or part of a well-defined strategy. Rather than making random adjustments, consider strategizing for seasonal events to ensure more effective management of account settings.
5. A/B test ad copies.
Consistent changes in ad copies present an opportunity for A/B testing. Instead of continuously tweaking the same ad copy, conducting experiments with different themes can provide insights into what works best for your account.
Final takeaways
By leveraging the Change History widget effectively, you can optimize your Google Ads account, make informed decisions, and drive improved performance.
Note: This feature is part of Optmyzr Core. Not an Optmyzr customer yet? Sign up for a free trial.