The behavior of your PPC budget is crucial to getting your strategy right, and the new Budget Report in Google Ads helps. With it, you can view daily spend, monthly spend limit for your campaigns, monthly spend forecast, cost to date, and any changes you may have made in between.
Optmyzr goes a step ahead with our Spend Projection Tool by analyzing your spend data, historical seasonality, and recent performance to predict how much an account is likely to spend by the end of a selected time period.
Here are some of the advantages our tool provides over Google's Budget Report.
Adjust Target Budgets Based on Performance Insights
With Optmyzr, you can set up an account-level target through the Pro Dashboard, and then analyze and update daily budgets for campaigns. You can then select one or more campaigns in the Spend Projection tool to see how much more you need to spend in order to reach that target.
Being able to set target budgets based on these insights is advantageous because the projection is not limited by the budget you set for a campaign on Google. You can set any target and then push your daily budget to achieve it.
Optmyzr users also put performance insights to good use in other ways, like excluding individual placements on Google Search Partners – something you can't do in the Google Ads interface or via AdWords Editor.
Reach a Target Budget with the Optimize Budgets Tool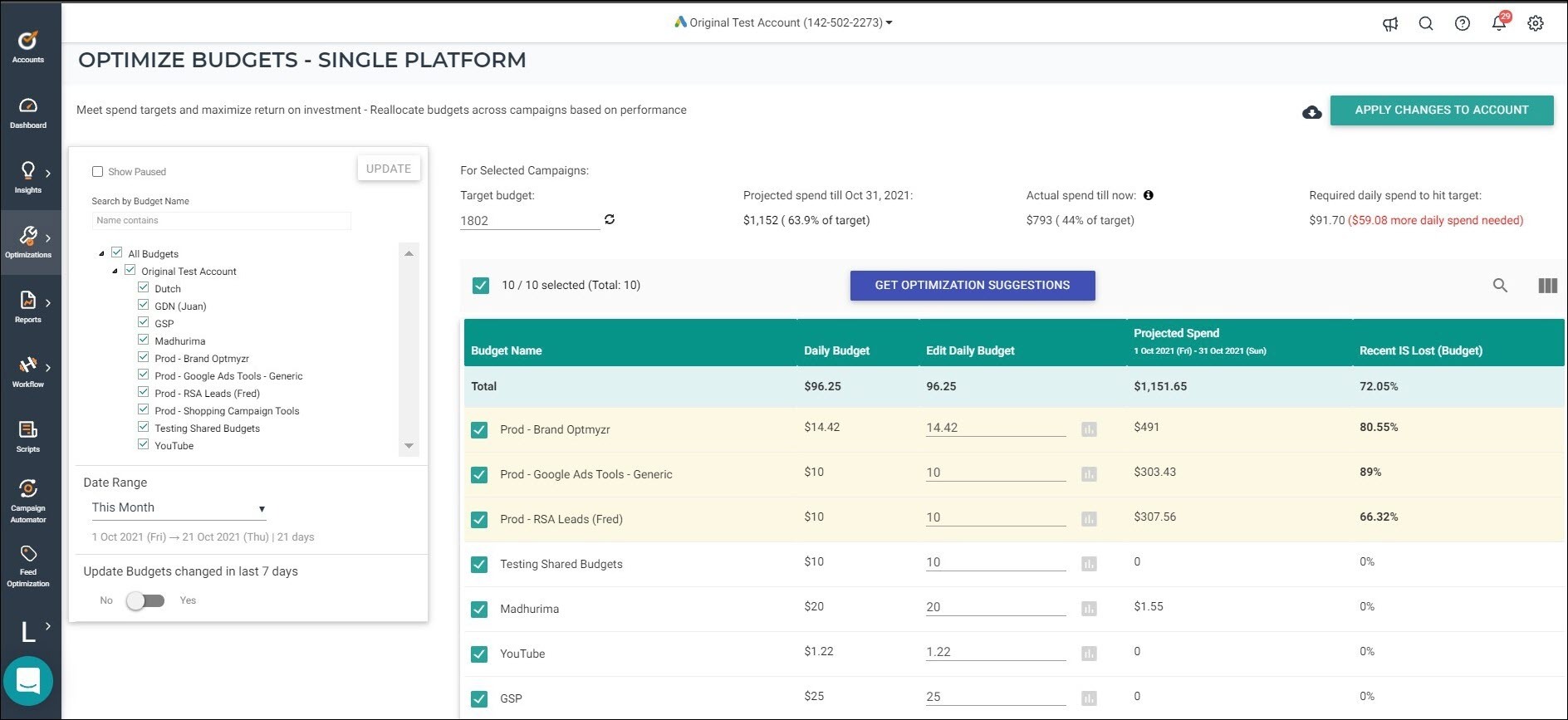 Spend Projection isn't just the only tool we have that helps users get their budgets working exactly how they want. The Optimize Budgets Tool, which helps you actually achieve targets, identifies campaigns that are losing out on Impression Share due to budget constraints. With that information, you can choose how aggressively you wish to spend. You can also reallocate your budget to high-performing campaigns, allowing you to get the most value out of your PPC dollars.
Spend Projection and Optimize Budgets together allow you to not just view spend behavior, but set target budgets and also meet them to maximize your performance. All very handy when budgets will be significantly impacted due to prevailing issues with the global supply chain.
Get Insights Based on Historical Performance
Spend Projection uses both trends and historical data. These are the factors that are included:
1. Day of the Week
Optmyzr studies day-by-day spend behavior when calculating your spend projection. So if you have a pattern of not showing ads on Saturdays or Sundays, the tool takes that into consideration.
2. Weekly and Yearly Seasonality
Weekly and yearly seasonality are considered in two ways: consistency over the past few years or since the account has been active, whichever is earlier.
For yearly projection, we take into consideration multiple years of spend data.
For Microsoft Ads, we look at the latest trends for individual campaigns instead of past years' historical data at the account level.
Previous years' data will be considered only if a common trend is identified, such as a sharp increase at the start of November ahead of BFCM.
3. Seasonality and Spend Patterns
Spend Projection doesn't consider ad schedules, or bids by demographics and devices, except seasonality and spend patterns.
If there is no correlation or if your account has insufficient data, we will consider data from the past several weeks to predict spend.
All this information can help run better Campaign Experiments – also the name of our latest tool that now makes it possible for PPC managers to keep track of experimental campaigns as they're being tested.
Get More Control of Budgets & Spending
Spend Projection and Optimize Budgets help thousands of PPC agencies and end advertisers understand how their budgets impact account- and campaign-level spend behavior, and then give them the tools to put money in the right places at the right pace.
Start a 2-week free trial of Optmyzr and you'll also get the tools you need to bring in better traffic by optimizing keywords, ad text, display placements, and more.