As marketers, we all know that running successful PPC campaigns requires agility and speed when making crucial optimizations. You've likely noticed a new option within the Optmyzr PPC Management System – Optmyzr Express. This is our latest automated offering that suggests the most important optimization opportunities across your campaigns. We created Optmyzr Express to bring one-click simplicity to help PPC pros take immediate action on top opportunities for campaign optimizations.
Available immediately to all users of the full Optmyzr PPC Campaign Management Suite, Optmyzr Express is designed to help simplify and automate the top up-to-the-minute opportunities. The user can simply click to accept an automated optimization suggestion or they can access an intuitive dashboard to customize or modify suggested changes from a single screen.
The Express offering augments the full Optmyzr software system. Designed to allow you to crank out the top optimizations fast – perhaps over your first cup of coffee in the morning – Optmyzr Express will allow you to blast through those "quick-hit" opportunities right away. It allows you to then allocate more of your valuable time digging deep into advanced functionality within the suite to be more strategic overall.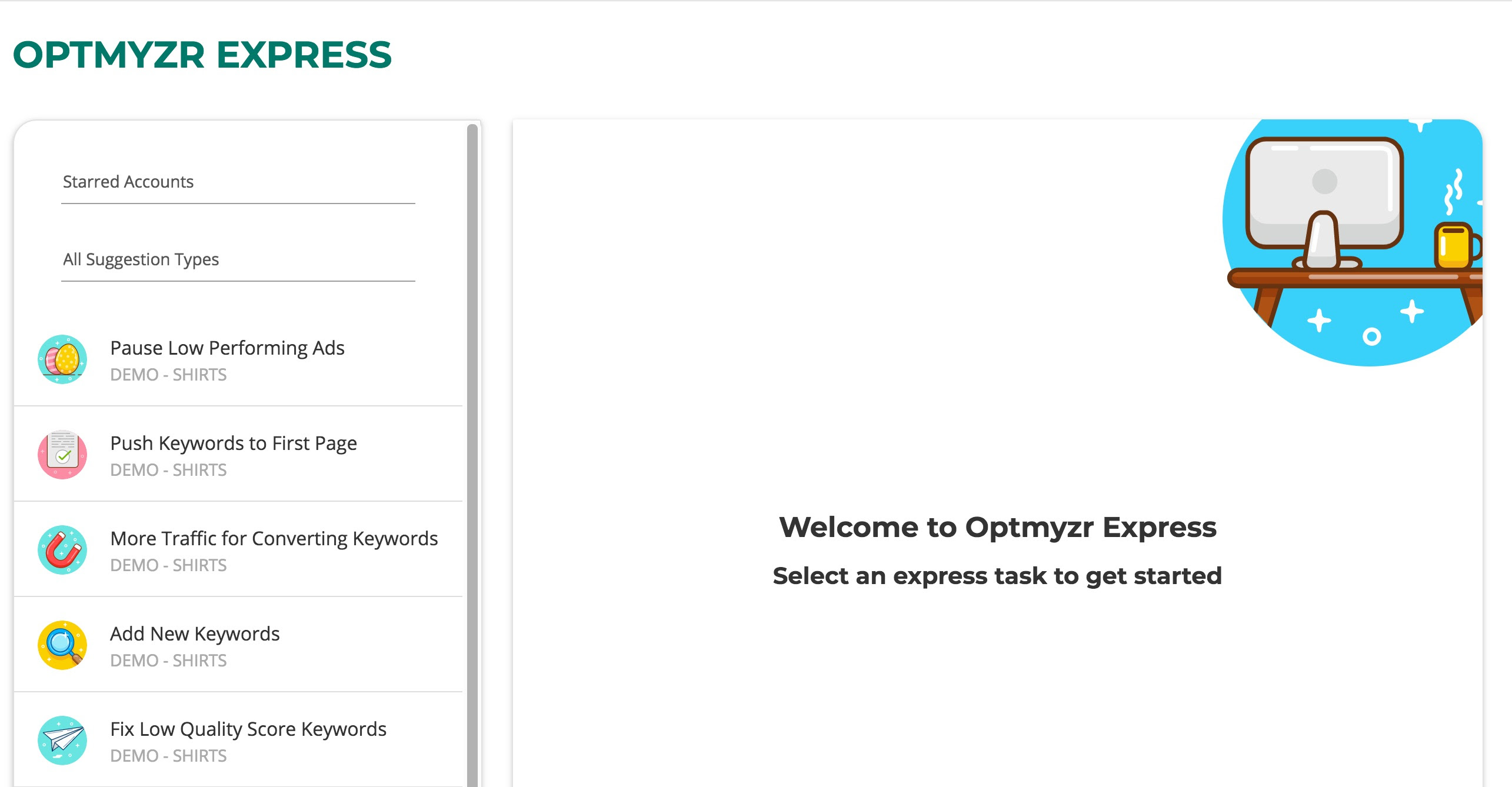 Think about those fast opportunities we all seek for rapid optimization: from pausing low performing ads or adding new keywords to quick fixes for Quality Score and high performing keywords and more. Optmyzr Express facilitates smart, on-the-go campaign adjustments and creates a workflow for continuous improvement.
Initial user feedback has been excellent and has validated that Optmyzr Express is a real time-saver. It delivers fast insight, agility and power, which encourages more frequent optimizations. PPC pros have told us they want a workflow that helps them make immediate changes for the most pressing opportunities, while retaining the full suite functionality for deep dives into campaign performance improvement. Through client feedback, we also know that a workflow that appears similar to a high value to-do list across multiple accounts allows for greater efficiency for in-house and agency teams alike.
Other key features:
Inbox simplicity: Easy view into all accounts or favorite accounts
Snooze capability: Ability to set a quick reminder if you can't take action right now
Single page view: Immediate optimizations can be managed from a single screen
We have more information available in a news release we just posted to announce Optmyzr Express. You can also see a quick overview in our new YouTube video.
Give Optmyzr Express a try and let us know your thoughts.