Starting a business from the ground up isn't for the faint of heart. Everything feels stacked against you for the first couple of years – supply chain, vendors, cash flow, and especially hiring.
So it should be a good thing that Google decided to go down the automation path so that even small businesses could use their platform… right?
The reality is that the Google Ads product is far from being layman-ready. Businesses that can lean on a specialist's expertise should be fine, but newer ones with limited budgets and no access to experts deserve help too.
That's why we built Optmyzr Lite – a completely free PPC insights tool with impartial suggestions designed to boost your account's performance, rather than Google's coffers.
Making great PPC results accessible to all
We're proud to extend invitations to Optmyzr Lite, our free optimization tool for single-account advertisers spending less than $10K a month.

Here's why we built it. 👇🧵 pic.twitter.com/geVtyJ1TPb

— Optmyzr.com (@Optmyzr) February 2, 2022
Not only is a lot of ad technology cost-prohibitive to small and growing businesses, but it can be difficult to know where to get started.
Optmyzr Lite shows you everything you need to know from a single dashboard. We've chosen the insights and data that are most likely to have a positive impact on your business, while not being too difficult to implement for a PPC beginner. At this time, suggestions you see in Optmyzr Lite cannot be applied via the app.
You qualify for Optmyzr Lite if your brand or business:
Advertises on Google Ads and/or Microsoft Ads
Spends less than $10,000 per month on those platforms
Remember that Optmyzr Lite only allows you to connect one Google and one Microsoft account, both of which need to be linked to the same domain. So if you want to manage multiple accounts or have a monthly ad spend in excess of $10,000, you're probably a better fit for our Core platform (which comes with onboarding and rep-based support).
The right fit: Optmyzr Lite works for new and growing brands
Optmyzr has an extensive track record of helping agency and in-house PPC teams manage and scale billions of dollars in ad spend. Now we're bringing that expertise to a group of professionals that too many ad tech providers seem to neglect.
If any of these describe you, Optmyzr Lite could be a helpful addition to your tech stack:
Small business owner getting started with online advertising
All-in-one marketer managing social, PPC, content, email, and more
Non-profit or cause-oriented brands with limited tech budgets
New to paid search but keen to develop your skill set
Everything a growing business needs to advertise better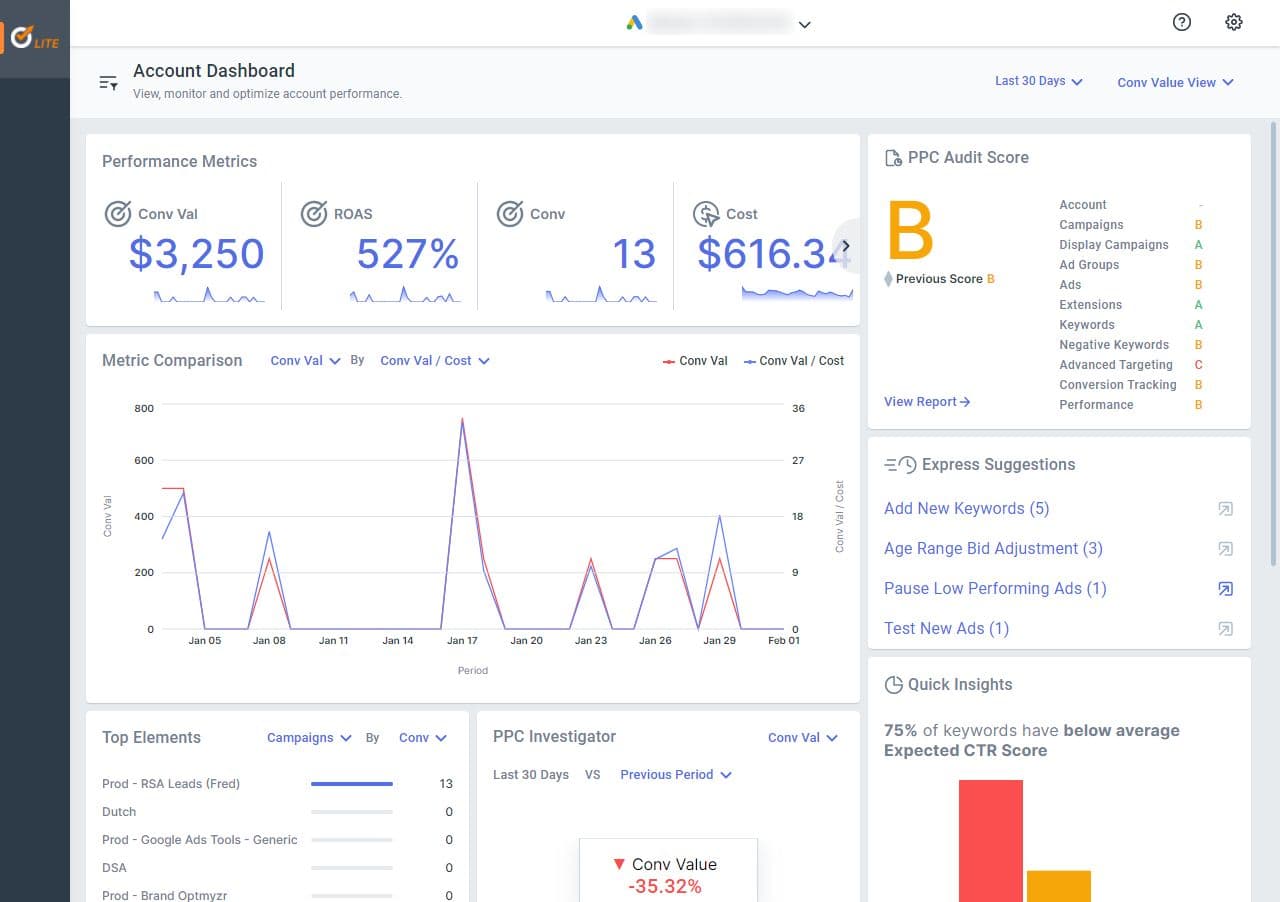 The Optmyzr Lite dashboard provides a bird's eye view of account performance and health, spot opportunities to improve account performance, and access reports and insights in a click.
Here are all of the components and what they help you understand:
Devices: Compare the performance of two different metrics (like conversions and clicks) by browsing device (mobile, desktop, etc).
Express Suggestions: See high-priority recommendations most likely to have a positive effect on campaign performance.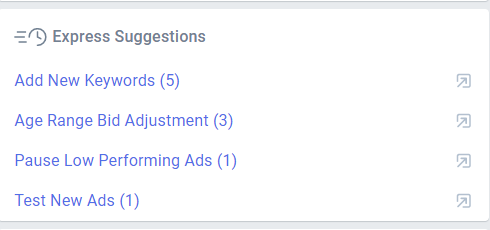 Express Suggestions are a great place to start if you're completely new to PPC
Networks: Compare the performance of two different metrics by network (search, display, etc).
Metric Comparison: Compare the performance of two different metrics for a specified time period.
Performance Metrics: Get a high-level overview of key performance indicators including cost, total conversions, conversion value, impressions, and return on ad spend (ROAS).
PPC Audit: Get a report card for your account based on multiple quality parameters including campaigns, ads, keywords, and conversion tracking.
Your PPC Audit Score includes a top-to-bottom scan of individual account components
PPC Investigator: Perform a root cause analysis to understand why a metric is trending upwards or downwards.
Quick Insights: See high-level observations about your account and campaigns to find opportunities for improvement.
Reports: Get detailed reports on weekly and monthly performance, as well as executive summaries that tell the big picture.
Top Elements: See your best-performing elements (campaigns, keywords, etc) by a selected metric (clicks, conversions, etc).
Find what's working and double down using the Top Elements section of the dashboard
You only have everything to gain with Optmyzr Lite
Small businesses need all the help they can get, but many free marketing tools aren't really free. Optmyzr Lite is and will remain completely free, with a future option to apply and schedule changes in-app for a modest fee.
Over 30,000 PPC marketing specialists currently rely on our Core platform, developed by a team led by former Google and agency executive Frederick Vallaeys – who helped build the AdWords tool and served as its first product evangelist. We helped them manage over $4 billion in ad spend in 2021 alone.
Sign up today and experience how Optmyzr Lite can improve your company's PPC advertising fortunes.