Smooth seas never made a skilled sailor, and 2022 was anything but smooth. From Google's automation updates and several tech migrations, there was much to get used to.
Well done on getting through a choppy year, and to the start of a new opportunity.
For us, things haven't changed in 2023. Not really.
Amidst the uncertainty in the PPC world, you can always count on Optmyzr to do what's right for you. Our capabilities may evolve with the ad platforms, but fundamentally we'll always be what PPC marketers need.
In 2022, our product roadmap restored some of the control and visibility you lost when Google made the shift to responsive search ads and Performance Max.
Behind the scenes, our team worked tirelessly on the migration to the new Google Ads API to make sure we didn't abandon you when you need us most.
So when we say that our customers are priority #1, we mean it. Optmyzr wouldn't be where we are — celebrating our 10th year in business — without you.
This year, we have a lot of exciting things already in progress: added capabilities for platforms beyond Google, integrations with other marketing tools, new layers of automation, and more.
But first, let's look at the biggest updates of 2022.
Here's a quick look at our top products for the year 2022 and a sneak peek into this year's roadmap.
Top Updates of 2022
Optimization Updates
Stay on top of broken URLs in Google Ads
The URL Checker utility has been upgraded with an improved workflow, making it easier to create and manage settings. You can now pause ads and keywords linking to broken URLs, and re-enable these entities in a future run if the issues are fixed.
Get PMax listing groups data in 'Top Product & Listing Groups' widget
We've updated the Top Product & Listing Groups Widget for Google Ads to include top listing groups data from your Performance Max campaigns. It makes your Shopping product groups and Performance Max listing groups accessible under one interface.
As a reminder, you could see data earlier for both Standard and Smart Shopping campaigns. Performance Max has taken the place of Smart Shopping.
Sponsored Brand video data now in Amazon tools
Campaign data for Sponsored Brand videos is now included in dashboards and reports for your Amazon PPC accounts. This removes the inconsistency in data for this campaign type.
Audits and Analysis Updates
Perform root cause analysis for Microsoft Ads
PPC Investigator now has more capabilities to analyze Microsoft Ads accounts.
After picking a metric to investigate, Root Cause Analysis can now highlight specific campaigns, ad groups, product partitions, keywords, and other elements responsible for the change in performance.
Cause analysis for Amazon Ads
We've added the PPC Investigator cause chart to Amazon Ads insights. You can now conduct in-depth analysis of any performance changes.
Get keyword suggestions from Keyword Planner
In the Keyword Lasso tool, you can now select 'Keyword Planner' as a source of new keywords using the drop-down menu at the top of the page. Read more about it in our help documentation.
UI improvements to Alerts settings
We've released a friendlier interface for our Alerts settings page that includes capabilities such as:
Create alerts in bulk more easily
Select all the accounts you want at once
Support for monthly budget alerts for Amazon and Facebook accounts
An easier way to create and edit multi-account budget alerts
New account dashboard UI for Microsoft Ads
New capabilities include:
Account Performance Reports: You can choose from our 3 instant report templates, preview them, and schedule them in just a few clicks.
Data Filters: You can now see data based on Campaign Type or Bid strategy and use one of these new scopes to segment and analyze your data.
Evaluate Performance Max campaigns with 8 new audits
We've added 8 new audits to help maintain and improve the quality of your Performance Max campaigns. With these, you can easily identify gaps in asset groups and individual assets in terms of their structure and performance.
For example, now you can start using Performance Labels to assess various PMax assets and find asset groups with insufficient headlines, descriptions, images, and more.
Regularly audit and get quick, actionable insights on MS account health
Use the PPC Policy and Audits tool under the Insights section to identify different problem areas in your Microsoft Ads accounts, as well as to find optimization opportunities for your ads, campaigns, keywords, and more.
Visualize your Google Ads performance with funnel charts
For Google Ads accounts, the funnel chart feature is accessible in both single and multi-account reports.
Starting with impressions at the top of the funnel, clicks in the middle, and working your way down to conversions, you can easily visualize the performance at different stages of the ad journey.
New Shopping Feed Audits capabilities
With our new audit feature, you can be proactive rather than reactive when it comes to optimizing shopping ads.
Here's how you could improve the overall quality of shopping ads and resolve potential issues in the Google Merchant Center feed ahead of time:
Identify missing values and fields
Find disapproved products with reasons
Get suggestions to improve feed quality
The audit examines all of GMC's parameters, so you can make the necessary adjustments before the problem arises.
Migration and Other Support for RSAs
Free script to turn ETAs into RSAs
Make sure all your ad groups have responsive search ads, even after the July deprecation of expanded text ads.
Our new script builds a bulk sheet with new RSAs for your entire account. It pulls text from existing ads and adds them as assets to suggested new RSAs.
Simply taking existing text from ETAs and adding them to new RSAs in existing ad groups can boost conversions by up to 7% at a similar CPA or ROAS.
Optimize your RSA ad copy
Our popular Ad Text Optimization tool now has a version for responsive search ads.
As a hybrid insight and optimization tool, it'll allow you to both review RSA performance data and modify text components (like headlines and descriptions), individually or in bulk.
Preview and add Google RSAs and RDAs directly from audits
If you've previously run an audit to find out which ad groups have fewer than two responsive search ads, clicking on the ad group name renders a preview of existing ads and their performance.
You'll also be able to create new responsive search ads, call ads, responsive display ads, or expanded dynamic search ads (depending on campaign type).
Better your Google Ads performance with 10 new RSA audits
Easily spot gaps and inconsistencies in your RSA assets, and make changes wherever needed. We've got 10 new audits to help you identify and resolve potential issues.
Open AI text suggestions for RSAs
Get new headline and description suggestions for Google and Microsoft responsive search ads.
When selecting this option, you'll get top suggestions for ad assets from Open AI, allowing for greater variety and more choice when creating your ads.
Express optimization for ad groups without RSAs
There's now a quicker way to create responsive search ads in Google Ads ad groups that don't have any.
Our new Optmyzr Express optimization shows you top suggestions for headlines and descriptions, along with top keywords.
Support for budget monitoring
Rule Engine strategies for Budgets
Analyze the performance of your campaign budgets and shared budgets, and tweak the daily budget amount with Rule Engine.
Additionally, the new Budget pacing attribute can help you analyze the pacing of a campaign budget and shared budgets in an account.
Read in detail about RE Budgets
Support for Performance Max retail campaigns
Build Campaigns and keep them in sync with your Shopping Merchant Feed
Optmyzr now supports Performance Max retail campaigns in the following ways:
Create them in Shopping Campaign Builder 2.0
Keep them in sync with changes to your Merchant Feed using Shopping Campaign Refresher 2.0
Retail advertisers will find it easier to build Performance Max campaigns at scale, and automate sync with products entering and leaving a feed in near real time.
New in Campaign Automator
These updates require a Campaign Automator subscription to view. Go to the tool or contact support@optmyzr.com if you'd like to discuss getting access.
Organize ads with templates
Creating labels for different ads is now easier when you use Campaign Automator templates. Get added flexibility to manage and optimize all your ads.
Take bulk actions or customize your approach. For instance, run select ad labels on certain days, or get reports only for a particular set of labels.
Create new ads in paused state
You can now create new ads in a paused state and turn them on later via our Rule Engine or in Google Ads.
Please note that you can only create new ads in a paused state for the first template run. They will be automatically enabled in subsequent runs.
Expand your target group with broader URL targeting
Add broader targets for Dynamic Search Ad Groups using rules in PPC Policy and Audits.
For example, target URLs that contain the keyword "Optmyzr" instead of exact URLs. This lets you reach a broader audience, leading to more traffic.
You still have the option to use exact URLs for targeting anytime.
Learn With Optmyzr: The New Reports Experience
Our latest Learn With Optmyzr video shows you how quick and easy it is to create them with our new report designer.
Build report templates for single accounts, and set them up across your Google Ads and Microsoft Ads accounts without creating a new template for each account.
Or create comprehensive reports for clients who advertise across multiple platforms, including Google, Microsoft, Amazon, Meta/Facebook, and Google Analytics.
12 tools used and loved by over 10K Optmyzr customers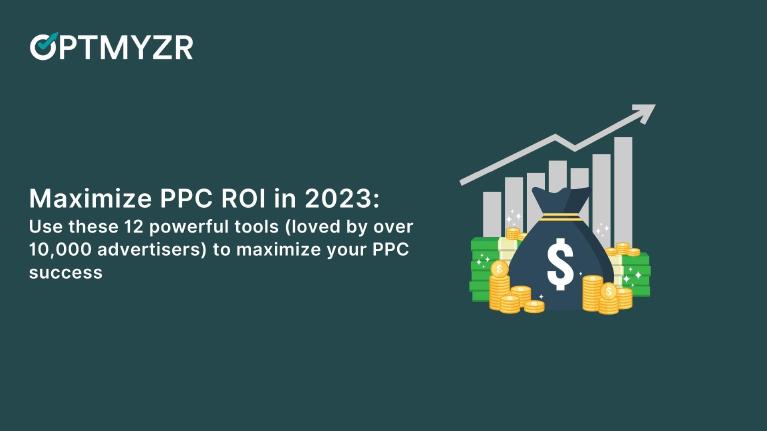 With an eventful year coming to a close, our customer and analytics teams identified the most used and talked about features of 2022.
Here are the 12 Optmyzr tools that our 10,000+ users made integral to their PPC management and optimization workflows.
We're thrilled you loved and used so many of our new capabilities in 2022, and we're ready to step it up in 2023. There will be many new updates and features, but the goal is still the same: to help you better manage your PPC accounts.
What to Expect in 2023
New features and capabilities to better manage ad platform automation such as Performance Max, Smart Bidding, and RSAs
Better integrate your business data easily, both to enhance ad platform decision-making and to run experiments
Support for the transition to Google Analytics 4 and changes in audience targeting
New Rule Engine strategies, audits, alert types, scripts and script support, and more automation layering