Our Q4 kickoff revolved around one core objective: making life less stressful and more manageable for PPC experts.
Here's a roundup of all the key changes to Optmyzr and Campaign Automator during October 2021.
More actionable Slack notifications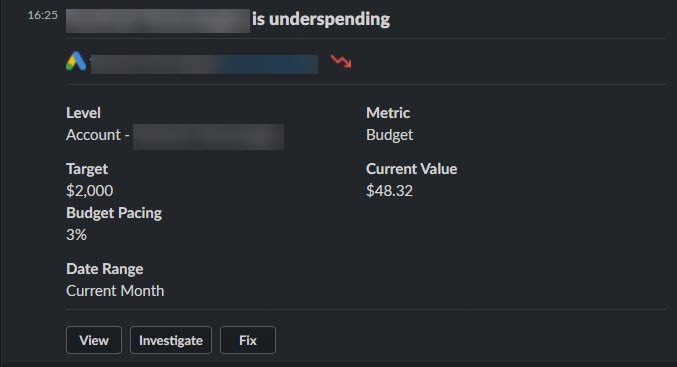 A few months ago, we made it so you could receive alert notifications in Slack. Today, those notifications also include:
More information on current and target values
Links to Optmyzr tools that help you fix the issue or investigate further.
BONUS: You can also opt to receive notifications in Microsoft Teams. Here's how.
Set conditions to stop automated report delivery.

Report automation makes sure your clients and stakeholders get timely performance updates. But sometimes, performance can be unusual and warrant further context.
To prevent misunderstandings instead of needing to clear them up, you can now set thresholds where an automated report will not be sent as previously scheduled.
If these conditions are met (e.g. conversions < 1,000), the report will be sent only to the schedule owner on your team. If they are not met, the report will be sent as usual to all recipients.
Use this feature to prevent reports from going out when additional context is required for unusual performance.
Visit the Report Schedule page, then select 'Edit Schedule' from the vertical bar next to any scheduled report. Conditions will be at the bottom and are set to none by default.
Monitor alerts for conversion metrics in Facebook.
Facebook and Apple might be at loggerheads, but you shouldn't get caught in the crossfire. To give you sharper eyes your Facebook Ads campaigns, you can set up custom alerts at the account or campaign level for the following KPIs:
Conversions
Conversion Value
Conv. Value/Click
Conv. Value/Cost
You can also choose to notify multiple team members or redirect your own notifications to avoid clutter.
Easily compare ad performance in a specific window.
Our AB Testing for Ads tool now allows you to filter data by custom date ranges. This change applies to both Google Ads and Microsoft Ads accounts.
Get more control over how Shopping campaigns re-sync.
You can now change the Price/ROAS ranges and conversion thresholds for shopping campaigns created in Optmyzr via the Shopping Refresher tool or in automation schedules. There are some limitations and extensions to this update:
1. You can adjust ROAS ranges but not the number of campaigns.
2. Conversion thresholds can be changed in ROAS build-outs.
3. Price ranges can be changed in Price build-outs.
Bonus: Improvements to the Account Dashboard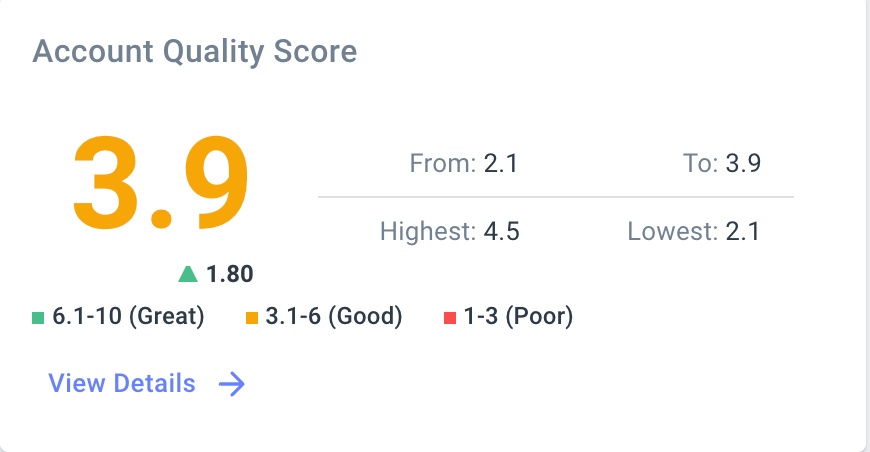 We've made two significant improvements to the Account Dashboard. You can now:
1. View due and overdue tasks, with a dropdown option to switch between accounts. Stay on top of what needs doing.
2. See account-level Quality Score data for a Google Ads account displayed on the Account Dashboard. Pair with an alert to always stay at your best.