The busiest shopping period of the year is just around the corner. And we've seen several consumer behavior changes this year as a result of the economic downturn and other macroeconomic factors which make this shopping season unlike any other.
So we need real data from someone who actually knows and understands what's happening and provides us with suggestions to better prepare for this shopping season. And who better to learn all of that from than Google?
We've spoken to Willie Booker, Product Strategy Lead at Google on our latest PPC Town Hall to learn the trends and tips to set up our Performance Max campaigns for this holiday season. In the episode, we also spoke to Andrew Lolk, Founder of SavvyRevenue to get his perspective on that and also understand how agencies are preparing for the same.
Watch the full episode below.
Get actionable PPC tips, strategies, and tactics from industry experts twice a month.
How consumer behavior has changed in 2022?
Consumers are shopping earlier than usual
Willie Booker says that 42% of consumers are shopping earlier in 2022 than they did in 2021. And in the U.K., 30% of consumers have already started their holiday shopping in June.
In fact, we're only at the end of October and Target has already started its Black Friday sale.

Andrew Lolk, founder of SavvyRevenue has also seen a shift in consumer behavior. He says ->
"We've seen Black Friday become a big thing the last few years, and now it's even bigger. A couple of years ago we only did Black Friday, and now two or three years later we're doing "black months". I personally like it. I think it puts less pressure on logistics this way. You can spread out bidding and budget a lot better, but it comes with some challenges if you get in behind later than everybody else."
This shift in consumer behavior is not new. In the last two years, we've seen consumers shopping earlier than usual due to inventory and supply chain issues.
Most consumers are now brand-agnostic
Willie says that over 71% of consumers switched brands in the past year for reasons like better deals, better product quality, better customer service, etc.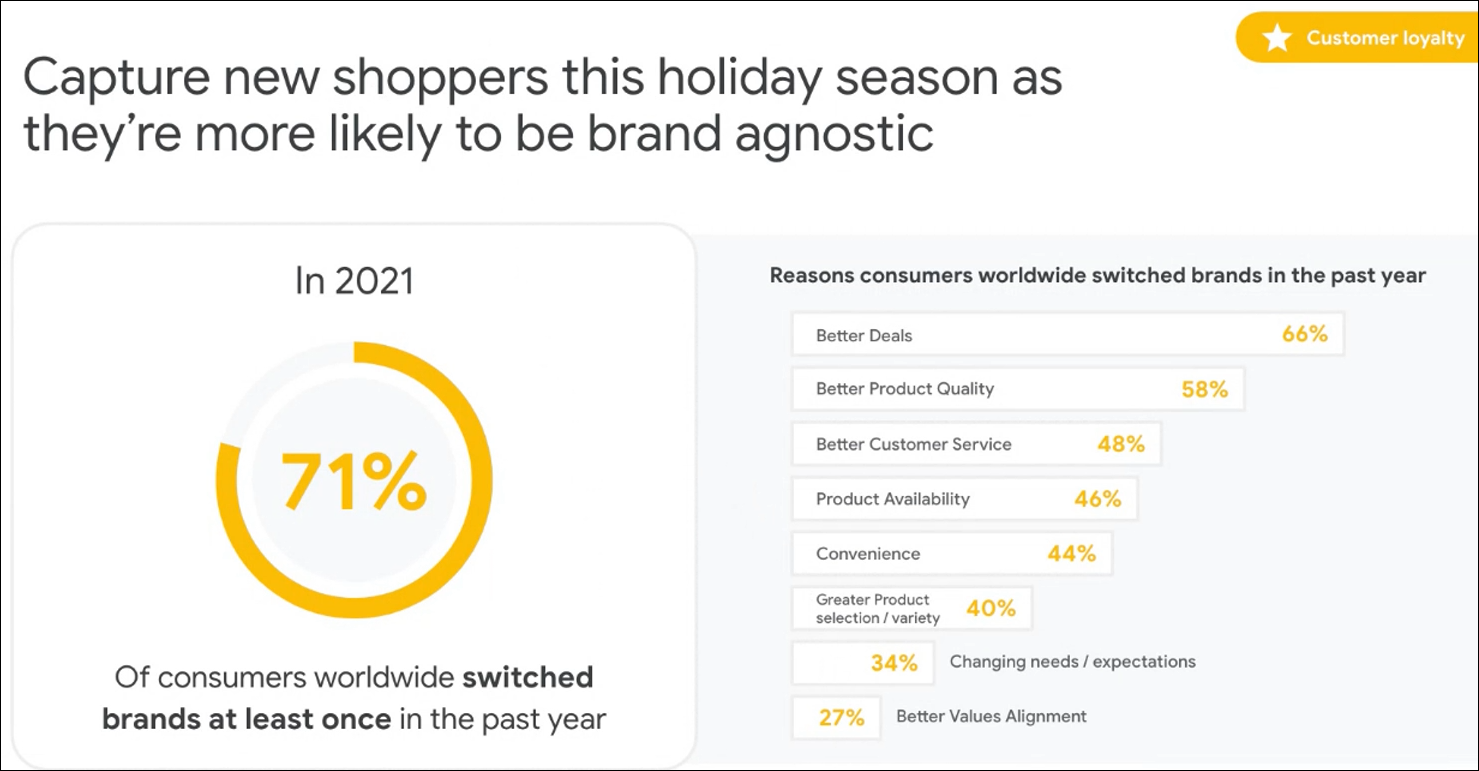 Google's also predicting an uptick in BOPIS (Buy Online, Pick-Up in Store) this year, as we saw in 2020 and 2021.
Embrace experimentation to take advantage of social commerce
Shopping has always been a social experience. That's why before making a purchase, consumers look for trusted sources.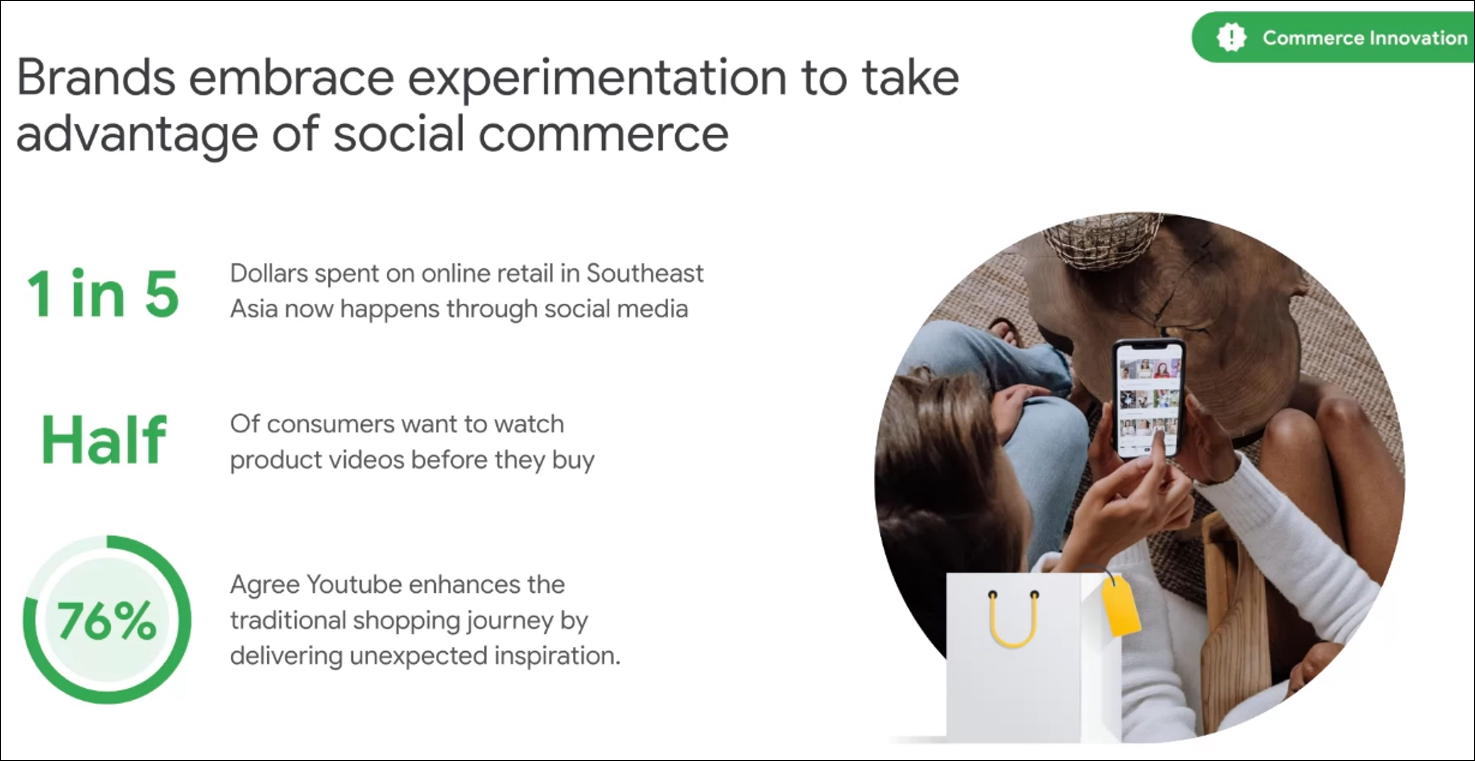 And it's very clear from Google's survey chart above. Consumers look for social proof like product videos and reviews which influence their purchase decisions.
Google's Performance Max tips for the 2022 holiday season
As you start to plan for the peak holiday season, have a look at these 6 tips that Google shared with us.
We've listed them down here on a high level. For more details on these tips, please watch the PPC Town Hall episode above.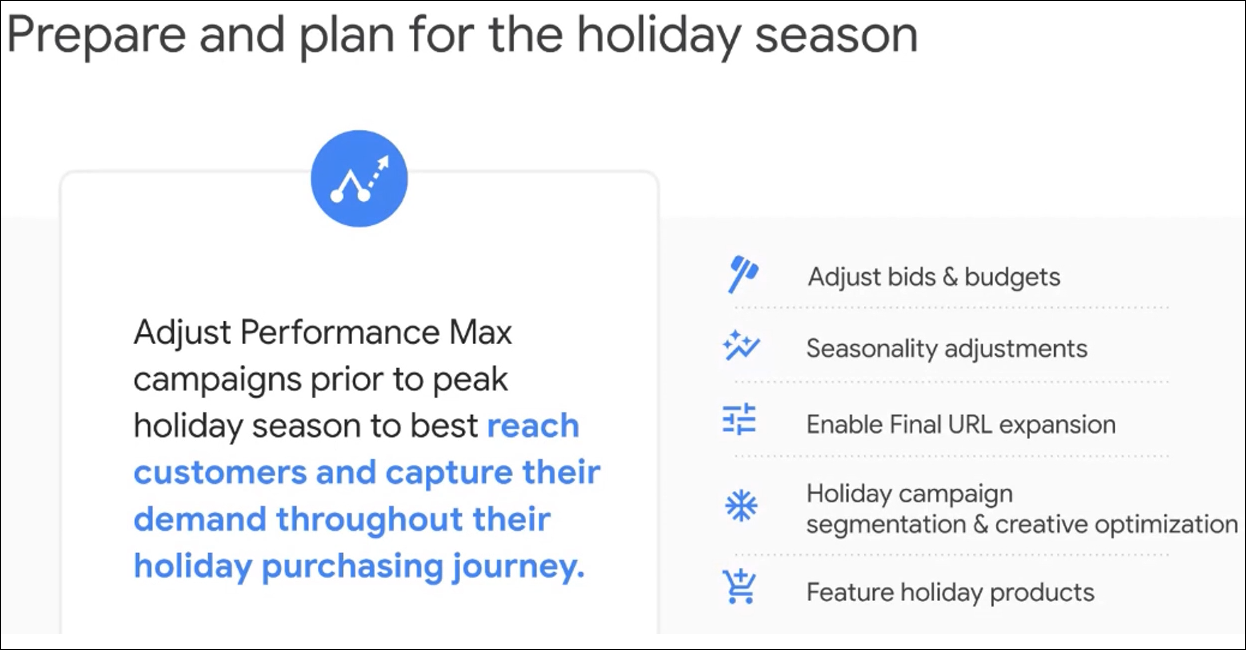 1. Adjust bids and budgets
Google says this is the quickest way to start to see results from your campaigns.
2. Use seasonality adjustments
According to Google, seasonality adjustments are used to inform Smart Bidding of expected changes in conversion rates for future events like promotions or sales. Google recommends this for expert advertisers.
3. Enable final URL expansion
Final URL expansion is turned on by default in your campaign. Making sure that it's on allows Google to replace your final URL with a more relevant landing page for the user based on their behavior.
4. Segment your holiday campaigns and optimize creatives accordingly
Google suggests you get your feed and creatives ready to clearly highlight products that are going to be featured for the relevant holiday.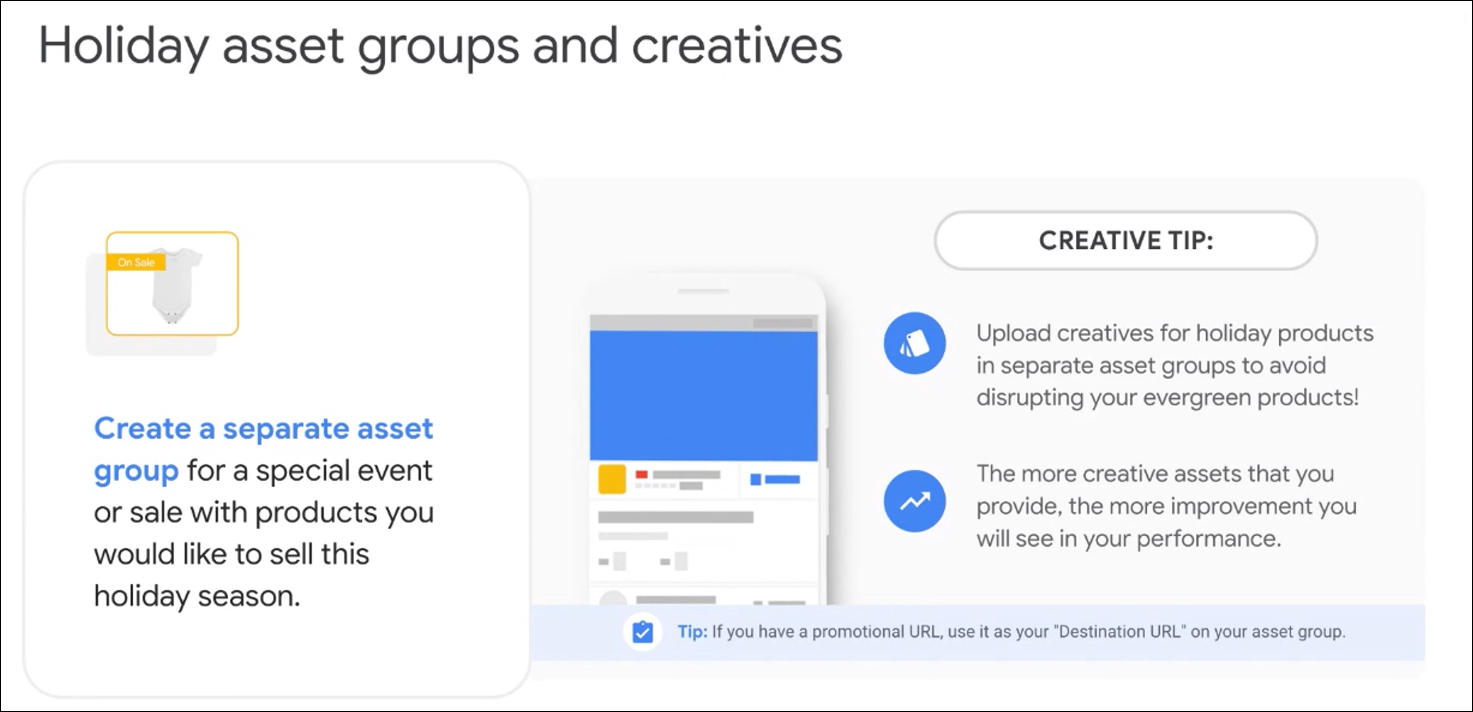 5. Feature holiday products
Make sure that a holiday plan is in place and that you have the right bids, budgets, and products to be featured in your campaigns.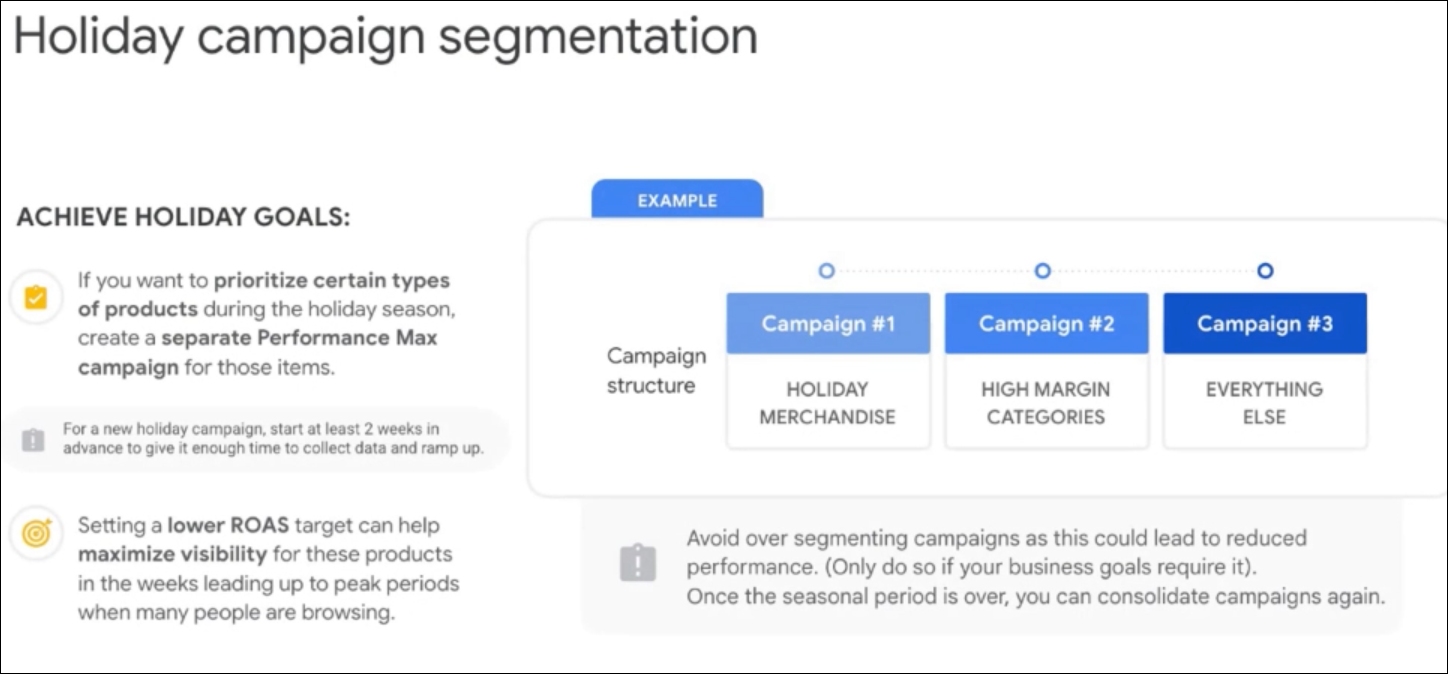 And if you want to prioritize certain types of products, create a separate Performance Max campaign for them.
6. Enable Enhanced conversions for more accurate conversion measurement
Google suggests using enhanced conversions to improve the accuracy of your conversion measurement and unlock more powerful bidding.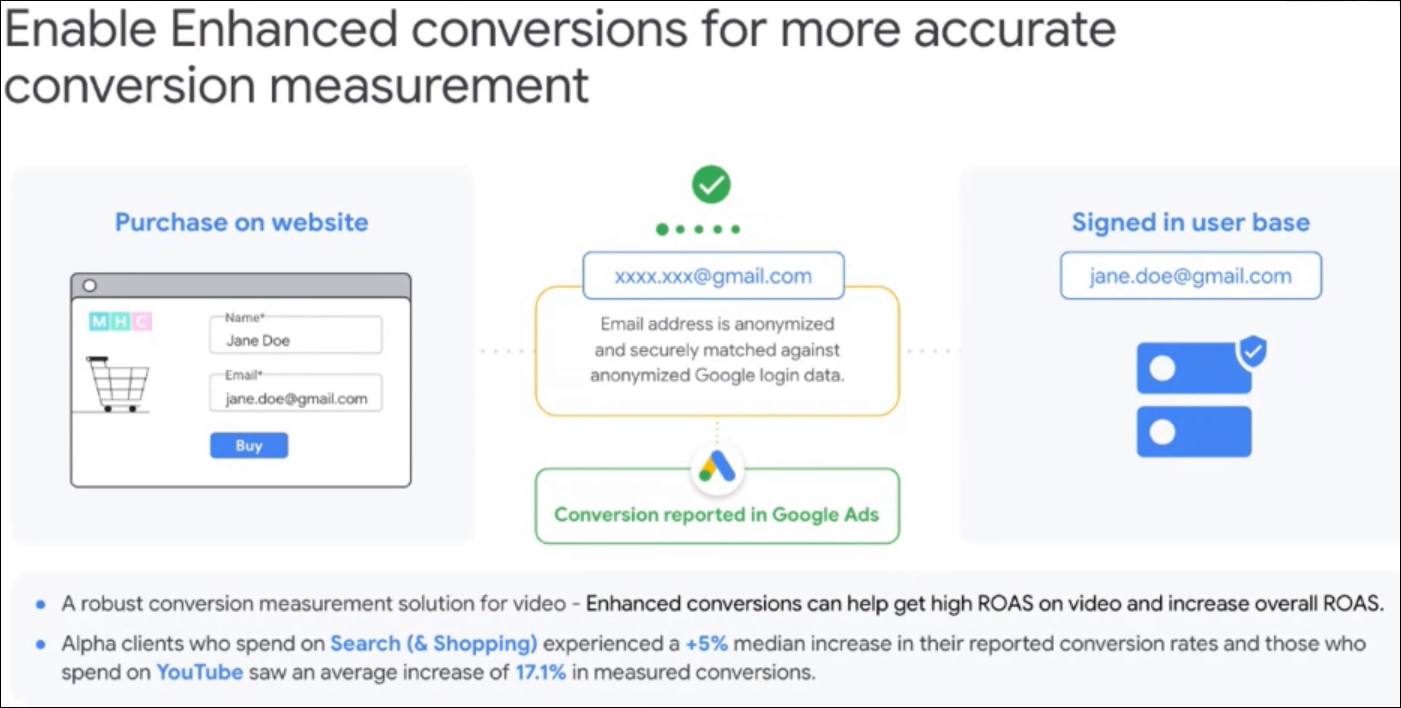 Timing is important
In terms of your holiday setup, Google recommends planning four to six weeks ahead of your peak period and making adjustments with at least two weeks of ramp-up time for each new campaign that you set up.
The ramp-up period also helps with allowing the smart bidding algorithm to bid on products that haven't been bid high so far in your campaign.
Make sure to use this playbook this holiday season. However, you also need to provide your Performance Max campaign with good data and value-focused optimization so that Google clearly understands what it is that your business really wants and what a 'conversion' means to you.
Learn how you can take back control of your Performance Max campaign here.
Images courtesy of Google's presentation on our latest PPC Town Hall.