Since its launch, Performance Max — the one campaign to rule them all — has seen widespread adoption among advertisers from various verticals.
What is Performance Max anyway?
Performance Max is a new campaign type in Google Ads in which you create one campaign and Google promotes your ads wherever your users are interacting with its services — Search, Display, YouTube, Maps, Discover, or Gmail.
In this article, we're going to talk about how advertisers in ecommerce and retail specifically should approach this campaign type to drive better results.
P.S. We also spoke to two of the best experts in ecommerce, Mike Ryan and Menachem Ani, on PPC Town Hall 59 on the same topic. You can watch the full episode below:
Get actionable PPC tips, strategies, and tactics from industry experts twice a month.
Smart Shopping Campaigns have been upgraded to Performance Max
Smart Shopping and Local campaigns have been automatically upgraded to Performance Max in September 2022.
How to structure your Performance Max campaign?
Your campaign structure should be aligned with your client's goal.
If your client has a low SKU-volume store with maybe five or ten products, you may create one campaign with one or two asset groups. If they have a larger store with hundreds or thousands of products, you could split it out a bit more into separate themes for more control over what products are taking up the bulk of the ad spend.
Mike Ryan of Smarter Ecommerce presented the following approach.
He says that if you're new or are still testing Performance Max you can take a simpler approach to structure your campaign and move towards a more granular approach as you learn going forward.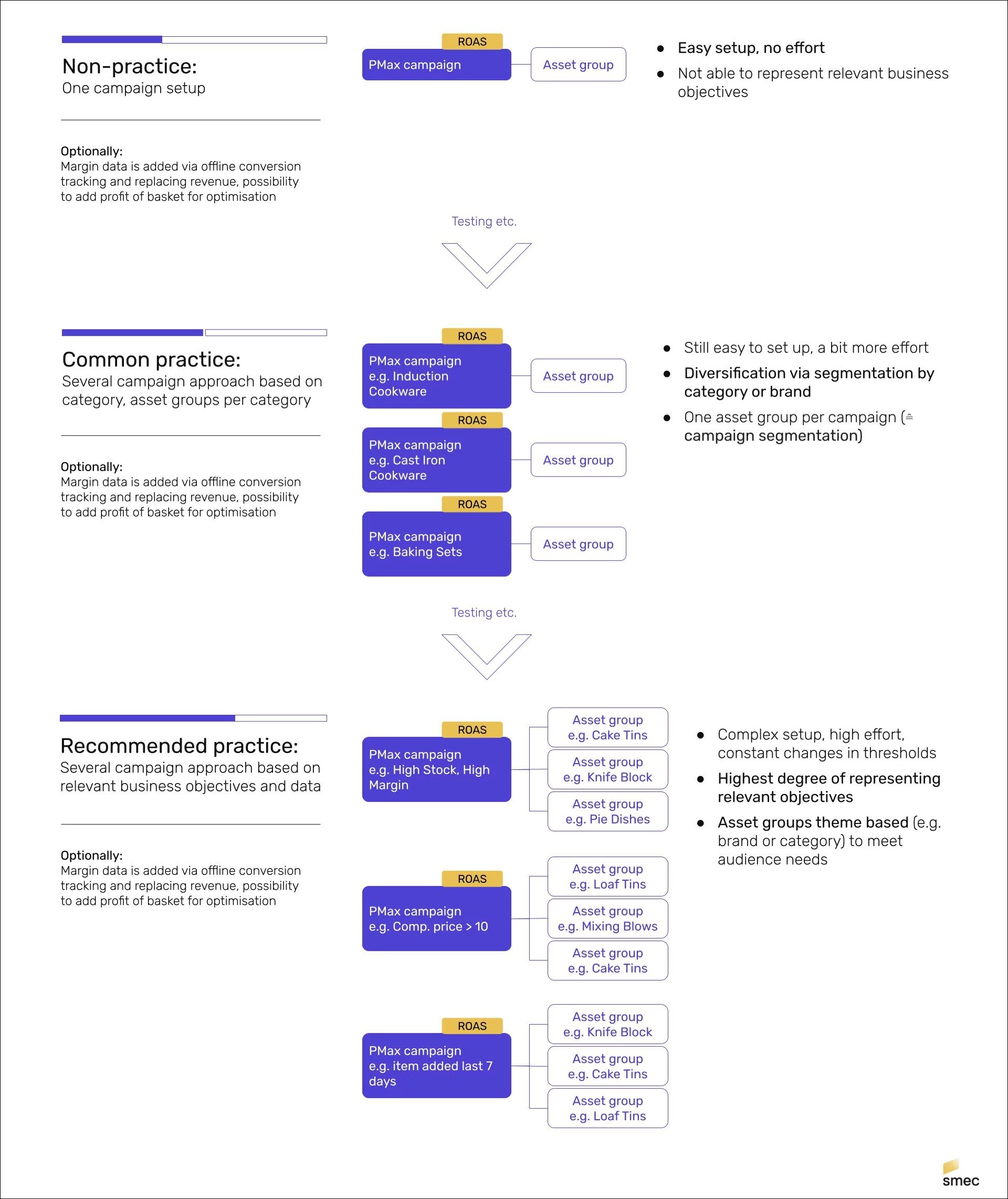 If your objective is margins, Mike says you could try the following approach.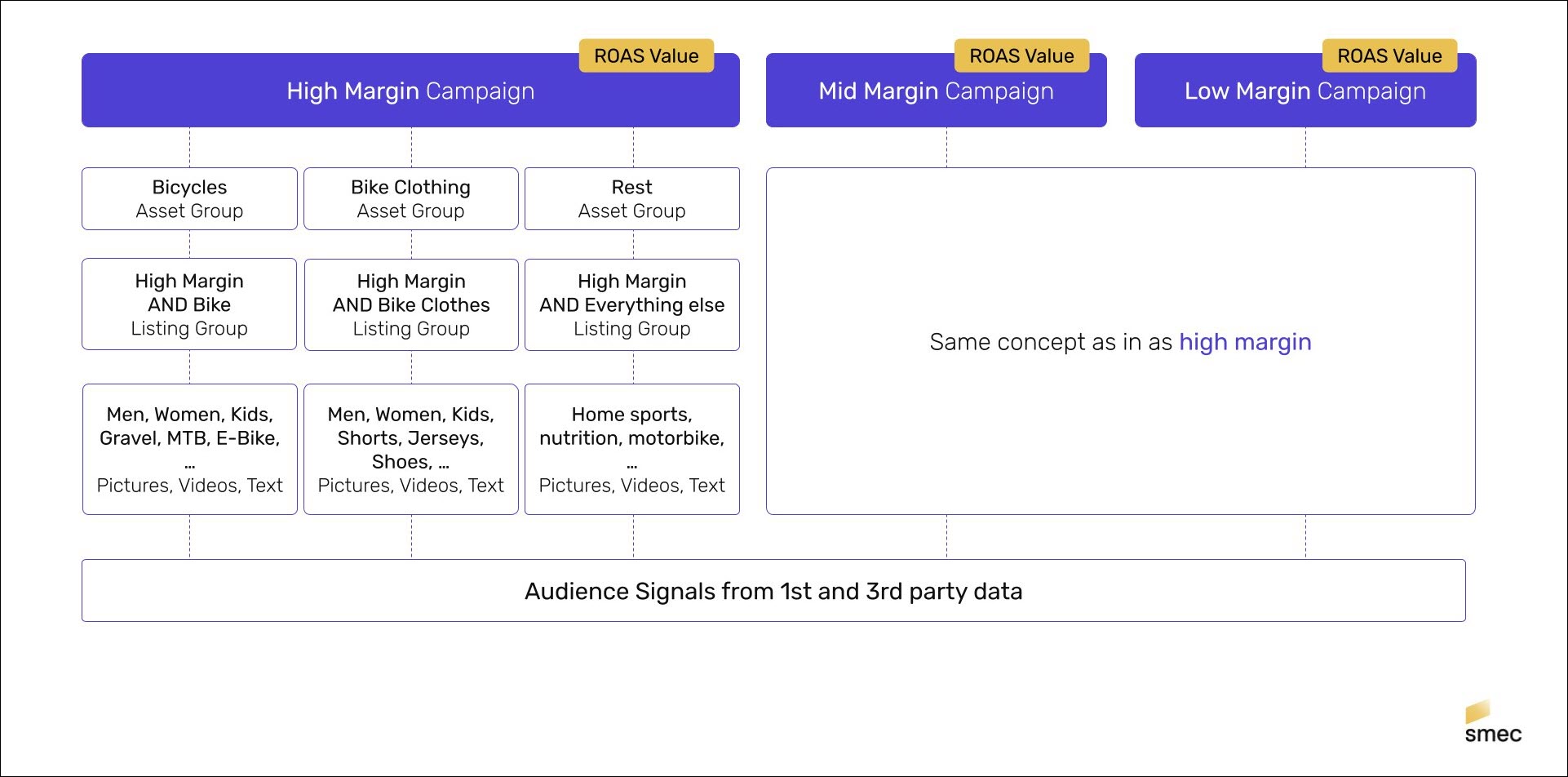 Source: Smarter Ecommerce
Tips for Performance Max bidding strategies.
The bidding strategy that you should use will depend on how much data Google's systems have about your campaign.
For instance, Menachem says ->
"If you're starting out with Performance Max on a newer account where Google Ads doesn't have much conversion data, it's better to start with 'Maximize conversions' without Target ROAS setting. Once you generate a good number of conversions, Google gathers data about your campaign. Then you can switch to 'Maximize Conversion Value' with a Target ROAS setting."

"On the other hand, if your account has already been steady for a while with standard shopping, you could go ahead with Target ROAS which is on par with what you're seeing on your other campaigns and hoping to see in the future. And you can segment those campaigns based on margins and business goals like mentioned above."

"But if your client sells, say a replenishable or a consumable product with a focus around customer acquisition cost, you can go with 'Maximize conversions' with a target CPA. And if their focus is around return on ad spend (ROAS), you can migrate from 'maximize conversions' to 'maximize conversion value' and input a ROAS target when the system has a bit more data."
During this conversation, Mike Ryan made some interesting points on Target ROAS ->
Tips to revive low-impression products.
Sometimes, in automated bidding, you get into situations where certain products just don't have a lot of volume. As a result, Google may get into a self-reinforcing loop where it doesn't know the conversion rate and hence stops testing such products. These might be products you wanted to prioritize and get out of your warehouse.
Here are some tips to revive such products and get more impressions.
Make your data feed more descriptive.
Improve your data feed by making it very descriptive. Use the right keywords based on the product so that it can enter more auctions.
Build data by breaking such products into specific campaigns.
If you have a product in a campaign that's not getting enough traffic, break it into its own campaign maybe with a 'Maximize conversions' strategy.
Put such products into Standard Shopping first and then move them to Performance Max.
Standard shopping campaigns offer you more control. So try putting those products into standard shopping, build up the history behind that product ID, and then put them back into Performance Max.
Menachem also shared a few more tips to help you get the best out of your Performance Max campaigns using landing page data ->
He wrote in detail about maximizing performance from your Performance Max campaigns on his blog.
Tips to get around common concerns in Performance Max.
Related:
Adding negative keywords to your campaigns.
While Google does allow you to block keywords, you cannot add negative keywords at the account level as of April 2023. Google says it will soon be available to all users. For now, you need to get in touch with a Google representative to add negative keywords to your Performance Max campaigns.
Excluding audiences from your campaigns.
To exclude certain audiences, upload your customer list and exclude your existing customers or people who unsubscribed from your email list.
Performance Max is here to stay.
Google is regularly adding new features and components to Performance Max. We could soon see improved geographic targeting, better exclusions, and auction insights, just to name a few. So it's clear that this is the strategy Google is committed to.
"At the end of the day, technology is always moving forward, if you don't move

with it, you'll get left behind."
— Menachem Ani
And, the practitioners say we should get on board with it, and take advantage of the new features to make sure we're set up for success in the future for our clients.
Get actionable PPC tips, strategies, and tactics from industry experts to your inbox once a month.
This article was originally written on Jul 21, 2022. It has been updated on April 6, 2023.