As an industry, we made huge strides in pay-per-click automation during 2018. It really was a transformational year for PPC pros, agencies and the brands we serve.
There are tremendous opportunities on the horizon for PPC pros who are forward-thinking and eager to recalibrate their own role and value in the PPC value chain. Yet many PPC pros today are perhaps a bit flummoxed about what the future holds for them, as Google and Bing are seemingly automating the PPC pro out of existence.
The PPC pro's rapidly shifting role will be a huge topic of discussion on this blog and other outlets as we move through 2019. Our team is in the trenches daily crafting functionality, scripts and concepts that will help you – the PPC pro – transform into a PPC rockstar due, in large part, to ongoing automation within the big engines.
Building on automation & innovation in 2018
Q1 of 2019 kicks off with amazing PPC automation momentum that welled up during 2018. A scan of 2018's most-read Search Engine Land contributed posts shows extraordinary interest in automation and other new functionality designed to eliminate tasks associated with PPC.
Examples among the top posts include an interesting piece by Daniel Gilbert that showcases the power of scripts to automate ways to quickly fix low quality scores. (As you know, scripts are a key element of Optmyzr's push to make the most out of automation.) While Google and Bing continue to automate so much of the upfront aspects of PPC, smart pros will take their script game to new heights in 2019. Scripts can be daunting if you haven't dabbled in them before. But even for those versed in using scripts, they can almost certainly be used to an even greater degree to make the most of the daily advancements available natively in the engines as well as PPC management software like Optmyzr.
We love seeing innovative script ideas from our peers in the industry. It keeps our script artisans on our toes to continually craft new and innovative scripts to crush tasks and foster greater strategic thinking among PPC practitioners. In fact, subscribers to Optmyzr have long had access to a script just like Daniel's and now we've added a tool for pausing low QS keywords as a One-Click Optimization™ so it's easier than ever to use.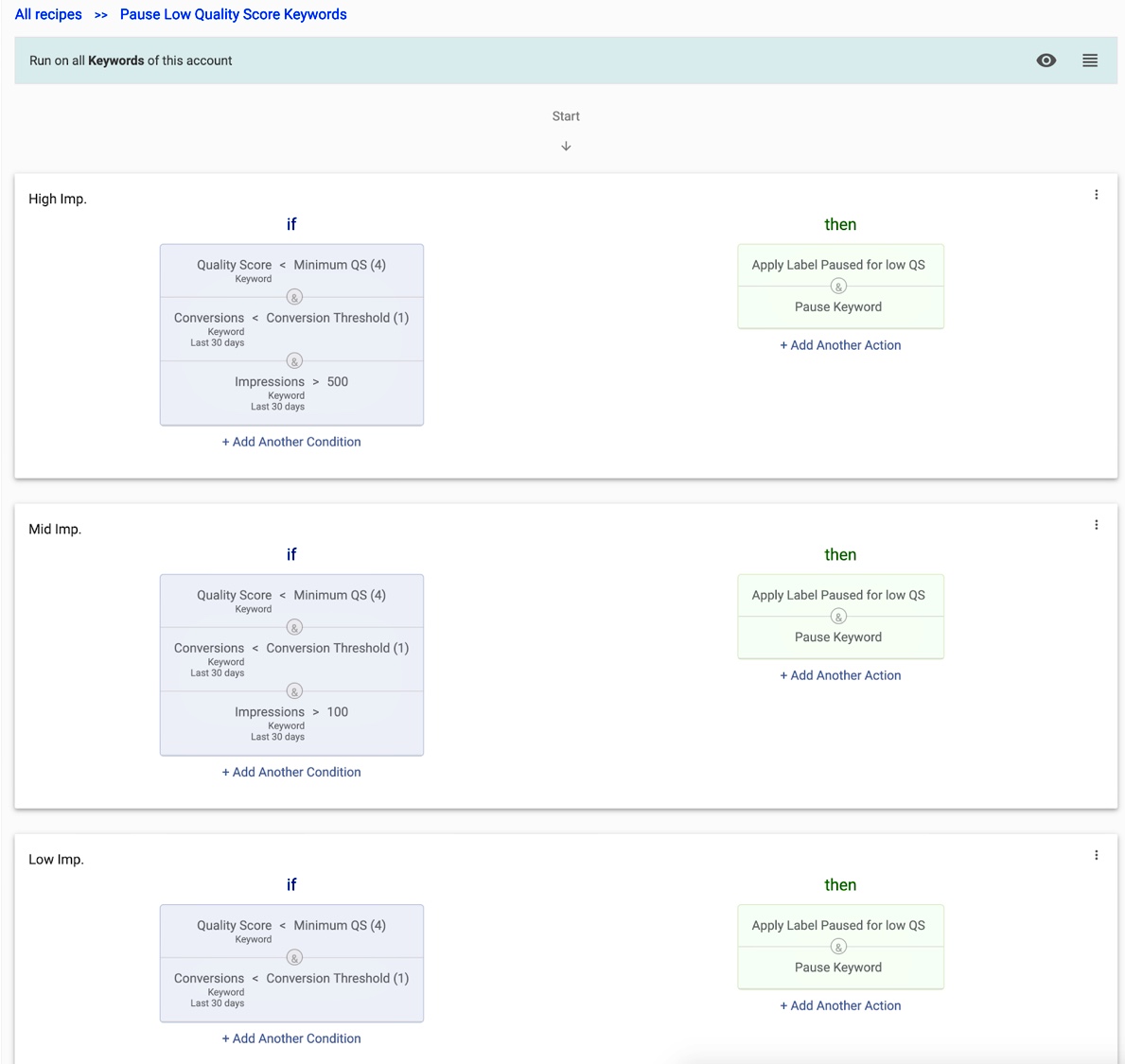 Optmyzr subscribers can easily create custom rules or copy one of the many we've already created as instant recipes. This one identifies and pauses low quality score keywords that are not driving any conversions.
Our team was pleased to see Optmyzr twice in the Top-10 SEL posts. We dove into some of the core things Google Ads can now do automatically and we examined close match variant changes that challenged and elevated capabilities for marketers and providers alike.
Core in all of the discussions, whether about automation or other industry advancements, those of us writing about critical topics focused a lot of energy and attention on helping PPC pros view new dynamics as opportunity versus a threat to your long-term viability.
Interestingly enough in 2018, some of the mainstream press started paying a little more attention and respect to the oft-misunderstood and underappreciated role of PPC. It was attention fueled, perhaps in part, by the significant role of buzzworthy concepts like AI and machine learning. Even Forbes included coverage this past year that started to unlock the mysteries of PPC and its potential to the broader business community. Writer Tom Chalmers took steps to help our business brethren connect dots between AI, automation and a more integrated view of marketing/content/PPC, in general. While not a deep piece, it was good to see PPC addressed in Forbes!
Of course, the old school marketing/advertising media outlets like Ad Age and others still seem to view PPC as an odd, distant step-relative to old school marketing. A search of "PPC" on the Ad Age site yields a couple of results from two years ago. Such apathy within "mainstream" marketing underscores opportunity for smart PPC pros to elevate to rockstar status in 2019.
Read on for a taste of what we'll be talking about in the months ahead….
Automation, AI/Machine Learning – Buzz or Brave New World?
Some of the words we (our industry) use are perhaps beginning to take on very similar and sometimes diluted meanings in our space. To an extent, we're all guilty of buzz-ifying our industry when we talk about concepts like AI and machine learning – and in the process, even the smartest of pros can struggle to figure out what these concepts really mean for our shared future.
The reality, though, artificial intelligence, machine learning and automation dovetail in many ways to create unprecedented opportunity for PPC innovators. Few other marketers can quantify their impact on the business as a PPC expert. Few others are at the center of the storm where purchase-intent consumers are stampeding toward the bottom of the funnel, ready to convert. Few others can connect the dots between the content, words, images that people see in different channels and search for every day.
As a result, the PPC rockstar in 2019 should earn a more commanding seat at the marketing leadership table!
PPC rockstars can and should influence broader marketing strategies from the very beginning of the process. As automation frees us from the tasks of PPC, you can unearth significant opportunity to put your knowledge and analytic abilities to work in much more strategic fashion – for your PPC initiatives and help foster true integration of marketing.
2019 might well be the breakout year for PPC pros to go from "yeah…she does that pay-per-click Google stuff" (uttered with a slightly confused tone) to "she really transformed our marketing integration in amazing ways."
Sneak peek: Big News coming soon
Without giving away the farm, I'm looking forward to sharing news about a project that has been near and dear to my heart for the last several months. Look for an announcement soon about something I think will be really helpful for PPC pros to get your mindset in the right frame for 2019.
Automation will rule the day in PPC in the months ahead. But that doesn't mean automation should rule the PPC pro. On the contrary, I look forward to unveiling our latest project that will help PPC pros elevate their game to rockstar status by taking control of what, how, and when automation is deployed in search marketing to help you drive increasingly powerful results for the clients and brands you serve.
In the meantime, keep studying. Keep reading. Keep learning. Embrace automation because it is your ticket to great things in 2019.