When brilliant marketers share insights, we can get a sense of clarity in troubling times. This week Optmyzr hosted the sixth episode of our weekly PPC Town Hall gatherings. To date, we've had nearly 1,000 attendees participating in these timely, essential discussions about search marketing in the COVID-19 era. 
The response to our Town Hall concept has been terrific. We deeply appreciate the involvement of amazing panelists and the hundreds of attendees who watch, submit questions, and follow up with us.
You can see all of our episodes to date on our PPC Town Hall page. 
Week-6 brought another stellar panel of search marketing all-stars, including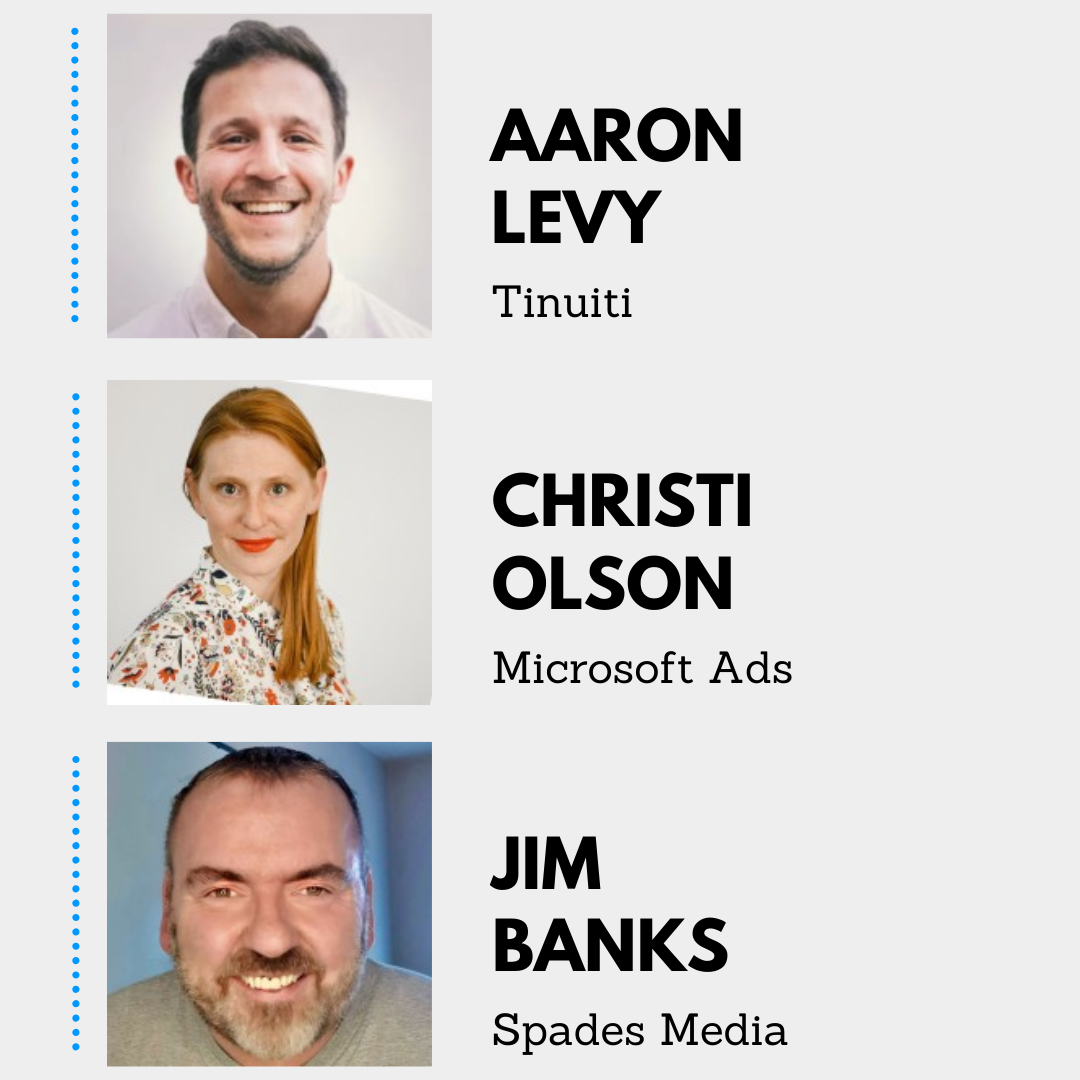 This week's event focused heavily on the tools, data, and creative thinking that is helping PPC pros navigate the strange times we're in. 
Innovative Insight Tools
There are some great new tools to help us make sense of search behaviors and underlying dynamics that may be flummoxing marketers. 
Aaron showcased the really cool COVID dashboard from the data and analytics experts at Tinuiti. We've referenced this dashboard in a few venues ourselves. The dashboard provides visualizations of month-over-month and week-over-week spend trends as well as indexed spend trends covering a wide range of sectors. 
Explore the dashboard. It's free. All you need to do is provide your email address. 
Christi also showed some powerful insight tools that Microsoft is generating to provide intelligence into weekly trends in automotive, financial services, health & wellness, retail, tech & telcos, and travel. The Microsoft resources analyze marketplace impacts and provide meaningful context into indicators of recovery by sector. 
I encourage you to watch the replay of the session for deeper analysis, but some key takeaways from our panel:
The data shows that uncertainty is a key factor, but plays out differently by industry. 
Travel and automotive are still among the biggest challenge areas. Volume fell off a cliff, but are showing signs of tepid uptick. In automotive, promotions about extended finance deals and payment relief prove powerful. 
The pandemic affects everyone differently, even within a sector. So performance for one provider in a vertical could vary from a counterpart in a different geo. Use the data as a guide, but apply your own critical thinking as a marketer for your specific audiences. https://about.ads.microsoft.com/en-us/insights/covid19-insights-for-advertisers
Seeing clarity in the data
Is it even possible to trust the data that is out there? The brilliant AI machines and smart automations are, in many cases, confused.  The machines know it's a weird time, but they don't know we're in a crisis. The machines understand data from the past to predict the future. But the past doesn't factor in massive global shifts in how people are living their lives. 
Christi, Aaron, Jim, and I talked specifically about the use of RSAs and applying data to decision making. Aaron talked about moving from being data-driven to being data-informed. Look at data and best practices as very relevant, but we all need to view this information through very different lenses than we did two months ago. 
Christi encouraged search marketers to take a much more manual mindset with RSAs. The days of set-and-forget are gone (for now). The challenge for marketers today will be to apply critical thinking, creativity, assessment of messaging, geo differences, and other factors to make decisions better than the machines can do right now.
Jim echoed the same RSA points, and said he is heavily annotating analytics right now, due to the wildy dynamic environment marketers are in. We simply cannot compare anything from 12 months ago to make decisions now. He noted that like-for-like may never exist again, or at least not for quite some time. 
Panelists also encouraged marketers to allow themselves to be wrong on occasion. In many cases, hindsight will be the only indicator of the decisions being made right now. 
Amazon, Ecommerce, and "Black Friday" thinking
As panelists have discussed in earlier episodes, Amazon's impact on the market is far different today than it was two months ago. Still the ecommerce behemoth, shifting priorities and temporary shipping extensions create opportunities for other providers to step in the ecom gap. 
Aaron and Jim both credited Amazon's quick move to communicate extended shipping timeframes as a means of protecting the Prime brand. People associate Prime with same-day and two-day shipping more than they may associate it with the other services like Prime Video. Noting it's better to underpromise and overdeliver on shipping. Cart abandonment that happens when people see shipping dates weeks out can help other providers – assuming their supply chains, inventory, and distribution can fill the void.
Christi added that for those doing Amazon sponsored ads, it's essential to be sure the ads, promotions, and messaging actually align with what people are purchasing now. Careful consideration of how sponsored ads are being applied now is essential to prevent needless spend or to capitalize on filling near-term needs for things people will actually purchase. 
The ecommerce discussion also covered "Black Friday" thinking by many retailers. Balancing the potential perception that a provider is desperate against the perception of being viewed as opportunistic, the panel advised retailers to avoid keeping Black Friday type discounts from going on too long. 
Aaron summed up the panel's thoughts when he noted, "The people who market well are doing well. The people who market poorly are doing poorly. With the Black Friday concept, some can look a little desperate and it can seem like some are addicted to focusing on month-over-month or ROAS on last click. Longer term marketers are looking at the edge of the funnel – seeing the whole funnel as opposed to just the bottom." 
Light at the End of the Tunnel? 
Nobody knows a timeline for returning to something resembling normal, but the week-6 panel expressed optimism with discussions beginning to shift to recovery versus managing through the crisis. 
The tools shared above and all other data points can help search marketers have a better understanding of immediate factors, but also are now setting the stage for longer term thinking and decision making. Clearly we have a long way to go, but with each subsequent Town Hall, discussions are morphing and adjusting. Week-1 was more about being together and commiserating and trying to gauge "what the heck is happening?" Five weeks later, discussions are dramatically different. 
Invest an hour of your time and watch the replay of episode 6 on our Town Hall web page or listen to it as a podcast. Then sign up for next week's live session, which will feature Navah Hopkins and David Szetela, both on the list of top 25 most influential PPC experts in 2019, and Brandon Jones from un(Common) Logic, an Austin-based agency.
Register today and we will see you Wednesday for PPC Town Hall #7.