We recently launched a more powerful version of the Optmyzr MCC dashboard. What makes this dashboard so powerful is that it lets you:
1. View and compare goal data from Google Analytics along with data from AdWords
You can link your Google Analytics account to Optmyzr and view goal and e-commerce data alongside AdWords data. In the favorite accounts tab, you can compare this data to a different date range and see how performance has changed.
2. Add notes and labels to accounts
With the Pro dashboard you can add labels and notes at the account level and these will be visible to your team members. The search box at the top will help you filter accounts by label.
3. Add more data fields like monthly budget, percentage of budget spent
When managing multiple AdWords accounts it becomes difficult to see if all accounts are on track to spend the amount allocated for that period. With this feature you can specify a monthly budget for each account and then use the % Monthly Budget spent field to identify accounts that may not meet or may exceed the allocated budget. Even as a company if you're managing multiple AdWords accounts, this feature will definitely come in handy.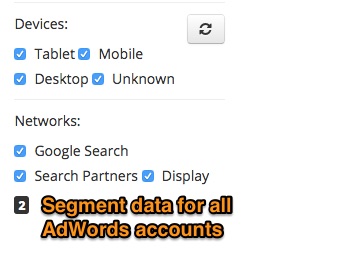 4. Segment data by network and device at the account level
This is one of the most powerful features of the Pro dashboard. You can use the filters on the left side of the dashboard to see how much each account is spending on a particular network and device. You can see how performance for all your accounts has changed on mobile phones.
This version of the dashboard is available to users on the Pro and Enterprise subscription plans