Q3 Recap: All the Optmyzr Updates You Might Have Missed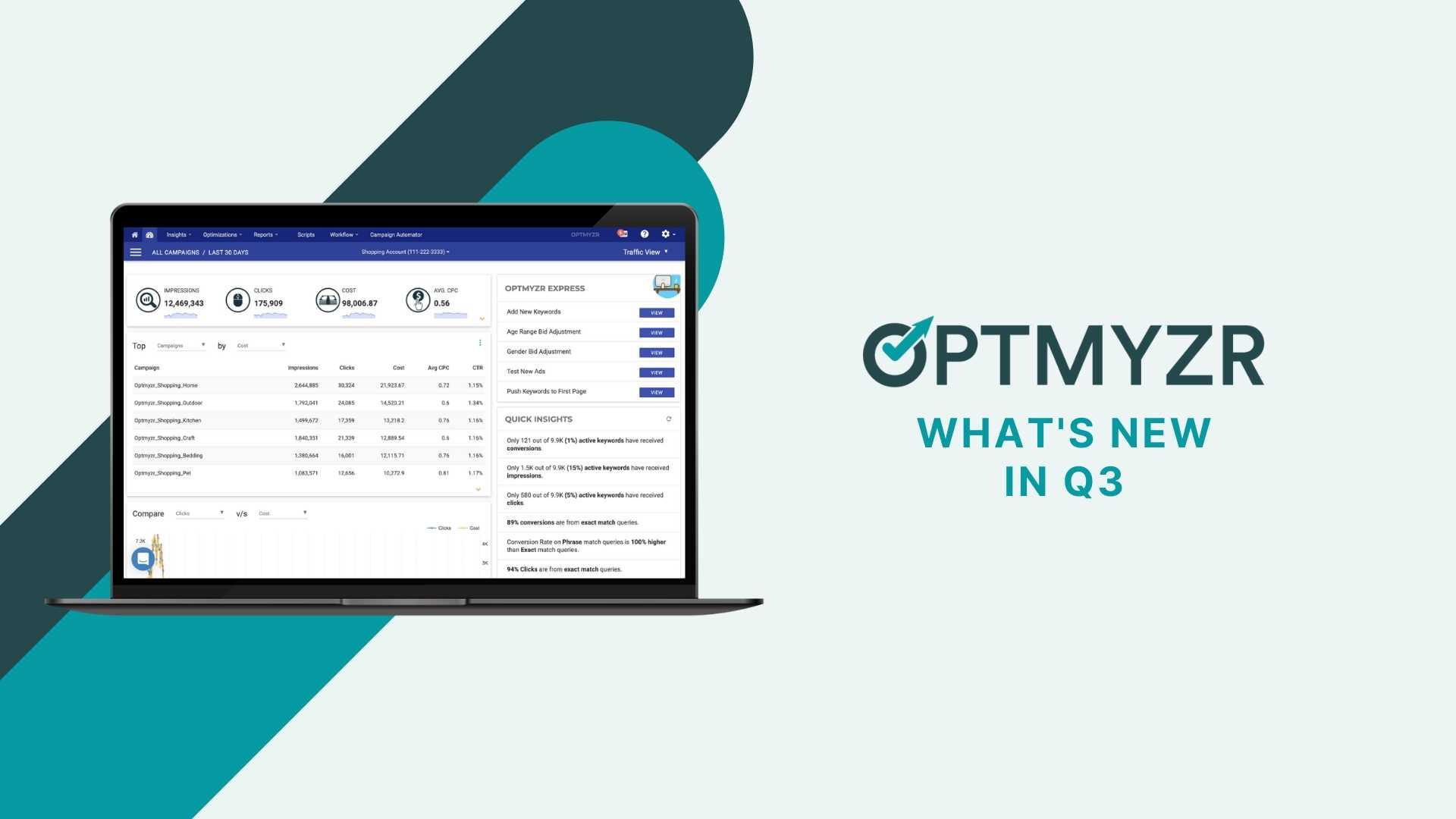 It's been a busy quarter for the team at Optmyzr, between shifting economic realities and Google's less-than-ideal decision to share less data with advertisers. We're still working to make sure the PPC community has the tools they need to be better account managers — but also more valuable strategic marketers.

Here's a roundup of everything new we introduced in Q3 of this year.

New Rule Engine strategies for geo bid adjustments

Find Expensive Cities: Reduce bid adjustments for cities that either have a higher CPA than the average or have no conversions despite having a high number of clicks in a campaign.
Find New Cities: Find out which new cities (if any) are starting to direct traffic to your campaigns over the last 14 days compared to the previous period.
Target Cost per Click: Set geo bid adjustments for countries, regions, and cities based on the target average cost per click (CPC) you want to achieve.
Target Cost per Conversion: Set geo bid adjustments for countries, regions, and cities based on the target cost per conversion you want to achieve.

New Rule Engine strategies for automated bidding

Non-Converting Search Queries – Search Campaigns: Automatically adds negative keywords for queries that have a lower CTR than the associated keyword or that have no conversions even though the cost is higher than the typical CPA of the campaign.
Non-Converting Search Queries – Shopping Campaigns: Automatically adds underperforming and non-converting queries as negative keywords in shopping campaigns.
Reduce Target CPA: Modify Target CPA to reduce the gap and reduce overall CPA.
Increase Target ROAS: Modify Target ROAS for ad groups performing well to reduce the gap and increase ROAS.
Maximize Conversions Bidding Strategy: Audit and analyze the performance of campaigns using this bid strategy; or find ideal times to shift campaigns to a target CPA or manual bid strategy to improve performance
Account Blueprints helps you streamline PPC workflows and keep teams at the top of their game. With Blueprints, you can track and manage operations across accounts by creating and tracking efficient workflows. Design workflows for onboarding new clients, to complete recurring tasks like audits, and even to quickly integrate new hires.
Create SKAGs in minutes

Automatically create single-keyword ad groups (SKAGs) for high-performing search queries in Google Ads using the Rule Engine.

New widgets in Audits help you take the following actions in your accounts:

Find ad groups with no or few keywords
Audit Dynamic Search Ad (DSA) groups in campaigns
Find campaigns with too few DSAs
Find ad groups with duplicate ads
Find conflicting negative keywords
Linking and syncing of merchant feeds is smoother and faster, allowing you to use the Shopping Campaign Builder and other shopping tools more seamlessly.
Import strategies more easily

Search by account name or ID when copying Rule Engine strategies, making it easier to copy over strategies across multiple accounts.
Search Terms N-grams

Use the 'Actions' button to select multiple n-grams to add as negative keywords.
Sort data by cost or clicks to see which n-grams are driving the most traffic.
Download a CSV with up to 10,000 rows of data. A new option was added that aggregates n-grams data by campaigns and ad groups.
Collapse the search terms word cloud when you want to analyze the data in the table.
Search by campaign name or filter by campaign labels to see data for specific campaigns.

Report on conversion types that are most important to your accounts. Custom conversions are now supported in the following reporting widgets:

KPI
Summary
Timewise
Metric trend
Performance comparison

Amazon insights reporting widget: Use this reporting widget to include performance for Amazon Ads accounts in multi-account reports.

New computed metrics in Rule Engine: New metrics (ACOS and ROAS) are available in the Amazon Rule Engine.

Support for longer date ranges in Amazon: Included longer date ranges — last month, last 60 days, last 90 days, custom (anything between yesterday and last 90 days).

PPC Policy & Audits for Google Ads: Added a new option in Rule Engine that can automatically send PPC Audits for accounts to multiple team members.

New Multi-Account Report Widgets: We've added two new widgets to help users create more robust multi-account reports for all three ad platforms (Google, Facebook, Amazon & Microsoft Ads).

Multi-Account Performance Comparison: Use this widget to compare aggregate performance.
Multi-Account Time-Wise Stats: Use this widget to see combined performance based on time.
Copy over tracking templates when creating new ads in the Responsive Search Ads and A/B Testing for Ads tools.

Track performance better by adding Google Ads labels to new ads created through our testing and quality score optimizations. Labels can be added when you:

Create or pause ads in A/B Testing for Ads (Google, Microsoft)
Create new ads in the Test New Ads optimization in Optmyzr Express (Google, Microsoft)
Create new ads in SKAGs that are created in the Quality Score Tracker tool
Choose when you want to be notified of changes from the average defined threshold when using the Anomaly Detector Script:

Increase only
Decrease only
Both
Added the Search Impression Share metric to the Performance Comparison tool. It is available in the tool and as CSV download.