With the ever-changing landscape of user online behavior, the importance of Display campaigns only increases. The logic is plain enough. Given the influx of businesses going online, not everyone will know about your business or what you do to search for you explicitly. 
Hence, it becomes all the more important to ensure you reach your passive audience through ads in places they generally browse to create awareness and subsequent conversions.
In this article, you'll learn:
What are display campaigns?
Why they're important in a PPC strategy?
How to reduce wasted spend and optimize them to get the best ROI?
What are Google Display campaigns?
Google Ads Display campaigns are visually engaging ads to help you promote your business when people are browsing online, watching YouTube videos, checking Gmail, or using mobile devices and apps.
It is very common for people to see a banner ad or a native ad and then search for that product or service on search. According to recent studies, a remarkable 27% of consumers initiate a search for a business after being exposed to its display ad. An analysis of conversion data reveals a remarkable 59% increase in conversion rates when users conduct searches related to display ads. These figures prove how important a role display ads play in helping you achieve your business outcomes.
As Display ads are conventionally targeted toward your top-of-the-funnel audience, they commonly record lower returns on ad spend. Sometimes small or mid-size businesses do without them due to budget constraints. But today, when display ads are becoming more imperative to construct a full-fledged marketing funnel irrespective of the size of your business, it is required to chalk out a better-equipped strategy to stay on top.
How to reduce wasted spend in your Google Display campaigns?
Here are 9 ways to help you identify any wasted spend and optimize them to achieve your business goals.
1. Create real-time alerts to get notified of any significant deviation of your KPIs.
Monitoring your most important metrics is a tried-and-tested method for better campaign performance. It helps you take timely action when things go off track.
Optmyzr's Advanced Alert Management System helps you create quick and customized alerts. You can create an alert for a KPI (say, Cost/Conv) for a single display campaign, a set of display campaigns, or all your display campaigns in an account together. You will get a notification whenever the KPI deviates from the standards you have defined.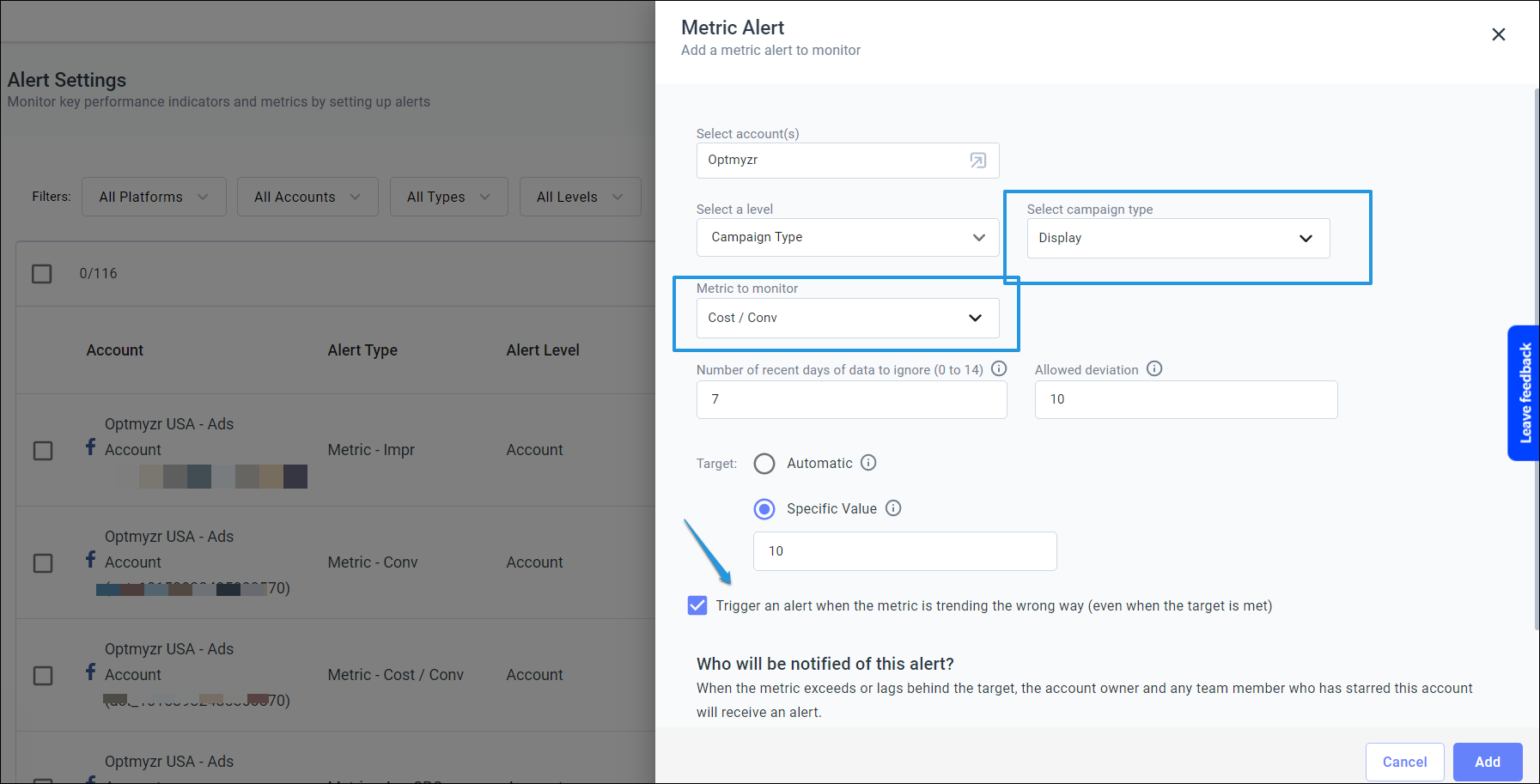 You can also receive these notifications over Slack or Microsoft Teams if you are using either for internal communication.
Optmyzr Tip*: Check in the box to receive an alert when the metric just starts to trend in the wrong direction so that you can take proactive measures before the targets are exceeded.*
Read more: Optmyzr's Advanced Alert Management System
2. Analyze missed KPIs to understand the root cause.
When you don't achieve the set targets you wanted for your business, it is always a good idea to dig deeper into the reasons. Understanding what exactly went wrong helps you identify the root cause and find a solution.
Optmyzr's PPC Investigator tool helps you understand why a particular performance metric performed in a certain way. It helps you find the exact underlying metric that contributed to the change in a given account.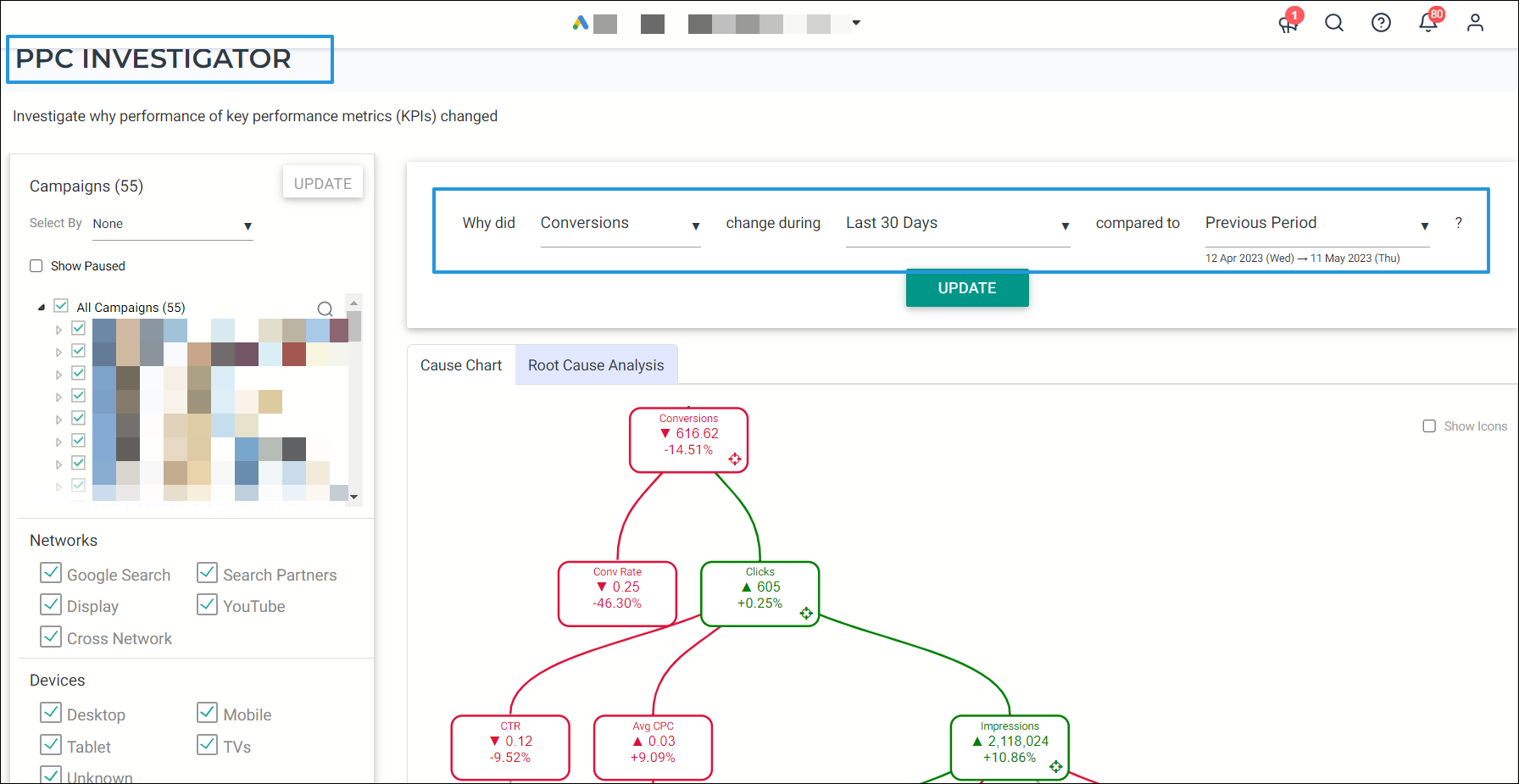 It might be an audience segment, a placement, or an entire network that may have caused the change. Answering questions such as why conversions/clicks dropped the previous month can give you better insights into overall account improvement.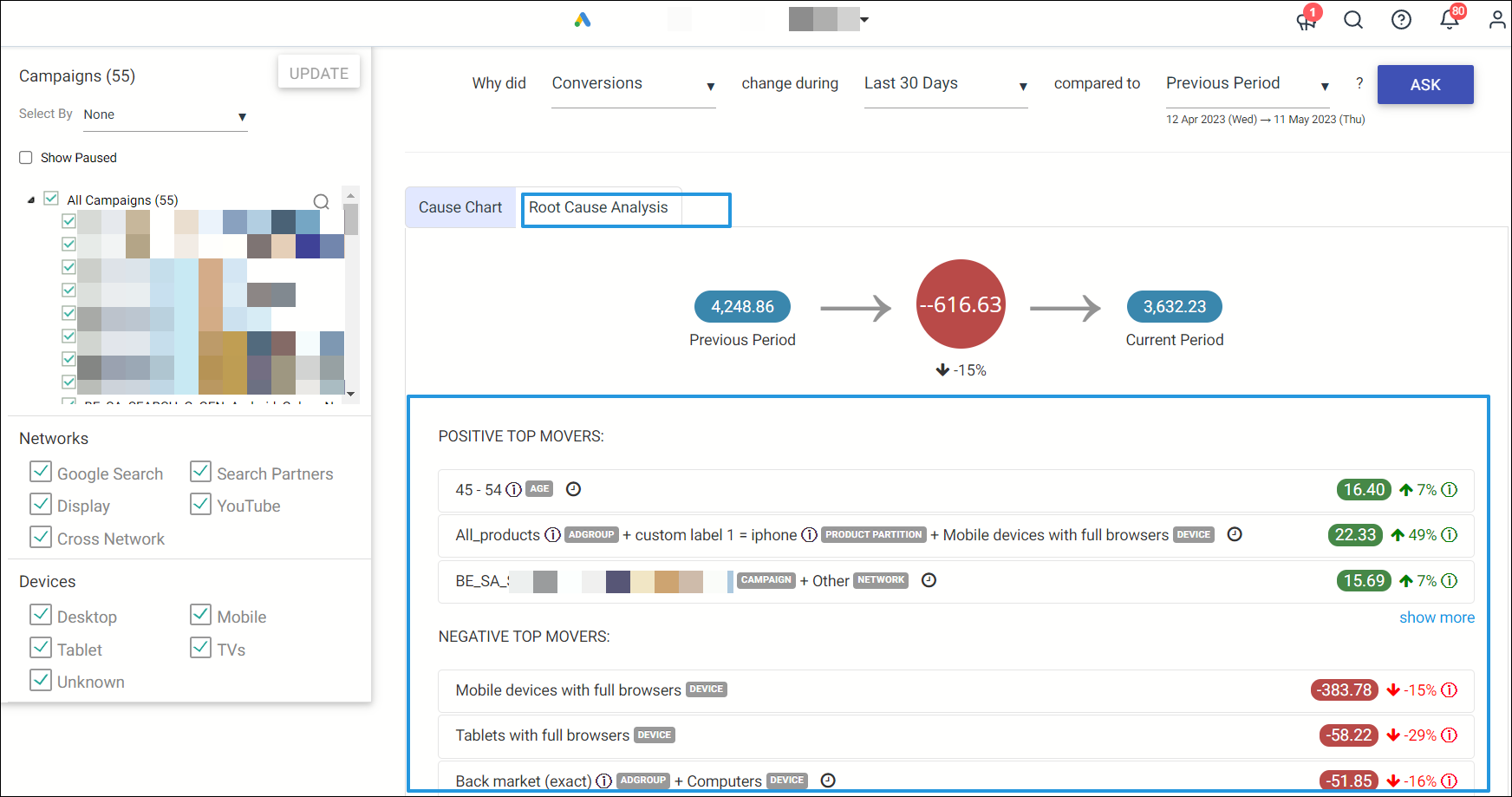 Read more: Optmyzr's PPC Investigator
3. Stay in control of the budget allocated to the Display campaigns.
When you have a stipulated budget allotted to your display campaigns, you may want to get notified and rather stop your ads from showing for the rest of the budget cycle. You want to ensure you don't go over your target budget.
Optmyzr's Optimize Budgets Across Platforms tool helps you notify when a significant portion (say, 50%, 75%, 90%) of your budget is spent and also helps automatically pause the campaigns when the defined budget amount is spent. It also automatically resumes those campaigns that were paused at the start of the next budget cycle.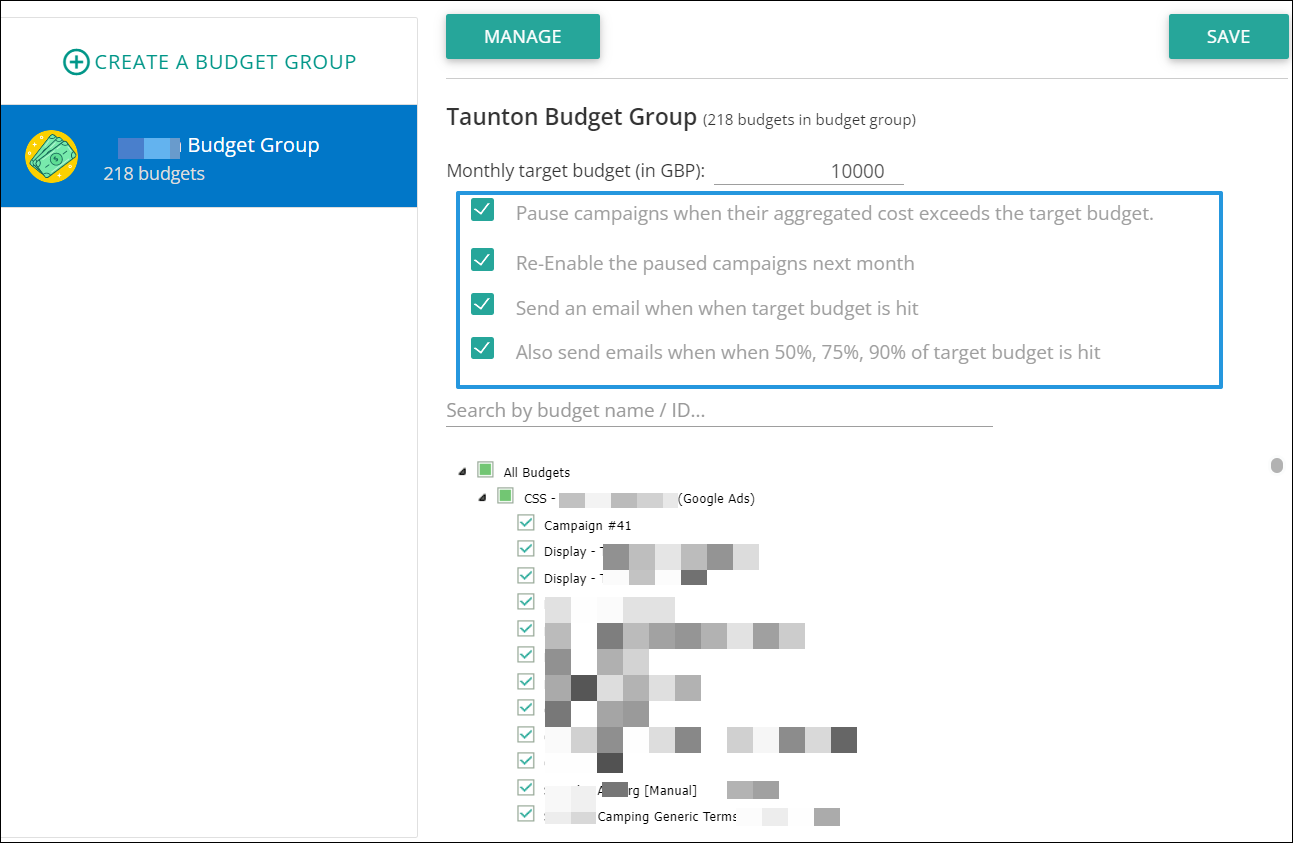 This tool also lets you create budget groups. A budget group can contain campaigns from different accounts across platforms (Google, Microsoft, or Facebook). So you can choose to create one for all your Google Display campaigns across accounts and control their spending from one place. 
Or, you can combine all the display campaigns for a particular brand you are running over Google, Microsoft, or Facebook (for the 'Awareness' objective) in a single budget group and monitor them.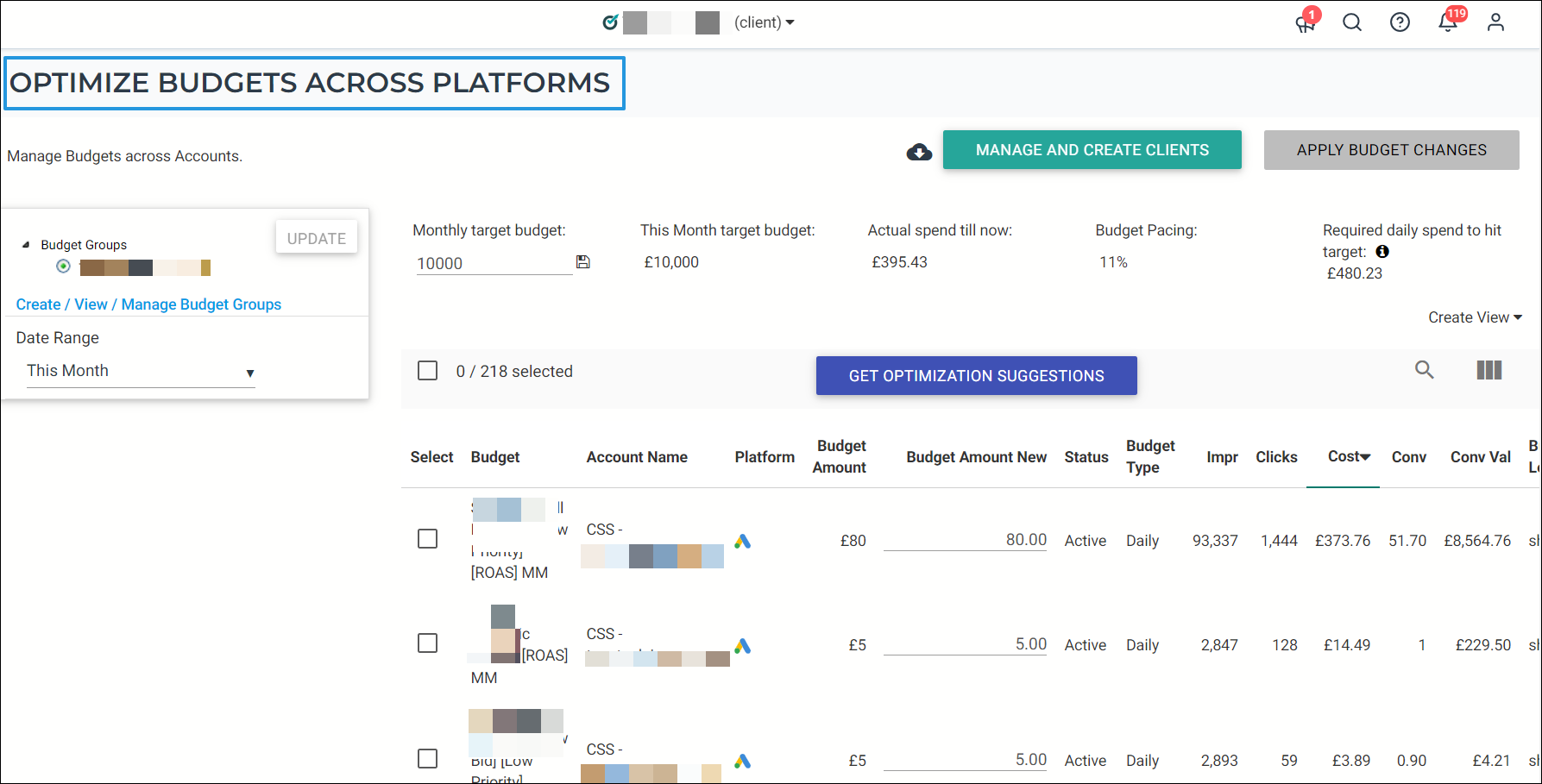 Read more: Optimize Budgets Across Platforms
4. Identify and exclude poor-performing placements based on a business goal.
It is a common business practice to create display campaigns targeting specific domains for specific business outcomes: awareness, traffic, and sales. It is equally important to track if these placements are generating the desired results and, if not, to optimize them.
Optmyzr's Display Placement Exclusion tool helps in consolidating placements that are resulting in wasted spend and excludes them based on a business goal – Branding, Traffic, or Conversions. You can also aggregate data for the same domain across campaigns.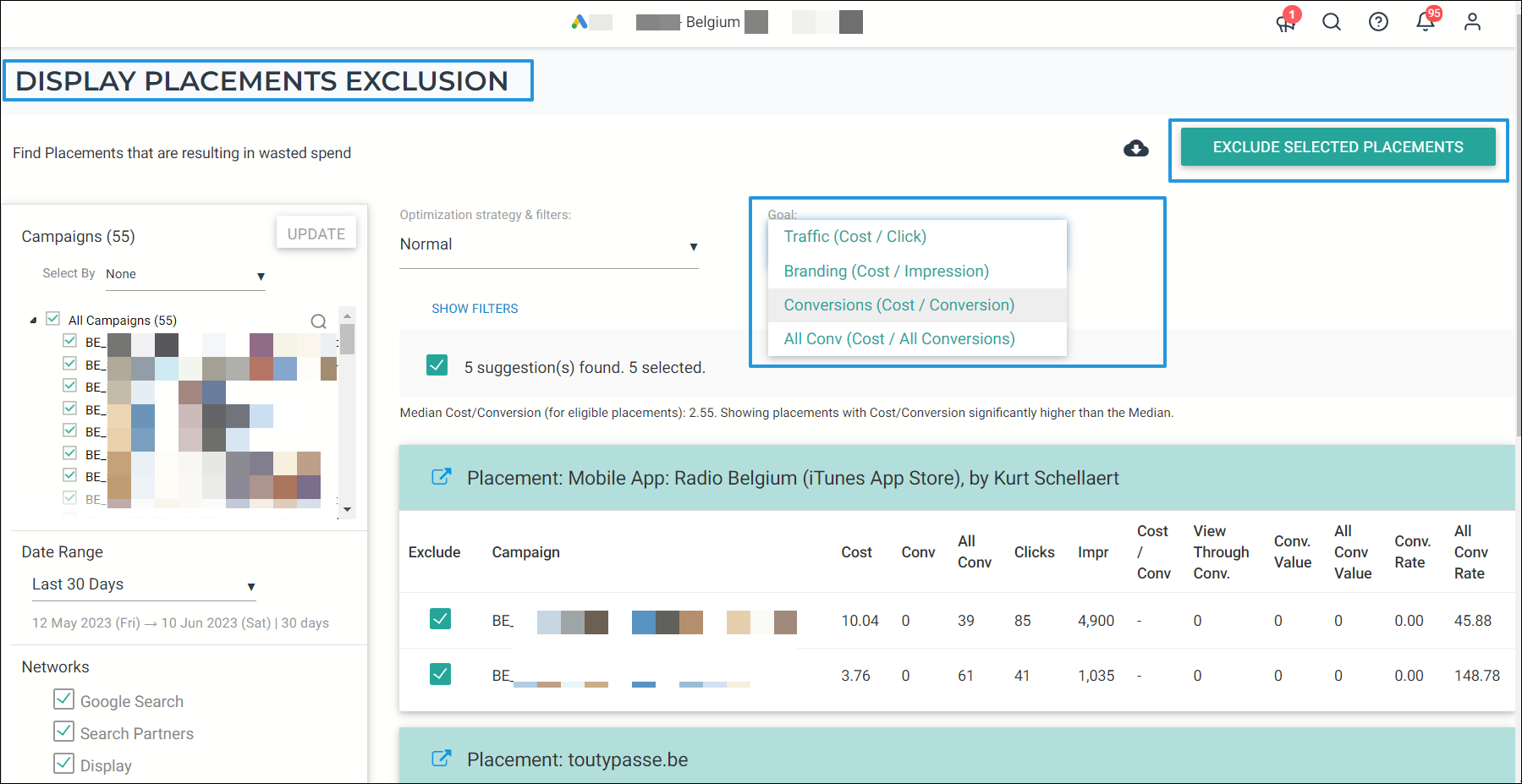 You can also break down the results by each of the individual campaigns that the placement has appeared for, allowing you to make the decision. Once you have selected the campaigns you want to exclude, you will be able to exclude them at the campaign level.
Read more: Optmyzr's Display Placement Exclusion tool
5. Automate excluding non-converting placements from the account.
Sometimes, there could be a set of placements across mobile apps, YouTube videos and channels, and websites that consistently accrue a considerable cost but have never converted for your account. After analyzing such placements for a while, it'd be a good idea to exclude them at the account level so that your ads do not show up on them any further.
Optmyzr's Account Level Placement Exclusion tool gives a consolidated list of non-converting placements after aggregating performance data at the account level.
Excluding placements from an account helps prevent your ads from showing up on certain areas on the Display network or YouTube, overriding any campaign-level placement targeting. This is especially helpful for Smart Display campaigns, as Google doesn't support excluding placements through a negative list or by excluding them at the ad group level.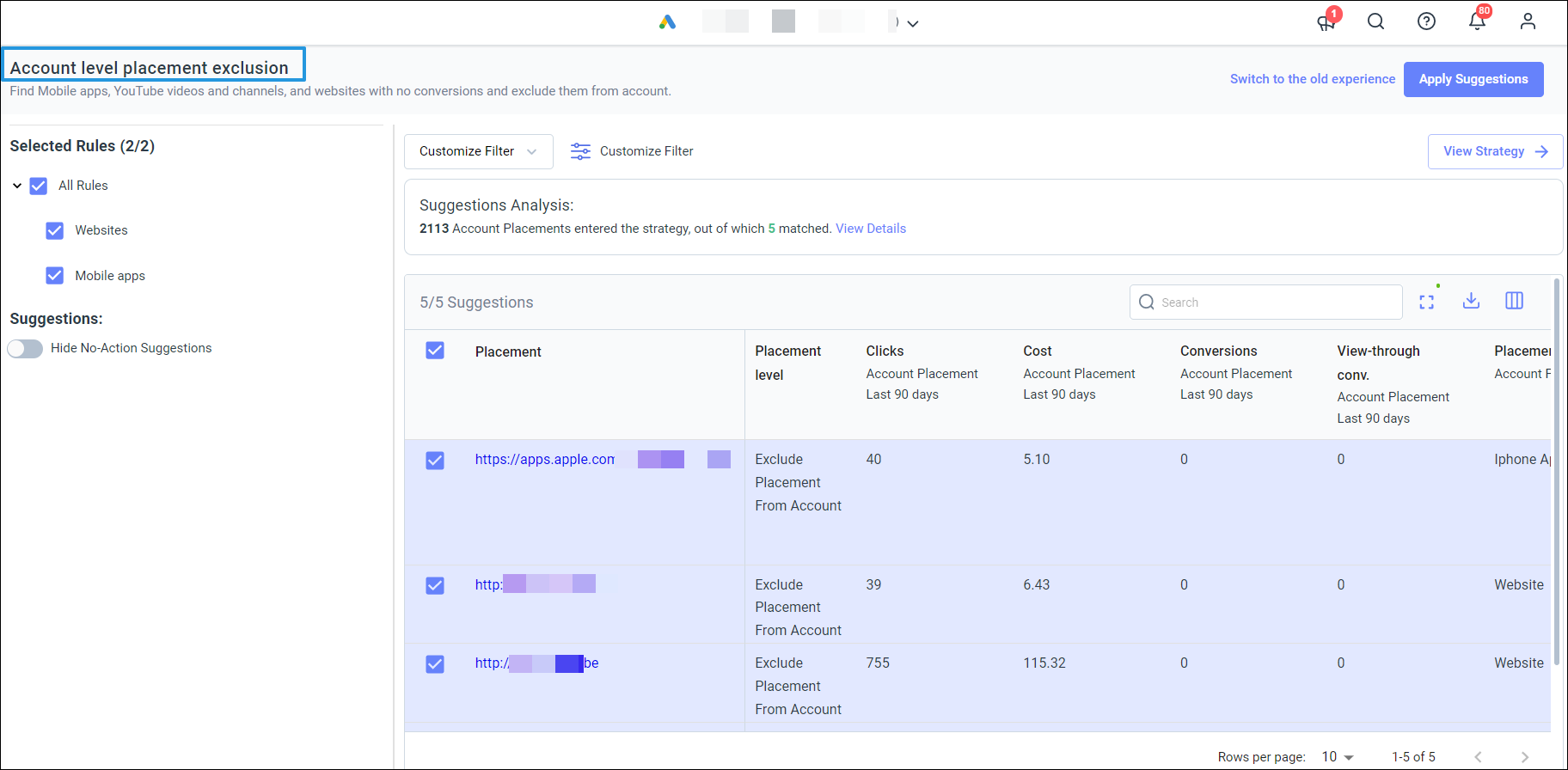 You can use Optmyzr's Rule Engine to customize this tool's strategy according to your business requirements and automate the process of excluding such non-converting placements from the account. You can also tailor your Rule Engine strategy to specific conditions, like always exempting certain placements from exclusion irrespective of the performance.
Read more: Optmyzr's Account Level Placement Exclusion tool
6. Exclude your display ads from showing up on low-quality placements.
A proactive approach always helps you optimize more efficiently than a reactive approach. Say, if you already know about the low-quality placements on the Google Display Network, you can ensure that your ads do not show up on them from the beginning. This will save you the wasted spend your ads might face in the process that can be spent on more valuable clicks.
Optmyzr's Smart Placement Exclusions for Apps and Display Network tool helps you do that exactly. This tool uses data from thousands of Optmyzr-wide Google Ads accounts to proactively find bad placements. Instead of waiting for these placements to spend money on wasted clicks and then excluding them, the tool proactively excludes them for you.
The tool recommends excluding websites, mobile app placements, and YouTube channels. Those will be excluded at the account level in your Google Ads account. However, it will not affect the placements that have been excluded manually outside of Optmyzr. You can also specify verticals you do not wish your placements to be excluded from.
Note: This is an Optmyzr add-on and is currently in Beta. You can write to our Support team for a free trial and early access.
Read more: Optmyzr's Smart Placement Exclusions for Apps and Display Network tool
7. A/B Test your display ad copies and pause the ones that are underperforming.
A/B Testing your ad copies to find the winners and losers is a legacy PPC optimization strategy. Nevertheless, it still stands out to be one of the most effective strategies as it helps you quickly sift through the ads that are performing well and create more on their lines and eliminate the non-performing ones.
Optmyzr's AB Testing for Ads optimization is a data-driven tool that helps you compare ads with statistically significant data in the same ad group. This identifies the best and worst-performing ads in active ad groups (including Image ads and Responsive Display Ads), allowing the analysis of the suggestions by comparing clicks and conversions parameters side-by-side before pausing the lowest-performance ads. 
You can also choose to compare them by any other metric you are tracking, say ROAS or Conversion Rate.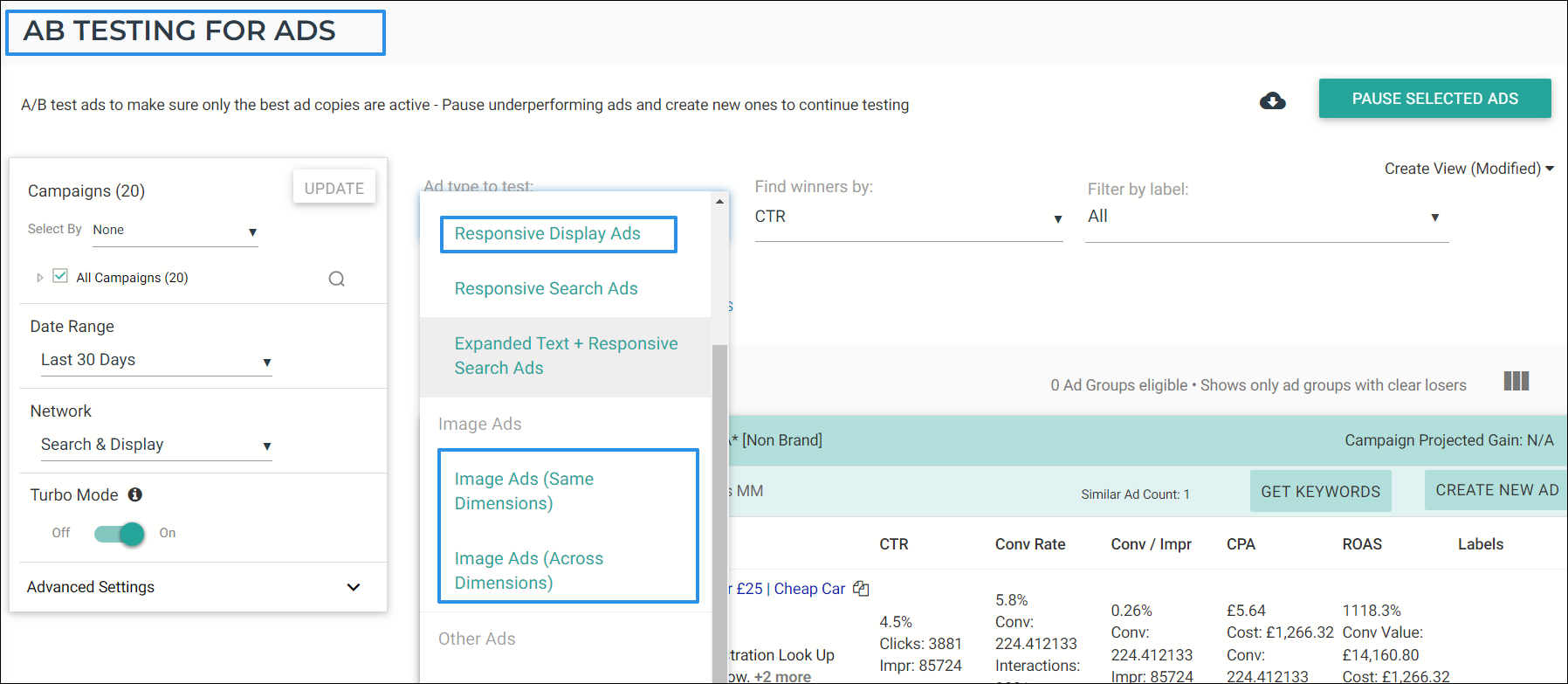 A regular check-in for the performance of your display ads will help you take effective measures to tweak your ad copies to match their expected performance as soon as there is any deviation.
Read more: Optmyzr's AB Testing for Ads
8. Pause those display ads that lead to broken landing pages.
When your ads take your users to broken landing pages, which leads to wasted clicks and spend, it is important to ensure all your website pages that your audience comes to load up fine without any errors.
Optmyzr's URL Checker tool helps you schedule a check for all your URLs (you can have a separate setting for your display campaigns in the account). It will check for all the landing pages associated with your ads and automatically pause the ads associated with broken landing pages. 
When those issues are resolved, it will also re-enable those ads automatically. This way, any advertising wasted spend due to faulty website pages will be taken care of automatically.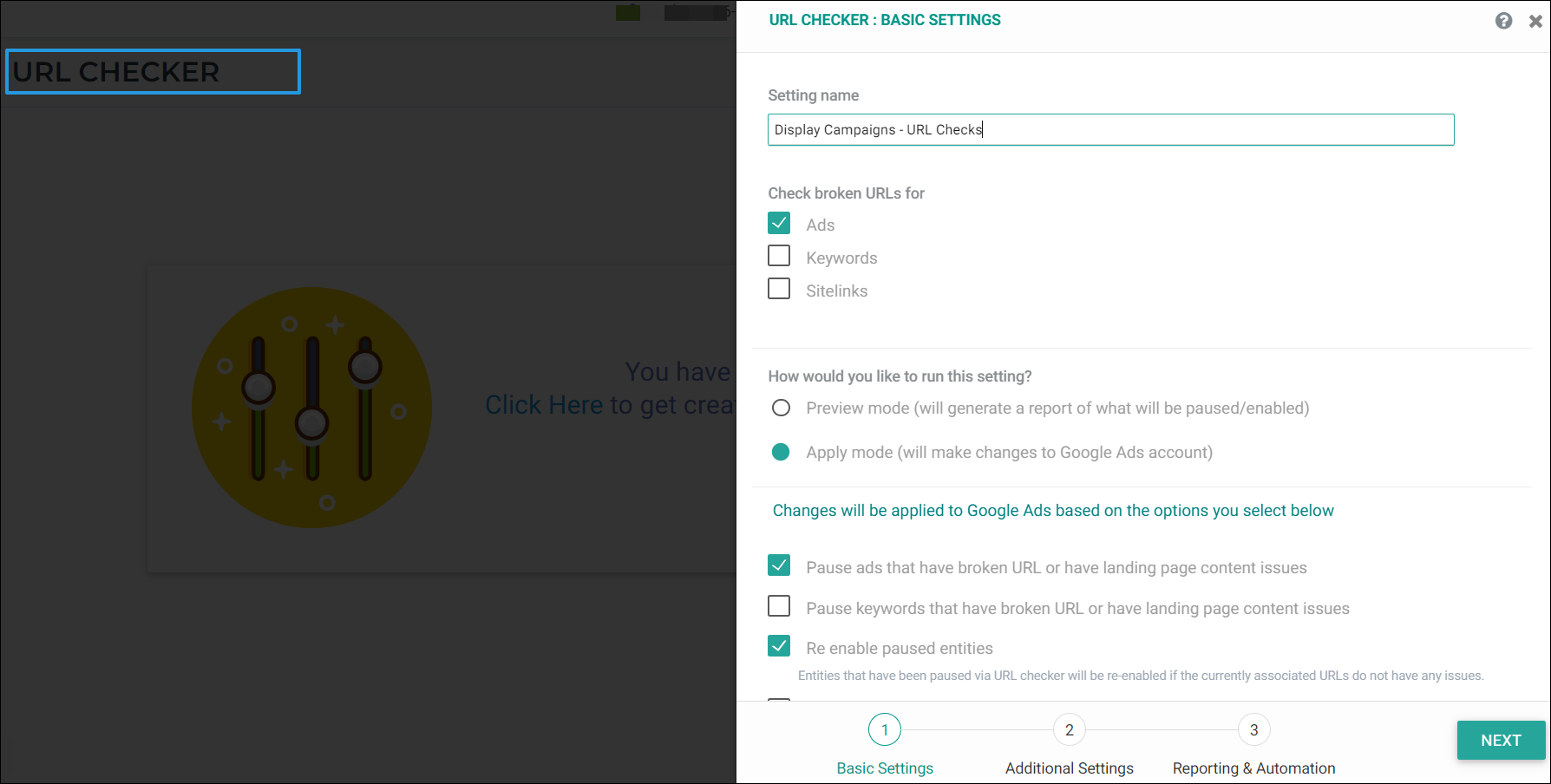 Read more: Optmyzr's URL Checker
9. Keep a check on any display channel wasted spend for your Performance Max campaigns.
Google Ads' most automated campaign type, Performance Max, is an all-channel inclusive campaign that does not allow excluding a specific channel type. So it becomes all the more important to ensure all of your budgets is not spent towards a channel your business is not targeting primarily.
Optmyzr's PMax Channel Distribution Widget on the Account Dashboard shows you where your account's Performance Max budget was spent across Shopping, Video, Display, and Other channels, as well as the top-performing channels based on metrics such as Conversions and Conversion Value. 
On account of this widget, an Optmyzr customer recently figured out they were spending a lot of money on display via PMax that was actually bringing them poor-quality leads. You can also dig deeper to do a campaign-wise analysis of this distribution to find out if there is a specific campaign that needs more attention.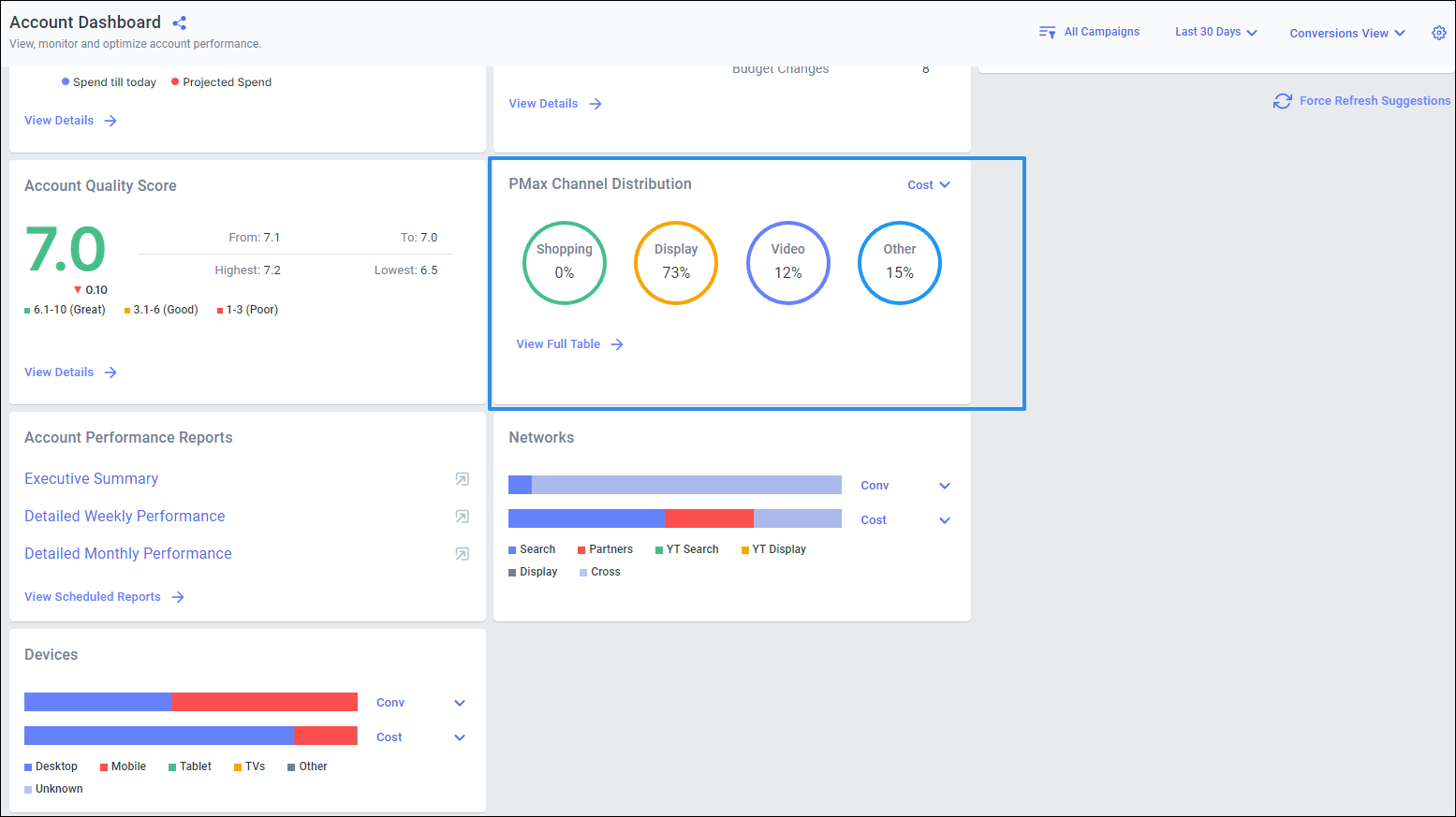 With that information under your belt, you can quickly choose to exclude specific placements from the account or ensure you optimize your Performance Max campaigns toward any other specific channel (say, Search) in terms of budget and assets. This will ensure they don't spend heavily on the display channel that's not giving you any significant conversions.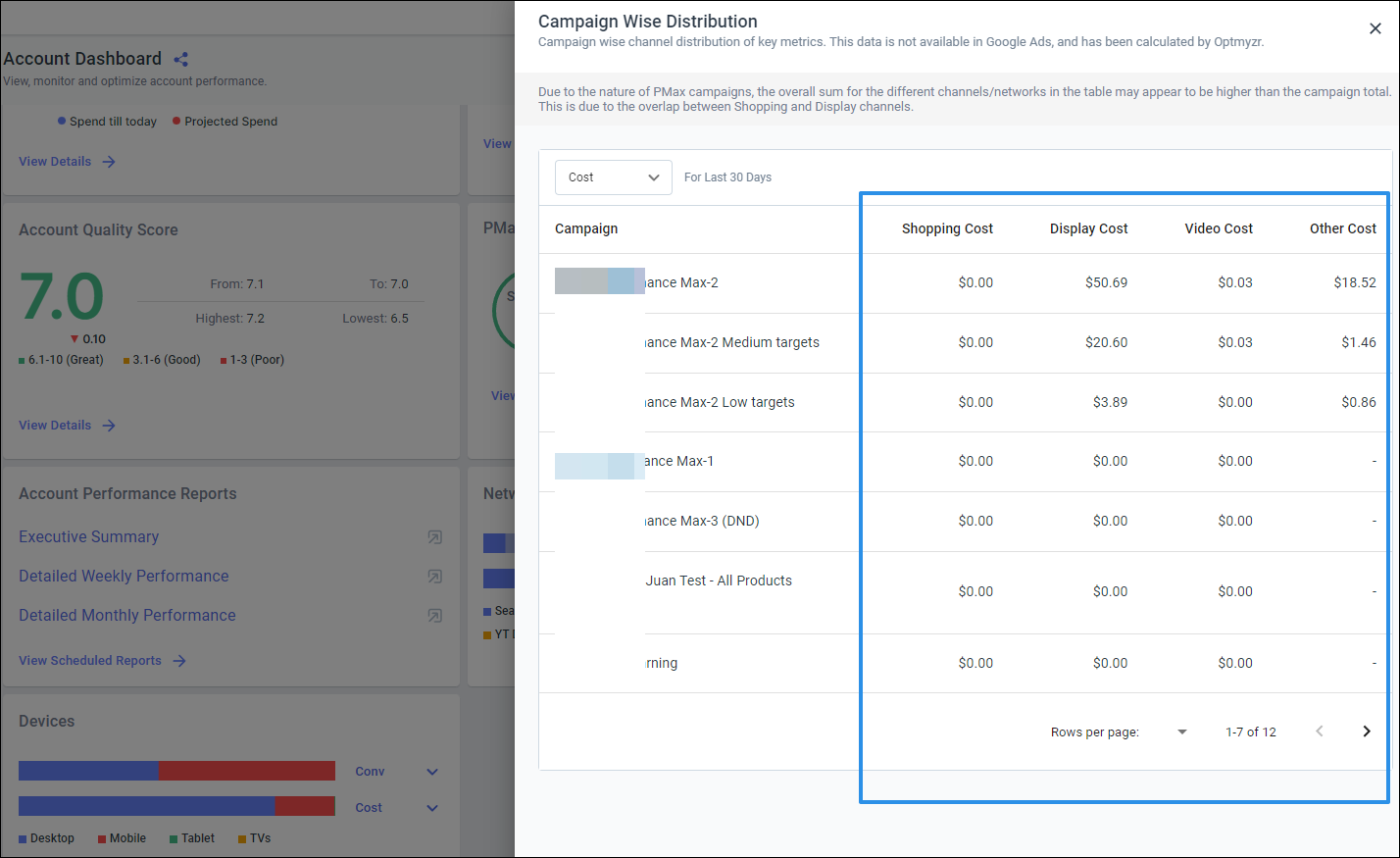 Reduce your wasted spend with these 9 tips
Bottom line: there are several ways to reduce wasted spend on your display campaigns. In this article, we've presented you with 9 of them. 
But if you want to implement these tips and start optimizing your Display ads now and don't have access to our tools yet, consider signing up for our 14-day free trial. You'll get access to all our tools, and our team would also show you how to best use Optmyzr to achieve your goals.