Q4 2021 is upon us and it's shaping up to be one of retail's biggest ever holiday seasons.
According to the Google-commissioned Ipsos COVID-19 tracker, as of June 2021, 58% of US shoppers said they were planning to buy more online this season than in previous years. And 59% said they'd shop earlier to avoid an item being out of stock.
Global conditions have people buying online more than ever, and while it at first seemed to be a temporary shift, that doesn't seem to be the case anymore. Consumers have grown accustomed to the convenience of online shopping over the past 2 years and look set to stick with it, even after the worst is over.
But if you thought Q4 of 2020 was a mess for PPC and eCommerce, you might want to buckle up for this year. While we can use last year's experiences as a yardstick and be more prepared, 2021 comes with its own set of challenges.
Global Conditions Behind Increased Unpredictability
1. Everyone's Handling Health Regulations Differently
Last year, two things happened:
Most physical stores were closed, so there was no option to shop offline
Many people weren't hosting gatherings because there was no vaccine yet
This year, parts of the world like Australia and Malaysia are still shut down either fully or partially. Others, like Norway and Iceland, have gone back to normal (or some kind of new normal).
Some people are vaccinated; many aren't. Some people are traveling and vacationing again; others still haven't seen their loved ones since 2019. Some people still aren't comfortable with large gatherings; others don't mind them so long as the necessary precautions are taken.
The bottom line is that every little corner of the world is handling health regulations in their own way, and that makes it difficult to predict what consumer habits might be like this holiday season.
2. The People Want Travel
Travel demand has risen, with more people planning to either head home for the holidays or take a much-needed vacation.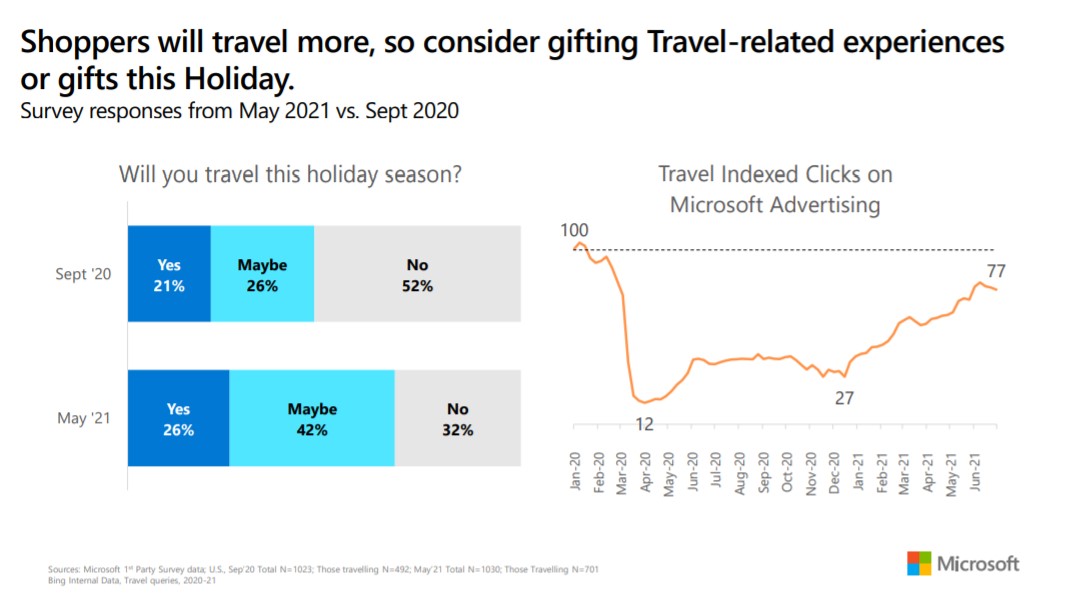 But it's complicated because of the travel restrictions still in place. In many places, travel demand is not as high as 2019 and before, and might continue to stay where they are for longer.
Travel-related gifts are likely to see greater demand this year, and electronic gift cards might prove to be a safer alternative given shipping restrictions and delays.
3. Supply and Demand Aren't In Sync
Travel restrictions and smaller gatherings don't always mean lower demand. If anything, 2021 has seen more moments of shopping and gifting, and that will likely increase during the holiday season.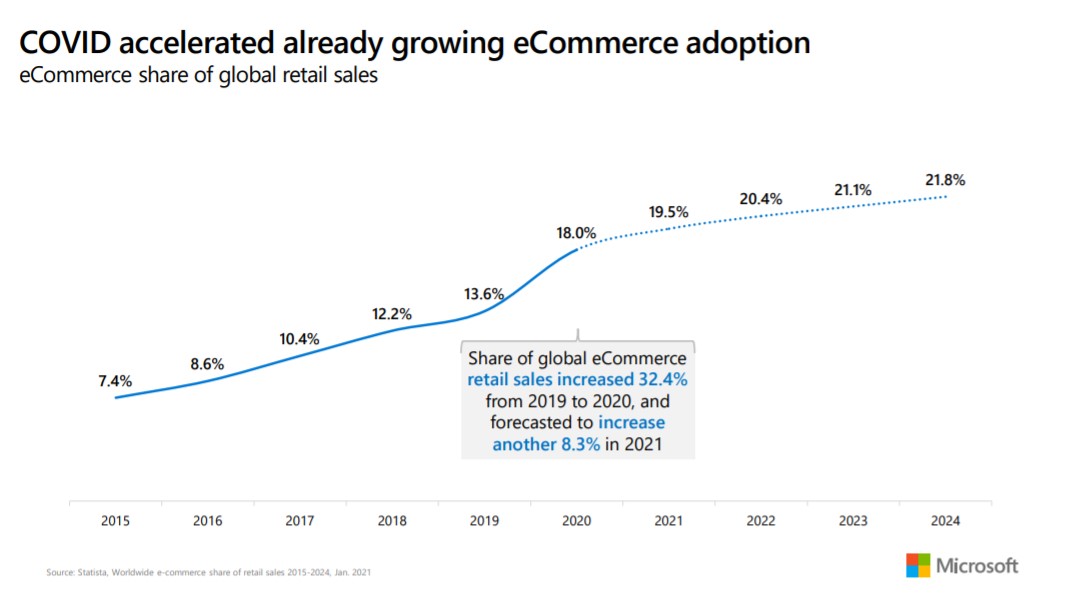 Another factor to keep in mind is the earlier purchase period. Given the shipping delays they faced in 2020, many customers began their holiday shopping way ahead of time this year.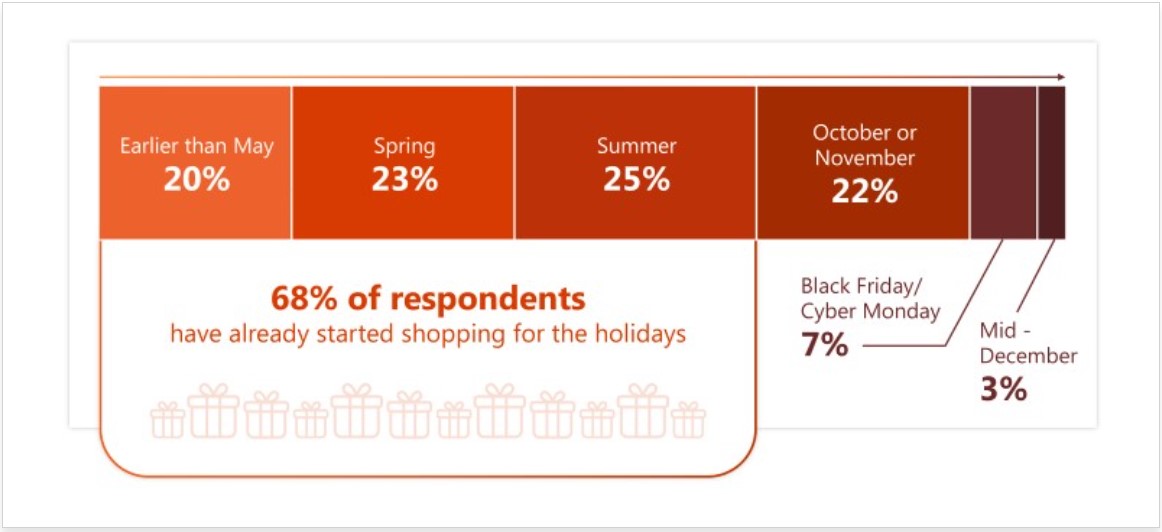 Source: https://about.ads.microsoft.com/en-us/blog/post/august-2021/6-moments-that-will-mean-more-this-2021-holiday-retail-season
Having faced shipping-related issues last year, some customers will turn to local suppliers and stores this year. It's not a bad opportunity to source products and raw materials locally, or to build relationships with local vendors and partners.
4. 'Shippageddon' Is Worse This Year
Retailers are seeing an exorbitant rise in the price of shipping containers as well as an increase in transit times. CEO of Simple Modern, Mike Beckham, pulled together some numbers that show exactly how drastic this rise has been.
If you are involved in e-commerce you have heard that there is a severe shortage of containers. Here are some numbers our team pulled together that show just how dramatically our costs and transit times have increased pic.twitter.com/QSFqLTz3Be

— Mike Beckham (@mikebeckhamsm) August 23, 2021
The implications range from not receiving goods on time to your customers not receiving their orders in time for the holidays. And then there's the increased costs impacting your profit margins and freedom to discount.
With containers costing way more and taking longer to arrive, shoppers are likely to encounter lower or different stock than usual, fewer discounts on what's available, longer delivery times, and higher shipping charges.
5. Last-Mile Fulfilment Is Suffering
Rising demand via online shopping impacted last-mile fulfilment last year. Adding to the pressure this year is the risk faced by people on the ground – those actually making the deliveries.
UPS has projected that they will receive about 5 million more packages than they can deliver per day during the peak holiday season. That's a surplus of hundreds of millions of parcels over the entire season, and the difficulty in finding enough people to counter that is not likely to make the situation any better.
Shopping and eCommerce PPC: How to Prepare
1. Track Your Inventory
Given the high demand volume and shipping issues this year, it's not a bad idea to make sure that you track your account's inventory more closely than usual. Work with other teams to make sure high-demand products are restocked quickly or ahead of time. And keep your available inventory up-to-date to avoid overselling or disappointing users.
2. Automate What You Can
The usual holiday season rush is accompanied this year by other uncertainties like shipping delays and last-mile delivery constraints, so you need to be able to focus on hitting KPIs without added stress. Enabling and pausing campaigns, adjusting bids, and keeping track of anomalies are just some of the things our Rule Engine can automate for you.
3. Use Messaging To Your Favor
If you think it's too late to place additional stock orders or that customers might order from you too close to the holidays, you need to make sure to tell them about any potential delays. Give your customers all the information – clear product images and descriptions, expected delivery time and charges, and anything else that might be relevant.
You could also add incentives like a freebie or discounts for people who get their orders late, or a free delivery option for people who opt in right away to post-holiday delivery. Remember, it's the little things that go a long way in wooing customers back to your brand next year.
Search PPC: How to Prepare
1. Attract Customers Using Promotions and Deals
Who doesn't like a good offer during the holidays? Use your ad text and extensions to highlight the incentives that are likely to attract a given segment of users. Even if you absolutely can't offer discounts due to margin issues, consider throwing in a sweetener that can be redeemed in early 2022 when things settle down.
2. Pay Attention to Your Messaging
This year, the situation demands that you be especially mindful of how you word your ads in order to build and sustain relationships.
PPC teams advertising items where crowds are implied (concert tickets, amusement parks, resorts, etc.) should be mindful of their messaging. Not everyone is comfortable being around people again, so focus on the experience rather than the scale of the event to avoid subconsciously putting fence-sitters off.
Make sure you let your audience know what kind of precautions you're taking, and how you're making the event or venue safer for those attending. If your event requires proof of vaccination for admission or a cap on the number of people allowed, state it in the ad/landing page as relevant.
3. Experiment with New Ways of Advertising
Recycling your Q4 ad strategies from past years might get you so far, but to really stand out requires that you explore new ideas. Similarly, it's not a bad idea to test a new channel or format that you haven't prioritized in the past.
Carving out a small experimental budget – one that won't bankrupt your main campaigns but still help achieve statistical significance – may uncover a lucrative channel that you never knew existed.
YouTube, video, social, shopping, and native advertising can all prove worthwhile if you have traditionally stuck to search and display. And vice versa!
It's Not All Bad… Here's What You Can Look Forward To
Last year, PPC managers had absolutely no clue what to expect. This year is better in that we know that chaos is impending.
Use the data from last year to prepare for issues related to your supply chain and last-mile delivery, demand fluctuations, availability of crews/supplies, and preferences or regulations related to gatherings. Of course, this requires you to pay close attention to backend services, performance data, and consumer habits.
While a lot has changed since 2020, some strategies from last year still apply, and you can always go back and see what worked for you before modifying them to the current situation.
But there are definitely things to look forward to this year. Linda Shi from Microsoft listed out 6 moments that will mean more in the holiday season 2021 – all great places to begin planning what you need to do to succeed this year!