I spoke to 4 all-star PPCers to discuss different career journeys including the decision to head out on our own (for those who have started an agency or consultancy). After the call, Harry Makins on Twitter asked a follow-up question that got me thinking more about the difference between starting an agency in 2010 and now.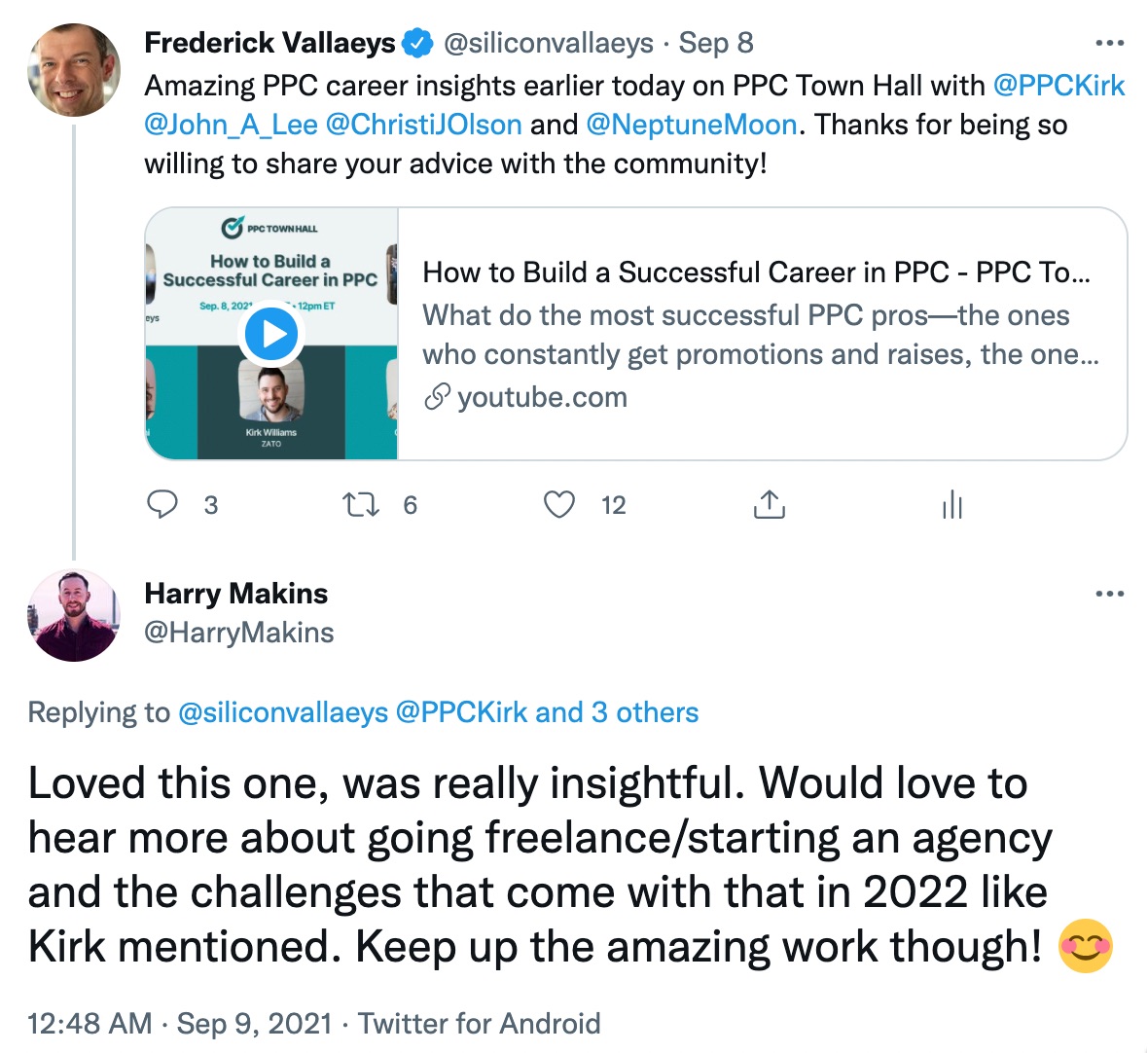 I think it's easier and more difficult. If you'll allow me to ponder on this, I'll share my musings below and then perhaps we can continue the conversation on Twitter and LinkedIn.
Oh, and one other important thing. Because these are my musings, I might be wrong. So listen to what I have to say, weigh it to determine whether the logic makes sense, then let me know if you see something in the industry that suggests otherwise. I'd love to keep learning too, with your help.
Deal? Let's get started.
3 Reasons Why Starting a Digital Marketing Agency in 2023 is HARDER Than Ever
Reason #1: The Digital Marketing Space is More Crowded Than Ever.
In 2011, the year I started ZATO, there were 4400 digital ad agencies in the US.
In 2022, there will be 19,800 digital ad agencies in the US. (source)
That doesn't even include international agency growth that can service the US!
There are so. Many. Agencies out there right now.
Even in my small network, every time I turn around, another friend is announcing their intent to "go it alone" and try this freelancing thing.
So immediately, we recognize that it is harder out there simply because there are literally more agencies than there used to be.
Reason #2: Companies Are Aggressively In-housing Digital Marketing Services.
Another trend I'm seeing lately is the desire to eliminate vendor relationships and move paid media in-house. There are a number of reasons not to be discussed now for going in-house, or going agency with your media.
However, for the sake of this article, there are MORE agencies than ever, and yet MORE businesses are moving their ad buying in-house.
Seriously, while writing this post I ran across yet another DTC person (Patrick Coddou of Get Supply) announcing his move away from using agencies!
Reason #3: The Market Is More Mature & Also More Picky.
One thing I'm seeing personally is that people are savvier than they were a decade ago, and this works its way into many things.
Sales, for instance.
It used to be easier a decade ago to get into a Google Ads account, identify some immediate opportunities, and tell them to a befuddled marketing manager who said some variation of "okay, okay, what do you charge, you're hired."
I've found it's not enough just to "know Google Ads better than the next guy" in order to land clients these days (and remember, there are just more agency options out there competing).
I've also found accounts we take over tend to be (on average) managed better than they were 5 years ago which makes improving them more challenging than the "glory days" when we could take over a new account in shambles and expect to see immediate results by adding in a few exact match keywords plus ads that actually land the user on the correct landing page (this is a general observation, rather than a prescribed rule, of course. There are still REALLY bad managers out there making bad accounts).
4 Reasons Why Starting a Digital Marketing Agency in 2023 is EASIER Than Ever
Okay, so we ran over some reasons why it's harder than ever to start a new agency. Is there any good news? Actually, I think there is a lot of good news here!
Read on.
Reason #1: Online Businesses Are Booming.
It's no secret (normal tech growth followed by a pandemic forcing ecommerce growth) that the newfangled-internet-thing continues to grow as an important part of any business.
Ecommerce sales made up only 5% of retail sales in 2011 (remember, back when the number of agencies was smaller), and in 2021 it has climbed to around 13%. So, while there are more agencies, there is more to manage for those agencies.
What is really mind-boggling to me, is the potential for continued growth here. In 2018 (admittedly, almost 5 years ago, but still) a whopping 46% of small businesses DID NOT EVEN HAVE A WEBSITE. Do you realize how much opportunity there still is in some of these niche markets?!
Reason #2: People Are More Willing to Hire True Experts.
I remember from conversations with prospects 5 years ago, that people wanted "an agency who does it all! We want one point of contact."
Whereas, lately, our contacts have communicated to us: "we want to hire the best people in each marketing channel to build a super team, like the Traveling Wilburys of marketing."
I think that shift is really fascinating (and it's one of the reasons we've never had an issue being a Paid Search only agency), as it shows people are now seeing more value in having a truly skilled practitioner rather than in having fewer points of contact.
What this tells me, is that the savvy freelancer will identify an area in which she can become THE true expert, work hard to become that expert, and then attract clients who need that skill set. It's time to ditch the small agency "we do it all" mentality!
I think the key to survival as a freelancer in 2023 and beyond is being satisfied with niching out (somehow: product, vertical, whatever). This may prevent you from growing into a mega-agency but I am convinced it can help you establish a profitable and stable business built on your network.
Reason #3: People Are Less Likely to Hire Based on "Agency Brand Strength" Alone.
I have to be careful here since I have a lot of respect for smart people I know in large agencies. However, what I have learned lately, is that businesses are less attracted to the "brand strength" that a larger, international agency used to carry simply by walking into the room.
I think this goes hand in hand with clients getting savvier. They want to make sure their account isn't going to be managed by the interns when they were sold by the professionals.
In this way, I think it's easier for a skilled freelancer who can sell well AND deliver on that promise, to win bids against larger agencies who used to have a substantial advantage simply because of their name.
Reason #4: Businesses Who Can't Afford In-House Still Need Help.
Finally, I'm finding that there are certain businesses that simply can't afford in-housing, even with all of the moves to in-housing that larger brands are making. In other words, there will ALWAYS be businesses that need assistance in various stages.
Rather than try to battle against in-house, I think the savvy freelancer of the future will instead look to those businesses who can't afford to do in-house, and build a pricing package and work scope that works for both the smaller business and the freelancer.
Oh, and these may tend to be local, and I think the smaller freelancers also have a distinct advantage in that way, by rubbing shoulders with their neighbors.
So there you have it, I think there are concerns about starting a freelance or agency in 2023, but I also think there is a great opportunity. What do you think? Let's continue the conversation on Social Media!
May the Auctions Be Ever In Your Favor.
This post was updated on February 27, 2023.