It can be quite tedious to manage multiple AdWords accounts and stay on top of them all the time. In this post we want to highlight features and tools in Optmyzr that are designed to help you manage multiple AdWords accounts more efficiently.
MCC account dashboard
In your MCC account in AdWords, you can get a list of accounts and can see metrics over a given period of time. However, figuring out which account needs your attention is entirely up to you. The new MCC account dashboard from Optmyzr helps with this. It lets you see how the performance of your favorite AdWords accounts has changed over two periods of time. This instantly tells you which accounts had the biggest drops and need immediate investigation. You can also compare performance to the same period last year to see if it is a seasonal trend.
Add accounts to favorites by clicking on the star next to the account name
Select which metrics you want to see from 'Choose Columns'
Select the date range to compare
Hover over the account name to see a birds eye view of performance

Optimization inbox
Don't know which AdWords accounts to start optimizing? The Optimization Inbox gives a quick snapshot of the number of optimization suggestions available in each AdWords account. You can filter and sort data by account name, the type of optimization (keywords or bids), number of suggestions and the last time an optimization was implemented in the account. A great way to prioritize your work week and save time.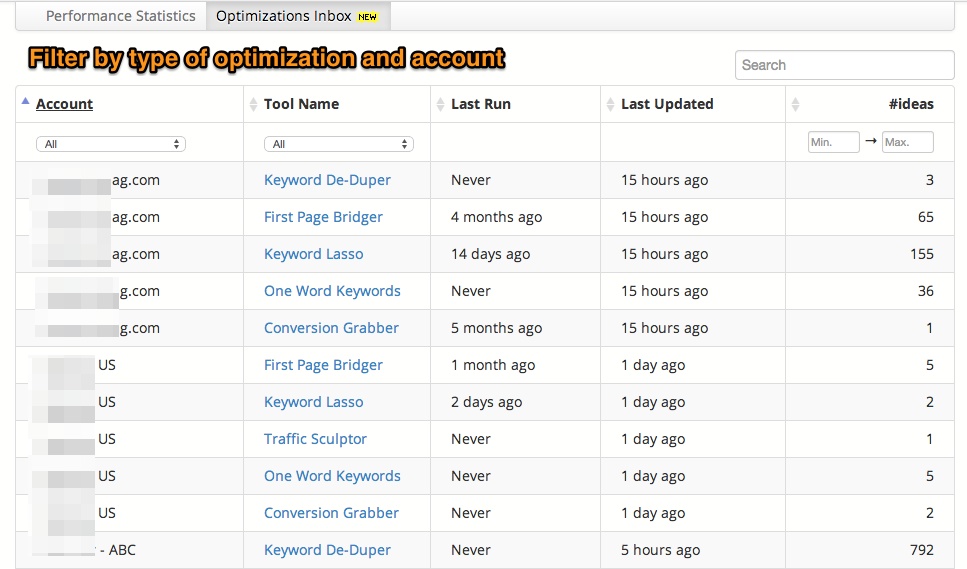 Favorite report templates
You can favorite the most frequently used report templates for each AdWords account in Optmyzr. The advantage is that they show up at the top under favorite templates and you can get to them without sifting through a huge list. Also, the rest of the templates are available at the bottom of the page in case you need to use or replicate one for an account. You can schedule weekly/monthly reports to be emailed automatically, download a PDF or, share a link to an interactive report.