Data is increasingly becoming an asset to companies. It provides insights that would otherwise be impossible to access, and this is essential to marketers and PPC campaigns.
We take a look at it - specifically, at first-party data - below.
What Is First-Party Data?
First-party data is any form of data a company gathers from its audience. This could mean customers or even just website visitors.
First-party data isn't only harvested from a company's website. It can be sourced from mobile applications, email and SMS marketing, Google Analytics, phone calls, and more.
Marketers and PPC experts can use this data to inform their campaigns and ensure they're appropriate for their audience.
How Does First-Party Data Differ from Second and Third-Party?
The type of data you use - whether first-party, second, or third - is ultimately a trade-off. You must compromise on something, and this is usually either the quality of the data or its reach.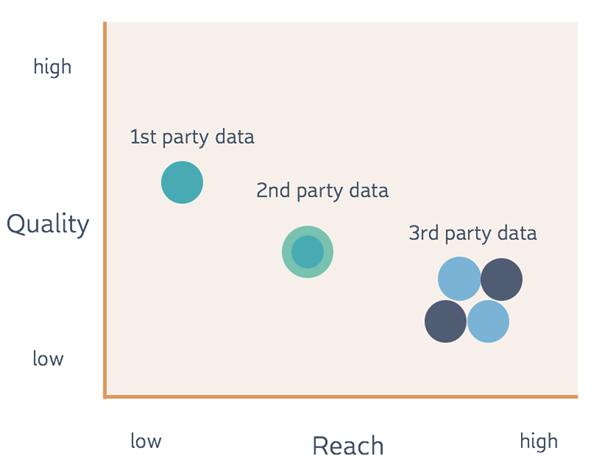 Second-party data is gathered by another company in a related industry about its customers. This means it's less specific to you but still helpful. Third-party data, on the other hand, is collated from many sources - it spreads its net wide but isn't necessarily as focused. It's often collected through tools like cookies.
Data of any kind is essential for marketing. It enables you to see how successful a campaign is and how customers behave, allowing you to alter and improve your efforts. In March, however, it was confirmed that Google was removing support for third-party cookies, effectively putting an end to third-party data.
This means it's more important than ever to know how to use customer-provided data rather than relying on the trends previously found in third-party data.
First-party data is frequently considered to be the best data due to its quality and specificity. 92 percent of leading marketers believe it's critical to growth. As logically follows, there are several benefits to utilizing this kind of data for PPC campaigns.
The Benefits of Using First-Party Data

Supercharged Campaign Relevance, Reach, and Performance
While the initial reach of the data gathered is reduced compared to other data sources, its specificity enables you to accurately tailor campaigns. You can ensure they're relevant to your audience, perform well, and ultimately increase your customer base.
Access to Better Data
As already identified, first-party is often considered the best source of data. That's because:
The data is more accurate.
It's standardized.
It's cheaper because it's gathered in-house. You can save the money you'd spend on second or third-party data and invest it elsewhere, perhaps paying for an enterprise SEO agency to round out your marketing strategy.
It's unique to your company because it comes from your customer base.
We won't deny there are benefits to other types of data, but when it comes to PPC in particular, specificity is essential to success and extracting maximum value from your ad spend.
Maximum Opportunity for Personalization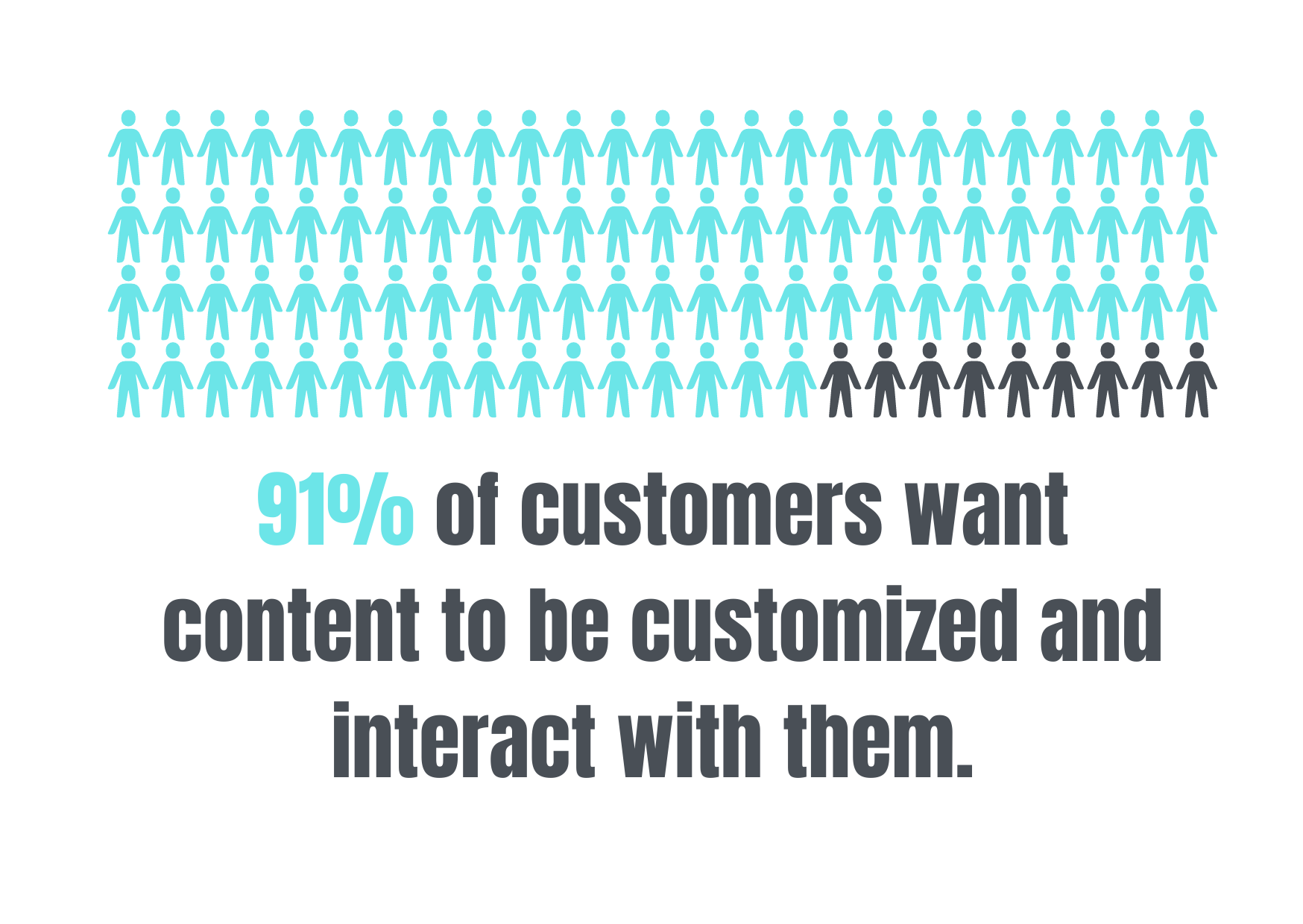 With such nuanced and detailed data, you can also begin to really personalize your marketing efforts. This is incredibly important, as 91 percent of customers want the content to be personalized and aimed directly at them, even though the majority of marketers do not provide this.
The Challenges of First-Party Data
As with anything in life, it's rarely simple. While first-party data is undeniably useful, it can still bring challenges. We address some of these below.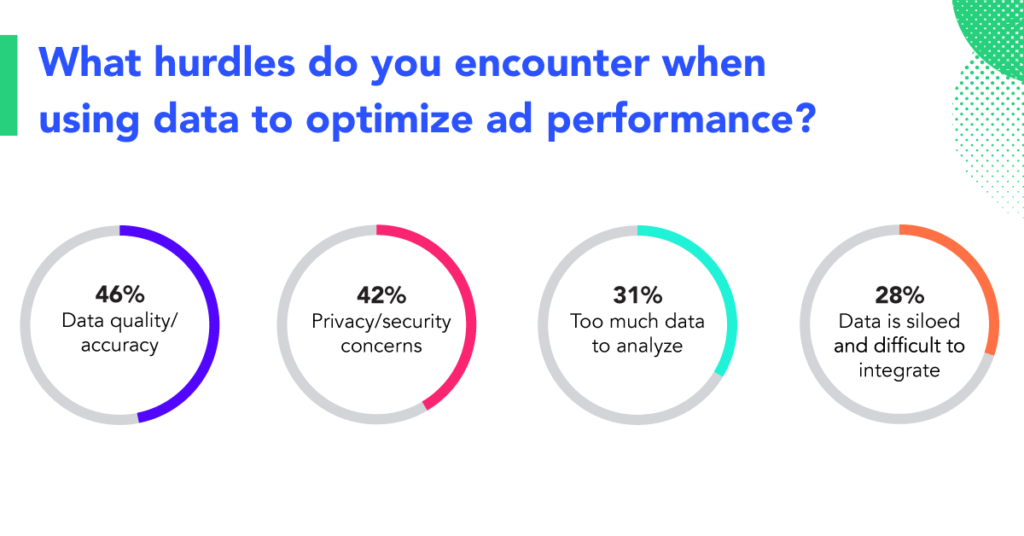 Building a First-Party Data Strategy
One of the complications with first-party data comes from combining large amounts of information from different sources - data that can often be siloed and difficult to integrate. As a result, you need to strategize.
This involves taking into consideration the source of your data. Think about the data you want to harvest – what information do you wish to gain from this to put it into action and make it useful?
When considering PPC, this might be understanding why clicks aren't leading to conversions. Also, how are you going to map this data strategy throughout the customer journey?
By considering these issues when building your strategy, you can ensure your first-party data is working for you rather than simply causing a heavier workload.
Competitive Analysis and Decision-Making Needs to Be Real-Time
It's undeniable that we live in a fast-paced world. This applies to business insights as well. Customer data can change incredibly quickly. By using tools like Google Analytics you can see your data in real-time and make changes accordingly.
For example, changing the copy on a PPC ad that's not delivering as successfully as expected.
Maintaining Data Privacy
Maintaining data privacy is extremely important in this day and age. There are regulations in place to help – for example, the General Data Protection Regulation (GDPR) – which function to keep those harvesting and using data accountable and protect customers from bad actors.
Learn the policies in place for your location and put them into practice. For example, GDPR requires you to gain consent before collecting third-party cookies. Use a pop-up when new people visit your site so they can decide how they want their data to be used before continuing.
First-Party Data Tactics for Your PPC Campaign
Onto the good stuff! Now you understand the role of first-party data, its pros, and its cons, you need to start making use of certain actionable strategies that allow you to leverage first-party data as part of your PPC efforts.
We've covered a few of these below.
Integrate Data into Google Analytics
Google Analytics is an extremely helpful tool when it comes to first-party data and making PPC decisions. Important data points include lead scoring, lead-to-sale conversion rates, and the total sale value of generated leads. By accessing this data in real-time, you can make fast-paced decisions and changes to your PPC adverts.
Control Budget Efficiency
With PPC strategies, you want to ensure your money is being used wisely. You can create an optimized remarketing list for search ads (RLSA) based on your first-party data, which targets leads who have a high likelihood of converting.
Simply put, it would be a waste of time to show PPC ads to people who wouldn't be interested in your products or service. These lists can find potential leads and ensure the ad is going to the person it was intended for — your future customer.
Achieve Higher Target and Bidding Accuracy
First-party data can provide information for employing more accurate bidding techniques. While this can be done manually, it might be worth utilizing Smart Bidding strategies. This is the process of automating your bids with Google Ads to maximize a specific conversion goal.
First-party data comes into this by providing post-campaign, pre-Smart Bidding strategy analysis. Though you may feel apprehensive handing over control to an automated process, knowledge is power. This data will provide in-depth insight to inform and improve your strategy.
Turn Out Better, Expanded Audience Targeting
As we know, first-party data can provide crucial information on customer trends, behavior, and engagement. Through this, you can better understand your customer base and begin to expand and reach out to potential new leads.
You can use features such as Google's Similar Audiences to generate new lists based on those you've already created.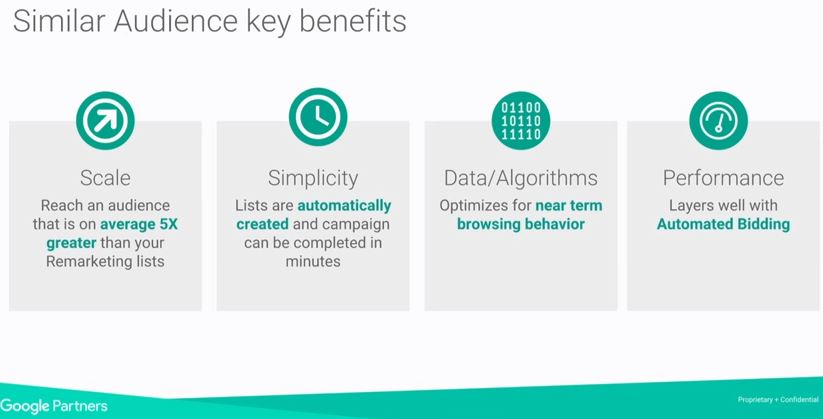 This data enables you to target customers regardless of what part of the funnel they're in. Once you understand the people you're trying to interact with, it's easier to find ways to appeal to them.
Boost Smart Bidding with Offline Conversion Data
As previously mentioned, not all data comes from your website. For example, data gathered via SMS or phone call isn't tracked or gathered by Google. From experience, we know phone calls, in particular, can lead to high-value sales, but this data isn't always captured.
Offline data might include information such as lead quality, sales generated via phone calls, and the value of sales earned. You can use call tracking tools to prevent missing this crucial data and optimize your Smart Bidding by working from the full picture.
Maximize Campaign Personalization
First-party data enables businesses to tailor their campaigns to their customers. The detailed insights into who your customer base is – demographically and behaviorally speaking – mean you can personalize your campaign in a way that speaks to your audience.
For example, if you're a software as a service (SaaS) company, there will likely be certain links between the people using your software. Your software helps them to reach a common goal, and this can be used to tailor your campaign. Use this information alongside SEO for SaaS to create a fully developed and functional marketing strategy.
Easier Feed Management
Feeds enable campaign services, such as Google Smart Shopping, to run efficiently. Through first-party data, you can easily see which keywords are most impactful and learn other important pieces of information that enable you to manually optimize your product feed.
In today's market, personalization is key to making sure your company stands out and stays ahead of the competition.
First-Party Data and PPC Efforts Can (and Should) Go Hand-in-Hand
It's undeniable that PPC campaigns and first-party data should work together. As third-party data moves out of the picture, you must learn how to rely on your own data instead.
If you were to solely turn to second-party data, you would run the risk of gathering less relevant information. The more insights you have into your customer base (and the more specific these are), the better your PPC ads will be.
Use first-party data to your advantage today!
This is a guest post. The views and opinions expressed by the author are solely their own and do not represent that of Optmyzr.
About the author_
Nick Brown is the founder & CEO of accelerate, a SaaS marketing agency that exclusively partners with enterprise tech companies to scale their SEO and content marketing. Nick has launched several successful online businesses, written and published a book, and grown accelerate from a UK-based agency that now operates across the US, APAC, and EMEA. He has written for sites like BigCommerce and SmallBizDaily.