Performance Max campaigns are a new campaign type in Google Ads in which advertisers can create one campaign and get their ads wherever users are interacting with Google's services, whether that's on Search, Display, YouTube, Maps, Discover, or Gmail.
It promises to simplify advertising in a world where user behavior has become more fragmented. It's an especially appealing promise for new advertisers who may have not known where to start with Google Ads.
But for existing advertisers, the introduction of yet another campaign type may be confusing. So here I'll shed some light on how to think about Performance Max.
I also got a chance to speak to Google about it where they shared some best practices and even answered several FAQs from the PPC community. Here's the full conversation:
Get actionable PPC tips, strategies, and tactics from industry experts twice a month.
Is Performance Max Replacing Other Campaigns?
At the end of September 2022, Performance Max replaced Smart Shopping and Local campaigns. Other campaign types will continue to exist until further notice according to Google.
Where Do Performance Max Campaigns Run?
Performance Max provides the equivalent of running the following current Google Ads campaign types: Search, Display, Shopping, Video, Gmail, and Discovery. It can then place ads across Google's vast number of pages and properties as shown below.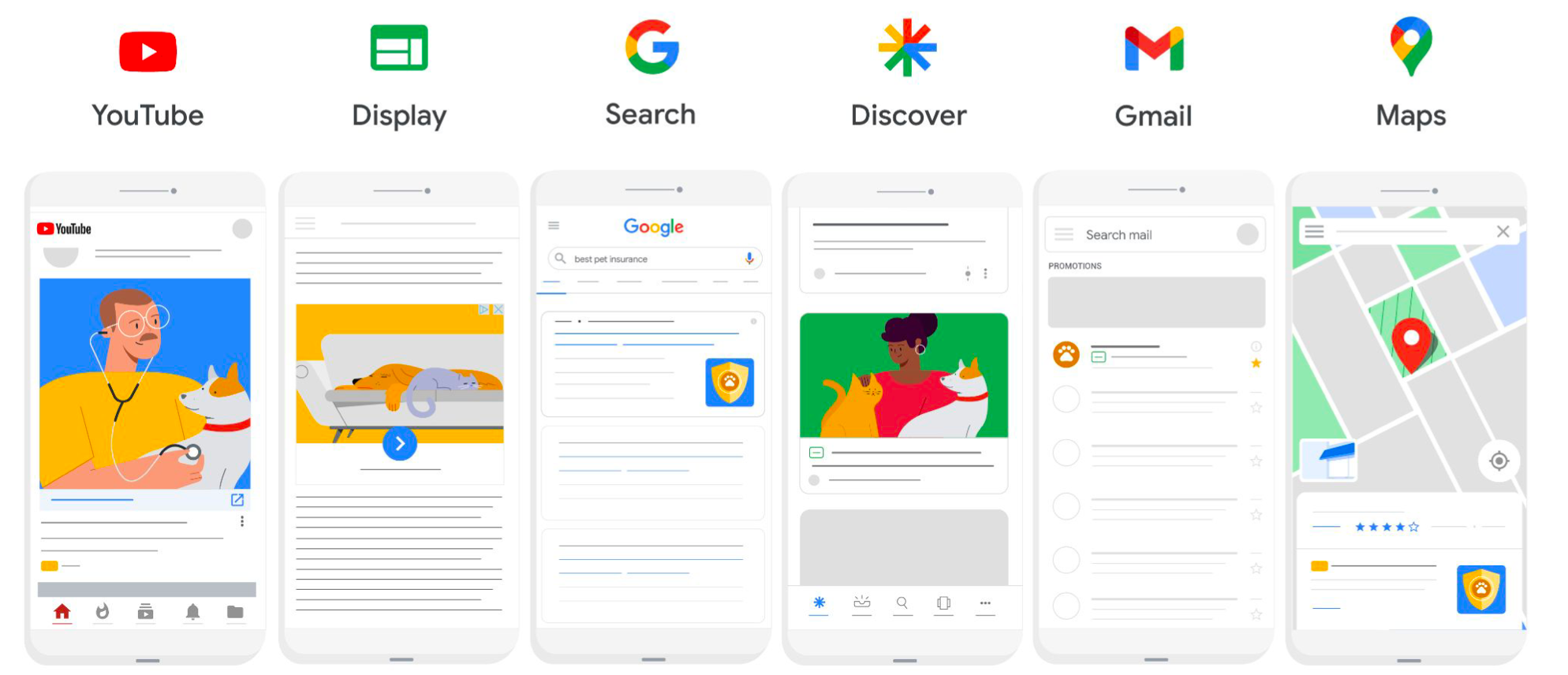 What Do the Experts Say About Running Performance Max Instead of Other Campaigns?
As of writing this blog post, Performance Max campaigns have been around for over a year. Many advertisers have tested the campaign type, ran experiments with it, and learned a lot in the process.
I got a chance to speak to Menachem Ani and Andrew Lolk, two experts and practitioners on PPC Town Hall 71 to understand what they've learned from running Performance Max campaigns for a full year.
They've covered a wide range of topics from structuring asset groups to attribution and negative keywords.
Watch the full conversation below.
Get actionable PPC tips, strategies, and tactics from industry experts twice a month.
What Inputs Do I Have With Performance Max Campaigns?
When setting up a Performance Max campaign, Google will ask you to provide the following inputs to help their artificial intelligence get started with good ads:
Your marketing objectives and goals
Budget
Creative assets including text, images, and video (optional, since this will auto-generate)
Geo-targets
Optional Feeds such as Google My Business, Google Merchant Center, Dynamic Ads Feed, and Business Data Feeds
Optional Audience Signals such as First-Party Audiences (including Remarketing Lists) and Google Audiences (including Custom Audiences)
With that information, automation is off to the races and will try to show your ad where it expects it may lead to a conversion.
Latest updates to Performance Max (as of February 2023)
Google announced some major updates to Performance Max on February 23, 2023, to provide greater control, flexibility, and insights to advertisers.
Here is the list of updates:
Campaign-level brand exclusions
Page feeds to refine Search inventory results
Video creation tools
Additional reporting available at the asset group level, along with budget pacing
Learn how you can profit from these updates here.