Sitting in the front of the main keynote today, it's clear Google Marketing Live is an essential experience for anyone who works in the PPC trenches. Let's face it – Google Ads will continue to change at breakneck pace and introduce changes that can make or break a PPC pro's next few months. It's essential to stay on top of what is announced by Google at their premier event for marketers.
This year's event has a lot of focus around new ad experiences for users, the latest on video experiences, branding, and (of course) the mobile web and apps. We're here to make sure the Optmyzr team is on top of the evolution to continually push powerful automation tools to help you continue to strive for PPC rockstar status. Read our tweets and see videos we took at the keynote.
Here are some of our initial key takeaways from the day 1 keynote in San Francisco.
New experiences to satisfy consumer expectations
With such a huge chunk of search activity happening on smartphones, and to a lesser degree voice assistants with screens — what Google refers to as 'surfaces' —  consumers are increasingly interacting more with Google on smaller screens. The consumer is expecting ever-improving quality in the results – not just in terms of information received, but in the overall experience. When the screen is smaller, the information — including ads — has to be better.
Your brand's presence in those results (paid, in particular) is critical. The small screen is also becoming a primary content and video consumption hub for hundreds of millions of people. Google responded with the expanded offering of Shopping Ads to YouTube and Google Discover. Coming mid summer, the expanded opportunities with Shopping Ads will allow for broader distribution of immersive search ad experiences for the consumer.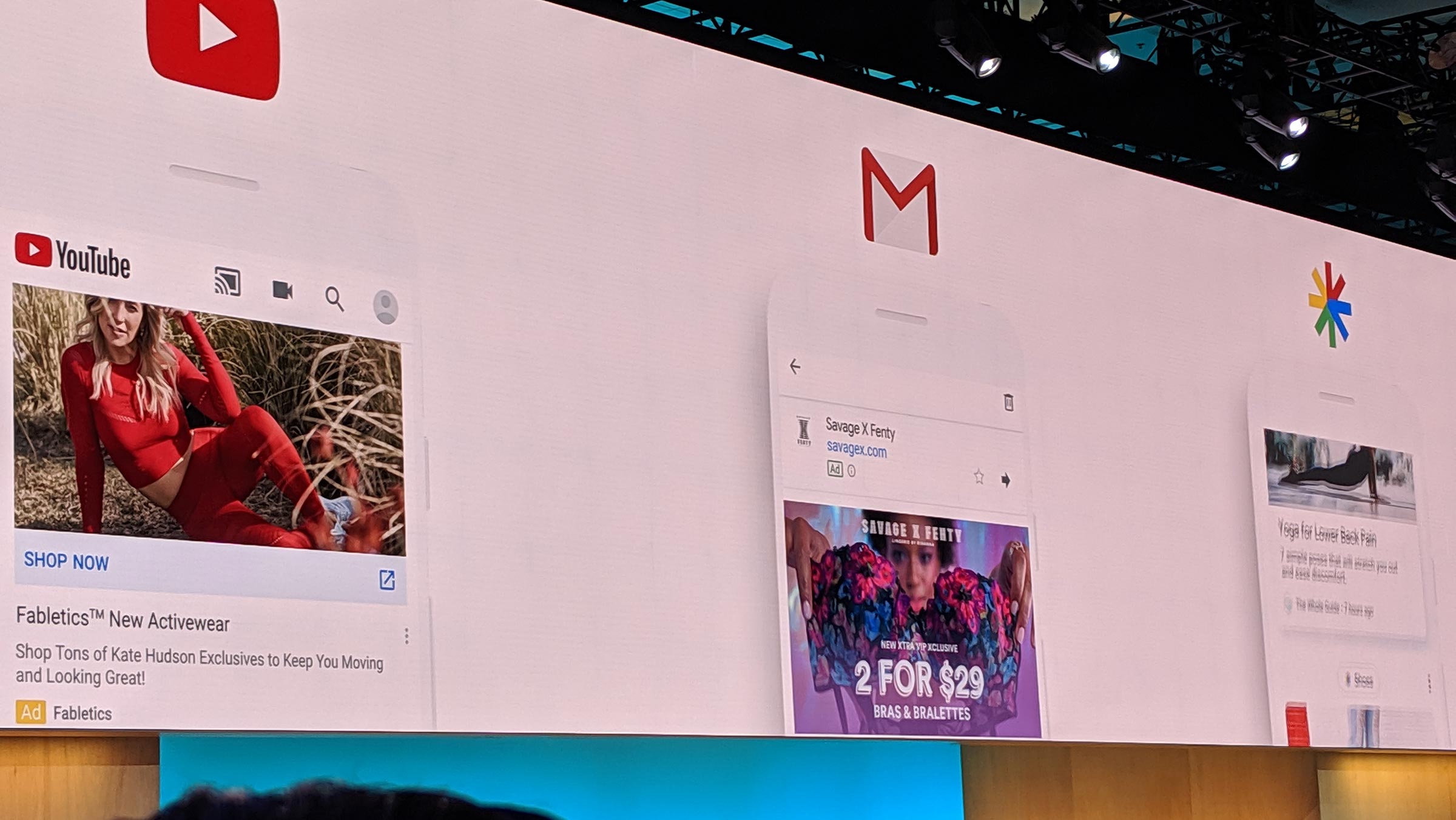 Google also announced entirely redesigned search experiences for retail and travel and both have ways to let advertisers connect with prospective new customers. Google Discover helps consumers discover must-buy products while consuming a feed. The redesigned Google Travel experience which is launching today offers ways for travel advertisers to find more buyers for experiences, hotel rooms, and flights.
They also announced Gallery Ads, a more visual ad format for the 'absolute top' position ads on mobile searches.
Smart(er) Bidding
Of course, we're talking one of our favorite topics! (and the Optmyzr team will be busy quickly incorporating the latest from Google). Google Ads unveiled new capabilities for smart bidding that allow PPC pros to choose desired conversion actions for optimization at the campaign level.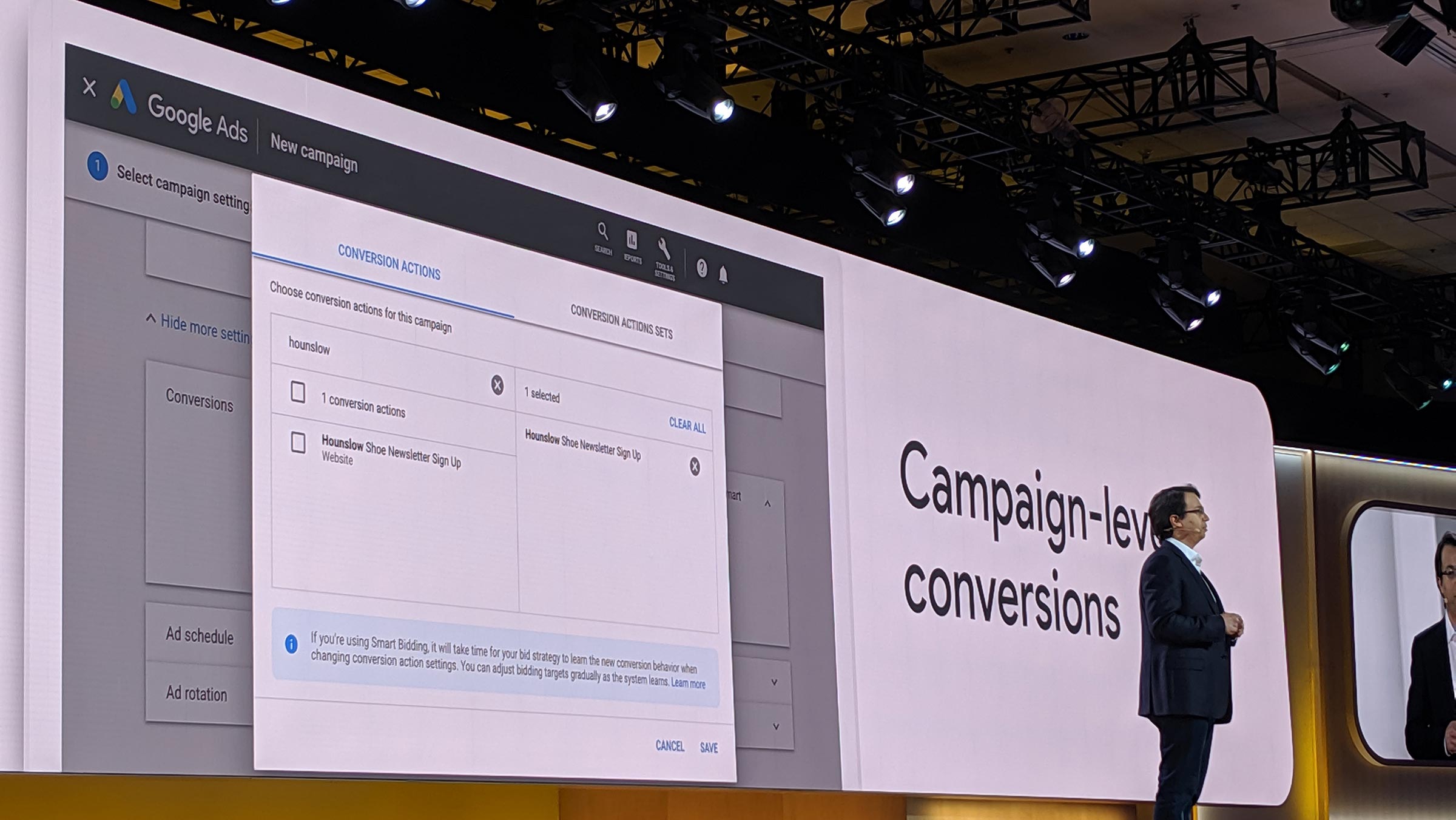 Those action sets can then be applied across campaigns. Other new bidding capabilities include:
Optimizing for store visit conversions;
Creating rules that determine conversion value for conversions;
Seasonal bid adjustments, which will also exclude the dates connected to a seasonal event (like a short term sale) from machine learning models that predict the usual conversion rates.
A new Smart Bidding strategy for search called 'Maximize Conversion Value'
Really cool in this is the ability to set rules that will make it easier to adapt conversion values by audience type and then fine-tune bids according to specific value.
Insights and Information
Machine learning and AI continue to fuel so much of the innovation coming out of Google. The company is deepening offerings that will make it easier to:
Apply learnings from the black box
See a more complete pathway to conversion
Understand the relative value of customers (i.e. which are the most valuable)
We're particularly keen on applying the latest from Google into the Optmyzr platform to help PPC pros connect the dots in a growing avalanche of data and insight. Being able to explain why a machine learning system made certain decisions and then using that insight across other clients will be a big win for advertisers.
Campaign/Program Management & Measurement
The more things get "automated" the more complex and challenging they can be. Google is introducing some interesting management functions designed to put more control in the PPC pro's hands. Specifically, we got a glimpse into some interesting new tools & functionality, ideally to help:
Keep pace with increased complexity as more users search via a growing roster of devices and device types;
Shift the focus from planning by channel to planning by the customer;
Access new cross-channel inventory with a single click.
Measurement is also front and center this year. The Google team is tackling:
Better ways to measure campaign performance and impact while striking the delicate balance with user privacy;
Enhancing visibility and control through improved Ads Data Hub.
Even by Google standards, the latter elements create some of the most challenging problems to solve.
More to Come
The topics and news coming out of Google today are far reaching and will have a huge impact on our industry throughout 2019. A small sampling of other news/topics includes:
A new custom audience tool that replaces the custom affinity tool. This means audiences will work across G-channels, with an audience expansion tool that will help marketers increase their reach. Look for this one later in 2019.
Powerful new creative tools that put more control in the hands of those creating and testing video ad content, including automated creation of 6-second bumper ads, pulling from your own short YouTube videos.
Audio ad inventory that is now available in Display & Video 360.
Deep linking to apps in Google Ads via iOS and Android, along with deeper app conversion reporting.
Retailers can get budget for shopping ads from the brands they sell. Brands can decide what products or categories to fund for their retailers.
Local campaigns are becoming available to all advertisers with new ways to reach consumers when they do local searches and get directions.
The Optmyzr team is on the ground here and taking in everything we can (while putting our Google roots to good use to get great front-row seats as well as networking with the Who's Who in the land of Google for even deeper insights). Look for more detailed recaps in the days following GML, and we'll be crafting our own solutions to help you extract the greatest value from the ever-expanding set of tools in Google.